Scandinavia ... Northern Lights & Mid-Night Sun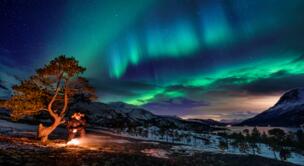 Few natural phenomena have the power to beguile quite like the aurora borealis and no-one ever forgets their first experience of watching what could just be the greatest show on earth.

What's it Like?

As elusive as they are mysterious, these shape-shifters of the Arctic night sky quickly take on the quality of a fairytale. One moment, the ethereal white or green curtains of light with a streak of violet take on forms that evoke the ancient mythology of the north – a palace of lights, a Sámi fire in the wilderness, the prow of a Viking ship. Then they dissolve into nothing, only to form as if by stealth on a different horizon, dancing across the sky in the shape of sea horse or crescent moon.

There are, of course, an infinite variety of forms, colours and intensities that the aurora can take on. Sometimes they show up in all their glory, a rainbow spectrum of deep blues, indigos and greens. On other occasions, the effect is more subtle, taking on the appearance of an eerie white-grey, transparent cloud shadow that drifts across the sky, refusing to take on recognisable form, then disappearing on the wind against a palette of stars. And there are times when it refuses to show up at all.

'Aurora is a diva with mood swings,' is how Knut Hansvold, a native of Tromsø in northern Norway and a veteran northern-lights watcher, explains it. 'You never know when she's in a good mood. You have to devote all of your time and attention to her. She expects that and, if you do, she might be tempted. But when she shows up, she is the most unforgettable of beautiful ladies.'

Why does it happen?

The aurora borealis occurs when storms on the sun hurl charged solar particles out into space. When these particles collide with the earth's atmosphere, they unleash a reaction within the nitrogen and oxygen atoms high above the earth.

That reaction is at once simple and devilishly complicated, depending on your level of scientific understanding. In simple terms, the nucleus of any given atom is surrounded by an orbiting cloud of electrons. When the sun's particles crash into the atoms, this sends the electrons into higher-energy orbits, away from the atom's nucleus. When the electrons move back to their usual lower-energy orbits, they release a particle of light known as a photon.

In the case of the aurora, the different colours come from the different gases – particles interacting with oxygen create a yellow or green aurora (although interaction with higher-altitude oxygen can produce all-red shows). Nitrogen is more often associated with blue or purple lights dancing across the sky.

We are pleased to present a 10 day itinerary that covers all prominent locations offering an unforgettable experience of Northern-Lights & Mid-Night Sun !
Itinerary
Day 1

Arrival Helsinki [Finland] - Day at leisure

Upon arrival at Helsinki - Vantaa Airport, start your Northern Lights adventure with a private transfer to the heart of the Finnish capital, where your hotel is situated.

Entwined with the Baltic's bays, inlets and islands, Helsinki's boulevards and backstreets overflow with magnificent architecture, intriguing drinking and dining venues and ground-breaking design.

Helsinki's design scene is one of the most electrifying in the world today, and a major influence across the globe. Boutiques, workshops and galleries filled with glassware, lighting, textiles and innovative homewares proliferate in the Design District just south of the centre in Punavuori, which is home to Helsinki's superb Design Museum, and throughout the city, from its thoroughfares to repurposed industrial spaces.

While it's a culture-packed urban centre, Helsinki is surrounded by sublime natural environment that's easily reached from every part of the city. Opportunities to get active abound here, from boating to its archipelago's islands, strolling along its beaches and through its extensive parks and gardens, and hiking in its surrounding forests.

Check in at hotel

Take advantage of this first day on your own to discover this Nordic gem at your own pace, and eat at one of the many delicious restaurants.

If you arrive early, we recommend you book an optional sightseeing tour, by boat or bus, to make the most of your time in Helsinki. These tours will show you around Helsinki's top attractions for a great overview of the sights and history of the city.

Overnight at Helsinki

Day 2

Helsinki - City Tour / Flight to Rovaniemi, Finland

After breakfast, embark on a city tour of Helsinki

On this exploratory tour of Helsinki City, we see the following ...

Modern Finlandia Hall - a dynamic, multipurpose venue located in the centre of Helsinki

City Hall - a central administrative building of Helsinki

Parliament House- the official location of the governing body of Finland

Presidential Palace - the official residence of the President, although today it is used primarily for presidential functions and receptions

Monumental railroad station - one of the most visited and well-known site in the city. There are over two hundred thousand passengers that pass through this place every day

Lutheran Cathedral- the symbol of Helsinki. The church was originally built from 1830-1852 as a tribute to the Grand Duke of Finland

Olympic Stadium - built in 1938. Olympic Games were held here in 1952. Today it hosts both national and international sporting events and outdoor concerts,

Sibelius monument - dedicated to the Finnish composer Jean Sibelius, the abstract monument resembles a soundwave made of clusters of organ pipes. The jagged monument consists of over 600 steel pipes

Market Square- the most famous market in Finland, it has been a centre of trade for hundreds of years. Even today, it still hosts some of Finland's most well-known events and is a major shopping location for both locals and visitors.

In the evening, transfer to airport for flight to Rovaniemi. Meet & greet by our representative for transfer to hotel for check in

Rovaniemi - Right by the Arctic Circle, the 'official' terrestrial residence of Santa Claus is the capital of Finnish Lapland and a tourism boom town. Its wonderful Arktikum museum is the perfect introduction to these latitudes, and Rovaniemi is a fine base from which to organise activities, visit Santa and generally get a taste for the Arctic.

Thoroughly destroyed by the retreating Wehrmacht in 1944, the town was rebuilt to a plan by Alvar Aalto, with the major streets in the shape of a reindeer's head and antlers (the stadium near the bus station is the eye). Its utilitarian buildings are compensated for by its marvellous riverside location.

Overnight at Rovaniemi

Day 3

Rovaniemi - Sightseeing

After breakfast, we explore Rovaniemi city covering the following ...

Lappia House, Library and Town Hall – the most famous of architect Alvar Aalto's works in Lapland. City Library of Rovaniemi was the first building to be completed, in 1966, followed by the Lappia House, functioning as a theatre and congress hall, in 1975 and the Town Hall, finished after Aalto's death, in 1988. Together, these three buildings form a composition enclosing a spacious plaza, highlighting the individuality and purpose of each building.

Further we see Arctic Center - Finland's national institute for Arctic expertise. Later cross the Arctic Circle (66°31'N) to enter incomparable unspoiled Lapland and stop at the Santa Claus Village with a chance to meet Father Christmas himself.

Evening at leisure to explore the town on your own

Overnight at Rovaniemi

Day 4

Rovaniemi to Kiruna, Sweden - Northern Lights Photography Tour or Snow Mobile Adventure or Husky Sledge Ride

Today we proceed to Kiruna – a small mining town in Swedish Lapland ... 340 kms. / 4 hrs. 30 mins. scenic drive

Scarred by mine works, the 'current' Kiruna may not be the most aesthetically appealing city, but it's a friendly place with the highest concentration of lodgings and restaurants in the northwestern corner of Sweden. Its proximity to great stretches of hikeable wilderness and the proliferation of winter activities make it an excellent base.

The citizens of Kiruna (Giron in Sami) have for many years had to live with the news that their city is on the verge of collapsing into an enormous iron mine. Fortunately a solution is under way: the building of a new city 3 kms to the east, largely funded by the mining company. Although just about the entire existing central city will be demolished, both the historic church and clock tower will be moved.

Check in at hotel upon arrival

Rest of the day at leisure to select one of our following activities ...

Private Photography Tour to Kiruna Magical Northern Lights
Chase the dancing Northern Lights and capture magical memories during this tour around Swedish Lapland. Venture away from the light pollution of Kiruna in search of the best place to see the aurora borealis. Enjoy a delicious Swedish dinner and learn how to capture this beautiful natural phenomenon so you can enjoy the memories for many years to come.

Snowmobile Arctic Adventure
Spend the day driving through the Arctic by snowmobile! Share the driving with a friend or upgrade to single driver for your own snowmobile. We take our own tracks through the forest, along the frozen Torne River and across lakes. Enjoy a delicious lunch of local delicacies around an open fire in a forest hut, and take lots of photos of your Arctic Adventure!

Husky Tour
Fly through the snow-covered landscape, pulled by a team of sled dogs, on this adventure. Your guide will mush the dogs and follow the homemade trail, used exclusively by our tour company, which means you're alone in the snowy wilderness. Stop mid-tour at a tipi in the forest, where you'll warm up around a fire with tea and cinnamon rolls then get some time to pet and take photos with the dogs.

Overnight at Kiruna

Day 5

Kiruna / Ice Hotel Visit / Drive to Abisko, Sweden / Visit Auorora Sky Station

After breakfast, today morning visit an ice Hotel, an ice art exhibition hall, a cinema and the famous `Absolut Ice Bar'.

Icehotel is a hotel and an art exhibition with ever-changing art made out of ice and snow. Icehotel is created in a new guise every winter, completely made out of natural ice from Torne River, one of Sweden's national rivers and last untouched waters. When the winter suites have melted back into the river in spring, a part of the hotel still stands, a place where visitors can experience the ice and snow year-round. The interior is always between -5°C to -8°C, even when it gets up to -37°C outside.

Later in the day, depart for Abisko ... 110 kms. / 1 hr. 30 mins. drive

Proceed to Auorora Sky Station at Abisko National Park. Enjoy the chair lift ride to visit the Abisko Sky Station, situated 900 meters above sea level, in a spot with very few distracting sources of light or sound which gives an 80% chance of seeing the northern lights - as long as the sky is clear.

Later check in at Abisko hotel

Evening at leisure

Overnight at Abisko

Day 6

Abisko to Narvik, Norway / Visit Narvik Cable Car Station

Today proceed to Narvik – an ideal winter holiday destination and a gateway to Arctic experiences ... 80 kms. / 1 hour drive

Narvik has a double personality. On the one hand, its location is spectacular, pincered by islands to the west and mountains in every other direction, while spectacular fjords stretch north and south.

At the same time, heavy industry casts a pall of ugliness over the rather scruffy downtown area – the town was founded in 1902 as the port for the coal-mining town of Kiruna in Swedish Lapland and the trans-shipment facility bisecting the city still loads several million tonnes of ore annually from train wagons on to ships.

But Narvik's appeal lies elsewhere, with unique sporting and sightseeing activities offered by its majestic surroundings and the spectacular Ofotbanen Railway to Sweden. Exceptionally clear sky over this region gives perfect conditions for observing the northern lights.

Check in at hotel on arrival

Later, visit Narvik Cable Car Station to experience Northern Lights,

Experience Narvik and the midnight sun from up on high.

Take Narvikfjellet's cable car to the Narvikfjellet Restaurant at 656 metres above sea Level - the perfekt starting point for hiking, recreation and culinary experiences.

The cable car ride takes you to the top station on Narvikfjellet. This offers an unrivalled panoramic view of the town and the surrounding landscape, With its rugged Mountains rising straight from the sea. Several viewing platforms and benches are available where you can sit, relax and savour the view.

Evening at leisure

Overnight at Narvik

Day 7

Narvik to Harstad, Norway / Visit Nupen for Mid-Night Sun

After breakfast, depart on a scenic journey to Harstad ... 100 kms. / 1 hr. 30 mins. drive

Harstad is the cultural capital of the north, a region with unforgettable natural experiences, local food offered by excellent chefs, genuine shops, music festivals, an untouched archipelago and much more

Check in at hotel on arrival

Later visit Nupen - "The most romantic place in Norway" - is the tag attached to Nupen, following a ranking in a Norwegian travel magazine. We're inclined to agree.

From the road or the surrounding hills, you get an unobstructed view of the midnight sun as it descends towards the water and almost meets the horizon in a gentle kiss before it rises again. The peaks of Grytoya island frame the scene.

Evening at leisure

Overnight at Harstad

Day 8

Harstad to Tromso, Norway - Northern Lights Experience

After breakfast, board a ferry for travel from Harstad to Tromso – 3 hours ride

Located 400km north of the Arctic Circle at 69?N, the small city of Tromsø bills itself as Norway's gateway to the Arctic, and there's definitely more than a hint of polar atmosphere around town. Surrounded by chilly fjords and craggy peaks that remain snowcapped for much of the year, Tromsø sits on the eastern edge of Tromsøya, and is linked to the mainland by a gracefully arched bridge.

In previous centuries the town was a centre for seal hunting, trapping and fishing, and was later a launch pad for several notable Arctic expeditions, including some led by Roald Amundsen. These days it's best known as one of the better places in Norway to spot the Northern Lights.

With a large university, animated nightlife and a happening cultural calendar, Tromsø is also a notoriously lively city, and prides itself on having more pubs per capita than any other Norwegian town.

Check in at hotel on arrival

Later depart to experience the phenomenal magical lights famously known as Northern lights in the sky in different shades right from luminous green, often with a hint of pink along the edge, and occasionally with a deep violet centre.

To enjoy these amazing phenomena we proceed to Risvika. Upon arrival we enjoy a Reindeer sledding ride and further proceed to the northern part of Kvaloya, which offers amazing chances of seeing the Northern Lights.

Here you enjoy a tour which takes through the Sami Culture and their lifestyle. Sami camp is something to remember forever.

Back to Tromso for overnight stay

Day 9

Tromso sightseeing

After breakfast, sightseeing of Tromso

Visit Polaria – An Arctic aquarium to see the interesting knowledge based exhibits, a panoramic cinema and feeding of the seals,

Tromso University Museum – the oldest scientific institution in Northern Norway

Polar Museum – known as Gateway to the Arctic here we discover exiting stories of risky arctic trapping and sea mammal hunting as well as courageous Polar explorers.

Storsteinen in Tromsø - The Tromsø Cable Car takes you 421 metres above the largest city of Northern Norway, known as "the gateway to the Arctic". The cable car is open past midnight in summer, and from the mountain ledge Storsteinen, you can watch the midnight sun hover above Tromsø and the peaks at Ringvassøya island.

Overnight at Tromso

Day 10

Departure from Tromso

After breakfast, morning at leisure

Later, it's time now to say goodbye to this magical land !

Transfer to Tromso Airport for onward journey via Oslo
Notes
Round the year Destination ... Extension recommended to other locations across the beautiful Scandinavia !
Hotels
Tour Inclusions ... Northern Lights & Mid-Night Sun
All transfers & inter-city travel by vehicle of suitable size
All sightseeings with a professional local guide
Domestic Flight & Cruise Tickets
Notes on itinerary
All our itineraries are "Just for Ideas" ... We will get to know you and customise an itinerary just for you that matches your requirements ... dates of travel, category of hotels, preferred airline, flexibility in choosing sightseeing, mode of travel between cities, etc.
Many of our clients have us design more relaxing, slower paced holidays with more in-depth experiences whereas some simply want to visit various destinations and cover only the highlights.
Together, we will determine the ideal route, pace of travel, accommodations, levels of pampering, style of touring, sightseeing to be included, dining preferences, adventure levels, options to meet locals, dates of travel & much more ! and based on this arrive at a price.
Do feel free to get in touch with us by a quick call on +91 79 29602961 or a short mail on mail@destinations4india.com ... Looking forward