Best of Scandinavia ... Self Drive Holidays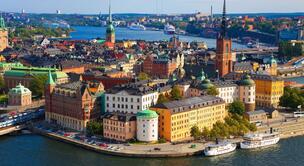 Endless day, perpetual night. Rocking festivals, majestic aurora borealis. With effortlessly chic cities and remote forests, Scandinavia attracts style-gurus and wilderness-hikers alike.

Outdoors
The great outdoors is rarely greater than in Europe's big north. Epic expanses of wilderness – forests, lakes, volcanoes – and intoxicatingly pure air mean engaging with nature is a viscerally pleasurable experience. National parks cover the region, offering some of Europe's best hiking as well as anything from kayaking to glacier-walking to bear-watching. Spectacular coasts invite exploration from the sea, whether there be rugged fjords, cliffs teeming with seabirds or archipelagos so speckled with islands it looks like an artist flicked a paintbrush at a canvas. Wildlife from whales to wolverines awaits the fortunate observer.

City Style
Stolid Nordic stereotypes dissolve in the region's vibrant capitals. Crest-of-the-wave design can be seen in them all, backed by outstanding modern architecture, excellent museums, imaginative solutions for 21st-century urban living, internationally acclaimed restaurants and a nightlife that fizzes along despite hefty beer prices. Live music is a given: you're bound to come across some inspiring local act, whether your taste is Viking metal or chamber music. Style here manages to be conservative and innovative at the same time, or perhaps it's just that the new and the old blend with less effort than elsewhere.

Seasons
They have proper seasons up here. Long winters carpeted with thick snow, the sun making cameo appearances if at all. Despite scary subzero temperatures, there's a wealth of things to do: skiing, sledding behind huskies or reindeer, snowmobile safaris to the Arctic Sea, ice fishing, romantic nights in snow hotels, visiting Santa Claus and gazing at the soul-piercing aurora borealis. Spring sees nature's tentative awakening before the explosive summer's long, long days, filled with festivals, beer terraces and wonderful boating, hiking and cycling. Autumn forests display a glorious array of colours, offering marvellous woodland walking before the first snows.

Green Choices
You'll rarely come across the word 'ecotourism' in Scandinavia, but those values have long been an important part of life here. Generally, green, sustainable solutions are a way of living, rather than a gimmick to attract visitors. Scandinavia will likely be affected by climate change significantly, and big efforts to reduce emissions are being made across the region. Travelling here, you'll be struck by the excellent levels of environmental protection, the sensible 'why don't we do that back home' impact-reducing strategies and the forward thinking. It makes for pleasurably enlightening travel.
On this tour Grand Tour of Scandinavia ...
This 21-day tour is the ultimate road trip in Scandinavia. These three weeks leads you to some of the most breathtaking nature and urban oases across Norway, Sweden and Denmark. Starting and ending in Stockholm, you will get to explore the capital cities, along with unrivaled fjord scenery, wondrous waterfalls and time in the beautiful cities of Bergen and Lillehammer in Norway, and countryside towns like Kalmar and Ystad in Sweden.
Hassle-free & seamless road trip experience
We plan and book your entire vacation before you arrive — accommodations, rental car, cruises and excursions.
Before your trip, you will receive maps that are hand-marked with your countries, accommodations and main attractions.
We have done all the local research for you. We are familiar with all the roads you will drive, and we regularly inspect the hotels and guesthouses booked for you.
You will have access to our 24/7 helpline during your trip, so if a channange arises during your road trip, a local staff member can help solve any urgent issues.
Flexible & customisable tour options
You will receive a detailed itinerary with our suggested highlights for your road trip, but you are in control of what you want to see and do each day.
You can travel at your own pace and spend as long as you'd like at attractions.
We can customise your trip to add extra nights and optional activities.
We can also combine more destinations in either self-drive, small group tours, or privately guided tours.
Trusted local travel experts
Enjoy the service of a dedicated English-speaking travel expert, before, during and after your trip.
Our Scandinavia travel experts have in-depth knowledge of the locations and activities on your itinerary, and are familiar with the roads and routes you will take.
We have a strong network of trusted suppliers in each country and visit them regularly. We personally inspect the services and accommodation offered in our tours.
If anything interrupts your travel plans, you won't be on your own. Our travel experts can modify your itinerary as needed due to unexpected events.
TOUR HIGHLIGHTS
Explore the colourful capitals of Norway, Sweden & Denmark
Experience the ultimate Scandinavian road trip, taking the scenic route from country to country
Visit the dramatic deep fjord of Geiranger and explore the charming village
Walk through the small and charming capital, Copenhagen
Enjoy the charms of Swedish Fika in Gamla Stan (Old Town)
Discover the lovely village of Flåm in Norway
Drive through the scenic countryside of Sweden, including Kalmar and Ystad
Sail from Copenhagen to Oslo on an overnight cruise
Visit the coast of Skåne and the mystical iron age monument Ale´s stones with a magical view of the Baltic Sea
Relax by the water at Nyhavn in Copenhagen and visit the Little Mermaid
Itinerary
Day 1

Welcome to Stockholm, Sweden - Day at leisure

Upon arrival at Stockholm - Arlanda Airport, meet & greet by our representative, transfer to hotel for check in. Many travellers opt to take the express train to Stockholm Central Station, but we also offer direct private transfers.

Stockholmers call their city 'beauty on water'. But despite the well-preserved historic core, Stockholm is no museum piece: it's modern, dynamic and ever-evolving.

Cultural Riches - Across the city, world-class museums and galleries inform and provoke, harbouring everything from glittering Viking treasures and an ill-fated warship, to Abba props and subversive contemporary art. It's a stimulating, inspiring mix, where the past, present and future constantly merge, converse and engage.

Impeccable Style - Stockholm's sense of style is legendary. Here, good design is not a luxury, it's a right – even the humblest coffee shop is usually design literate, from its lighting right down to its cups, bowls and cutlery.

Easy Town - Stockholm is easy in all the right ways. Despite being spread across 14 islands, it's a relatively compact creature, and walking is often the best way to get around. Bridges connect most of the islands, while ferries and the tunnelbana (metro) link the rest. Public transport is safe, smooth and efficient, covering every corner of the city and its bucolic surrounds.

After settling in at your hotel, spend the day exploring the beautiful city

Stroll the well-known street Drottninggatan where you can shop and feel the vibe of the capital city. Go for a walk in the surrounding area of Östermalm, where you will find interesting shops, cafes and restaurants for a perfect introduction to Scandinavian culture.

It could be fun to pick a cafe and experience Swedish fika - afternoon tea or coffee

Overnight at Stockholm

Day 2

Stockholm sightseeing - The Charms of Swedish Culture & Wooden Bicycle Tour

After breakfast, sightseeing of Stockholm

Today you will explore the heart of scenic Stockholm.

Discover two of Stockholm's sightseeing highlights on this walking tour. Walk the cobbled streets of Gamla Stan (Old Town), then stop by the Kungliga Slottet (the Royal Palace) and Storkyrkan (Coronation Church) with a knowledgeable local guide.

Enjoy a ferry ride to Djurgården to tour the Vasa Museum, home to an ancient warship that sank in 1628 and has been painstakingly restored. Here you will find the kitschy Abba Museum, the Nordic Museum, the Gröna Lund amusement park, and the Skansen open-air museum.

It is ideal to spend the afternoon here, exploring the grounds and many attractions

Later, we encourage you to ride a handcrafted wooden bicycle through the streets of Stockholm on this city sightseeing tour. Learn about what makes Stockholm one of the most sustainable countries in the world today, and the history of its ancient times through your guide's commentary. Make use of the extensive network of bike lanes to access some of the city's best viewpoints.

Evening at leisure

Overnight at Stockholm

Day 3

Stockholm - Soderkoping - Kalmar / A slice of Swedish Countryside

Today after breakfast, pick up your rental car and kick off your road trip to the south of Sweden.

First you will stop by the picturesque town of Soderkoping before reaching the city of Kalmar, a Medieval city with a rich history, making it a perfect stop for history buffs.

Sheltered from the wild Baltic Sea by the island of Öland, Kalmar's maturity and medieval charm are immediately evident. The classy, compact city claims one of Sweden's most spectacular castles, within which the Kalmar Union of 1397, which united the crowns of Sweden, Denmark and Norway, was signed.

Dominating the landscape from its ever so slightly elevated position overlooking the Kalmar Strait, the fortress possesses all the elements a storybook castle should have, including opulent interiors even more spectacular than its robust turreted armour. The castle is reason alone to visit the city.

The town features well-preserved 17 and 18 century buildings and you can visit the Kalmar Castle, which dates back over 800 years.

Total driving distance : 410 kms / 255 miles ... Estimated driving duration: 4 hours and 45 mins. (without stops)

Check in at hotel on arrival

Evening at leisure

Overnight at Kalmar

Day 4

Kalmar - Leisurely excursion to Lovely Oland

After breakfast, embark on a tour visiting Oland, a region that has sandy beaches along a beautiful coastline, and a vast landscape where you can enjoy the scenery and bask in the solitude.

Like a deranged vision of Don Quixote, Öland is covered in old wooden windmills. Symbols of power and wealth in the mid-18th century, they were a must-have for every social climber and the death knell for many of Öland's oak forests. Today 400 or so remain, many lovingly restored by local windmill associations.

At 137km long and 16km wide, the island is Sweden's smallest province. Once a regal hunting ground, it's now a hugely popular summer destination for Swedes – the royal family still has a summer pad here. The island gets around two million visitors annually, mostly in July. Around 90% of them flock to the golden shores fringing the northern half of the island to bask and bathe. Behind the beaches, fairy-tale forests make for soulful wanders.

A total driving distance of 140 kms / 88 miles / Estimated driving duration 2 hours 30 mins. without stops

After crossing the bridge, we recommend a visit to the historical site of Borgholm Castle, followed by a stop at Solliden Palace, the summer residence of the Swedish royal family.

Next, visit the southern part of the island, a UNESCO World Heritage Site, Stora Alvaret, which is a giant limestone plateau that has a unique biodiversity and history.

Back to Kalmar by evening

Overnight at Kalmar

Day 5

Kalmar to Ystad - Covering Sweden's Spectacular South Coast

Today, after breakfast at Kalmar, drive south along the coast of Blekinge, where you find the naval city of Karlskrona which is a World Heritage site.

Karlskrona - This handsome military-base town is included on the Unesco World Heritage list for its impressive collection of 17th- and 18th-century naval architecture, which could best be described as being in the Danish baroque style.

Continue to Skåne, the most southern part of Sweden, where we recommend a visit to Kiviks Musteri and the apple orchards or you can stop for coffee in the picturesque town of Simrishamn.

Skane - is Sweden at its most continental. Connected to Denmark by bridge, its trademark mix of manors, gingerbread-style abodes and delicate, deciduous forests are a constant reminder that central Europe is just beyond the horizon. Dominating the scene is metropolitan Malmö, defined by its cosmopolitan culture and striking, twisting tower. Further out, velvety fields, sandy coastlines and stoic castles create one of Sweden's most bucolic landscapes.

Simrishamn - Summer holidaymakers mill around Simrishamn harbour, idly licking ice creams or waiting for the ferry to the Danish island of Bornholm. Simrishamn is the largest city in the sparsely populated southeastern tip of Skåne, in the area known as Österlen, an alluring pocket of waving wheat fields, tiny fishing villages and glorious apple orchards. Everything moves at a slow, seductive speed: cycling is the best way of fitting in with the tempo.

You could visit to the fortress of Glimmingehus which dates back to the middle ages or continue your drive to the charming town of Ystad. Spend the night in Ystad.

Medieval market town Ystad has an intoxicating allure thanks to its half-timbered houses, rambling cobbled streets and the frequently haunting sound of its nightwatchman's horn. Fans of crime novels may recognise Ystad as the setting for the best-selling Inspector Wallander crime thrillers.

Ystad was Sweden's window to Europe from the 17th to the mid-19th century, with new ideas and inventions – including cars, banks and hotels – arriving here first. Now a terminal for ferries to Poland and the Danish island of Bornholm, the port area's transitory feel thankfully doesn't spread to the rest of the city. Once you start to explore you might find the place will work its magic and you'll want to linger longer.

Total driving distance of 290 kms / 180 miles ... Estimated driving duration : 4 hours (without stops)

Evening at leisure to explore the cobbled streets of Ystad & it's medieval markets

Overnight at Ystad

Day 6

Ystad to Copenhagen - Enroute visit Smygehuk, Skanör & Falsterbo

After breakfast, drive from Ystad to Smygehuk, the southern most point in Sweden where you will find cosy cafés, eclectic craft shops and traditional fish smokeries.

Continue along the south coast to the old towns of Skanör and Falsterbo, located on the Falsterbo peninsula, where you will see long stretches of white sand beaches.

Next, cross the famous Oresund Bridge and arrive in the charming capital city of Copenhagen.

Copenhagen is the epitome of Scandi cool. Modernist lamps light New Nordic tables, bridges buzz with cycling commuters and eye-candy locals dive into pristine waterways.

Culinary Prowess - In little over a decade, Copenhagen has gone from dining dowager to culinary powerhouse. The Danish capital claims no less than 15 Michelin-starred restaurants, more than any other Scandinavian capital. In recent years, sous chefs from numerous high-profile kitchens have spread their own wings, opening a string of thrilling new eateries where culinary prowess comes with a more approachable price tag.

Danish Design - Only here does the morning rush of cyclists look more like a runway show on wheels. Forget Milan; when it comes to style, it's hard to beat Copenhagen's denizens. Few people have such a knack for effortless cool, driven by a reverence for simplicity, detail and understated beauty. These tenets drive everything from Copenhagen's painfully hip streetwear labels, its world-famous furniture and lighting, to its grassroots ceramics and glassware.

Enviable Liveability - When cities seek enlightenment, they commonly look to Copenhagen. The hometown of architect Jan Gehl – one of the world's leading authorities on sustainable urban planning – the Danish capital regularly tops world liveability lists. After all, this is one of the globe's greenest, cleanest, most sustainable urban centres, a place where cycling is serious transport, where buses and the metro run frequently and around the clock, and where the harbour is squeaky clean enough for a bracing dip.

After settling in at your hotel, go for a walk along the enchanting old harbour area of Nyhavn, where you will see colourful houses and lively restaurants among the docked boats.

Walk the narrow side streets, visit some shops and try out the traditional Danish open-faced sandwich, Smørrebrød.

In the evening, visit the amusement park Tivoli Gardens, which has something for everyone. It's a lovely place to admire the architecture and gardens and to enjoy some carnival rides.

A total driving distance of 130 kms / 80 miles ... Estimated driving duration : 2 hours and 20 mins (without stops)

Overnight at Copenhagen

Day 7

Copenhagen sightseeing / Cruise to Oslo, Norway

After breakfast, spend the morning touring Copenhagen by foot, visiting landmarks including Amalienborg Palace, Christiansborg Palace, and the famous Little Mermaid statue.

An optional boat tour from the harbour is also highly recommended as you can appreciate the architecture and beauty of the city by water.

Next, stroll Ströget street for some shopping and grab something to eat.

In the late afternoon, it's time to drive to the harbour and board your cruise to Oslo.

You can enjoy dinner in one of the restaurants, check out the entertainment on board or just relax and watch the sunset from the deck.

Overnight in one of the ship's comfortable cabins

Day 8

Arrival Oslo - Local sightseeing

Enjoy the views of the Oslo Fjord during breakfast as the ship sails into port

Surrounded by mountains and sea, this compact, cultured and fun city has a palpable sense of reinvention.

Natural Pleasures - Oslo's skyline might be crowded by cranes but this rapidly growing urban metropolis is also one of the world's most overwhelmingly green cities. It has earned the honour of being named European Green Capital for 2019, via one of the lowest carbon footprints in the world, excellent and well-patronised public transport, and a real commitment to sustainable food production and green space. The city is blessed with a large number of bucolic parks, and the Oslofjord's waterways and islands are just minutes away from the centre, as are the ski slopes and forests of Nordmarka.

Culinary Capital - Once known only for hot dogs and high prices, Oslo's culinary scene is currently enjoying a Neo Nordic moment in the sun, and has become a culinary destination in its own right. This delicious change takes in everything from the most northern three-Michelin-starred restaurant in the world (Maaemo) to its deservedly hyped neighbourhood coffee scene and fabulous fusion cuisine.

Cracking Nightlife - Has Oslo become Scandinavia's late-night party hot spot? Wander Møllegata on a Wednesday and you might be convinced it is. Whether it's working your way through a list of the latest natural wine from Burgenland or Sicily, getting your hands in the air with local DJ acts or an international indie band, drinking a local beer or sipping cocktails made from foraged spruce or Arctic seaweed, you'll notice that, with a grungier, wilder, realer edge than Copenhagen or Stockholm, this is certainly a city that knows how to have fun.

After you disembark from the ship, get ready for a day of adventure in Oslo.

Once settled at the hotel, we recommend exploring Oslo by foot, spending the afternoon at sights including the historical Royal Palace and the mighty Akershus Fortress, along with the modern Oslo Opera House, and the Aker Brygge area along the harbour.

Evening at leisure

Overnight at Oslo

Day 9

Oslo - Explore the Highlights of Oslo

After breakfast, day at leisure for Oslo sightseeing

This morning get an early start to explore the Norwegian capital at your own pace.

Highlights include driving to the beautiful Vigeland Sculpture Park, and the Holmenkollen ski jump which played a large role in the 1952 winter Olympics in the city.

Other options include visits to the Viking Ship Museum and Fram Polar Ship Museum, as well as strolling the popular Karl Johans street.

Viking Ship Museum houses an extensive collection of Viking-era artifacts discovered around Oslo Fjord. The museum is best known for its Viking ships, which have been painstakingly reconstructed and elegantly displayed in pristine white galleries.

Oslo's centre, a mix-match of buildings from the 17th century to the present, is compact, character-filled and easily walkable. Its main street, Karl Johans gate, runs a ceremonial axis east–west from Central Station to the Royal Palace. While it's always been lively and well loved by locals as well as visitors, it's undergoing a reblossoming, with clusters of new places to shop, eat and go out springing up.

You will then have the rest of the day to explore at your own leisure.

Overnight at Oslo.

Day 10

Oslo to Geilo via Gol

After breakfast in Oslo, we recommend visiting the town of Gol which is known for Gol Stave Church, a Viking village and the Hahaug trolls cave.

Next, continue to Geilo, where we recommend visiting Geilojordet which is an idyllic area with ancient buildings from the 1700-1800's and a lovely place to spend some time exploring.

At Geilo (pronounced Yei-lo), midway between Oslo and Bergen, you can practically step off the train onto a ski lift. In summer there's plenty of fine hiking in the area. A popular nearby destination is the expansive plateau-like mountain called Hallingskarvet, frosted with several small glaciers. Apart from hiking across the Hardangervidda, it's possible to go glacier trekking on Hardangerjøkulen (1862m), horse riding, white-water rafting and riverboarding.

Total driving distance of 220 kms. / 136 miles ... Estimated driving duration : 3 hours & 17 minutes (without stops)

Evening at leisure

Overnight at Geilo

Day 11

Geilo to Bergen via Voringfossen & Hardangerfjord

After breakfast at Geilo, embark on a scenic drive along Eidfjord and the dramatic, narrow Mabodalen valley, pass the impressive waterfall, Voringfossen - the highest in Norway with a 182-metre cascade.

The striking scenery continues as you drive past Hardangervidda National park, a region of great natural beauty, along Hardangerfjord on the way to Bergen.

Surrounded by seven hills and seven fjords, Bergen is a beguiling city. During the early Middle Ages, it was an important seaport and a member of the Hanseatic League, as well as Norway's capital – a heritage that can still be glimpsed in the beautifully preserved wooden buildings of Bryggen, now protected as a Unesco World Heritage site. Chocolate-box, clapperboard houses creep up the hillsides, ferries flit around the fjords, and a cluster of excellent art museums provide a welcome detour, and not only in case Bergen's notoriously fickle weather sets in. Meanwhile, a large student population ensures the city has a buzzy bar scene and nightlife, and easy access to nature means you're minutes away from complete tranquillity.

Despite being an international city, Bergen, "The Capital of the Fjords", has all the charms of a small town.

Here you'll find Bryggen, a UNESCO World Heritage site, along with remarkably preserved old houses, a lively fish and flower market, cable cars offering stunning views, great museums and more.

Spend the afternoon exploring Bergen and dining at one of the charming restaurants in city center.

Driving distance: 244 km/ 151mi Estimateddriving duration: 4 hours and10minutes(withoutstops)

Overnight at Bergen

Day 12

Bergen - Sightseeing of the Capital of The Fjords

After breakfast, spend the day exploring lovely Bergen

Here you'll find Bryggen, a UNESCO World Heritage site, along with remarkably preserved old houses, a lively fish and flower market, cable cars offering stunning views, great museums and more.

We recommend riding the Floibanen Funicular to Mount Floyen to enjoy stunning views over the city or to take a cable car up Mt. Ulriken. Bergen is surrounded by 7 mountains, so this is an ideal place for hiking.

For those after some culture, Bergen is known for its museums that cover the city's history, architecture, music and art and we recommend visiting the Edvard Grieg museum and the KODE art museum, which is Scandinavia's largest museum for art and music.

Overnight at Bergen

Day 13

Bergen to Sogndal - Experiencing the Fjords along Voss, Sognefjord, Stalheim, Aurlandsfjord, Flam & Stegastein

After breakfast today, head to Norway's adventure capital, Voss, which is home to the beautiful Tvindefossen waterfall.

Your journey will then continue to Sogndal along the Sognefjord taking in sights including the towns of Stalheim, before reaching the beautiful Aurlandsfjord and the town of Flam.

We recommend stopping in Flam and riding the renowned Flamsbana railway, a steep train ride between Flam and Myrdal.

A stop at the Stegastein viewpoint is recommended, where you can enjoy a panoramic view of Aurlandsfjord.

At the head of Aurlandsfjorden, Flåm sits in a truly spectacular setting beside Sognefjord. The main attraction here is the stunning mountain railway that creeps up into the surrounding peaks and offers truly eye-popping panoramas. Unfortunately it's far from a well-kept secret, and on the busiest summer days the tiny village can find itself swamped by several thousand visitors – it's probably best left for the quieter seasons of spring and autumn, or early summer at a push. The popular Norway in a Nutshell tour also stops here.

You will then take a short ferry ride before driving towards Sogndal, where you will spend the night.

Total driving distance of 237 kms / 148 miles ... Estimated driving duration : 4 hours (without stops)

Overnight at Sogndal

Day 14

Sogndal to Loen - Enroute visit Fjaerland & Jostedalsbreen National Park

After breakfast, today is full of scenic fjord sightseeing

Start your day with visit to the Norwegian Glacier Museum in Fjaerland before continuing north along Jostedal glacier, mainland Europe´s largest ice cap.

You can't miss this striking museum: it's a concrete wedge marooned among a sea of grass on the way into Fjaerland, and even has a couple of model woolly mammoths outside. It provides a great overview of general glacier geology, as well as process of fjord formation, and the ecology and wildlife of Jostedalsbreen itself. Highlights are the simulated ice tunnel and the tusk of a Siberian woolly mammoth who met an icy demise 30,000 years ago.

Next, drive the Fjaerland Road until you reach lovely Loen. We recommend boarding the magnificent Loen Sky lift, a cable car to the altitude of 1011 metres with amazing views of the fjord.

The fjord-side village of Loen is mainly of use as a gateway to the glaciers. From this tiny village, a road leads up the Lodalen valley to the spectacular Bødalen and Kjenndalen glacial tongues.

Total driving distance of 135 kms / 85 miles ... Estimated driving duration : 2 hours (without stops)

Overnight at Loen

Day 15

Loen to Geiranger - Sail along the glorious Geiranger fjord

After breakfast, today we recommend starting the day with a 65-minute ferry ride from Hellesylt, with your car, through the UNESCO-protected Geirangerfjord where you see famous waterfalls like the Seven Sisters and the Bridal Veil, along with abandoned fjord farms in the mountains. This short cruise offers truly breathtaking scenery.

Well, this is the big one: the world-famous, Unesco-listed, oft-photographed fjord that's on the radar of nearly every visitor to Norway. And in purely scenic terms, it's impossible to argue against the case for its inclusion: it is, quite simply, one of the world's great natural features, a truly majestic combination of huge cliffs, plunging waterfalls and deep blue water that's guaranteed to make a lasting imprint on your memory.

But with prestige comes popularity. Incredibly, up to one million visitors come here every year to see the sights and scores of cruise ships dock at the port each day in summer. At certain times of day you're unlikely to enjoy much peace and quiet, especially around the main port of Geiranger.

Thankfully, out on the fjord itself, peace and tranquillity remain and a ride on the Geiranger–Hellesylt ferry is an essential part of your Norwegian adventure.

Upon arrival in Geiranger, we recommend taking in the fantastic fjord scenery, exploring the charming Geiranger village and enjoying a leisurely hike in the afternoon.

Total driving distance : 61kms / 38 miles ... Estimated driving duration : 2 hours & 30 minutes (without stops and including ferry)

Overnight at Geiranger

Day 16

Geiranger - At leisure

After breakfast, day at leisure to explore the beautiful Geiranger fjord

For those who would like to explore on their own there are several hiking trails you can follow, but for others we offer exciting optional activities such as a rib boat safari, kayaking tour and guided hiking and kayak tour.

For those after some pampering, the nearby spa at Hotel Union is ideal to relax and get a treatment or two, followed by a trip to the chocolate factory in town for a little more indulgence.

Overnight at Geiranger

Day 17

Geiranger to Lillehammer - Enroute visit Village of Lom & Gudbransdalen Valley

After breakfast we recommend that you visit the Dalsnibba sky walk, Europe's highest fjord view point by road, where you will enjoy sweeping views of Geiranger fjord.

After the skywalk, continue to the historic village of Lom, driving through twisty roads and beautiful mountain scenery. Along the way you can visit the Lom Stave church, one of the largest and most beautiful stave churches in Norway.

Continue the drive through the magnificent Gudbransdalen valley, which is surrounded by several national parks like Rondane National Park, Breheimen and Reinheimen, before reaching Lillehammer in the afternoon.

Long a popular Norwegian ski resort, Lillehammer became known to the world after hosting the 1994 Winter Olympics. These Olympics, overwhelmingly considered a great success, still provide the town with some of its most interesting sights. Lying at the northern end of the lake Mjøsa and surrounded by farms, forests and small settlements, it's a laid-back place with year-round attractions, although in winter it becomes a ski town par excellence.

Total driving distance of 265 kms / 165 miles ... Estimated driving duration: 4 hours (without stops)

Overnight at Lillehammer

Day 18

Lillehammer to Mora - Enroute visit Trysil, Salen, Vasaloppet, Mora & Dalarna

After breakfast today, you will drive back to Sweden through the thick forests and fells of Norway and Sweden.

Along the way, you will pass ski resorts such as Trysil in Norway and Salen in Sweden before driving along the trail of Vasaloppet, the world's oldest and biggest cross-country ski race. It has a rich history and tradition; hundreds of thousands of skiers have tackled the 90 km stretch from Salen to Mora since it began in 1922.

Next, you will visit the famous region of Mora, Dalarna, which is the third most popular tourist site in Sweden after Stockholm and Gothenburg.

Mora is spliced with Sweden's historic soul. Legend has it that in 1520 Gustav Vasa arrived here in a last-ditch attempt to start a rebellion against the Danish regime. The people of Mora weren't interested and Gustav was forced to put on his skis and flee for the border. After he left, the town reconsidered and two yeomen, Engelbrekt and Lars, volunteered to follow Gustav's tracks, finally overtaking him in Salen and changing Swedish history.

Today the world's biggest cross-country ski race commemorates that epic chase and its finish-line is in Mora. Participants number more than one and a half times the town's year-round population. Summer sees holidaymakers from Stockholm and beyond come for sunny antics on Lake Siljan, while year-round, lovers of Swedish folk art and lore visit the nearby village of Nusnas for the chance to observe local artisans carving and painting the nation's beloved Dalahastar [Dala Horses]

Total driving distance of 318 kms / 198 miles ... Estimated driving duration : 4 hours and 27 minutes (without stops)

Overnight at Mora, Lake Siljan Area

Day 19

Mora, Lake Siljan - At leisure to explore

After breakfast, we recommend visiting the 18th century home and museum of Anders Zorn, one of Sweden's most celebrated painters.

Next, drive to Rattvik, where you can visit the Rattvik church which has a history that goes back 800 years. Make time to see the old church stables that were used as shelter for people and horses. In this area there are many opportunities for activities such as fishing, horse riding and swimming.

Other options today include visiting the pretty village of Tallberg by Lake Siljan, just 15 km south of Rattvik, or if you prefer to go north, you will find the Styggforsen waterfall and you can take a stroll in the nature reserve and look at the "troll hole" cave located at the foot of the waterfall.

Overnight at Mora, Lake Siljan Area

Day 20

Mora, Lake Siljan to Stockholm - Enroute visit Dössberget Heritage Museum, Grannas Dala,

After breakfast, start your drive towards Stockholm

For those interested in with Swedish heritage, a stop at the Dossberget Museum in Bjursas, just outside Falun, might be of interest. Even if you don't have Swedish roots, the great view, atmosphere and lunch makes it well worth a visit.

After lunch, continue west to Nusnas and visit the Grannas Dala Horse Workshop. Here at this family-owned workshop from the 1920s you can see how this popular symbol of Sweden is made.

You will end the day in Stockholm, return your rental car, and spend the evening at leisure

Driving distance: 311kms / 193 miles ... Estimated driving duration: 4 hours (without stops)

Overnight at Stockholm

Day 21

Departure from Stockholm

Enjoy one last breakfast of the trip before it is time to check out of your hotel

Passengers departing with the afternoon flight will have time for some last-minute shopping, sightseeing, or some time relaxing at a café, reflecting on your Scandinavian adventure

Drop the car at airport rental office and proceed to board your flight
Notes
Round the Year Destination ... Extension recommended for Northern Lights & Mid-night Sun Tour + St Petersburg & other destinations across Russia ... Details available on our website
Hotels
Best of Scandinavia ... Self Drive Holidays
Notes on itinerary
All our itineraries are "Just for Ideas" ... We will get to know you and customise an itinerary just for you that matches your requirements ... dates of travel, category of hotels, preferred airline, flexibility in choosing sightseeing, mode of travel between cities, etc.
Many of our clients have us design more relaxing, slower paced holidays with more in-depth experiences whereas some simply want to visit various destinations and cover only the highlights.
Together, we will determine the ideal route, pace of travel, accommodations, levels of pampering, style of touring, sightseeing to be included, dining preferences, adventure levels, options to meet locals, dates of travel & much more ! and based on this arrive at a price.
Do feel free to get in touch with us by a quick call on +91 79 29602961 or a short mail on mail@destinations4india.com ... Looking forward