Yacht @ Greece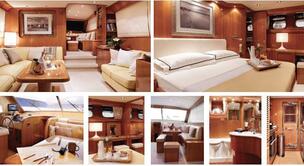 Itinerary
Day 1

Embarkation from Piraeus @ 12pm to Mykonos

The most famous of the islands in Greece and one of the world's most popular holiday resorts has been welcoming visitors for over half a century. Walk along the narrow paved alleys enjoy the wonderful view of the bluest sky reflecting on the crystal clear turquoise waters. The beaches are generally very busy. It is worth exploring the little bays on the south side that have made the island of Mykonos the most visited island of Greece. Visit the archaeological excavation in Delos. Overnight in Mykonos

Day 2

Embarkation from Mykonos to Paros

Paros is situated in the heart of the Cyclades. Paros has many beaches and it is difficult to say which one is the best. Just like anywhere else in Greece, you will find little bars and taverns even in the smallest village on Paros. If you really want to party, it's best to stay in Parikia - that's where the clubs and discos are. All of the above, along with warm hospitality, excellent tourist facilities, rich cultural life, cosmopolitan ambience but also the possibility of seclusion, have combined to make Paros one of the most favourite spots in the Cyclades. Overnight in Paros

Day 3

Departure from Paros to Milos

Milos is located in the southwestern part of the Cycladic islands and particularly near the islands of Kimolos, Sifnos and Folegandros. Milos covers an area of 158 square kilometers with a total coastline of 125 kilometers! Milos is famous for its statue of Aphrodite, which is exhibited in the Louvre Museum in Paris, France. Some of the attractions of the island are the Ancient Theatre, the Archaeological, the Folklore and the Mining Museum, which are welcoming the public and are worth visiting and of course the beaches, everyone of each with its distinctive beauty. Overnight in Milos.

Day 4

Departure from Milos to Serifos.

In the infinite charm of the Aegean Sea, Serifos the "iron island" of the Cyclades stands out, in its unique way and beauty, enchanting the visitors at first sight. The island of Perseus and the Cyclopes is an ideal destination for a pleasant get-away by the sea and under the sun. Overnight in Serifos.

Day 5

Departure from Serifos to Athens & Disembarkation at 12pm.

Departure from Serifos to Athens & Disembarkation at 12pm.
Notes on Hotel Reservations & Tour Bookings
Indicated tour rates will depend on dates of travel, number of travellers and local conditions at each destination

All

rates

are as per current availability / Subject to change at the time of booking

Rates are not applicable for Event and Exhibition dates

GST apply as extra

At most hotels : Check in time is 1400 hrs. / Check out time is 1200 hrs.

While we make recommendations for hotels all around the world, we do not stand guarantee and are not responsible for the services or the hardware provided by the hotel/s suggested by us. We strongly urge you to do your own research and make an informed choice
All requests like early check in, smoking / non-smoking rooms, views, floors, king / twin beds, adjoining and/or interconnecting rooms, etc are strictly subject to availability upon arrival and at hotel's discretion. These cannot be guaranteed prior.
Any amendment in reservations / itinerary before reconfirmation will attract a charge
Once the reservation has been reconfirmed and if the booking is cancelled or amended, retention will be applicable.
All Indian nationals need to present a valid photo ID at the time of check in. This is a mandatory requirement.
All Foreign nationals need to present a valid passport with VISA at the time of check in. This is a mandatory requirement.
We cannot be held accountable for any delay or disruption due to infra-structure development or lack of it, traffic held up due to accident or whatsoever reason, natural calamity, political unstability, delay in flights, etc.
Tour Inclusions [Yacht @ Greece]
R/T transfer from Athens International Airport to the marina
4 Days yacht charter
Yacht's insurance
Crew wages & supplement
Harbor and marina fees within Greek Waters
English speaking services throughout the program
Tour Exclusions [Yacht @ Greece]
VAT 11.5% on the yacht (Period A: € 554,00 & Period B: € 470,00) APA 30% (Period A: € 1.445,00 & Period B: € 1.226,00) Food and drinks for the guests
Corinth canal fees (if applicable)
Foreign water fees (if applicable)
Private marina charges (if any)
Gratuity for the crew (upon client's discretion).
Personal expenses
Any other services not specified in the itinerary
Flight tickets
Notes on itinerary
All our itineraries are "Just for Ideas" ... We will get to know you and customise an itinerary just for you that matches your requirements ... dates of travel, category of hotels, preferred airline, flexibility in choosing sightseeing, mode of travel between cities, etc.
Many of our clients have us design more relaxing, slower paced holidays with more in-depth experiences whereas some simply want to visit various destinations and cover only the highlights.
Together, we will determine the ideal route, pace of travel, accommodations, levels of pampering, style of touring, sightseeing to be included, dining preferences, adventure levels, options to meet locals, dates of travel & much more ! and based on this arrive at a price.
Do feel free to get in touch with us by a quick call on +91 79 29602961 or a short mail on mail@destinations4india.com ... Looking forward