GUJARAT - WILD WILD WEST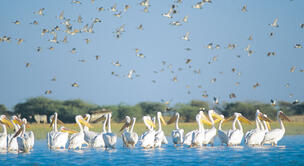 GUJARAT
Situated on the western part of the Indian sub-continent, Gujarat derives its name 'Gujaratta' meaning the land of Gurjars. The Gurjars passed through Punjab and settled in some parts of Western India, which came to be known as Gujarat.
Gujarat today offers a wide range of the most spectacular attractions - which includes breathtaking locations and scenic landscapes. Gujarat is also a melting pot of several civilizations resulting in a vibrant culture and a rich heritage. Gujarat is home to several architectural marvels, witnesses of its glorious history and pilgrim centres for many faiths.
It is also the land of several mythological & historical figures like the legendary Lord Krishna and Mahatma Gandhi the apostle of non-violence.
Gujarat is a home to incredible diversity due to its geographic and strategic location. Its Gujarati pride and rich cultural heritage is reflected in arts, music, literature, religious traditions, cuisine, fairs and festivals of every city and place.
If you have a Passion for Good Living, Gujarat is For You. If you wish for development and growth, Gujarat is For You. Gujarat has witnessed Winds of Change under the leadership of Narendra Modi [The current Prime Minister of India], who believes that "Future of India belongs to Gujarat." With the inherent strength and immense potential, Gujarat is destined to bring glory to the nation.
Barely glimpsed by many travellers scurrying between Mumbai (BOMBAY) and Rajasthan, Gujarat is an easy side-step off the well-beaten tourist trail. While the capital, Ahmedabad, retains some charm amid its chaos, the countryside holds most of this state's treasures. Traditional artisans in tribal villages weave, embroider, dye and print some of India's finest textiles. Pristine parks harbour unique wildlife, including migratory birds, wild asses and the last remaining prides of Asiatic Lions. For the spiritually inclined, sacred Jain and Hindu pilgrimage sites sit atop mountains that rise dramatically from vast flatlands. And colourful festivals burst with a cornucopia of culture.
Gujarat also claims a special relationship to the life and work of Mahatma Gandhi: he was born here, he ignited the satyagraha movement from here, he made his Salt March here – and his legacy remains a vibrant part of public discourse and private lives.
WILDLIFE IN GUJARAT
Gujarat is a paradise for bird-watchers and wildlife enthusiasts. Deciduous forests, desert plains, grasslands, wetlands and coastal and marine locations have made Gujarat one of the most pleasant place for bird watching and wildlife viewing. The last Asiatic lions are found in the Gir National Park, in the Little Rann of Kutch are the only surviving wild asses in India and the Velavadar National Park conserves the rare, swift footed blackbuck. Nal Sarovar is also the only nesting ground in India of the large flamingo. Throughout most of the state there is a naturally rich bird life, peacocks and parrots are the most common. Migratory birds from North Eurasia find Gujarat a pleasant winter resting ground. With its long coastline, Gujarat enjoys the good fishing waters. Pomfret, a favourite in restaurants throughout the country is caught here, as are prawns, tuna and Bombay Duck which is salted and dried fish. There are about four national parks and twenty one wildlife sanctuaries in Gujarat. Some of the wildlife sanctuaries and national parks in Gujarat are the Marine National Park, Gir National Park, Indian Wild Ass Wildlife sanctuary, Velavadar National Park. Nalsarovar Bird Sanctuary, Khijadia Bird Sanctuary and the Porbandar Bird sanctuary are the other bird sanctuaries in Gujarat.
AHMEDABAD
It is the largest city in Gujarat. It is the Seventh largest city in India with population of approximately 6 million. Ahmedabad is the fastest growing city of India, and ranked third as the fastest growing cities worldwide. It is located on the banks of the River Sabarmati, 32 km from the state capital Gandhinagar. The city has witnessed the establishment of scientific and service industries, the expansion of the information Technology sector, and significant improvements in transportation and communications. Ahmedabad's population is growing, which has resulted in a construction and housing boom. From the tourism point of view the city is blessed with Gandhi Ashram – Place where Mahatma Gandhi launched the freedom movement against the British, Syed Sayed Mosque, Stepwells, Jumma Masjid, etc. are some of the famous Tourist Hotspots in Ahmedabad.
MODHERA
The Sun temple of Modhera is one of the finest examples of Indian architecture of its period. Built in 1026 A.D. the temple is dedicated to the Sun-God, Surya and stands high on a plinth overlooking a deep stone-steeped tank. Every inch of the edifice, both inside and outside is magnificently carved with Gods and Goddesses, birds, beasts and flowers. SunTemple of Modhera was built by King Bhimdev I (1026-27) and bears some resemblance to the later, and far better known, Sun Temple of Konark in the state of Orissa, which it predates by some 200 years. Like that temple, it was designed so that the dawn sun shone on the image of Surya, the sun God, at the time of the equinoxes. The main hall and shrine are reached through a pillared porch and the temple exterior is intricately and delicately carved. As with the temple of Somnath, this fine temple was ruined by Mahumad of Ghazni.
PATAN
It is the home of the famous patola silk saris, Patan is a beautiful old town with Jain temples and carved wooden houses. Ranikivav (step well) is an excellent example of subterranean architecture of Gujarat. The exisquisitely carved side walls, pillars, beams, series of steps & platforms lead to the elaborately carved water well. Every surface is adorned with finelly chiseled sculptures of maidens & Hindu deities, religious motifs & geometrical patterns. Rani ki Vav represents the finest of the Indian sculptures and architecture.
WILD ASS SANCTUARY – DASADA
The barren, blindingly white land of the Little Rann is nature at its harshest and most compelling. It's best known as the home of the last remaining population of the chestnut-coloured Indian wild ass (also called khur), as well as bluebulls, blackbuck and chinkara. There's also a huge bird population from October to March (this is one of the few areas in India where flamingos breed in the wild). The 4953-sq-km Wild Ass Sanctuary covers a large part of the Little Rann. Easily accessible from Ahmedabad, it can be combined with trips to Nalsarovar Bird Sanctuary, Modhera and Patan.
The Little Rann is punctuated by desolate salt farms, where people eke out a living by pumping up groundwater and extracting the salt. Heat mirages disturb the vast horizon – bushes and trees seem to hover above the surface. Rain turns the desert into a sea of mud, and even during the dry season the solid-looking crust is often deceptive, so it's essential you take a local guide when exploring the area. About 3000 khurs live in the sanctuary, surviving off the flat, grass-covered expanses or islands, known as bets, which rise up to around 3m. These remarkable, notoriously untamable creatures are capable of running at an average speed of 50km/h for long distances. You can look for bluebulls and peacocks in the surrounding countryside or take trips further afield to see wild asses, blackbuck, the birds of Nalsarovar or a variety of artisans in area villages.
NAL SAROVAR
This 116-sq-km lake [Nal Sarovar], located some 60km south-west of Ahmedabad, is a flood of ceaseless blue dissolving into the sky, surrounded by iron-flat plains. Between November and February, the sanctuary sees flocks of indigenous and migratory birds with as many as 250 species passing through the park. Ducks, geese, pelicans and flamingos are best seen early in the morning (aim for 5.30am) and in the evening.
VELAVADAR - BLACKBUCK NATIONAL PARK
This small part of Bhal region (34.52 sq.km.), which was declared as Blackbuck National Park in July 1976, is an open grassland. The sanctuary has been declared primarily for Blackbucks. The beauty of the grassland is enhanced by the movements of blackbucks and nilgais, which one can see from long distances. The blackbuck is most conspicuous for its jumping over the levels of grass.
SASAN GIR
The last refuge of the Asiatic lion (Panthera leo persica) is this forested, hilly, 1412-sq-km sanctuary about halfway between Veraval and Junagadh. It feels beguilingly uncommercial, and simply driving through the thick, undisturbed forests would be a joy even if there wasn't the excitement of lions and other wildlife to spot. The sanctuary was set up in 1965, and a 259-sq-km core area was declared a national park in 1975. Since the late 1960s, lion numbers have increased from under 200 to over 400. The sanctuary's 37 other mammal species, most of which have also increased in numbers, include the dainty chital (spotted deer), the sambar (a large deer), the nilgai or bluebull (a large antelope), the chousingha (four-horned antelope), the chinkara (a gazelle), crocodiles and rarely seen leopards. Sasan Gir is a great destination for birders too, with over 300 species, most of them resident. While the wildlife has been lucky, more than half the sanctuary's human community of distinctively dressed maldhari have been resettled elsewhere, ostensibly because their cattle and buffalo were competing for food resources with the antelopes, deer and gazelles, while also being preyed upon by the lions and leopards (maldhari livestock still provides a quarter of the lions' diet).
The Gir Forest National Park and Wildlife Sanctuary– home to Asiatic Lions - was established in 1965, with a total area of 1412 km². The National Park is interspersed with semi-evergreen and evergreen flora, acacia, scrub jungle, grasslands and rocky hills. Fed by perennial and seasonal rivers and streams, the sanctuary has large water bodies like the kamleshwar Dam that are good for crocodiles and birds.
Itinerary
Day 1

ARRIVAL AHMEDABAD / HALF DAY LOCAL SIGHTSEEING

Arrival at Ahmedabad, Transfer to Hotel, Later visit Gandhi Ashram, Hutheesing Jain Temples, Akshardham Temple & Stepwells of Adalaj. Later, visit the Utensil Museum followed by Dinner at Vishala [An ethnic Village Theme Restaurant] [optional] serving a variety of delicious Meals. Overnight at Ahmedabad Hotel

Day 2

AHMEDABAD / MODHERA / PATAN / DASADA (265 Kms)

After breakfast, depart for North Gujarat. Enroute visit 11th century Sun Temple of Modhera, one of the finest examples of Hindu temple architecture in western India. Later proceed to Patan to see the magnificently carved 11th century stepwell. After that drive to Little Rann of Kutch. Evening at leisure. Overnight at Dasada hotel

Day 3

DASADA / NAL SAROVAR / VELAVADAR (185 Kms)

After breakfast, depart for Velavadar. Enroute visit Nal Sarovar. Later in the evening continue drive to Velavadar. Overnight at Velavadar Hotel

Day 4

VELAVADAR / SAFARI / SASAN GIR (220 Kms)

After breakfast, morning visit Blackbuck Natural Park. The sanctuary has been declared primarily for Blackbucks. The beauty of the grassland is enhanced by the movements of blackbucks and Nilgais, which one can see from long distances. The blackbuck is most conspicuous for its jumping over the levels of grass. Later continue drive to Sasan Gir. Overnight at Sasan Gir Hotel

Day 5

SASAN GIR / SAFARI

After breakfast, proceed for Safari in Gir National Park. It is the only home in India for the Asiatic Lion of which there are nearly 300 Lions in the park. Overnight at Sasan Gir Hotel.

Day 6

SASAN GIR / AHMEDABAD (345 Kms)

After breakfast, depart for Ahmedabad. Later in the evening visit the Night Market at Law Garden. Overnight at Ahmedabad Hotel

Day 7

AHMEDABAD HERITAGE WALK & SIGHTSEEING / DEPART AHMEDABAD

After early breakfast at 7.00 am, proceed to Swami Narayan Temple for Heritage Walk Guided Tour of old walled city of Ahmedabad. The walk ends at Jumma Mosque at 10.30 am. Visit Green House for snacks [optional] and visit Siddi Sayed Mosque located right opposite. Later return to hotel & check out. Drop to Ahmedabad airport
Hotels
Tour Inclusions [ GUJARAT - WILD WILD WEST]
Stay at stated or similar hotels on sharing basis as per the itinerary
Chauffer driven AC vehicle for transfers & sightseeing as per itinerary inclusive of fuel, toll, parking, taxes, allowances, etc.
Breakfast at all hotels
Breakfast & dinner at Sasan Gir hotel
One Jungle Safari at Sasan Gir & Velavadar – Blackbuck National Park [On sharing basis as per Jungle Authorities]
All currently applicable Taxes
Sightseeing at all locations as mentioned in the itinerary [Entrance fees on direct payment / nominal amount - Rs.5 to Rs.25 per person]
Tour Exclusions [ GUJARAT - WILD WILD WEST]
Optional - Theme Dinner at Vishala & Swati @ Ahmedabad
The tour does not include tips, beverages, unstated meals, camera fee, portage & items of personal nature, anything not mentioned under inclusions, etc.
All stated sightseeings in the itinerary are simply suggested and can be covered based on your suitability of interest, time on hand and energy permitting
Entrances to places of sightseeing - Monuments, Parks, Guide charges if any, etc. will be on direct payments basis over the Counter unless stated under inclusions
Camera fees payable separately at the Jungle entry gate
Jungle Safari at Sasan Gir is subject to availability as per local arrangement. This permit can be obtained in person only on direct payment basis. Driver will assist you in getting this.
Anything specifically not mentioned under the name "TOUR INCLUSIONS"
Notes on Hotel Reservations & Tour Bookings
Indicated tour rates will depend on dates of travel, number of travellers and local conditions at each destination

All

rates

are as per current availability / Subject to change at the time of booking

Rates are not applicable for Event and Exhibition dates

GST apply as extra

At most hotels : Check in time is 1400 hrs. / Check out time is 1200 hrs.

While we make recommendations for hotels all around the world, we do not stand guarantee and are not responsible for the services or the hardware provided by the hotel/s suggested by us. We strongly urge you to do your own research and make an informed choice
All requests like early check in, smoking / non-smoking rooms, views, floors, king / twin beds, adjoining and/or interconnecting rooms, etc are strictly subject to availability upon arrival and at hotel's discretion. These cannot be guaranteed prior.
Any amendment in reservations / itinerary before reconfirmation will attract a charge
Once the reservation has been reconfirmed and if the booking is cancelled or amended, retention will be applicable.
All Indian nationals need to present a valid photo ID at the time of check in. This is a mandatory requirement.
All Foreign nationals need to present a valid passport with VISA at the time of check in. This is a mandatory requirement.
We cannot be held accountable for any delay or disruption due to infra-structure development or lack of it, traffic held up due to accident or whatsoever reason, natural calamity, political unstability, delay in flights, etc.
Notes on itinerary
All our itineraries are "Just for Ideas" ... We will get to know you and customise an itinerary just for you that matches your requirements ... dates of travel, category of hotels, preferred airline, flexibility in choosing sightseeing, mode of travel between cities, etc.
Many of our clients have us design more relaxing, slower paced holidays with more in-depth experiences whereas some simply want to visit various destinations and cover only the highlights.
Together, we will determine the ideal route, pace of travel, accommodations, levels of pampering, style of touring, sightseeing to be included, dining preferences, adventure levels, options to meet locals, dates of travel & much more ! and based on this arrive at a price.
Do feel free to get in touch with us by a quick call on +91 79 29602961 or a short mail on mail@destinations4india.com ... Looking forward