WESTERN GUJARAT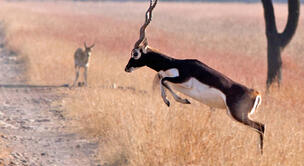 GUJARAT
Situated on the western part of the Indian sub-continent, Gujarat derives its name 'Gujaratta' meaning the land of Gurjars. The Gurjars passed through Punjab and settled in some parts of Western India, which came to be known as Gujarat.
Gujarat today offers a wide range of the most spectacular attractions - which includes breathtaking locations and scenic landscapes. Gujarat is also a melting pot of several civilizations resulting in a vibrant culture and a rich heritage. Gujarat is home to several architectural marvels, witnesses of its glorious history and pilgrim centres for many faiths.
It is also the land of several mythological & historical figures like the legendary Lord Krishna and Mahatma Gandhi the apostle of non-violence.
Gujarat is a home to incredible diversity due to its geographic and strategic location. Its Gujarati pride and rich cultural heritage is reflected in arts, music, literature, religious traditions, cuisine, fairs and festivals of every city and place.
If you have a Passion for Good Living, Gujarat is For You. If you wish for development and growth, Gujarat is For You. Gujarat has witnessed Winds of Change under the leadership of Narendra Modi [The current Prime Minister of India], who believes that "Future of India belongs to Gujarat." With the inherent strength and immense potential, Gujarat is destined to bring glory to the nation.
Barely glimpsed by many travellers scurrying between Mumbai (BOMBAY) and Rajasthan, Gujarat is an easy side-step off the well-beaten tourist trail. While the capital, Ahmedabad, retains some charm amid its chaos, the countryside holds most of this state's treasures. Traditional artisans in tribal villages weave, embroider, dye and print some of India's finest textiles. Pristine parks harbour unique wildlife, including migratory birds, wild asses and the last remaining prides of Asiatic Lions. For the spiritually inclined, sacred Jain and Hindu pilgrimage sites sit atop mountains that rise dramatically from vast flatlands. And colourful festivals burst with a cornucopia of culture.
Gujarat also claims a special relationship to the life and work of Mahatma Gandhi: he was born here, he ignited the satyagraha movement from here, he made his Salt March here – and his legacy remains a vibrant part of public discourse and private lives.
AHMEDABAD
It is the largest city in Gujarat. It is the Seventh largest city in India with population of approximately 6 million. Ahmedabad is the fastest growing city of India, and ranked third as the fastest growing cities worldwide. It is located on the banks of the River Sabarmati, 32 km from the state capital Gandhinagar. The city has witnessed the establishment of scientific and service industries, the expansion of the information Technology sector, and significant improvements in transportation and communications. Ahmedabad's population is growing, which has resulted in a construction and housing boom. From the tourism point of view the city is blessed with Gandhi Ashram – Place where Mahatma Gandhi launched the freedom movement against the British, Syed Sayed Mosque, Stepwells, Jumma Masjid, etc. are some of the famous Tourist Hotspots in Ahmedabad.
LOTHAL
Lothal is one of the most famous sites of Indus Valley (Harappan) Civilization. Lothal is located approximately 80 km southwest of Ahmedabad. Present day Lothal is in the middle of quiet agricultural field, where you can see no inhabitants around the site. But in the ancient time (2000 BC), it is thought to have been a bustling commercial center with bead factories and dockyard for exporting the products. Four millennia have passed and we can only imagine the full scale of the city and people who lived there, but some artifacts, such as toys and perforated pots, can be viewed in the nearby museum. In the rainy season and winter, Lothal is a very comfortable to place to visit, with greenery surrounding the site. You will be able to spend quiet time thinking about the lost civilization.
VELAVADAR - BLACKBUCK NATIONAL PARK
This small part of Bhal region (34.52 sq.km.), which was declared as Blackbuck National Park in July 1976, is an open grassland. The sanctuary has been declared primarily for Blackbucks. The beauty of the grassland is enhanced by the movements of blackbucks and nilgais, which one can see from long distances. The blackbuck is most conspicuous for its jumping over the levels of grass.
DIU
Located on sea coast near Gujarat also known as an Union Territory, Diu is an erstwhile Portuguese colony and boasts of several historical monuments, church, temple and places of sightseeing. The Island of Diu has chaptered History, having been under the possession of and ruled by many Kings and Dynasties; beginning with the Pauranic period and the last being Portuguese from whom it was liberated along with Goa and Daman on 19th December, 1961. The word 'ISLAND'.(DIU) which was under the Yadavas led by Krishna Vasudeva during Mahabharata period.
SOMNATH
It is home to one of the 12 Jyotirlings of India, the temple city of Somnath or PrabhasPatan is situated in the state of Gujarat on the Arabian Sea. It is said that the original temple of Somnath was built by the Moon God and was made of gold. After it was razed to the ground, it was rebuilt with silver by Ravana. When the silver temple was knocked down, it was reconstructed in wood by Krishna. And when this was pulled down, an edifice of stone was erected by Bhimdev. This is the first among the twelve Jyotirlings. Since ancient times, PrabhasPatan has been a pilgrimage, being the confluence of the mythological Saraswati, Hiranya and Kapila. Legend has it that Lord Shiva's Kalbhairavlinga is situated at Prabhas. It is also associated with the moon as the Moon God is also said to have worshipped this Shivling. This is also the reason why this temple is popularly known as Somnath, the one named after the moon.
SASAN GIR
The Gir Forest National Park and Wildlife Sanctuary– home to Asiatic Lions - was established in 1965, with a total area of 1412 km². The National Park is interspersed with semi-evergreen and evergreen flora, acacia, scrub jungle, grasslands and rocky hills. Fed by perennial and seasonal rivers and streams, the sanctuary has large water bodies like the kamleshwar Dam that are good for crocodiles and birds.
PORBANDAR
Porbandar is situated on the western coast of Saurastra facing the Arabian Sea. Porbandar is the birthplace of Mahatma Gandhi - The Father of the Nation. Kirti Mandir is the major attraction for tourist where Putlibai, Gandhiji's mother, had given birth to Gandhiji. Behind Kirti Mandir is Navi Khadi, where Kasturba, Gandhiji's wife was born. Sandwiched in between Veraval and Dwarka is the beautiful Porbandar beach.
The heart of the old city is known as Chandi Bazaar (Silver Market – which it is, among other things) and it contains, besides a heaving commercial scene, three beautiful Jain temples. The larger two, Shantinath Mandir and Adinath Mandir, dedicated to the 16th and first tirthankars, explode with fine murals, mirrored domes and elaborate chandeliers. The Shantinath Mandir is particularly beautiful, with coloured columns and a gilt-edged dome of concentric circles.
DWARKA
Dwarka literally feels like the end of the earth. This remote pilgrimage town at the extreme western tip of the Kathiawar peninsula in Gujarat, is one of the four most holy Hindu sites in India – Krishna is said to have set up his capital here after fleeing from Mathura. It's a well-organised town, busy with pilgrims and farmers. Men wear white clothes and red turbans, and both men and women are weighed down with gold nugget-like jewellery. It gets packed with pilgrims at festival times. Archaeological excavations have revealed five earlier cities lying just off the coast – submerged as the sea encroached.
JAMNAGAR
It is another little-touristed but interesting city, brimming with ornate, decaying buildings and colourful bazaars displaying the town's famous, brilliant-coloured bandhani (tie-dye) – produced through a laborious 500-year-old process involving thousands of tiny knots in a piece of folded fabric. Perhaps best of all, people here are exceedingly friendly.
Itinerary
Day 1

ARRIVAL AHMEDABAD / HALF DAY LOCAL SIGHTSEEING

Arrival Ahmedabad, Meet & Greet by our representative, Transfer to Hotel, Later proceed for Local Sightseeing tour & visit Gandhi Ashram, Hutheesing Jain Temples, Akshardham Temple & Stepwells of Adalaj. Evening visit Night Market at Law Garden. Later, visit the Utensil Museum followed by Dinner at Vishala [An ethnic Village Theme Restaurant] [optional] serving a variety of delicious Meals. Overnight at Ahmedabad Hotel

Day 2

AHMEDABAD / LOTHAL / VELAVADAR (145 Kms)

After breakfast, depart for Velavadar. Enroute visit Harappan Era site – Lothal [A perfect place to get an insight of the Indus Valley civilization]. After visiting Lothal continue drive to Velavadar. Overnight at Velavadar Hotel

Day 3

VELAVADAR NATURAL PARK SAFARI

After breakfast, visit the Blackbuck Natural Park for Safari. The sanctuary has been declared primarily for Blackbucks. The beauty of the grassland is enhanced by the movements of blackbucks and Nilgais, which one can see from long distances. The blackbuck is most conspicuous for its jumping over the levels of grass. Overnight at Velavadar Hotel

Day 4

VELAVADAR / DIU (130 Kms)

After breakfast, depart for Diu.Upon arrival at Diu, you can enjoy water sports at Nagoa Beach in the afternoon also Visit Khukri Memorial, Gangeshwar, Diu Fort, Panikotha, Jallandhar beach, Chakratirth beach and Sunset Point etc. Overnight at Diu Hotel

Day 5

DIU / SOMNATH / SASAN GIR (130 Kms)

After breakfast, depart for Sasan Gir. Enroute visit Somnath. Proceed for Somnath local Sightseeing of Triveni Sangam, Shardha Math, and Bhalka Teerth & the famous Somnath Temple. Later Continue drive to Sasan Gir. Overnight at Sasan Gir Hotel

Day 6

SASAN GIR SAFARI

After breakfast, proceed for Lion Safari in the Sasan Gir National Park. It is the only home in India for the Asiatic Lion of which there are nearly 300 in the park. Overnight at Sasan Gir Hotel.

Day 7

SASAN GIR / PORBANDAR / DWARKA (245 Kms)

After breakfast, depart for Dwarka. Enroute visit Porbandar. Later continue drive to Dwarka. On arrival, Attend the evening aarti at Dwarkadish Temple, also visit the Gomti Ghat and Bhakeshwar Mahadev Temple. Overnight at Dwarka Hotel

Day 8

DWARKA / JAMNAGAR (135 Kms)

After breakfast, depart for Jamnagar. Later visit Bala Hanuman Temple known for its non-stop Ram dhun since 1956 and is mentioned in the Guiness Book of World Records. Also visit Lakhota Museum, Lakhota Lake and other famous temples of Jamnagar. Dont forget to visit the local markets in Jamnagar known for its bandhni work. Overnight at Jamnagar Hotel

Day 9

JAMNAGAR / AHMEDABAD (310 Kms)

After breakfast, depart for Ahmedabad. On arrival at Ahmedabad, later in the evening visit the Night Market at Law Garden. Overnight at Ahmedabad Hotel

Day 10

AHMEDABAD HERITAGE WALK & SIGHTSEEING / DEPART AHMEDABAD

After early breakfast at 7.00 am, proceed to Swami Narayan Temple for Heritage Walk Guided Tour of old walled city of Ahmedabad. The walk ends at Jumma Mosque at 10.30 am. Visit Green House for snacks [optional] and visit Siddi Sayed Mosque located right opposite. Later return to hotel & check out. Drop to Ahmedabad airport
Hotels
Tour Inclusions [WESTERN GUJARAT]
PACKAGE INCLUDES :
* Stay at stated or similar hotels on sharing basis as per the itinerary
* Chauffer driven AC vehicle for transfers & sightseeing as per itinerary inclusive of fuel, toll, parking, taxes, allowances, etc.
* Breakfast at all hotels
* Breakfast & dinner at Sasan Gir hotel
* One Jungle Safari at Sasan Gir & Velavadar – Blackbuck National Park [On sharing basis as per Jungle Authorities]
* Attend Evening Aarti at Somnath & Dwarka
* All currently applicable Taxes
* Sightseeing at all locations as mentioned in the itinerary [entrance fees on direct payment / nominal amount - Rs.5 to Rs.25 per person]
Tour Exclusions [WESTERN GUJARAT]
Optional - Theme Dinner at Vishala & Swati @ Ahmedabad
The tour does not include tips, beverages, unstated meals, camera fee, portage & items of personal nature, anything not mentioned under inclusions, etc.
All stated sightseeings in the itinerary are simply suggested and can be covered based on your suitability of interest, time on hand and energy permitting
Entrances to places of sightseeing - Monuments, Parks, Guide charges if any, etc. will be on direct payments basis over the Counter unless stated under inclusions
Camera fees payable separately at the Jungle entry gate
Jungle Safari at Sasan Gir is subject to availability as per local arrangement. This permit can be obtained in person only on direct payment basis. Driver will assist you in getting this.
Anything specifically not mentioned under the name "TOUR INCLUSIONS"
Notes on Hotel Reservations & Tour Bookings
Indicated tour rates will depend on dates of travel, number of travellers and local conditions at each destination

All

rates

are as per current availability / Subject to change at the time of booking

Rates are not applicable for Event and Exhibition dates

GST apply as extra

At most hotels : Check in time is 1400 hrs. / Check out time is 1200 hrs.

While we make recommendations for hotels all around the world, we do not stand guarantee and are not responsible for the services or the hardware provided by the hotel/s suggested by us. We strongly urge you to do your own research and make an informed choice
All requests like early check in, smoking / non-smoking rooms, views, floors, king / twin beds, adjoining and/or interconnecting rooms, etc are strictly subject to availability upon arrival and at hotel's discretion. These cannot be guaranteed prior.
Any amendment in reservations / itinerary before reconfirmation will attract a charge
Once the reservation has been reconfirmed and if the booking is cancelled or amended, retention will be applicable.
All Indian nationals need to present a valid photo ID at the time of check in. This is a mandatory requirement.
All Foreign nationals need to present a valid passport with VISA at the time of check in. This is a mandatory requirement.
We cannot be held accountable for any delay or disruption due to infra-structure development or lack of it, traffic held up due to accident or whatsoever reason, natural calamity, political unstability, delay in flights, etc.
Notes on itinerary
All our itineraries are "Just for Ideas" ... We will get to know you and customise an itinerary just for you that matches your requirements ... dates of travel, category of hotels, preferred airline, flexibility in choosing sightseeing, mode of travel between cities, etc.
Many of our clients have us design more relaxing, slower paced holidays with more in-depth experiences whereas some simply want to visit various destinations and cover only the highlights.
Together, we will determine the ideal route, pace of travel, accommodations, levels of pampering, style of touring, sightseeing to be included, dining preferences, adventure levels, options to meet locals, dates of travel & much more ! and based on this arrive at a price.
Do feel free to get in touch with us by a quick call on +91 79 29602961 or a short mail on mail@destinations4india.com ... Looking forward