Best of Tanzania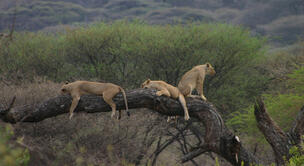 Wildlife, beaches, friendly people, fascinating cultures, Serengeti, Ngorongoro, Mt Kilimanjaro, Zanzibar Archipelago – Tanzania has all these and more wrapped up in one adventurous, welcoming package.

Wonderful Wildlife
More than almost any other destination, Tanzania is the land of safaris. Wildebeest stampede across the plains. Hippos jostle for space in muddy waterways. Elephants wander along seasonal migration routes and chimpanzees swing through the treetops. Throughout the country there are unparalleled opportunities to experience this natural wealth: take a boat safari down the Rufiji River past snoozing crocodiles in Selous Game Reserve; watch giraffes silhouetted against ancient baobab trees in Ruaha National Park; sit motionless as waterbirds peck in the shallows around Rubondo Island; and hold your breath while lions pad around your vehicle in Ngorongoro Crater.

Idyllic Beaches
Tanzania's Indian Ocean coastline is magical, with tranquil islands and sleepy coastal villages steeped in centuries of Swahili culture. Travel back in time to the days when the East African coast was the seat of sultans and a linchpin in a far-flung trading network extending to Persia, India and beyond. Relax on powdery beaches backed by palm trees and massive baobabs; take in magnificent, pastel-hued sunrises; immerse yourself in languid coastal rhythms; and sit beneath the billowing sails of a wooden dhow, listening to the creaking of its rigging and the gentle slap of the sea against its prow.

Mt Kilimanjaro
Sending its shadow across Tanzania's northern plains, Mt Kilimanjaro beckons visitors with its graceful, forested flanks and stately snow-capped summit. It is Africa's highest peak and the world's highest free-standing volcano. It is also home to the Chagga people, and to a wealth of birds and wildlife. Climbers by the thousands venture here to challenge themselves on its muddy slopes, rocky trails and slippery scree. The rewards: the thrill of standing at the top of Africa; magnificent views of Kilimanjaro's ice fields; and witnessing sunrise illuminating the plains far below.

Captivating Cultures
Wherever you go in Tanzania, opportunities abound for getting to know the country's people and cultures. Meet red-cloaked Maasai warriors. Spend time with semi-nomadic Barabaig near Mt Hanang. Experience the hospitality of a local meal and the rhythms of traditional dance. Chat and barter at local markets. More than anything else, it is the Tanzanian people – with their characteristic warmth and politeness, and the dignity and beauty of their cultures – that make visiting Tanzania so memorable. Chances are you'll want to come back for more, to which most Tanzanians will say 'karibu tena' (welcome again).

Itinerary
Day 1

Arrival Arusha / Mt. Kilimanjaro

Upon arrival at Arusha or Mt. Kilimanjaro airport, meet & greet by our representative, transfer to hotel at Moshi for check in [100 kms. from Arusha] [Moshi is the gateway town for Mt. Kilimanjaro

Whether you come to climb it or simply to gaze in awe at this remarkable, snowcapped equatorial mountain, drawing near to Mt Kilimanjaro is one of the great experiences of African travel. And for once in Tanzania, visiting Mt Kilimanjaro National Park, the protected area that surrounds the mountain, is not about the wildlife.

At the heart of the park is the 5896m Mt Kilimanjaro, Africa's highest mountain and one of the continent's most magnificent sights. It's also one of the world's highest volcanoes, and the highest free-standing mountain on earth, rising from cultivated farmlands on the lower slopes, through lush rainforest to alpine meadows, and finally across a lunar landscape to the twin summits of Kibo and Mawenzi.

Rest of day at leisure or embark on sightseeing if time permits

Kilimanjaro coffee & waterfalls tour

Gain an overview of Tanzania's rural highlights on this day tour to the village of Materuni, with return transportation from Moshi ensuring a seamless trip. Hike to Materuni's picture-perfect waterfalls, tour a local coffee farm, and sample freshly-brewed beer and banana wine, all-the-while benefiting from your guide's insights and explanations. A locally-prepared lunch also comes included.

Dinner & overnight at Mt. Kilimanjaro

Day 2

Mount Kilimanjaro / Trek to Climb

After breakfast, climb Mt. Kilimanjaro

Majestic Mount Kilimanjaro is the awe-inspiring landmark of Tanzania but you don't need to climb it to experience its full beauty and the captivating terrain that surrounds it. Our Sneak Peek of the Peak Hike is a Kilimanjaro day trip that gives you the opportunity to scramble up the first leg of the famed Marangu Route, through rainforest twittering with birdlife and chattering, curious blue monkeys. Watch out for a colobus or two!

Marangu Gate (1,800m/5,905ft) to Mandara Hut (2,743m/9,000ft) / Elevation Gain: 915 meters, 3,000 feet

Leave bustling, colorful Moshi early for the drive to Marangu Gate, the threshold of magnificent Kilimanjaro. It's just an hour's drive, but you'll be captivated by the countryside – coffee and banana plantations, through picturesque Marangu village, with Kilimanjaro rising majestically ahead of you. We'll register you at the Marangu Gate (because we don't want to lose you!) and then your adventure will begin.

At first, the ridged trail is narrow as you wander through the rainforest. It's lush and misty, with the trees adorned with moss. The canopy overhead is alive with birdsong and strange rustlings – is that a colobus? Mongoose might scuttle ahead of you. You'll also meet tired hikers descending from the summit. Give them a high five for effort.

The hike to Mandara Hut is around three hours so stop to rest your legs and have a tasty lunch at the Hut and once you've replenished yourself, take the short but challenging walk to the Maundi Crater. On a clear day, the views to the east over Taveta and to the northwest to Mawenzi Peak are stunning. Don't forget your camera!

After basking in the beauty of it, you'll hike back down to the Marangu Gate where our vehicle will be waiting for you to drive you, tired but happy, back to Moshi. This Kilimanjaro day hike is suitable for most people, even if you're a little unfit!

Dinner & overnight at Mt. Kilimanjaro

Day 3

Mount Kilimanjaro to Ngorongoro

After breakfast, depart for Ngorongoro ... 285 kms.

Pick a superlative: amazing, incredible, breathtaking…they all apply to the stunning, ethereal blue-green vistas of the Ngorongoro Crater. But as wonderful as the views are from above, the real magic happens when you get down inside and drive among an unparalleled concentration of wildlife, including the highest density of both lions and overall predators in Africa.

One of the continent's premier attractions, this renowned natural wonder is deservedly a Unesco World Heritage Site.

On arrival check in & lunch at the lodge

Day at leisure to admire the crater and volcanic outcrops beyond it

Standing proudly in the Ngorongoro Conservation Area of Tanzania is the Ngorongoro Crater. This highly visited African attraction is the world's largest inactive, unbroken and unfilled volcanic caldera. ... This explosion created a caldera approximately two and a half million years ago.

When it was a volcano it's thought to have been a similar size to Mount Kilimanjaro, one of the world's highest mountains. Estimates of the volcano's original height vary between 4,500 to 5,800 metres. The crater itself is about 610 metres deep and 260 kilometres squared.

Approximately 40,000 people live in the conservation area. They share the land with an incredible amount of wildlife. There are around 30,000 animals ranging from leopard, cheetah, elephant and hyena to warthog, buffalo and impala. It's also one of the best places to see the endangered black rhino and black-maned male lions.


You won't find any giraffes in the crater. It's thought they can't enter as the sides are too steep for them to walk down. However you'll still be able to find them around the crater.

Dinner and overnight at Ngorongoro Conservation Area

Day 4

Ngorongoro / Game drives in the Crater

After breakfast descend to the crater floor for a full day of wonderful game viewing. The descent into the crater is one of scenic beauty, as you make your way through lush forests, home to numerous elephants and buffalo.

The Ngorongoro Crater is often referred to as the Eighth Wonder of the World, and is a large caldera 600m deep that hosts the most unique ecosystem on the planet, with 20,000 large grazing mammals and the greatest concentration of predators on earth, this is an experience not to be missed

You are guaranteed to see large concentrations of game on any Ngorongoro safari. The mineral-rich floor of this spectacular bowl is largely flat, open and covered in nutritious grasses – much to the liking of large herds of zebra and wildebeest, which graze here. These extensive open plains are also home to herds of buffalo, Thomson's gazelle, Grant's gazelle and tsessebe (often called topi).

The high numbers of herbivores supports the densest populations of predators found anywhere in Africa. The reliable presence of these predators has helped to make an Ngorongoro safari so popular. The Crater's lion population varies significantly over time, the one constant being their complete disregard of vehicles; they will hunt within yards of a vehicle, and when exhausted even seek shade beside them. Spotted hyenas are even more common here, often competing with the lion, and there's are a small but growing number of cheetah & Leopards

Lunch is served picnic style, surrounded by the natural wonders around you as well as the exceptional wildlife, roaming freely, with which you share this extraordinary paradise

Exit the conservation area late in the afternoon and proceed to the hotel

Dinner & overnight stay at Ngorongoro

Day 5

Ngorongoro to Serengeti National Park

After breakfast, drive to Serengeti National Park ... 210 kms, / 4 to 5 hrs. drive

A million wildebeest... each one driven by the same ancient rhythm, fulfilling its instinctive role in the inescapable cycle of life: a frenzied three-week bout of territorial conquests and mating; survival of the fittest as 40 km (25 mile) long columns plunge through crocodile-infested waters on the annual exodus north; replenishing the species in a brief population explosion that produces more than 8,000 calves daily before the 1,000 km (600 mile) pilgrimage begins again.

Tanzania's oldest and most popular national park – Serengeti - also a world heritage site and recently proclaimed a 7th world wide wonder, the Serengeti is famed for its annual migration, when some six million hooves pound the open plains, as more than 200,000 zebra and 300,000 Thomson's gazelle join the wildebeest's trek for fresh grazing. Yet even when the migration is quiet, the Serengeti offers arguably the most scintillating game-viewing in Africa: great herds of buffalo, smaller groups of elephant and giraffe, and thousands upon thousands of eland, topi, kongoni, impala and Grant's gazelle.

The spectacle of predator versus prey dominates Tanzania's greatest park. Golden-maned lion prides feast on the abundance of plain grazers. Solitary leopards haunt the acacia trees lining the Seronera River, while a high density of cheetahs prowls the south-eastern plains. But there is more to Serengeti than large mammals. Gaudy agama lizards and rock hyraxes scuffle around the surfaces of the park's isolated granite koppies. A full 100 varieties of dung beetle have been recorded, as have 500-plus bird species, ranging from the outsized ostrich and bizarre secretary bird of the open grassland, to the black eagles that soar effortlessly above the Lobo Hills.

Serengeti is 10 times the size of Masai Mara ... That's just a comparision to give you an idea of immense possibilities that Serengeti offers !

On arrival check in & lunch at the lodge

Afternoon game drive

Our goal is to ensure you enjoy a succession of unique, thrilling safari experiences. You can explore the natural dramas of the Serengeti in our state of the art 4×4 vehicles during morning, evening or full day game drives. Our excellent guides will help you pick out the action, but also the perfect secluded spot should you want to take a break during a day trip for a romantic bush picnic or go on a guided walking safari.

Heading into the bush for an evening game drive has a level of excitement and character all its own, as predators begin their nightly search for prey. As the day cools and the sky is streaked by red, gold and orange hues, you may be surprised by the roar of a lion, a galloping giraffe, or the high pitched giggling of hyenas fighting over a kill. At a suitable vantage point, your guide will pause, allowing you to enjoy a sundowner in blissful comfort.

Dinner and overnight at Serengeti National Park

Day 6

Serengeti / Game Drives

After breakfast, full day Game Drive at Serengeti National Park

These full day safaris are the best way to see the full range of what this magnificent park has to offer. Each excursion departs at around 6.30 am, with your 4×4 fully equipped to cross the Serengeti in search of game. The early mornings are relatively cool, but by midday it can become very hot indeed and sun-block lotion and hats are advised. Lunch is served under the shade of an Acacia tree as you take a break from scanning the horizons, and realise that all is well with the world.

Our team of rangers and spotters apply their wildlife knowledge, tracking abilities and incredible eyesight to reveal the hidden wonders of the Serengeti: even we don't always know how they do it!

One of nature's great occasions is the annual crossing of the Mara river by migrating wildebeest. At Serengeti we have a ringside seat, so if it happens when you visit, you can be sure of witnessing this stupendous natural event. Yet it is often in the lesser-known corners of the bush that we spot the highlights of your visit, such as a kill, amorous liaison, or lesser-known creature. A full day on safari gives you every chance of such unforgettable encounters.

Dinner and overnight at Serengeti

Day 7

Serengeti / Game Drives

After breakfast, continue with Game Drives at Serengeti National Park

You may hear of the Big Five before going on Safari, from an old book, or from a nature documentary. Today, they are five of the animals which people most want to see while on Safari.

One hundred years ago, amid pith helmets, mosquito boots, and 'darkest Africa', the Big Five were the most sought after animals to hunt. They were the fiercest, the most dangerous animals; the animals that would hunt the hunter. Explorers of East Africa went home with stories of lions and leopards in the tall African grass, of rhinos that would charge at the mere smell of a person, of the Cape Buffalo hidden in the bushes, and of the terrors of an enraged elephant.

Today, of course, the hunting is done with camera lenses, but that doesn't take away from the thrill of seeing your first lion or hearing a leopard walk past your camp at night. These big mammals are each far more interesting than the early explorers knew.

Dinner and overnight at Serengeti

Day 8

Serengeti National Park to Lake Manyara

After breakfast, drive to Lake Manyara National Park ... 275 kms. / 5-6 hrs. drive

Stretching for 50km along the base of the rusty-gold 600-metre high Rift Valley escarpment, Lake Manyara is a scenic gem, with a setting extolled by Ernest Hemingway as "the loveliest I had seen in Africa". The compact game-viewing circuit through Manyara offers a virtual microcosm of the Tanzanian safari experience.

Manyara provides the perfect introduction to Tanzania's birdlife. More than 400 species have been recorded, and even a first-time visitor to Africa might reasonably expect to observe 100 of these in one day. Highlights include thousands of pink-hued flamingos on their perpetual migration, as well as other large waterbirds such as pelicans, cormorants and storks.

On arrival check in & lunch at the lodge

Afternoon game drive in the park

set off in the company of your guide and tracker in an open 4×4 safari vehicle with a canvas canopy. Together you will explore the diverse habitats of the park, stopping on the lakeshore to admire the different bird species and look for pink flamingo. You will traverse a mosaic of acacia woodlands, grassy floodplains and tall forest in search of wildlife, including Manyara's famous tree-climbing lions, which may be spotted resting in favoured spots and large family herds of elephant.

200 furry individuals can make up an Olive baboon troop who are always up for a fun time, and dark male giraffes can be seen gazing nonchalantly over the rooftops of leafy trees. A subspecies of the common wildebeest, frolic on the lakeshore and massive buffalo bulls with impressive horns revel in the oozing muddy shallows. The elusive leopard and Cape clawless otter are occasionally encountered.

Rich in game and one of Tanzania's smaller wilderness enclaves, Lake Manyara National Park is a magnificent terrain. A fascinating environment to be at one with nature, and really appreciate and gasp at the extraordinary world of wildlife.

Covering two thirds of the park with liquid depths is the beautiful Lake Manyara, while the rest of the Manyara ecosystem consists of lofty mountainside, flourishing marshlands, dense woodlands, sweeping grassy areas and hot springs.

Dinner and overnight at Lake Manyara

Day 9

Lake Manyara to Arusha / Flight to Zanzibar

After breakfast, drive to Arusha ... 110 kms. / 3 hrs. drive

The route passes through a very magnificent countryside with rolling hills and sparse wildlife, tribal villages and herds of livestock. Pass via Karatu and Manyara where the main economic activities include tourism and agriculture.

Arrive in Arusha for lunch

Later transfer to Arusha airport for flight to Zanzibar

Zanzibar Island is a jewel in the ocean, surrounded by beaches that rate among the finest in the world. Here you can swim, snorkel or just lounge the hours away, while shoals of luminous fish graze over nearby coral gardens and pods of dolphins frolic offshore.

In the island's capital, Zanzibar Town, sits the historic quarter of Stone Town, with a mesmerising mix of influences from Africa, Arabia, India and Europe.

For these reasons and more, Zanzibar Island (officially called Unguja) is the archipelago's focal point, and the most popular destination for visitors, but choose your spot carefully. While it's easy to find tranquil beauty or party buzz (or both), increasing development threatens the island's ineluctable magic and fragile community resources.

Upon arrival at Zanzibar, meet & greet by our representative, transfer to hotel for check in

Day at leisure to relax at the Beach

Overnight at Zanzibar

Day 10

Zanzibar sightseeing

After breakfast, sightseeing trip of Zanzibar

A tour of senses! Discovering why Zanzibar also known as the "Spice Island" by a visit to the spice plantation where you have the opportunity to touch all the exotic spices, feel and taste. Learn about the healing properties of some spices and the incredible variety of flavors and textures such as cinnamon,clove, vanilla and nutmeg, also for shopping and buying local products if interested.

Then we drive again to the island capital "Stone Town". The tour begins with a visit of the Darajani market where you can quickly immerse yourself in the chaotic tumult of colors, voices and smells. Through narrow and winding streets of this fascinating city from the Cathedral and the famous "House of Wonder".

After this tour, you still have time for personal exploration. Then you can enjoy the most beautiful sunset in Zanzibar Needs: T- shirt, long trousers, comfort footwear and a cover for shoulders and knees.

Overnight at Zanzibar

Day 11

Zanzibar to Dar Es Salem by Ferry / City Tour

After breakfast, take a ferry from Zanzibar to Dar Es Salaam ... 2 hours ride

Over the last century, Dar es Salaam has grown from a sleepy Zaramo fishing village into a thriving tropical metropolis of over four million people. Straddling some of the most important sea routes in the world, it is East Africa's second-busiest port and Tanzania's commercial hub.

Despite this, and its notorious traffic jams, the city has managed to maintain a low-key, down-to-earth feel. Rimming the central area is Kivukoni Front, with a bustling fish market where dhows dock at dawn to offload the night's catch. Excellent craft markets and restaurants abound, and nearby sandy beaches and islands beckon.

Dar es Salaam's architecture is a mixture of African, Arab, Indian and German, although much of this is now dwarfed by towering high-rises. Many travellers bypass 'Dar' completely; those that linger will encounter the city's eclectic cultural mix and languid vibe.

Upon arrival, meet & greet by our representative, transfer to hotel for check in

Later embark on a sightseeing tour of Dar Es Salaam

Tour of Dar es Salaam will take you to the National Museum, Village Museum, Mwenge Carvings Market, Tingatinga art Gallery, Slipway Shopping Centre, The Fish Market, City Centre, Historical Building and many other Sites.

The name Dar es Salaam means "the house of peace" formerly Mzizima. It is an enticing mix of sight seeing, shopping and entertainment, the largest city in Tanzania reflects a fascinating blend of its rich historical past and its sophisticated contemporary present. The name was given by Sultan Majid bin Said of Zanzibar when he decided to use the harbor city as a port and trade centre in between 1858 and 1862. Since then the town has flourished and is now the commercial hub of the country with high population, important economic centre and one of the fastest growing cities in Tanzania & most prominent city in arts, fashion, media, music, film, television and a leading financial centre it is also the largest and most populous Swahili-speaking city in the world.

Overnight at Dar Es Salaam

Day 12

Departure from Tanzania

After breakfast, morning at leisure

Later transfer to airport for onward flight
Notes
Round the Year Destination ... Extension recommended to Kenya, South Africa & Victoria Falls
Hotels
Tour Inclusions [Tanzania]
2 nights Mt. Kilimanjaro

2 nights Ngorongoro

3 nights Serengeti National Park

1 night Lake Manyara

2 nights Zanzibar

1 night Dar Es Salaam

A

irport transfers for arrival & departure flights

Daily breakfast, lunch & dinner on Safari

Breakfast at Zanzibar & Dar Es Salaam

Safaris, Game drives, Crater tour & Sightseeings as per itinerary

Park & conservation fees

Transport in our 4x4 Land Cruiser on safari with an English speaking driver guide

Complementary ½ liter bottle of mineral water per person per day in our vehicle

Local assistance
Notes on itinerary
All our itineraries are "Just for Ideas" ... We will get to know you and customise an itinerary just for you that matches your requirements ... dates of travel, category of hotels, preferred airline, flexibility in choosing sightseeing, mode of travel between cities, etc.
Many of our clients have us design more relaxing, slower paced holidays with more in-depth experiences whereas some simply want to visit various destinations and cover only the highlights.
Together, we will determine the ideal route, pace of travel, accommodations, levels of pampering, style of touring, sightseeing to be included, dining preferences, adventure levels, options to meet locals, dates of travel & much more ! and based on this arrive at a price.
Do feel free to get in touch with us by a quick call on +91 79 29602961 or a short mail on mail@destinations4india.com ... Looking forward