Statue of Unity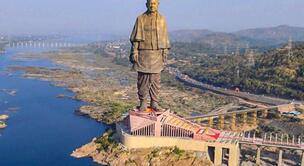 This 182m (240m including the base) statue of Indian statesman and independence activist Sardar Vallabhbhai Patel (1875–1950) was the world's tallest statue when it was unveiled in late 2018. Built in 15 months by some 3000 workers and at a cost of around US$420 million, the statue utilises 210,000 cu metres of cement, 6500 tonnes of structural steel and 18,500 tonnes of reinforced steel, as well as 1700 tonnes of bronze plates and 1850 tonnes of bronze cladding.

The government hopes that the statue will inspire pride in India and bring tourist money to an otherwise undeveloped part of Gujarat. Indeed, in the first 11 days after the statue opened to the public 128,000 tourists visited the site. The nearest town is Kevadia (3kms from the statue and 85kms from Vadodava)

Itinerary
Day 1

Sightseeings, Attractions, Activities …

Statue Of Unity

The Statue of Unity is the world's tallest statue with a height of 182 metres. A huge exhibition hall covering an area of 4,647 square metres has been set up in the pedestal of the Statue of Unity. The hall showcases the life of Sardar Patel, his contributions to the Freedom Movement against British rule and his role in the merger of princely states. The Shoolpaneshwar Wildlife Sanctuary, the life and culture of the tribal people of Gujarat and the Sardar Sarovar Dam are also displayed through an Audio-Visual show.

The monument also boasts of a viewing gallery at 135m height at the chest of the statue with a capacity of 200 tourists at a given time. A Light and Sound show using laser technology projected on the Statue of Unity takes place every evening except Monday. The colourful laser lighting system is accompanied by an excellent narration of the history and life of Sardar Patel, his contribution to the Independence Movement and the unification of India as one nation.

Statue of Unity Site Entry Opens at 08:00 AM and Closes at 06:00 PM.

There is Quota of 7000 Tickets per day for the Viewing Gallery as per the capacity of the Elevator. Therefore, if Viewing Gallery tickets are sold out then you have to buy Entry Tickets only shown in a separate category. Please note that in the case when Viewing Gallery Tickets are sold out, then tickets will not be available at the Counters of the SOU also. Therefore, the visitors planning to visit Viewing Gallery are requested to plan and book Viewing Gallery Tickets as per the availability shown on the website.

Sardar Sarovar Dam

Sardar Sarovar Dam is one of the world's largest concrete gravity dam which is 1.2 kms long and 163 mts hight from its deepest foundation level. It has 30 radial gates weighing about 450 tonnes each.

Khalwani Eco-Tourism

Is located near Sardar Sarovar Dam along the bank of a perennial stream fed by the waters released from the Godbole Gate. For accommodation tents and tree house are available. It has facilities like children play area, campfire zone, amphitheater, nursery, painting kits with herbal colours for children, nature education etc. River rafting is one of the popular sport and a recreational activity in India. Steering through the unbridled water and passing through treacherous rapids, is something that every adventurer seeks. River Rafting at Khalwani Eco-Tourism on the River Narmada provides an excellent opportunity to experience this utterly exhilarating water sport. Visitors will also enjoy activities like river crossing, Burma Bridge, river rafting, tubing, rock climbing & rappelling.

Zarvani Eco-Tourism & Adventure Zone

Zarvani, situated amidst the Satpuda mountain range, is a popular spot among tourists and nature lovers from Gujarat. It flourishes to its full grandeur in monsoon when the waterfall attracts lots of tourists. Zarvani village is situated near the Narmada dam in Narmada District and is a part of the Shoolpaneshwar Wildlife Sanctuary which has been declared as an Eco-tourism site. There is an Adventure Park near the falls for the thrill-seekers and some of the activities here includes - Climbing wall, Rappelling wall, Two way zip line, Free jump device.

Ekta Cruise

A unique way to see the Statue of Unity, world tallest statue, is through the river cruise. A passenger boat gives a breathtaking view of the statue and commutes you to Statue of Unity

Butterfly Garden

The Butterfly Garden at Valley of Flowers amidst the Vindhyas and Satpura ranges, along the banks of Narmada, makes it an attractive spot to appreciate the assortment of these flying jewels. The garden harbours more than 80 species of butterflies. The garden will cover 6 acres of area with 150 species of plants and 38 species of butterflies. The park is host to more than 150 species of larval host plants and nectar plants to attract variety of butterfly species. Special care has been taken in the landscaping of the park to support the diversity of butterfly species. Walk through this beautifully designed park to get close view of stunning butterflies. Explore different butterfly species that inhabit the garden, Identify the plant species and learn about their unique features, also observe the preferences of each species for its specific nectar plant and larval host plant, and one can look for the species gathering around the puddling area and certain sap/alkaloid producing plants.

Khalwani Cycling

Zip through hilly terrains and winding roads and experience aesthetic beauty of Vindhyachal & Satpuda on Two Wheels. A cycling tour presents a unique way of discovering a region. Take Kevadia for instance – this place offers all aspects of nature – from lush green mountain forests to invigorating rivulets, the region offers scenic beauty, exquisite flora and fauna and an oozing dose of culture. And to explore all this on a cycle is a sure-shot ingredient for an unforgettable travel experience.

Cactus Garden

The Cactus Garden is a unique botanical garden at the Statue of Unity site, created to exhibit a huge variety of Cacti, the true miracles of adaptation. The thought behind the development of the cactus garden is to provide an experience of the desert ecosystem in the midst of a landmass well entrenched in an aquatic surroundings. There are 30000 plants of 350 species spread across 20 acres of land. A grand architectural greenhouse - ecological habitat of nearly 400 national and international species of cacti and succulent plants. These cacti and succulent species represent their origin in 17 countries of the world mainly from North & South America and African continents. Beautiful rockery showcasing distinct flora in its richness. Ravishing landscape of colourful cacti and succulent plants. Educational and learning opportunity for students and enthusiasts to explore the nature's wisdom.

Kevadia Bus Route

This Circular Route will give you an interesting tour to various attractions in and around Kevadia. This circular route covers 17 Bus stops for sightseeing.

Vishwa Van

Vishwa Van was conceptualized by the Hon'ble Prime Minister of India Shri Narenendra Modi, who after guiding the construction of Statue of Unity in 46 months, envisioned the integrated development of Kevadia on the theme of Unity in Biodiversity. Vishwa Van (a Global Forest) is home to herbs, shrubs and trees native to all 7 continents signifying the underlying theme of 'Unity in Diversity' in context global context. Vishwa Van symbolizes the life sustaining potion of forests in the context of all life forms in the planet. Vishwa Van has an area of 2 hectares, situated between two bridges next to the Statue of Unity. The wavy margins of the blocks representing continents are shaped to represent the outlines of continent's map and are painted similar to the colours of the Olympic rings, specific for each continent. Self-explanatory signage elucidating the concept and associated information about the flora have been positioned at appropriate locations. Structures representing the traditional abodes of dwellers from remotest corners of the world have been erected here with a view to introducing visitors with their living. Vishwa Van symbolizes miraculous role of forests for the existence of all life forms on earth. It harbors some of the most imperative and conspicuous trees of the world.

Ekta Nursery

Ekta Nursery is a tourist destination, developed to spread awareness about eco-friendly practices. This nursery serves dual purposes of serving as education cum demonstration centre for tourists and providing employment to local people. Ekta Nursery focuses upon various traditional eco-friendly products with a live demonstration of their manufacturing/production process viz: Bamboo, Areca Leaf Plates, Organic Pot, Bonsai, Ceramic Pots, Tribal Life, Kadaknath, Apiculture, Tribal Tea etc. A Bonsai-making training and display area has been created with a view to exposing the visitors with the fascinating art of creating miniatures of the forest giants.

River Rafting

River rafting is undoubtedly one of the most enthralling and physically demanding adventure sports in the world. Narmada, the largest west flowing river in the country, and the lifeline of millions has now ushered in the thrilling experience for the adventure enthusiasts who can now enjoy river rafting in 5 km. stretch with whirlpools, rapids and many turns which provide an exciting and unforgettable rafting experience for the first time in Gujarat.

Day 2

Arogya Van

Arogya van is spread over an area of about 17 acres and exhibits wide range of medicinal plants and health related landscapes. It also emphasizes on benefits of Yoga, Ayurveda and meditation and showcases the role of plants in balancing healthy mind and healthy body of every human being.

Arogya Van Wellness Centre

This venture will offer a holistic healthcare offering based on Ayurveda, Siddha, Panchakarma, Yoga, Marma & Naturopathy. Wellness Center at Arogya Van Gujarat Forest Department has joined hands with Santhigiri Ashram-Kerala, an organization with more than 60 years of experience in the ancient treatment systems of Ayurveda, Siddha & Yoga. This venture offers a holistic healthcare offering based on Ayurveda, Siddha, Panchakarma, Yoga, Marma & Naturopathy to the citizens of India and abroad. SoU welcomes one and all to experience the true traditional treatments at the serene atmosphere of Narmada valley.

Children Nutrition Park

Children Nutrition Park operates between 10:00 AM to 6:00 PM between Tuesday to Friday and operates between 9:00 am to 9:00 PM on Saturday and Sunday. It is the World's first technologically driven theme park envisioned and conceptualized by Hon'ble Prime Minister Shri Narendra Modi with the objective of inspiring children to eat healthy and understand the role of nutrition in their mental and physical growth. Children Nutrition Park has made extensive use of technology for gaming and learning purposes. It has a Toy Train ( Nutri Express) that runs through five stations, gaming zone and tunnel, entertaining the children while focusing on the theme of nutrition. The message of the Hon'ble Prime Minister to children is to eat healthy and nutrient food and become like "The Iron Man of India."

Jungle Safari

The Jungle Safari covers 558,240 square metres on the right bank of the Narmada River, about 2 kilometre from the SoU. The park will be home to more than 400 species of fauna, covering various biomes of Africa, Australia, Asia and America. Visitors will also be able to spot India's endangered species, which includes the magnificent big cats such as Asiatic lion, Royal Bengal Tiger and Leopard. The safari route has been designed such that the visitors can view animal activities, spot reptiles and watch birds.

Glow Garden

The Unity Glow Garden radiates a festive blaze. The theme park has been developed with glimmering installation, shiny figures and optical illusion. The LED fountain illuminates the future of night tourism. The garden is already a popular destination. Tourists from all over the world are overjoyed by entertainment that never sleeps. In fact, there has been a surge in tourists wanting to experience the beauty of Kevadiya at night.
Notes
Round the Year Destination ... Extention recommended to destinations across Gujarat - Ahmedabad, Sasan Gir, Somnath, Dwarka, Kutch, etc.
Hotels


Kevadia, Narmada


Kevadia, Narmada
Notes on itinerary
All our itineraries are "Just for Ideas" ... We will get to know you and customise an itinerary just for you that matches your requirements ... dates of travel, category of hotels, preferred airline, flexibility in choosing sightseeing, mode of travel between cities, etc.
Many of our clients have us design more relaxing, slower paced holidays with more in-depth experiences whereas some simply want to visit various destinations and cover only the highlights.
Together, we will determine the ideal route, pace of travel, accommodations, levels of pampering, style of touring, sightseeing to be included, dining preferences, adventure levels, options to meet locals, dates of travel & much more ! and based on this arrive at a price.
Do feel free to get in touch with us by a quick call on +91 79 29602961 or a short mail on mail@destinations4india.com ... Looking forward