Scotland & Ireland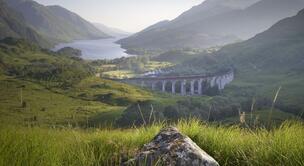 Scotland
Scotland has many treasures crammed into its compact territory – big skies, ancient architecture, spectacular wildlife, superb seafood and hospitable, down-to-earth people.
Outdoor Adventure
Scotland harbours some of the largest wilderness areas left in Western Europe. In this wildlife haven you can see golden eagles soar above the lochs and mountains of the northern Highlands, spot otters tumbling in the kelp along the shores of the Outer Hebrides, and watch minke whales breach off the coast of Mull. Scotland's also an adventure playground: you can tramp the tundra plateaus of the Cairngorms, balance along tightrope ridges strung between the peaks of the Cuillin, sea kayak among the seal-haunted isles of the Outer Hebrides, and take a speedboat ride into the white water of the Corryvreckan whirlpool.
Deep History
Scotland is a land with a rich, multilayered history, a place where every corner of the landscape is steeped in the past – a deserted croft on an island shore, a moor that was once a battlefield, a cave that sheltered Bonnie Prince Charlie. Hundreds of castles, from the plain but forbidding tower houses of Hermitage and Smailholm to the elaborate machicolated fortresses of Caerlaverock and Craigmillar, testify to the country's often turbulent past. And battles that played a pivotal part in the building of a nation are remembered and brought to life at sites such as Bannockburn and Culloden.
A Taste of Scotland
Visitors have discovered that Scotland's restaurants have shaken off their old reputation for deep-fried food and unsmiling service and can now compete with the best in Europe. A new-found respect for top-quality local produce means that you can feast on fresh seafood mere hours after it was caught, beef and venison that was raised just a few miles away from your table, and vegetables that were grown in your hotel's own organic garden. Top it all off with a dram of single-malt whisky – rich, complex and evocative, it's the true flavour of Scotland.
The Culture
Be it the poetry of Robert Burns, the crime fiction of Ian Rankin or the songs of Emeli Sandé, Scotland's cultural exports are appreciated around the world every bit as much as whisky, tweed and tartan. But you can't beat reading Burns' poems in the village where he was born, enjoying an Inspector Rebus novel in Rankin's own Edinburgh, or catching the latest Scottish bands at a music festival. And museums such as Glasgow's Kelvingrove, Dundee's Discovery Point and Aberdeen's Maritime Museum celebrate the influence of Scottish artists, engineers, explorers, writers and inventors in shaping the modern world.
Ireland
A small island with a memorable punch, Ireland's breathtaking landscapes and friendly, welcoming people leave visitors floored but looking for more.
Ireland of the Postcard
Everything you've heard is true: Ireland is a stunner. The locals need little prodding to proclaim theirs the most beautiful land in the world, and can support their claim with many examples. Everyone will argue over the must-sees, but you can't go wrong if you put the brooding loneliness of Connemara, the dramatic wildness of Donegal, the majestic mountains of Mourne, the world-famous scenery of counties Kerry and Cork, and the celebrated Causeway Coast in Northern Ireland on your to-visit list.
Tread Softly…
History is everywhere, from the breathtaking monuments of prehistoric Ireland at Brú na Bóinne, Slea Head in Kerry and Carrowmore in Sligo, to the fabulous ruins of Ireland's rich monastic past at Glendalough, Clonmacnoise and Cashel. More recent history is visible in the Titanic Experience in Cobh and the forbidding Kilmainham Gaol in Dublin. And there's history so young that it's still considered the present, best experienced on a black-taxi tour of West Belfast or an examination of Derry's colourful political murals.
A Cultural Well
It's become almost trite to declare that Ireland operates a cultural surplus. Its main strengths are literature and music, where Ireland has long punched above its weight, but it is well represented in most other fields, too. Wherever you go you will discover an abundance of cultural expression. You can attend a play by a literary great in Dublin, toe-tap your way through a traditional-music session in a west-of-Ireland pub, or get your EDM on at a club in Belfast. The Irish summer is awash with festivals celebrating everything from flowers in bloom to high literature.
Tá Fáilte Romhat
On the plane and along your travels you might hear it said: tá Fáilte romhat (taw fall-cha row-at) – you're very welcome. Or, more famously, céad míle fáilte (kade meela fall-cha) – a hundred thousand welcomes. Irish friendliness is an oversimplification of a character that is infinitely complex, but the Irish are nonetheless genuinely warm and welcoming, and there are few more enjoyable ways of gaining a greater understanding of the island's inhabitants than a chat with a local.
Itinerary
Day 1

Arrival Glasgow / City Tour

Meet & greet by our representative at Glasgow Airport
Transfer to Hotel for check in
Later in the afternoon set out on an introductory tour of central Glasgow -- a city that flourished in Victorian times due to the shipbuilding industry and international trade. Drive around George Square with its ornate City Chambers, and visit Provand's Lordship, Glasgow's oldest house.
Overnight at Glasgow

Day 2

Glasgow to Nairn / Loch Lomond & Loch Ness Cruise

Travel alongside the famous Loch Lomond, renowned for its unsurpassed beauty.
Drive across the haunting Rannoch Moor and through Glencoe, admiring the wild and spectacular scenery. Continue through Fort William and stop at a woollen mill to shop for quality Scottish goods.
Embark on a short cruise on Loch Ness before heading to Nairn for overnight stay

Day 3

Nairn to Edinburgh / Whisky Tasting & St Andrews

Visit Blair Athol Distillery to see how whisky is distilled and enjoy a sample. Travel to St Andrews, best known as the Home of Golf.
Take a panoramic drive around and spend some time exploring independently.
Continue to Edinburgh. Enjoy a Scottish evening with traditional cuisine with a lively show of songs, stories, and dancing.
Overnight at Edinburgh

Day 4

Edinburgh / Edinburgh Castle & City Tour

Explore the principal sights of central Edinburgh from the bustling Princes Street and through the gracious, wide streets of the 200-year-old Georgian "New Town."
Walk along part of the Royal Mile where compact medieval houses reach 11 floors tall.
Visit Edinburgh Castle perched high above the city on volcanic rock. The castle contains the Scottish Crown Jewels and the Stone of Scone.
The balance of the day is free.
The July 30 - August 20 departures watch the spectacular Royal Edinburgh Military Tattoo on the Castle Esplanade.
Overnight at Edinburgh

Day 5

Edinburgh to Dublin / Ferry to Ireland & Titanic Belfast

Depart Edinburgh and travel through Ayrshire and along the coast.
Embark on a ferry ride to Belfast with lunch on board.
At Titanic Belfast, immerse yourself in the history of this famous liner through state-of-the-art displays.
Head to Dublin for a free evening.
Overnight at Dublin

Day 6

Dublin / Dublin Sightseeing & Canal Dinner Cruise

Discover central Dublin with a local guide. See the shopping areas around Grafton and Nassau Streets, view elegant Georgian squares, and the General Post Office, where the 1916 Uprising started.
Take a walk around Christ Church Cathedral founded in 1028.
Board a former Guinness barge for a canal dinner cruise complete with traditional Irish music.
Overnight at Dublin.

Day 7

Dublin to Killarney / armhouse Tea with Sheepdog Demonstration & Blarney Castle

Travel through the midlands of Ireland, stopping for photos at the stately Rock of Cashel.
Immerse yourself in farm life with tea and scones at a farmhouse visit and watch skilled dogs herd sheep. Head to Blarney Castle and kiss the famous "Stone of Eloquence."
Treat yourself to Irish goods at the Blarney Woollen Mills before heading to Killarney, picturesquely set beside lakes and mountains.
Overnight at Killarney.

Day 8

Killarney / Ring of Kerry & Skellig Experience

Step back in time as a jaunting car drives you past Ross Castle set on Lough Leane.
Embark on the Ring of Kerry drive -- a winding route with breathtaking sights of mountains and coastal views. Cross the bridge to Valentia Island to visit the Skellig Experience, which explains the life of early Christian hermits on Skellig Michael, a rocky offshore island featured in the film "Star Wars VII."
Enjoy a casual lunch and later stop in the pretty village of Sneem.
Pause at Moll's Gap for panoramic mountain views and return to Killarney where the evening is free. Overnight at Killarney.

Day 9

Killarney to County Clare / Cliffs of Moher & Medieval Castle Banquet

Take in the enormity of the Cliffs of Moher, a spectacular wall of sandstone that reaches 700 feet above the Atlantic Walk along the Cliffs for stunning views.
Later arrival at Co. Clare, you'll have free time to visit the Folk Park, have a drink in the 200-year-old Durty Nelly's Pub, or shop at the Bunratty Mills independently.
In the evening head for a memorable medieval-style feast where the lords and ladies will serenade you with song and harp music evocative of the Middle Ages.
Overnight at County Clare

Day 10

County Clare to Shannon Airport / End Trip

This morning after breakfast depart for the Shannon Airport to board your international flight home.
Inclusions for Scotland & Ireland
9 nights accomodation
Daily breakfast at Hotels
All transfers & Sightseeing by private van
Dinner at Vegetarian Restaurants
Notes on itinerary
All our itineraries are "Just for Ideas" ... We will get to know you and customise an itinerary just for you that matches your requirements ... dates of travel, category of hotels, preferred airline, flexibility in choosing sightseeing, mode of travel between cities, etc.
Many of our clients have us design more relaxing, slower paced holidays with more in-depth experiences whereas some simply want to visit various destinations and cover only the highlights.
Together, we will determine the ideal route, pace of travel, accommodations, levels of pampering, style of touring, sightseeing to be included, dining preferences, adventure levels, options to meet locals, dates of travel & much more ! and based on this arrive at a price.
Do feel free to get in touch with us by a quick call on +91 79 29602961 or a short mail on mail@destinations4india.com ... Looking forward