Best of Russia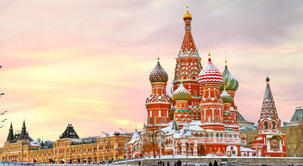 The world's largest country offers it all, from historic cities and idyllic countryside to artistic riches, epic train rides and vodka-fuelled nightlife.

Historic & Contemporary
If ancient walled fortresses, glittering palaces and swirly-spired churches are what you're after, focus on European Russia. Here, Moscow and St Petersburg are the must-see destinations, twin repositories of eye-boggling national treasures, political energies and contemporary creativity. Within easy reach of these cities are charming historical towns and villages, such as Veliky Novgorod, Pskov and Suzdal, where the vistas dotted with onion domes and lined with gingerbread cottages measure up to the rural Russia of popular imagination.

Arty & Adventurous
Whether you're a culture vulture in search of inspiration from great artists and writers or an adventure addict looking for new horizons to conquer, Russia amply delivers. Tread in the footsteps of literary greats, including Tolstoy and Pushkin, on their country estates. Ski or climb lofty mountains in the Caucasus, go trekking or white-water rafting in the Altai Republic, hike around Lake Baikal, or scale an active volcano in Kamchatka – the variety of possibilities will make your head spin.

Off the Beaten Track
Russia's vast geographical distances and cultural differences mean you don't tick off its highlights in the way you might those of a smaller nation. Instead, view Russia as a collection of distinct territories, each one deserving separate attention. Rather than transiting via Moscow, consider flying direct to a regional centre such as Rostov-on-Don, Irkutsk or Yekaterinburg and striking out from there. With a welcome spread of Western-style hostels and hotels around the country and the ease of booking trains and flights online, it's simple to organise this kind of trip yourself.

A Riddle Worth Solving
We won't lie: bureaucracy and occasional discomfort and inconvenience, particularly away from the booming urban centres, remain an integral part of the Russian travel experience. However, a small degree of perseverance will be amply rewarded: one of the great joys of travel in Russia is being swept away by the boundless hospitality of the people. Aleksandr Solzhenitsyn and Winston Churchill both wrote famous lines about Russia being an enigmatic riddle. Embrace this conundrum and you, too, are sure to find yourself swept away by a passion for Mother Russia.
Itinerary
Day 1

Arrival Moscow

Arrival Moscow. Meet & Greet by our representative, Transfer to hotel for check in

During any season, at any hour of the day, Moscow thrills visitors with its artistry, history and majesty.

A great city, the capital of Russia, Moscow was found in 1147 by Prince Yuri Dolgoruky. It grew from a small town on the banks of the calm Moskva River into a giant city with a population of more than 9 million and a territory of more than 900 sq kms.

For the period of more than 850 years of its existence Moscow never lost its place for the Russian people as the country's heart and soul. It is the seat of the Russian parliament, and home to Russia's most renowned theatres and film studios. It is the country's most important hub: all the great rail lines radiate from it, and almost all flights to the former Soviet republics still go through Moscow airports.

Kremlin & Red Square - The very founding site of the city (and arguably, the country), the Kremlin and Red Square are still at the heart of Moscow – historically, geographically and spiritually. Feel the weight of this significance as you wander within the walls of the ancient fortress, marvel at the mind-boggling magnificence of St Basil's Cathedral and pay your respects to the revered leader of a now-defunct state. Moscow will move you. It will tantalise your senses, soothe your spirit and boggle your mind – and it all starts right here at the Kremlin and Red Square.

Performing Arts - What is more thrilling than watching a ballerina defy gravity, leaping across the stage at the glittering Bolshoi Theatre? Or feeling the force of Tchaikovsky's 1812 Overture, just a few blocks away from where it premiered more than a century ago? Or oohing and aahing as circus performers soar under the big tent? The classical performing arts in Moscow are still among the best in the world.

Rest of the day at leisure to relax & explore the streets of Moscow ... We recommend you to visit the downtown ...

Spend the afternoon & evening wandering around the must-visit centre of the city: Red Square. It's a legendary spot, and overwhelms visitors with its history, beauty, and scale. The square is surrounded by one of the Kremlin walls, the iconic St Basil's Cathedral, Lenin's Mausoleum, the State Historical Museum, and the GUM department store. It is equally beautiful in summer or winter, by day or by night, and in winter months there is a skating rink and Christmas market on the square. While you're exploring, be sure sure to take a picture of St. Basil Cathedral (it really is worth snapping a photo of), then visit GUM department store and buy Soviet-inspired ice-cream and soda with nostalgic flavours for those who remember the USSR days.

If you still have energy left, take Nikolskaya Street to Moscow's main children's store Children's World, which claims to be the biggest toy store in Europe. It's beautiful inside, with lights, a massive clock, and many massive images of cartoon characters. Head to the roof (entrance from the food court) to get a nice view of downtown Moscow. Also, near the roof entrance is a museum of soviet toys — it's interesting to compare what Russian children play with today, and what they played with in Soviet times.

Overnight at Moscow

Day 2

Moscow sightseeing

After breakfast, Panoramic City tour of Moscow assisted by our expert guide

Victory Park
A memorial complex dedicated to the victory over Nazi Germany in the second world war

Moscow State University
Home to more than fourty thousand students including many more from all around the world, one of the largest libraries in Russia and numerous research institutions

Sparrow hills or Lenin Hills
The highest point of Moscow City, reaching the level of 220m above the sea. Take a picture at the observation platform and enjoy the great view of whole capital of Russia.

Red Square
Being the most recognizable symbol of Russia in the world, the glorious Red Square is the UNESCO listed World Heritage which accepts thousands of tourists each year. No wonder that this sight is a true must-visit of any Moscow trip and every adventurous globe-trotter has a picture in front of St. Basil's Cathedral.

Evening at leisure to visit one of the famous pubs

Overnight at Moscow

Day 3

Moscow sightseeing

Total visit Kremlin (territory + cathedrals) following by metro tour, underground bunker & Tank driving experience ... all assisted by our expert guide

Kremlin
The apex of Russian political power and once the centre of the Orthodox Church, the Kremlin is the kernel of not only Moscow, but of the whole country. From here, autocratic tsars, communist dictators and modern-day presidents have done their best – and worst – for Russia.

Covering Borovitsky Hill on the Moscow River's north bank, it's enclosed by high walls 2.25km long (Red Square's outside the east wall). The best views of the complex are from Sofiyskaya nab across the river.

Moscow metro tour
The Moscow Metropolitan is not just an extensive transportation system, but the whole underground city with its own rhythm, laws and legends. It is called the world's most beautiful metro. Among the nearly 200 stations, 44 stations are cultural heritage sites. Taking the Moscow metro is akin to walking through an impressively beautiful museum. The stations will strike your mind with marble walls and columns, high ceilings, crystal chandeliers, stained glass and mosaics.

On the Moscow metro tour, you will go underground and visit 8 most interesting stations. You will see the oldest stations dated back in 1935 and new ones that were opened several years ago.

Later visit underground secret bunker (museum of Cold War)
explore this incredible Cold War bunker facility 50 meters underground, built 1 year before the Cuban missile crisis. Along the way, your expert guide will explain the logic behind Soviet bunkers and give a historical overview of the function served by this bunker in particular.

Next, go even deeper underground via a myriad of stairs. Down in the depths of the bunker, traverse the many dark tunnels of this underground facility and see an active 10-tonne door built to protect the bunker from nuclear strikes. Once you've reached its 50-meter depth, learn about the surrounding areas, technical rooms, storage facilities, the appendix, the connected metro, and more.

Tank driving & shooting experience
Go for a tank driving and shooting tour! Fight your enemies with the most powerful Russian and Soviet weapons. You can select from a variety of the legendary military vehicles (T-62, T-80, BMP-1, BRDM and BTR-80). Put on a military camouflage and shoot a tank gun or any of more than 10 available firearms. A selfie with a Kalashnikov AK-47? It's a piece of cake! A traditional Russian military meal with buckwheat will taste delicious after the battle. No matter who you are – a fearless strong man or a graceful girl, the power of these machines will astonish you. If you enjoyed playing toy soldiers in your childhood, if you are a fearless Amazon in your heart – it's time for a real adventure!

Overnight at Moscow

Day 4

Moscow - St. Petersburg by train

Today morning, transfer to Moscow Railway Station for bullet train Sapsan to St Petersburg

The sheer grandeur and history of Russia's imperial capital never fail to amaze, but this is also a city with a revolutionary spirit.

The second largest city in Russia, St. Petersburg is One of the world's most beautiful cities, St. Petersburg has all the ingredients for an unforgettable travel experience: high art, lavish architecture, wild nightlife, an extraordinary history and rich cultural traditions that have inspired and nurtured some of the modern world's greatest literature, music, and visual art.

From the mysterious twilight of the White Nights to world-beating opera and ballet productions on magical winter evenings, St. Petersburg charms and entices in every season.

City of the Tsars - The creation of westward-looking Peter the Great, St Petersburg was intended from its inception as a display of imperial Russia's growing status in the world. Fine-tuned by Peter's successors, who employed a host of European architects to add fabulous palaces and cathedrals to the city's layout, St Petersburg grew to be the Romanovs' showcase capital and Russia's first great, modern city.

Venice of the North - Whether you're cruising along the elegant canals, crossing one of the 342 bridges in the city, or just watching them being raised in summer over the mighty Neva River at night to allow ships to pass through, you're never far from water in St Petersburg. This has earned the city unsurprising comparisons to Venice.

Artistic Powerhouse - St Petersburg is an almost unrivalled treasure trove of art and culture. You can spend days in the Hermitage, seeing everything from Egyptian mummies to Picassos, while the Russian Museum, spread over four sumptuous palaces, is perhaps the best collection of Russian art in the world. Add to this world-class ballet, opera and classical concerts at the illustrious performance halls, and a slew of big-name music festivals over the summer months, and you won't be stuck for cultural nourishment.

All Seasons City - Summer White Nights are legendary: the northern sun barely dips below the horizon. Revelry begins in May, with parks and gardens greening with flowering trees, and peaks in mid-June when performing arts festivals pack out concert halls and the entire city seems to party all night long. It's the busiest time to visit and the crowds can often be overwhelming.

On arrival at St Petersburg transfer form railway station to hotel for check in

Rest of the day at leisure to relax & explore the streets of St Petersburg ... We recommend youto visit the downtown ...

Saint Petersburg is one of the most beautiful cities in the world. You don't have to take my word for it- see it with your own eyes during a sightseeing tour around the downtown. You'll see the city's most famous palaces and churches, streets and squares.

The point where Nevsky crosses Griboyedov Canal is home to some of St. Petersburg's most exemplary landmarks. The southwest corner features the magnificent Kazan Cathedral, an early 19th-century structure built in the image of St. Peter's Basilica in the Vatican. The church is a must-see for its imposing colonnade and detailed interiors decorated with frescoes depicting the life of Christ. On the northwest corner stands Dom Knigi (House of Books) with its iconic glass tower and globe. For the best views of Kazan Cathedral, head to the coffee shop on the first floor of Dom Knigi.

Overnight at St. Petersburg

Day 5

St. Petersburg sightseeing

After breakfast, today sightseeing tour of St. Petersburg assisted by our expert guide

St. Isaac's Square
The magnificent, the Bronze Horseman, the Admiralty, the ceremonial residence of the Russian emperors -Winter Palace and Church of the Savior on the Spilled Blood, the Field of Mars.

Sphinxes
3500 years old sculptures that were bought in the city from Egypt in XIX

Basil Island
The largest of forty two cities islands in the St. Petersburg

Peter and Paul Fortress
The birthplace of the city and Aurora Cruiser, which famous for its part played in Bolshevik revolution in 1917.

Evening at leisure for happy hours

Overnight at St. Petersburg

Day 6

St. Petersburg sightseeing

After breakfast today, visit Pushkin ... 25 kms.

Pushkin - The most picturesque suburbs of St. Petersburg, the town of Pushkin named after a famous Russian poet, also know as Tsarskoye Selo. The Catherine Park, an inseparable part of the ensemble and a very poetic place, is a magnificent work of creative labor of several generations of talented Russian architects, prominent sculptors, gardeners, and engineers, thousands of craftsmen and working people of various specializations.

Catherine Palace is the center of the composition of the park and the main landmark of Pushkin. During the palace excursion you will get to know about the mysterious history the Amber Room and see its splendid interiors, designed by eminent architects and recently restored. You will enjoy the result of restoration works performed by skilled masters, who needed all their professionalism to recreate the eighth wonder of the world.

The collection of the palace includes a large number of precious works of art, such as furniture, porcelain, statues, canvases, etc., including personal belongings of Russian emperors and members of their families.

Later cruise along the canals of St Petersburg

Overnight at St. Petersburg

Day 7

Departure from St. Petersburg

Morning at leisure

Later transfer to Airport as per return flight
Notes
Round the Year Destination ... Extention available to Sochi & Other countries across Europe
Hotels
Tour Inclusions - Russian Delight
- 03 night stay at Moscow
- 03 night stay at St. Petersburg
- Breakfast at the hotels
- All tours and transfers as per itinerary
- English speaking guide for all tours & transfers as per itinerary
- All tours with entrance tickets (Moscow metro, Kremlin territory & cathedrals, Hermitage museum)
- Train ticket from Moscow to St. Petersburg
- Visa support
Notes on itinerary
All our itineraries are "Just for Ideas" ... We will get to know you and customise an itinerary just for you that matches your requirements ... dates of travel, category of hotels, preferred airline, flexibility in choosing sightseeing, mode of travel between cities, etc.
Many of our clients have us design more relaxing, slower paced holidays with more in-depth experiences whereas some simply want to visit various destinations and cover only the highlights.
Together, we will determine the ideal route, pace of travel, accommodations, levels of pampering, style of touring, sightseeing to be included, dining preferences, adventure levels, options to meet locals, dates of travel & much more ! and based on this arrive at a price.
Do feel free to get in touch with us by a quick call on +91 79 29602961 or a short mail on mail@destinations4india.com ... Looking forward