Char Dham Yatra by Helicopter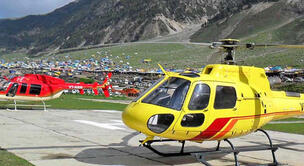 High in the Garhwali Himalaya sit some of the holiest sites in the Hindu religion – Yamunotri, Gangotri, Kedarnath, and Badrinath – where temples mark the spiritual sources of four sacred rivers: the Yamuna, the Ganges, the Mandakini and the Alaknanda.
Together, they make up one of the most important yatra (pilgrimage) circuits in all of India, known as the char dham (four seats). Every year between April and November, hundreds of thousands of worshippers brave hair-raising mountain roads and high-altitude trails to reach them.
In order to cut down on the travel time as well as avoid all the hardships involved in this Yatra, we are pleased to introduce herewith a quick tour of All Char Dhams in a span of 6 days covering all services end ot end with travel within all sectors by Helicopter
Char Dham Yatra by Helicopter
Tour Cost Starting from Rs.174600 + 5% GST per person
Grab this oppotunity before the season ends ... Itinerary & other details as follows ...
Itinerary
Day 1

Arrival Dehra Dun / Transfer to Haridwar / Evening Ganga Aarti

Upon arrival at Dehradun airport, you will be met by our chauffer at the airport's exit gate with a placard in your name

You will be escorted to your awaiting vehicle and transferred to Haridwar [45 kms.] for check in at hotel

Haridwar

Propitiously located at the point where the Ganges River emerges from the Himalaya, Haridwar (also called Hardwar) is Uttarakhand's holiest Hindu city, and pilgrims arrive here in droves to bathe in the fast-flowing Ganges. The sheer number of people gathering around Har-ki-Pairi Ghat give Haridwar a chaotic but reverent feel.

Day at leisure to visit Ghats & attend the evening Aarti

Evening Ganga Aarti

Ganga Aarti is a religious prayer that takes place at the bank of the sacred river Ganga at the Har-ki-Pauri ghat in Haridwar. Bringing in tourists and devotees from all over the world, it is a ritual of light and sound where the priests perform prayers with bowls of fire and the ringing of the temple bells. Visitors float "diyas" (small candles) and flowers, surrounded by the chanting of the mantras and the reflection of the lights off the surface of the flowing river, which is said to be blessed by the Goddess Ganga.

Overnight at Haridwar

Day 2

Transfer to Dehradun / Helicopter to Kharsali / Visit Yamunotri

After breakfast, early morning transfer to Dehradun Helipad ... Fly to Kharsali

The untouched village of Kharsali also known as 'Khushimath' is cradled with love in the Uttarkashi district of Uttarakhand. It is perched at an astounding elevation of 2,675 meters above sea level.

The tiny hamlet of Kharsali has a religious significance as it is the winter seat of Goddess Yamuna. Since the Yamunotri shrine becomes inaccessible in winters, due to heavy snowfall, therefore, the deity is brought here for worshipping.

On arrival at Kharsali, proceed to Yamunotri Temple [5 kms] by Palki

Yamunotri Temple is tucked in a tight gorge close to the source of the Yamuna, Hinduism's second-most sacred river after the Ganges.

Yamnotri temple is usually the first stop-over for the Char Dham Yatra. The Temple is dedicated to Goddess Yamuna. Large number of devotees visit the shrine during the months of May to Oct.

According to legend, Yamunotri findsspecialmention in Hindu mythology which was the homeof an ancient sage, Asit Muni.
Some of the prime attractions of Yamunotri are the Yamunotri Temple built by Maharani Guleria of Jaipur in the late nineteenth century. There is a small hot water spring at Yamunorti, rice andpotatoes are cooked by pilgrims in this water and served as Prasad. Devotees also pay respect to Divya Shila, a rock pillar just before entering the Yamunorti temple.

After Darshan and Pooja, return to Kharsali.

Dinner & Overnight at Kharsali

Day 3

Kharsali to Harsil by Helicopter / Visit Gangotri

After breakfast take Helicopter to Harsil

Seated on the bank of River Bhagirathi, Harsil is one of the hidden gems of Uttarakhand. This beautiful village in the Garhwal Himalayas is situated at an altitude of 2620 m and is part of the equally gorgeous Uttarkashi District. Harsil is a nature lover's paradise and is ideal for those seeking some adventure in the mighty Garhwal Himalayas. The village is also a dream location for those who love trekking, biking, and other adventure activities.

Falling en route Gangotri from Uttarkashi, Harsil is covered in dense Oak and Deodar Forests and is a place where nature greets with a warm embrace.

The apple orchards, the shimmering and gurgling streams, and the chirp of the birds, all make this lesser-explored tourist attraction the prized possession of Uttarakhand.

After landing proceed to Gangotri temple by road ... 25 kms.

Gangotri Dham, located at the height of 3,100 meters (approx.) on the Himalayan range in Uttarkashi district of Uttarakhand, holds a very special place in the hearts of Hindus. It is one of the four sacred and important pilgrimage sites of Chota Char Dham Yatra in Uttarakhand. Amid all the natural beauty and grace which the mountains and altitude of the place affords, what makes Gangotri one of the holiest places is its intimate connection with River Ganga (the Ganges).

Ganga Maa (mother), the much revered deity of Hindus, originates from the Gangotri glacier at Gaumukh which is some 18 km from the Gangotri town. It is said that Goddess Ganga came to earth in order to wash away the sins of King Bhagirathi's ancestors. From the folds of mythology till the present time, Ganga River has always been a sacred source of purity for the mankind.

Coming to Gangotri is not only a religious duty but a spiritual calling too.

After Darshan and Pooja at Gangotri temple, return to Harshil

Evening free for local sightseeing of Harsil

Dinner & overnight at Harsil

Day 4

Harsil to Kedarnath by Helicopter / Visit Kedarnath Temple / Overnight at Guptkashi

After breakfast, Helicopter to Kedarnath

Kedarnath is one of the most sacred pilgrimages of Lord Shiva situated in Rudraprayag district of Garhwal region in Uttarakhand. Kedarnath is one of the Char Dham in Uttarakhand and the most important dham among Panch kedar. Kedarnath is situated at an altitude of 3586 mts, in the lap of the majestic mountain peaks and near the head of river Mandakini, Kedarnath range stands one of the twelve Jyotirlingas of Lord Shiva.

Kedar meaning powerful is another name of Lord Shiva the protector and the destroyer. The beautiful ambiance around the temple looks like quite peace on heaven causes a beautiful place to do meditation.The main attractions here is the Shiva Temple, which is a popular Hindu shrine and pilgrimage, attracting devotees from all over the world. The travel and tourism scope here is strengthened by factors like natural beauty and religious zest.

Shiva is considered the embodiment of all passions - love, hatred, fear, death and mysticism which are expressed through his various forms. There are more than 200 shrines dedicated to Lord Shiva in the area itself, the most important one is Kedarnath.

On arrival, Darshan and Pooja at Kedarnath Temple

Later transfer to Guptkashi ... 47 kms.

Guptkashi is situated 47kms before the holiest shrine of Lord Shiva, Kedarnath. It is located on the route to Kedarnath on a ridge on the west side of the Mandakini river valley at an elevation of 1,319 mts above sea level.

Guptkashi is a religiously important town of Uttarakhand as it houses ancient temples like Vishwanath temple and Ardhnarishwar temple. The center most attraction of Guptkashi town, Manikarnika Kund is a place where two streams of the Ganga and Yamuna meet.

Gaurikund, the town from where trek to Kedarnath commences is situated 34kms ahead of Guptkashi. Guptkashi is situated on the mountain facing Ukhimath town. When the Pandavas were searching for a glimpse of Shiva, Shiva first concealed himself in Gupt Kashi but later fled from them further up the valley to Kedarnath.

The main temple of Guptkashi is dedicated to Lord Shiva as Vishwanath – "Lord of the Universe". It is built by regional stones and is situated in an enclosed courtyard. The small temple to its left is Ardhanarishvar.

Rest of the day at leisure for sightseeing at Guptkashi

Dinner & overnight at Guptkashi

Day 5

Kedarnath to Badrinath by Helicopter / Visit Badrinath Temple

After breakfast, transfer to Kedarnath for Helicopter to Badrinath

Sandwiched between Nar and Narayan mountain ranges, Badrinath in the Chamoli district of Uttarakhand is one among the most sought after pilgrim centers in the Indian subcontinent. Badrinath is beautifully set in the backdrop of the colossal Neelkanth mountain peak and never fails to make the visitor spellbound with its unparalleled gorgeousness.. The term Badrinath is a derivative of badri, which means the place where beries grow abundantly.

A place, which holds so many myths and legends, Badrinath acquires predominance in the travel itinerary of a pilgrim. The popular belief is that Badarinath was the domain of Lord Shiva, and Lord Vishnu managed to unseat Shiva from here to Kedarnath. Another belief is that when Ganga made her descend to earth she split up in to twelve streams and one among the channels, Alakananda felt on Kedarnath which gives Badrinath it's majestic look.

It is not just recreational activities, shrines and pilgrimage that Badrinath offers. It proffers the awesome beauty of the snow clad mountain peaks and the surging landscapes of the Garhwal region.

Upon arrival Darshan at Badrinathhi Temple

Rest of the day at leisure

Dinner & overnight at Badrinath

Day 6

Badrinath to Dehradun by Helicopter / Return flight

Morning Abhishek darshan of Badrinathji at 4.00 AM.

After breakfast Helicopter to Dehradun

Tour concludes on arrival at Dehradun Helipad

Transfer to airport for onward flight
Notes
Best time to visit is May to Oct. ... Extension recommended to scenic locations across Uttaranchal - Kanatal, Mussoorie, Nainital, Corbett, etc.
Hotels
Tour Inclusions - Char Dham Yatra by Helicopter
Helicopter services : Dehradun - Kharsali - Harsil - Kedarnath - Badrinath
1 night stay Haridwar incl. of Breakfast
4 nights stay across Char Dham incl. of Breakfast & Dinner
VIP Darshan assistance at Char Dham Temples
Local trasport by Innova or Scorpio

Notes on itinerary
All our itineraries are "Just for Ideas" ... We will get to know you and customise an itinerary just for you that matches your requirements ... dates of travel, category of hotels, preferred airline, flexibility in choosing sightseeing, mode of travel between cities, etc.
Many of our clients have us design more relaxing, slower paced holidays with more in-depth experiences whereas some simply want to visit various destinations and cover only the highlights.
Together, we will determine the ideal route, pace of travel, accommodations, levels of pampering, style of touring, sightseeing to be included, dining preferences, adventure levels, options to meet locals, dates of travel & much more ! and based on this arrive at a price.
Do feel free to get in touch with us by a quick call on +91 79 29602961 or a short mail on mail@destinations4india.com ... Looking forward