Tiger Calling @ Ranthambhore National Park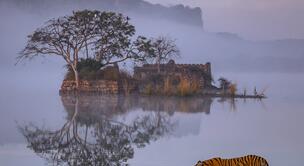 Ranthambore National Park is a vast wildlife reserve near the town of Sawai Madhopur in Rajasthan, Northern India.

It is a former royal hunting ground and home to tigers, leopards and marsh crocodiles. Its landmarks include the imposing 10th-century Ranthambore Fort, on a hilltop, and the Ganesh Mandir temple. Also in the park, Padam Talao Lake, is known for its abundance of water lilies.

This famous national park is the best place to spot wild tigers in Rajasthan. It comprises 1334 sq km of wild jungle scrub hemmed in by rocky ridges, and at its centre is the 10th-century Ranthambhore Fort.

Scattered around the fort are ancient temples and mosques, hunting pavilions, crocodile-filled lakes and vine covered chhatris (cenotaphs). The park was a maharajas' hunting ground until 1970, a curious 15 years after it had become a sanctuary.

Seeing a tiger (around 70to 75 at present) is partly a matter of luck; leave time for two or three safaris to improve your chances. But remember there's plenty of other wildlife to see, including more than 300 species of birds.

It's 10km from Sawai Madhopur (the gateway town for Ranthambhore) to the first gate of the park, and another 3km to the main gate and Ranthambhore Fort.

Nearest airport : Jaipur [180 kms]

The nearest airport to reach Ranthambore National Park is at Jaipur. There are regular flights to Jaipur from all the major cities including, Delhi, Mumbai, Chennai, Kolkatta, Bangalore, Ahmedabad, etc.

Safaris at Ranthambhore National Park

Jeep safari is the best way to observe wildlife within Ranthambhore National Park. Jeeps, wiwth capacity of 6 persons, are availalbe on private basis as well as with other tourists, accompanied by a trained guide, are allowed into the park at fixed times during the morning and evening. The jeeps have to follow a fixed route and leave the park by the end of the appointed time.

The open grasslands, forested areas and ruins of monuments within Ranthambhore National park provide many opportunities for wildlife viewing while on a jeep safari of National Park Ranthambhore. Tigers can be seen hunting deer, their primary prey, on the open grassy regions. A glimpse of a magnificent Royal Bengal Tiger is a sight that cannot be forgotten.

Park is closed from 15 June to 15 Oct.

Other places of sightseeing at Ranthambhore

Ranthambhore Fort
This fort built by the Chauhans in the 10th century is one of the oldest forts of Rajasthan. Its strategic location was ideal for keeping enemies at bay. The fort is associated with the historical tragedy of royal women performing jauhar (self immolation) when Ala-ud-din Khilji sieged this fort in 1303. The fort has many temples, tanks, massive gates and walls.

Jogi Mahal

This is the forest rest house overlooking the pretty Padam Talab. What attracts a large number of tourists every year to the Jogi Mahal is the ancient banyan tree, the second largest banyan tree in India.

Natural Welth

Ranthambhore is characterized by the typical desert landscape of Rajasthan. The park is the natural haunt of a significant number of panthers. Due to the sizeable population of tigers in the Ranthambhore national park, this site has been taken under Project Tiger. The flora consists of dry deciduous shrubs and not very high trees. The topography varies from secure forests to open scrubland. Dhok is the most common tree to be found. The aquatic flora of this place includes lovely lotuses and water lilies. The fauna includes mammalian species like antelopes, nilgai, sambhar, chital, sloth bear, wild boar, chinkara, porcupines, jackals, leopards, jungle cats, fox, caracals, hyena, gazelle, Indian hare and mongoose. There are also about 264 species of birds to be found here.

Notes
Round the year Destination ... Extension recommended to Jaipur, Bharatpur, Agra & other Destinations across Rajasthan
Notes on itinerary
All our itineraries are "Just for Ideas" ... We will get to know you and customise an itinerary just for you that matches your requirements ... dates of travel, category of hotels, preferred airline, flexibility in choosing sightseeing, mode of travel between cities, etc.
Many of our clients have us design more relaxing, slower paced holidays with more in-depth experiences whereas some simply want to visit various destinations and cover only the highlights.
Together, we will determine the ideal route, pace of travel, accommodations, levels of pampering, style of touring, sightseeing to be included, dining preferences, adventure levels, options to meet locals, dates of travel & much more ! and based on this arrive at a price.
Do feel free to get in touch with us by a quick call on +91 79 29602961 or a short mail on mail@destinations4india.com ... Looking forward