Rajasthan : Oasis in the Desert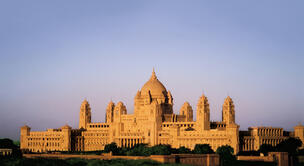 The large landscape of Rajasthan is a collage of juxtaposes filled with diversities and colors of different shades and hues. Think desert and forests, sand dunes and lakes, forts, palaces and temples, malls and bazaars, folk music, handicrafts and food, Rajasthan has all on offer and more.
Though Rajasthan is so much more than just the great Thar desert, it is primarily renowned as a desert state. Hence, the first obvious thing not to miss would be exploring the desert, itself. The cities of western Rajasthan such as Jaisalmer, Bikaner and Jodhpur offer you a perfect base to soak in the beauty of the magnificent windswept swathes of desert along with the scenic sand dunes and discover the culture and harsh lifestyle of the nomads of the Thar.
Itinerary
Day 1

Arrival Jodhpur

Transfer to hotel on arrival
Rest of the day at leisure
Visit Umaid Bhawan Palace Museum & Local Market
Overnight at Jodhpur

Day 2

Jodhpur Sightseeing

After breakfast, sightseeing tour of Jodjpur : Visit Mehrangarh Fort & Jaswant Thada
Later in the afternoon depart for a Village Safari - Visit Weavers village, Potter's and block printers village and Gudha village where you can spot wild life
Overnight at Jodhpur
Day 3 : Jaisalmer Sightseeing : The Fort, Patwon Ki Haveli, Evening

Day 3

Jodhpur to Jaisalmer

After breakfast, depart for Jaisalmer [330 kms. / 6 hours' drive]
Check in at hotel on arrival
Later visit the Gadsaisar Lake & Local Market
Overnight at Jaisalmer

Day 4

Jaisalmer Sightseeing

After breakfast, sightseeing tour of Jaisalmer : Visit The Fort, Patwon Ki Haveli, Salem Singh Ki Haveli, etc. At about 1600 hrs. depart for the Desert for an evening at the dunes – Sunset Camel ride, local entertainment & dinner
Overnight at Jaisalmer

Day 5

Jaisalmer to Dechu

After breakfast, depart for Dechu [200 kms. / 4 hours drive]
Check in at Samsara Desert Camp
Day at leisure to enjoy the activities at the Camp
Overnight at the Camp

Day 6

Dechu / Departure

After breakfast, departure from Dechu for onward journey
Tour Inclusions [Rajasthan - Oasis in the Desert]
* Stay at premium &deluxe hotels
* Chauffer driven AC Vehicle for transfers & sightseeing as per itinerary inclusive of fuel, toll, parking, taxes, allowances, etc.
* Breakfast at all Hotels
* Dinner at Jaisamer Desert
* Dinner at Samsara Camp
* All currently applicable Taxes
* Sightseeing at all cities inclusive of entry fees
* Services of English speaking guide at all locations during sightseeing
* Novel local experiences
At Jodhpur : Village Safari
At Jaisalmer : Evening in the Desert
Notes on Hotel Reservations & Tour Bookings
Indicated tour rates will depend on dates of travel, number of travellers and local conditions at each destination

All

rates

are as per current availability / Subject to change at the time of booking

Rates are not applicable for Event and Exhibition dates

GST apply as extra

At most hotels : Check in time is 1400 hrs. / Check out time is 1200 hrs.

While we make recommendations for hotels all around the world, we do not stand guarantee and are not responsible for the services or the hardware provided by the hotel/s suggested by us. We strongly urge you to do your own research and make an informed choice
All requests like early check in, smoking / non-smoking rooms, views, floors, king / twin beds, adjoining and/or interconnecting rooms, etc are strictly subject to availability upon arrival and at hotel's discretion. These cannot be guaranteed prior.
Any amendment in reservations / itinerary before reconfirmation will attract a charge
Once the reservation has been reconfirmed and if the booking is cancelled or amended, retention will be applicable.
All Indian nationals need to present a valid photo ID at the time of check in. This is a mandatory requirement.
All Foreign nationals need to present a valid passport with VISA at the time of check in. This is a mandatory requirement.
We cannot be held accountable for any delay or disruption due to infra-structure development or lack of it, traffic held up due to accident or whatsoever reason, natural calamity, political unstability, delay in flights, etc.
Notes on itinerary
All our itineraries are "Just for Ideas" ... We will get to know you and customise an itinerary just for you that matches your requirements ... dates of travel, category of hotels, preferred airline, flexibility in choosing sightseeing, mode of travel between cities, etc.
Many of our clients have us design more relaxing, slower paced holidays with more in-depth experiences whereas some simply want to visit various destinations and cover only the highlights.
Together, we will determine the ideal route, pace of travel, accommodations, levels of pampering, style of touring, sightseeing to be included, dining preferences, adventure levels, options to meet locals, dates of travel & much more ! and based on this arrive at a price.
Do feel free to get in touch with us by a quick call on +91 79 29602961 or a short mail on mail@destinations4india.com ... Looking forward