Best of Andaman & Nicobar Islands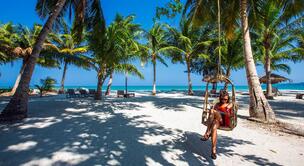 With shimmering turquoise waters fringed by primeval jungle, fantastic diving, and sugar-white, sun-toasted beaches melting under flame-and-purple sunsets, the far-flung Andaman Islands are the perfect Indian escape.

The population is a friendly mix of South and Southeast Asian settlers, as well as Negrito ethnic groups whose arrival here has anthropologists baffled. Adding to the islands' intrigue is their remoteness, 1370km east of the Indian mainland – but only 200km from Indonesia and 300km from Myanmar (Burma).

Of the archipelago's 572 islands, only 36 are inhabited and a small selection is open to travellers. With splendid beaches and diving, Havelock (Swaraj) is by far the most popular.

Permit requirements for the Andamans were eased in 2018; the effects of this on the islands' unspoilt state, not to mention the survival of their indigenous peoples, remains to be seen. To the south, the Nicobar Islands have, so far, been strictly off limits to tourists.
Itinerary
Day 1

Arrival Port Blair / Local Sightseeing

Upon arrival at Port Blair airport, meet & greet by our representative and transfer to hotel for check in

Surrounded by tropical forest and rugged coastline, the Andamans' lively provincial capital, Port Blair, is a vibrant mix of Indian Ocean inhabitants – Bengalis, Tamils, Telugus, Nicobarese and Myanmarese.

Most travellers don't hang around any longer than necessary (usually one or two days while waiting to book onward travel in the islands, or returning for departure), but PB's fascinating history warrants exploration while you're in town. There are also some enticing day trips, such as to Mahatma Gandhi Marine National Park and Chidiya Tapu.

Later, a short tour of Port Blair, covering Cellular Jail and Sound & Light Show

We know, this may sound a bit dark and depressing but you wouldn't regret one moment of your time spent here. The dreadful word "Kaala Pani" that we've heard since our childhood actually referred to this place. Yes, it's the former British prison that is now a shrine to the political dissidents it once jailed. Even though several parts of it have been destroyed by the Japanese during the World War II, it still stands tall reminding us of our brave and gallant forefathers is one of the best places to visit in Andaman and Nicobar.

Later, light and sound show at the Jail. This show replicates those days of hardships Indian freedom fighters have gone through.

Dinner & overnight at Port Blair

Day 2

Port Blair to Havelock / At leisure on the beach

After early morning breakfast, transfer to Port Blair Jetty for Catamaran to Havelock Island ... 2 hours ride

With sublime silken-blonde beaches, twinkling teal shallows and some of the best diving in South Asia, thickly forested Havelock (Swaraj) enjoys the well-deserved reputation of being a travellers' paradise. Indeed, for many, Havelock is the Andamans – it's what lures most visitors across the Bay of Bengal, many of them content to stay here for the entirety of their trip.

Havelock has been developing fast in recent years, with a sharp rise in domestic tourism and concrete-clad resorts chasing away many of the original bamboo beach huts. But much of the island's 92 sq km (it's the largest in Ritchie's Archipelago) remains untouched, and the beaches and diving are as bewitching as ever.

Upon arrival, meet & greet by our representative at the jetty, transfer to hotel for check in

Rest of the day at leisure to enjoy the pristine beaches of Havelock

Walk down to Beach No 7* (Radhanagar Beach) rated as the 'Best Beach in Asia' by Time Magazine and unwind and relax and enjoy the pristine white sand beach. There are some local shops where you can purchase some snacks and refreshments.

Dinner & overnight at Havelock Island

Day 3

Havelock / Excursion to Elephant Beach / Lighthouse

After breakfast, embark on the most memorable excursion to Elephant Beach or Lighthouse by a 30 mins. boat ride boat

This beach offers calm blue shallow waters and is the perfect spot for water sports. It's also a great place to just spend the day lying on the beach and relaxing. The beach is very scenic with fallen trees and white sand giving the photographers some interesting shots. The reef here starts very close to shore at a depth of about 1 metre. The large reef is mostly made up of hard coral and has plenty of marine life.

Please carry change of clothes, towel, cap, sunglasses and sunscreen. In case Elephant Beach trip is not operating due to sea conditions then guest will be taken to Light House.

Return back to Havelock by afternoon

Must visit while at Havelock - Something Different- A Beach Side Café. Also visited by Priyanka Chopra Jonas and Farhan Akhtar during their visit to Andamans fo a movie shoot. (Restaurant serves: Indian/ Chinese/ Continental/ Pizzas)

Evening at leisure

Dinner & overnight at Havelock Island

Day 4

Havelock / At leisure

After breakfast, day at leisure to enjoy the beach

Beach 3 - A slender strip of platinum east-coast beach, dotted with palms and a few fishing boats and overlooked by clumps of natural jungle. Beautiful, though not ideal for swimming as it's rocky.

Beach 5 - On Havelock's eastern coast, palm-ringed Beach 5 has your classic tropical vibe with cream-coloured sand, cerulean sea, shady patches and few sandflies.

Kalapathar - Pristine Kalapathar is a salt-white swathe of sand lapped by clear turquoise water. It's a favourite sunrise-gazing spot, and you may have to walk a bit to get away from the masses and souvenir shops.

Dinner & overnight at Havelock Island

Day 5

Havelock to Neil Island

After breakfast, transfer to Havelock Jetty for Catamaran to Neil Island ... 1 hour ride

Although its beaches are not as luxurious as those of its more famous island neighbour, Havelock (Swaraj Dweep), tranquil and wonderfully unhurried Neil (recently renamed Shaheed Dweep) has its own rustic charm, with a lusciously green landscape of rice paddies, fruit plantations and coconut palms.

The main bazaar, at Neil Kendra in the centre of the island, has a mellow vibe; the jetty is 500 m north of the bazaar. Cycling along the flat roads through quiet clusters of homes is the best way to soak up Neil's character.

Day at leisure to visit the beaches at Neil Island & later in the evening local market

Dinner & overnight at Neil Island

Day 6

Neil Island to Port Blair / En-route beach & bridge visit

After breakfast, depart for Port Blair by Catamaran

En-route visit Bharatpur, Laxmanpur beach and Natural Bridge

Bharatpur Beach - Is a stunning shoreline famous for its pristine white sands and clear blue waters that surround the Neil Island. In spite of its proximity to Port Blair, it is seldom crowded and provides for a tranquil atmosphere for holidaying. The shore has shallow water with coral reefs that make the beach a famous spot for water sports like snorkelling and scuba diving other than beach exploration and sunbathing.

Laxmanpur Beach - Located on Neil Island, Laxmanpur Beach is a stunning white shell sand beach just perfect for sunbathing and swimming. The shallow waters are home to corals which once thrived in abundance in the region. Enthusiasts can go snorkelling to explore the shallow waters and the corals too. The long stretch of sand is appropriate for long strolls and the enchanting sunsets.

Natural Bridge - This natural bridge lies in that region of Neil Islands which is surrounded by numerous corals. This bridge is one of the highlights of Laxmanpur Bridge and has been formed by giant coral rocks. It was once popular by the name Rabindra Sethu when various Bengali immigrants resided nearby. However, now it is called Howrah Bridge.

Arrival Port Blair by afternoon, meet &greet by our representative, transfer to hotel

Evening is at Leisure.

Dinner & overnight at Port Blair

Day 7

Port Blair - Full day excursion to North Bay & Ross Island

After breakfast, enjoy a full-day excursion to North Bay Island & Ross Island

North Bay Beach - In the North Bay Beach you can walk under the sea and finally visit 'Octopus's Garden'! Colourful school of fishes, coral reefs and various other marine life forms you've never seen before would be swimming right by you. After all, North Bay Beach is the finest place for sea walking in Asia and one of the best places to visit in Andaman and Nicobar islands.

Also, you don't have to know anything about swimming for this activity! You can normally breathe under the glass helmet. In fact, this is a convenient location for this activity as it is safe and there is no air pressure that bothers.

Ross Island - from where the Britishers' governed the entire A&N islands, prior to India's Independence. This island is an ideal destination for nature walk amidst sylvan surroundings with deers, peacocks, exotic birds, etc

Back to Port Blair by evening and transfer to hotel

Dinner & overnight at Port Blair

Day 8

Port Blair / Departure flight

After breakfast, morning at leisure

Later transfer to Port Blair Airport for return flight
Notes
Round the Year Destination ... Extension recommended to exotic locations around Southern India covering Karnataka, Kerala & Tamil Nadu
Hotels
Tour Inclusions [Andaman & Nicobar Islands]
3 nights stay at Port Blair
3 nights stay at Havelock Island
1 night stay at Neil Island
Daily breakfast & dinner
Ferry tickets : Port Blair - Havelock Island – Neil Island - Port Blair
All sightseeing and transfers by private vehicle
Notes on itinerary
All our itineraries are "Just for Ideas" ... We will get to know you and customise an itinerary just for you that matches your requirements ... dates of travel, category of hotels, preferred airline, flexibility in choosing sightseeing, mode of travel between cities, etc.
Many of our clients have us design more relaxing, slower paced holidays with more in-depth experiences whereas some simply want to visit various destinations and cover only the highlights.
Together, we will determine the ideal route, pace of travel, accommodations, levels of pampering, style of touring, sightseeing to be included, dining preferences, adventure levels, options to meet locals, dates of travel & much more ! and based on this arrive at a price.
Do feel free to get in touch with us by a quick call on +91 79 29602961 or a short mail on mail@destinations4india.com ... Looking forward