Polo Forest ... An Escape Close By !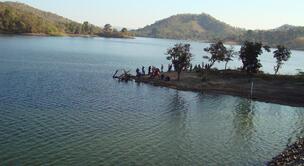 Tucked away in a forest, just 150 kms. from Ahmedabad & 120 kms. from Udaipur, there are secrets to be revealed...

An ancient city, a gateway to Rajasthan. A hiding place for rulers, concealed from enemies, citizens, angry wives, even from the sun, tucked between sacred hills on the east and west. And the mystery of abandonment, decay.

Ancient temples, some still performing their pujas deep within this dense jungle, itself the larger temple, the trees themselves the gods.

Adivasi settlements, their lives rooted in their connection to the forest, from whom you might learn to listen to the deep hum of the world that envelops these scattered whispers of human constructions...

Come. Listen. Learn. Know your Self. You may return to your homes, your cities, your roads, but the forest will never leave you.

The 400 square km area of dry mixed deciduous forest is most lush between September and December after the monsoon rains when the rivers are full, but at any time of the year it provides a rich wildlife experience.

There are more than 450 species of medicinal plants, around 275 of birds, 30 of mammals, and 32 of reptiles. There are bears, panthers, leopards, hyenas, water fowl, raptors, passerines, and flying squirrels (mostly heard, rarely seen), all living under a canopy of diverse plants and trees. During winter, all manner of migratory birds occupy the forest; during the rainy season there are wetland birds.

Until recently, this area was not well-known, and saw very few visitors. The numbers have increased dramatically in the last few years, thanks to a few individuals working to promote its beauty.

Main places of sightseeings include ...

Harnav River
Harnav Dam
Shiv Temple at Sarneshwar
Sadevant Savlings Deras
Surya Mandir
Lakhena Temple
Jain derasar
Polo Jain Nagri
Notes
Round the Year Destination ... Extension recommended to Udaipur, Ranakpur & Kumbalgarh
Hotels


POLO FOREST

Notes on itinerary
All our itineraries are "Just for Ideas" ... We will get to know you and customise an itinerary just for you that matches your requirements ... dates of travel, category of hotels, preferred airline, flexibility in choosing sightseeing, mode of travel between cities, etc.
Many of our clients have us design more relaxing, slower paced holidays with more in-depth experiences whereas some simply want to visit various destinations and cover only the highlights.
Together, we will determine the ideal route, pace of travel, accommodations, levels of pampering, style of touring, sightseeing to be included, dining preferences, adventure levels, options to meet locals, dates of travel & much more ! and based on this arrive at a price.
Do feel free to get in touch with us by a quick call on +91 79 29602961 or a short mail on mail@destinations4india.com ... Looking forward