Best of Orissa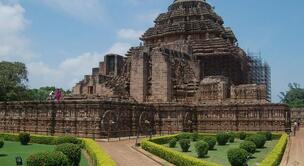 A favourite destination for adventurous travellers, Odisha (Orissa) rewards those who make the effort to stray off the beaten track with an intricate patchwork of archaeological wonders, fascinating tribal culture, and natural beauty, along with an old-fashioned sprinkling of sun and sand.

The forested hills of the southwest keep Adivasi (tribal) groups largely hidden from mainstream tourism, but it is still possible to visit their weekly markets and interact with villagers leading traditional lives. Forests elsewhere – both inland and along the coast – are home to some of Odisha's wonderful nature reserves, where you might spy 6m-long crocs, rare dolphins, endangered sea turtles and thousands of nesting birds.

Foodies will relish a whole new set of regional flavours cooked up in Odishan kitchens, while history buffs will be left contemplating long-lost Buddhist universities, ancient Jain rock carvings and centuries-old Hindu relics, including Konark's unparalleled Sun Temple.

Itinerary
Day 1

Arrival Bhubaneshwar / Transfer to Puri

Arrival Bhubaneshwar airport, meet & greet by our representative, transfer to Puri [70 kms / 2 Hrs. drive]

Enroute sightseeing with visit to Hirapur Temple, Dhauli - The peace pagoda & Pipli the Applique Village

Hirapur 64 yogini temple - Dating back to the 9th century AD, the 64 Yogini shrines give a glimpse of the religious and occult practices of medieval times. Today only four of the architecturally distinct 64 Yogini shrines survive in India. Out Of them two are in odisha and one of them at Haripur.The Hirapur Temple of Odisha is built of coarse sand stones blocks with literate stones in its foundation. While its Yogini are curved from fin grained grey chlorinate. The inner walls of this circular pavilion or Chandi Mandapa,30 feet in diameter built of coarse sandstone and has barely 8 feet high walls containing 64 inches to house the sculptures of yoginis(2feet hight). The Haripur Yoginis are extraordinary beautiful figures with exquisite features and sensuously formed bodies.

Dhauli - The peace pagoda - The Shanti Stupa or the peace pagoda on the Dhauli Giri hills, Bhubaneswar - Located 8 km away from Bhubaneswar and built through Indo-Japanese collaboration, the stupa looks down on the plains of river Daya that bore witness to the gruesome war waged on Kalinga by the Mauryan emperor Ashoka the Great. It was here that Ashoka, full of remorse after the Kalinga War in 261 BC, renounced his blood-thirsty campaign and turned to Buddhism. Ashoka had a special weakness for Dhauli, where the battle was fought. The Daya river is said to have turned red with the blood of the many deceased after the battle, and enabled Ashoka to realize the magnitude of horror associated with war. He saw to it that Dhauli became an important centre of Buddhist activities. He built several chaityas, stupas and pillars there.

Pipli the Applique Village - Puri has a very wide and distinctive selection of handicrafts. Best known is probably the gorgeous applique work of Pipili. Pipili is on the way from Puri to Bhubaneswar. It is 40 kilometres from Puri, at the junction where the konark road branches from the Bhubaneswar to Puri road. It is a small village. On the main road at Pipili there are many shops selling Applique work products, tourist visiting Puri buy these products from Pipili. It is famous in Orissa as well as in India for it's applique craft. Each and every family of the village engaged themeselves in this applique craft. Applique, a French term, is a technique by which various cutting pieces of coloured fabrics are applied to the surface of another foundation fabric.

Later continue drive to Puri

Hindu pilgrims, Bengali holidaymakers and foreign travellers all make their way to Puri. For Hindus, Puri is one of the holiest pilgrimage places in India, with religious life revolving around the great Jagannath Mandir and its famous Rath Yatra (Chariot Festival). The town's other attraction is its long sandy beach, which is much better for strolling than swimming.

In the 1970s the sea and copious supply of bhang (marijuana) attracted travellers on the hippie trail here. There's little trace of that scene today, but visitors from around the world still come to chill out and visit the Sun Temple in nearby Konark.

All the action is along a few kilometres of coastline. The backpacker part of town is bunched up towards the eastern end of Chakra Tirtha (CT) Rd, while local tourists flock to busy New Marine Drive in the west, along an extended and bustling esplanade.

On arrival check in at hotel

Evening at leisure to visit the beach

Overnight at Puri

Day 2

Puri - Local sightseeing

After breakfast, day at leisure for Puri sightseeing

Lord Jagannath Temple

Jagannath Temple is one of the most renowned as well as the biggest temples of Orissa. Established in the 12th century, the temple is dedicated to Lord Jagannath (Lord Krishna), Lord of the Universe. The credit for laying the foundation of the Jagannath temple of Puri goes to Raja Ananta Varman Chodaganga Dev. The temple is greatly revered by the devotees following the Vaishnava traditions. There is an interesting legend associated with the Jagannatha temple of Puri. It is said that King Indradyumna, the ruler of the territory, saw Lord Jagannath in his dreams and following the Lord's wishes, as told to him in his dreams, he got the Jagannath Puri Temple constructed.

This mighty temple is home to Jagannath (Lord of the Universe), an incarnation of Vishnu. Built in its present form in 1198, the temple – closed to non-Hindus – is surrounded by two walls, its 58m-high flag-draped sikhara (spire) topped by Vishnu's wheel. Non-Hindus can get a rooftop view and take photos from the Raghunandan Library terrace across the street for a 'donation'

Jannagath, the jet-black deity with large white eyes, is hugely popular across Odisha; his images are tended and regularly dressed in new clothes at shrines across the state.

Guarded by two stone lions and a pillar crowned by the Garuda that once stood at the Sun Temple at Konark, the eastern entrance (Lion Gate) to the temple is the passageway for the chariot procession of Rath Yatra. Jagannath, brother Balbhadra and sister Subhadra reside supreme in the central jagamohan (assembly hall). Priests continually garland and dress the three idols throughout the day for different ceremonies. Incredibly, the temple employs about 6000 men to perform the complicated rituals involved in caring for the gods. An estimated 20,000 people – divided into 36 orders and 97 classes – are dependent on Jagannath for their livelihood.

Raghurajpur

On the cultural canvas of India, the village of Raghurajpur is a master stroke. The quaint huts and palm groves shelter microcosms of unrivalled artistic heritage. Nowhere in the world does one get to see such an assemblage of artworks in one single place, other than in this unique village situated in the state of Orissa. Thatched and brick houses having high plinths with sit-out platforms serve as outdoor studios where artists are seen engrossed in intricate detailing. Thick groves of coconut, palm, mango, jack fruit…paddy fields dotted with betel vines, and the river Bhargavi flowing by… this idyllic backdrop befits the creative leanings of the artisan village.

Also visit Sakhi Gopal & Golden Beach

Evening at leisure

Overnight at Puri

Day 3

Excursion to Chilka Lake

After breakfast, excursion to Chilika Lake ... 40 kms., 1 hr. drive

Chilika Lake is Asia's largest brackish lagoon. Swelling from 600 sq km in the summer months of April and May to 1100 sq km during the monsoons (June to August), the shallow lake is separated from the Bay of Bengal by a 60km-long sandbar called Rajhansa.

The lake is noted for the million-plus migratory birds – including grey-legged geese, herons, cranes and pink flamingos – that flock here in winter (November to mid-January) from as far away as Siberia and Iran and concentrate in a 3-sq-km area within the bird sanctuary on Nalabana Island.

Other attractions are rare Irrawaddy dolphins near Satapada, the pristine beach along Rajhansa, and Kalijai Island temple, where Hindu pilgrims flock for the Makar Mela festival in January.

Private boat will be organised by our guide for your exclusive use

Back to Puri by evening

Overnight at Puri

Day 4

Puri to Bhubaneshwar / Enroute Visit Konark Sun Temple

Transfer from Puri to Bhubaneshwar

Enroute visit Konark Sun Temple ... 35 kms., 50 mins. drive

Konark is also known as Konaditya. The name Konark is derived from the words Kona - Corner and Arka - Sun; it is situated on the north eastern corner of Puri or the Chakrakshetra. This temple built in 1278 by the Ganga King Narasimha Deva is one of the grandest temples of India and was referred to as the Black Pagoda

This iconic Sun Temple – a Unesco World Heritage Site – is one of India's signature buildings and Odisha's raison d'être. Most visitors are day trippers from Bhubaneswar or Puri, which makes sense, as the temple is Konark's sole attraction.

Originally nearer the coast (the shore has receded almost 3km), Konark was once visible from far out at sea and known as the 'Black Pagoda' by European sailors, in contrast to Puri's whitewashed Jagannath Temple. The inland lighthouse near Chandrabhaga Beach is an odd testament to that fact.

Later continue drive to Bhubaneshwar

Bhubaneswar is the capital city of Orissa. The city has a long history of over 2000 years starting with Chhedi dynasty who had Sisupalgarh near present-day Bhubaneswar as their capital. Historically Bhubaneswar has been known by different names such as Toshali, Kalinga Nagari, Nagar Kalinga, Ekamra Kanan, Ekamra Kshetra and Mandira Malini Nagari "City Of Temples" otherwise known as the "Temple City Of India"

Once dubbed the 'Temple City', chaotic Bhubaneswar is a worthwhile pit stop for a day or two. This will allow you to take in the old city's holy centre, which surrounds the ceremonial tank called Bindu Sagar. Thousands of medieval stone temples once stood here; around 50 currently remain. Temples aside, there are a couple of worthwhile museums, an ancient cave complex and the most varied dining scene in Odisha, along with a smattering of decent hotels.

Check in at hotel upon arrival

Evening at leisure

Overnight at Bhubaneshwar

Day 5

Bhubaneshwar - Local Sightseeing

After breakfast, day at leisure for Bhubaneshwar local sightseeing

Khandagiri & Udaigiri Jain Caves
Udayagiri and Khandagiri Caves are partly natural and partly artificial caves of archaeological, historical and religious importance near the city of Bhubaneswar. These caves are situated on two hills Udayagiri and Khandagiri, mentioned as Kumari Parvat in Hathigumpha inscription and face each other across the road. They have a number of finely and ornately carved caves. It is believed that most of these caves were carved out of huge residential blocks for the Jain monks, during the reign of King Kharavela. Udayagiri meaning Sunrise Hill, has 18 caves while Khandagiri has 15 caves. The caves of Udayagiri and Khandagiri, called lena were dug out mostly during the reign of Kharavela for the abode of Jaina ascetics. The most important of this group is Ranigumpha in Udayagiri which are double storeyed monasteries.

Ekamra Haat
Spread over five acres of land located in the heart of the city of Bhubaneswar, Ekamra Haat has become a centre for Orissan as well as National Handicraft & Handloom craftsmanship with 42 shops and eight open display corners. The architectural design of the hut like shops along with sprawling grass mounds provide the ambience of the most naturally rural Orissan village.Stone carving, wood carving, appliqué, pattachitra, cane & bamboo, dhokra, bell metal, terracotta, palm leaf engraving, paper machie, art textiles such as bandhasarees from Sambalpur & Nuapatana are often on display at Ekamra Haat.

Lingaraj Temple- Lingaraj Temple is a temple of the Hindu god Harihara and is one of the oldest temples of the Temple City Bhubaneswar, a revered pilgrimage center and the capital of the state of Orissa. The temple of Lingaraja, the biggest of all at Bhubaneswar, is located within a spacious compound wall of latterite measuring 520 feet by 465 feet.

Parsurameswar - It is the best preserved specimen of an early Hindu temple datable to the Sailodbhava period of the seventh and eighth centuries. Parsurameswar is dedicated to Lord Shiva and is one of the oldest temples in Odisha. This temple, built about 650, has all the main features of the pre-10th century Odishan style of architecture.

Mukteswar - It is a 10th-century Hindu temple dedicated to Lord Siva. The temple dates back to 970, is a monument of singular importance in the study of the development of Hindu temples in Odisha. In this stylistic development the Mukteswara plays a pivotal role; it marks the culmination of all earlier developments, and initiates a period of experiment which continues for an entire century

Rajarani temple - It is an 11th-century Hindu temple dedicated to Lord Siva. Originally it was known as Indreswara, and serves as a shrine to Shiva. It is known as 'love temple', covered with coyly erotic carvings of women and couples. The temple is aesthetically endearing with its graceful sculptures.

Overnight at Bhubaneshwar

Day 6

Departure from Bhubaneshwar

After breakfast, morning at leisure

Later transfer to airport for onward flight
Notes
Round the Year Destination ... Extension recommended to Kolkatta, Sikkim & Madhya Pradesh
Hotels
Tour Inclusions [Best of Orissa]
03 nights stay at Puri
02 nights stay at Bhubaneswar
Daily breakfast
Transport by a private vehicle
All sightseeings accompanied by our local guide
Cruise at Chilika Lake
Notes on itinerary
All our itineraries are "Just for Ideas" ... We will get to know you and customise an itinerary just for you that matches your requirements ... dates of travel, category of hotels, preferred airline, flexibility in choosing sightseeing, mode of travel between cities, etc.
Many of our clients have us design more relaxing, slower paced holidays with more in-depth experiences whereas some simply want to visit various destinations and cover only the highlights.
Together, we will determine the ideal route, pace of travel, accommodations, levels of pampering, style of touring, sightseeing to be included, dining preferences, adventure levels, options to meet locals, dates of travel & much more ! and based on this arrive at a price.
Do feel free to get in touch with us by a quick call on +91 79 29602961 or a short mail on mail@destinations4india.com ... Looking forward