NORTHERN GUJARAT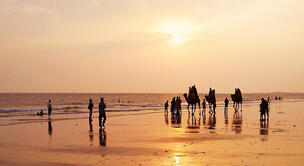 GUJARAT
Situated on the western part of the Indian sub-continent, Gujarat derives its name 'Gujaratta' meaning the land of Gurjars. The Gurjars passed through Punjab and settled in some parts of Western India, which came to be known as Gujarat.
Gujarat today offers a wide range of the most spectacular attractions - which includes breathtaking locations and scenic landscapes. Gujarat is also a melting pot of several civilizations resulting in a vibrant culture and a rich heritage. Gujarat is home to several architectural marvels, witnesses of its glorious history and pilgrim centres for many faiths.
It is also the land of several mythological & historical figures like the legendary Lord Krishna and Mahatma Gandhi the apostle of non-violence.
Gujarat is a home to incredible diversity due to its geographic and strategic location. Its Gujarati pride and rich cultural heritage is reflected in arts, music, literature, religious traditions, cuisine, fairs and festivals of every city and place.
If you have a Passion for Good Living, Gujarat is For You. If you wish for development and growth, Gujarat is For You. Gujarat has witnessed Winds of Change under the leadership of Narendra Modi [The current Prime Minister of India], who believes that "Future of India belongs to Gujarat." With the inherent strength and immense potential, Gujarat is destined to bring glory to the nation.
Barely glimpsed by many travellers scurrying between Mumbai (BOMBAY) and Rajasthan, Gujarat is an easy side-step off the well-beaten tourist trail. While the capital, Ahmedabad, retains some charm amid its chaos, the countryside holds most of this state's treasures. Traditional artisans in tribal villages weave, embroider, dye and print some of India's finest textiles. Pristine parks harbour unique wildlife, including migratory birds, wild asses and the last remaining prides of Asiatic Lions. For the spiritually inclined, sacred Jain and Hindu pilgrimage sites sit atop mountains that rise dramatically from vast flatlands. And colourful festivals burst with a cornucopia of culture.
Gujarat also claims a special relationship to the life and work of Mahatma Gandhi: he was born here, he ignited the satyagraha movement from here, he made his Salt March here – and his legacy remains a vibrant part of public discourse and private lives.
AHMEDABAD
It is the largest city in Gujarat. It is the Seventh largest city in India with population of approximately 6 million. Ahmedabad is the fastest growing city of India, and ranked third as the fastest growing cities worldwide. It is located on the banks of the River Sabarmati, 32 km from the state capital Gandhinagar. The city has witnessed the establishment of scientific and service industries, the expansion of the information Technology sector, and significant improvements in transportation and communications. Ahmedabad's population is growing, which has resulted in a construction and housing boom. From the tourism point of view the city is blessed with Gandhi Ashram – Place where Mahatma Gandhi launched the freedom movement against the British, Syed Sayed Mosque, Stepwells, Jumma Masjid, etc. are some of the famous Tourist Hotspots in Ahmedabad.
MODHERA
The Sun temple of Modhera is one of the finest examples of Indian architecture of its period. Built in 1026 A.D. the temple is dedicated to the Sun-God, Surya and stands high on a plinth overlooking a deep stone-steeped tank. Every inch of the edifice, both inside and outside is magnificently carved with Gods and Goddesses, birds, beasts and flowers. SunTemple of Modhera was built by King Bhimdev I (1026-27) and bears some resemblance to the later, and far better known, Sun Temple of Konark in the state of Orissa, which it predates by some 200 years. Like that temple, it was designed so that the dawn sun shone on the image of Surya, the sun God, at the time of the equinoxes. The main hall and shrine are reached through a pillared porch and the temple exterior is intricately and delicately carved. As with the temple of Somnath, this fine temple was ruined by Mahumad of Ghazni.
PATAN
It is the home of the famous patola silk saris, Patan is a beautiful old town with Jain temples and carved wooden houses. Ranikivav (step well) is an excellent example of subterranean architecture of Gujarat. The exisquisitely carved side walls, pillars, beams, series of steps & platforms lead to the elaborately carved water well. Every surface is adorned with finelly chiseled sculptures of maidens & Hindu deities, religious motifs & geometrical patterns. Rani ki Vav represents the finest of the Indian sculptures and architecture.
DASADA
Located near the edge of the Little Rann Of Kutch, the only sanctuary for the Asiatic wild ass in India. The highlight of this sanctuary is the Asiatic wild ass or gudkhur that is endemic to the region & is one of the most endangered species in the world. Other mammals that could be seen are nilgai, black buck antelope, chinkara gazelle, Indian wolf, Indian desert foxes, jackals & lesser cats. Also is a paradise for bird watchers.The key dryland birds are Mcqueen's houbara bustard, chestnut bellied & spotted sandgrouse, Indian coursedr, 13 speices of larks & sparrow larks, 5 of quails (including buttonquails), thick-knee, desert warbler, desert & variable wheatear, aquila eagles, short toed snake eagle, six species of falcon & three harriers. Five species of vulture have been recorded). Apart from all these you can hope to see greater & lesser flamingo, three speices of pelican, spoonbill, demossille & common cranes, and a number of ducks in flocks of several thousand during winters.
BHUJ
Bhuj, the major town of Kutch, is an old walled city. In the past the city gates were locked each night from dusk to dawn. You can lose yourself for hours in the intricate maze-like streets and alleyways of this fascinating town. There are walls within walls, attractive crenellated gateways, old palaces with intricately carved wooden pavilions, and striking, brightly decorated Hindu temples. Bhuj resembles much of India before the tourist invasion, and you're much more likely to come across that disarming hospitality which was once the hallmark of rural India.
KUTCH
It is India's wild west, is a geographic phenomenon. The flat, tortoise-shaped land (kachbo means tortoise in Gujarati), edged by the Gulf of Kachchh and Great and Little Ranns, is a seasonal island. During the dry season, the Ranns are vast expanses of hard, dried mud. Come the monsoon, they're flooded first by seawater, then by fresh river water. The salt in the soil makes the low-lying marsh area almost completely barren. Only on scattered 'islands' above the salt level is coarse grass which provides fodder for the region's wildlife. The villages dotted across Kachchh's arid landscape are home to a jigsaw of tribal groups and sub-castes who produce some of India's finest handicrafts, above all their textiles which glitter with exquisite embroidery and mirror work.
MANDVI
Mandvi is a picturesque town with many old buildings. It was an important port of the Jadeja Rajputs, who claim descent from Lord Krishna. They are said to moved to Sindh when Krishna's capital, Dwarka, was submerged by the sea. In the 1540s, the Jadejas became ruler of Kutch. Times were turbulent until the arrival of the British who brought the kingdoms under their umbrella. Mandvi is located on the banks of the Rukmavati river, barely one km away from the Arabian Sea at the Gulf of Kutch. The town has a very pleasant climate throughout the year. The establishment of the town dates back to the late sixteenth century (1581 AD). Mandvi was originally a fortified town having a fort wall of about 8m high and 1.2m wide stone masonary. The fort had several gateways and 25 bastions, but at present, most of the wall has disappeared. The bastion on the southwest is largest and acts as a lighthouse.
Itinerary
Day 1

ARRIVAL AHMEDABAD / HALF DAY LOCAL SIGHTSEEING

Arrival at Ahmedabad, Transfer to Hotel, Later visit Gandhi Ashram, Hutheesing Jain Temples, Akshardham Temple & Stepwells of Adalaj. Evening visit the Utensil Museum followed by Dinner at Vishala [An ethnic Village Theme Restaurant] [optional] serving a variety of delicious Meals. Overnight at Ahmedabad Hotel

Day 2

AHMEDABAD / MODHERA / PATAN / DASADA (210 Kms)

After breakfast, depart for North Gujarat … Enroute visit 11th century Sun Temple of Modhera, one of the finest examples of Hindu temple architecture in western India. Later proceed to Patan to see the magnificently carved 11th century stepwell. After that drive to Little Rann of Kutch. Evening at leisure. Overnight at Dasada hotel

Day 3

DASADA / BHUJ (280 Kms)

Go for early morning Safari in an open jeep for exploring the Little Rann of Kutch - A sanctuary for the endangered Asiatic Wild Ass. The mammals of the Rann other than the wild ass, there are chances of spotting nilgai, chinkara gazelle, white-footed desert and Indian foxes, the wolf, jungle cat (occasionally also desert cat), pale and long-eared hedgehogs and hare. Return to Resort for Breakfast and later depart for Bhuj. Enroute visit villages like Dhamadka, Dhaneti and Ajrakhpur famous for Rabari Embroidery and Indigo Block Printing. Overnight at Bhuj Hotel

Day 4

BHUJ / KUTCH (75 Kms)

After breakfast, proceed for Bhuj sightseeing - visit Aina Mahal, Prag Mahal, Bhuj Museum and later continue to visit Banni Villages Like Hodka - Explore Hodka Evening at leisure and enjoy cultural evenings. Overnight at Kutch Hotel

Day 5

KUTCH / KALA DUNGAR – KUTCH ( 70 Kms To & Fro)

After breakfast at the hotel, visit the Jura for Copper Works, Nirona for Rogan Arts, Dhordo for White Rann, India Bridge for last civilian point from India to Pakistan, Kala Dungar, Evening drive back to Kutch. Overnight at Kutch Hotel

Day 6

KUTCH / MANDVI (135 Kms)

After breakfast at Hotel, proceed to Mandvi. Enjoy day at the Hotel. Go for local sightseeing - visit Vijay Vilas Palace and Mandvi Town - Mandvi is known for its 400 year old ship building centre. The local carpenters still make ocean going Dhows in much the same way that their ancestors had done a century ago. One can go and visit the men at work, shaping the great vessels with hand tools and coaxing the seasoned timber into shape. The carrying capacity of these boats can vary from 250 tons to 1000 tons. The predecessors of these very same ships had roamed the Indian Ocean and made Kutch a maritime power. Hand made models of these Dhows can also be procured from local artisans. Overnight at Mandvi Hotel

Day 7

MANDVI / AHMEDABAD (380 Kms)

After breakfast, depart for Ahmedabad. Later in the evening visit the Night Market at Law Garden. Overnight at Ahmedabad Hotel

Day 8

AHMEDABAD HERITAGE WALK & SIGHTSEEING / DEPART AHMEDABAD

After early breakfast at 7.00 am, proceed to Swami Narayan Temple for Heritage Walk Guided Tour of old walled city of Ahmedabad. The walk ends at Jumma Mosque at 10.30 am. Visit Green House for snacks [optional] and visit Siddi Sayed Mosque located right opposite. Later return to hotel & check out. Drop to Ahmedabad airport
Hotels
Tour Inclusions [NORTHERN GUJARAT]
PACKAGE INCLUDES :
* Stay at stated or similar hotels on sharing basis as per the itinerary
* Chauffer driven AC vehicle for transfers & sightseeing as per itinerary inclusive of fuel, toll, parking, taxes, allowances, etc.
* Breakfast at all hotels
* One Jeep Safari at Little Rann of Kutch – Wild Ass Sanctuary
* All currently applicable Taxes
* Sightseeing at all locations as mentioned in the itinerary [entrance fees on direct payment / nominal amount - Rs.5 to Rs.25 per person]
Tour Exclusions [NORTHERN GUJARAT]
Optional - Theme Dinner at Vishala & Swati @ Ahmedabad
The tour does not include tips, beverages, unstated meals, camera fee, portage & items of personal nature, anything not mentioned under inclusions, etc.
All stated sightseeings in the itinerary are simply suggested and can be covered based on your suitability of interest, time on hand and energy permitting
While travelling from Bhuj to Kutchh one need to obtain necessary permits from Bhirendyra Check Post. This permit can be obtained in person only. Driver can assist you in getting this. Permit is not a part of Inclusions
Entrances to places of sightseeing - Monuments, Parks, Guide charges if any, etc. will be on direct payments basis over the Counter unless stated under inclusions
Camera fees payable separately at the Jungle entry gate
Jungle Safari at Sasan Gir is subject to availability as per local arrangement. This permit can be obtained in person only on direct payment basis. Driver will assist you in getting this.
Anything specifically not mentioned under the name "TOUR INCLUSIONS"
Notes on Hotel Reservations & Tour Bookings
Indicated tour rates will depend on dates of travel, number of travellers and local conditions at each destination

All

rates

are as per current availability / Subject to change at the time of booking

Rates are not applicable for Event and Exhibition dates

GST apply as extra

At most hotels : Check in time is 1400 hrs. / Check out time is 1200 hrs.

While we make recommendations for hotels all around the world, we do not stand guarantee and are not responsible for the services or the hardware provided by the hotel/s suggested by us. We strongly urge you to do your own research and make an informed choice
All requests like early check in, smoking / non-smoking rooms, views, floors, king / twin beds, adjoining and/or interconnecting rooms, etc are strictly subject to availability upon arrival and at hotel's discretion. These cannot be guaranteed prior.
Any amendment in reservations / itinerary before reconfirmation will attract a charge
Once the reservation has been reconfirmed and if the booking is cancelled or amended, retention will be applicable.
All Indian nationals need to present a valid photo ID at the time of check in. This is a mandatory requirement.
All Foreign nationals need to present a valid passport with VISA at the time of check in. This is a mandatory requirement.
We cannot be held accountable for any delay or disruption due to infra-structure development or lack of it, traffic held up due to accident or whatsoever reason, natural calamity, political unstability, delay in flights, etc.
Notes on itinerary
All our itineraries are "Just for Ideas" ... We will get to know you and customise an itinerary just for you that matches your requirements ... dates of travel, category of hotels, preferred airline, flexibility in choosing sightseeing, mode of travel between cities, etc.
Many of our clients have us design more relaxing, slower paced holidays with more in-depth experiences whereas some simply want to visit various destinations and cover only the highlights.
Together, we will determine the ideal route, pace of travel, accommodations, levels of pampering, style of touring, sightseeing to be included, dining preferences, adventure levels, options to meet locals, dates of travel & much more ! and based on this arrive at a price.
Do feel free to get in touch with us by a quick call on +91 79 29602961 or a short mail on mail@destinations4india.com ... Looking forward