Best of Mauritius ... 1% Land 99% Fun !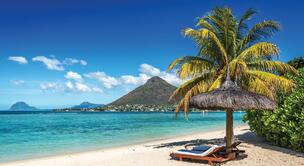 Mark Twain once wrote that 'Mauritius was made first and then heaven, heaven being copied after Mauritius'.

For the most part, it's true: Mauritius is rightly famed for its sapphire waters, powder-white beaches and luxury resorts. But there's so much more attraction to Mauritius than the beach, and it's the kind of place that rewards even the smallest attempts at exploration.

There's hiking in the forested and mountainous interior and world-class diving and snorkelling offshore. There are boat trips to near-perfect islets and excursions to botanical gardens and colonial plantation houses.

Mauritius is a fabulous culinary destination with great wildlife watching thrown in. And the real Mauritius away from the beach resorts – a hot curry of different cultures and quiet fishing villages – is never far away.

Itinerary
Day 1

Arrival Mauritius

Upon arrival at Mauritius, meet & greet by our representative, transfer to hotel for check in

Mauritius, a sparkling crystal in the turquoise waters of the Indian Ocean, will fascinate you. The contrast of colours, cultures and tastes makes the island so charming that the scene is set for an unforgettable holiday.

Here, you have the opportunity to experience unparalleled luxury: a level of refinement that is head and shoulders above that on offer in other tropical holiday destinations. Here, you will discover the true meaning of 'beauty' – a realisation that will compel you to return to Mauritius' shores time and again...

Day at leisure to relax at the resort & enjoy the beach activities

Dinner and overnight at the hotel.

Day 2

North Island tour

Enjoy breakfast at the hotel

Later proceed on a full day tour covering the Northern part of Island

Drive to Port Louis for a visit of the capital via the Citadel & its surrounding area and stop for a visit at Marie Reine De Paix (View Point ). View the Champ de Mars race course, inaugurated in 1812; it is the oldest horse-racing club in the Southern Hemisphere, and one of the oldest in the world.

Afterwards proceed to Le Caudan Waterfront, with some 170 shops. Stop at Jumbo shopping mall on the way back to hotel (1 Hour stop only)

Dinner & overnight at the hotel.

Day 3

Day at leisure or Undersea walk

After breakfast, day at leisure

We recommend you to undertake Undersea walk - Once in a life time experience! Walk on the sea bed in perfect safety and feed the fish with your hand !!

As you walk around and explore the fascinating environment, you can take photographs on the sea. Even non-swimmers can participate.

Dinner & overnight at the hotel

Day 4

Day trip to IIe Aux Cerf

After breakfast, today depart on a tour to Ile Aux Cerfs

Clear calm waters and long beaches fringed by filaos trees, a small paradise for lovers of the sea, sand and sun.

You can choose from the various water activities available at the island, banana boat ride, parasailing, kayaking, etc at a nominal cost. Return back to hotle by evening

Dinner & overnight at the hotel

Day 5

Day at leisure or Walk with the Lions

After breakfast, day at leisure

We recommend you to undertake an extra-ordinary experience - "Walk with the Lion"

Feel the adrenaline rush the sense of excitement and know how it is to be so close to these amazing creatures. It is a unique once in a life time experience!

Walking with lions is an adventurous activity proposed to those who wish to experience the wild side. Don't miss this unique opportunity ! This activity takes place on the banks of Riviere du Rempart in a separate area of the Safari park.

Dinner & overnight at the hotel.

Day 6

South Island Tour

After breakfast proceed on a full day tour covering the Southern part of Island

Drive to Floreal, visit the Model Ship Factory and Trou Aux Cerfs - the Volcanic Crater (Viewpoint) and Curepipe - the scenic residential town.

After that, proceed to Grand Bassin- Sacred Lake and Shiva Temple.

Drive through Plaine Champagne & Black River Gorges and visit The 23-coloured Nature Park which dates back to millions of years following the eruption of the Bassin Blanc volcano - its ashes, which bear witness to that event, are unique in the world.

Enjoy activities such as zip line & Quad biking

Dinner & overnight at the hotel.

Day 7

Departure from Mauritius

Morning at leisure till the time of transfer to the airport for flight back home or onward destination.
Notes
Round the Year Destination ... Extention recommended to countries across Africa
Hotels
Notes on itinerary
All our itineraries are "Just for Ideas" ... We will get to know you and customise an itinerary just for you that matches your requirements ... dates of travel, category of hotels, preferred airline, flexibility in choosing sightseeing, mode of travel between cities, etc.
Many of our clients have us design more relaxing, slower paced holidays with more in-depth experiences whereas some simply want to visit various destinations and cover only the highlights.
Together, we will determine the ideal route, pace of travel, accommodations, levels of pampering, style of touring, sightseeing to be included, dining preferences, adventure levels, options to meet locals, dates of travel & much more ! and based on this arrive at a price.
Do feel free to get in touch with us by a quick call on +91 79 29602961 or a short mail on mail@destinations4india.com ... Looking forward