Best of Philippines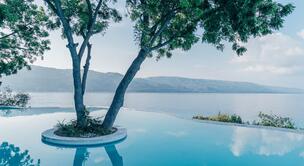 The Philippines is defined by its emerald rice fields, teeming megacities, graffiti-splashed jeepneys, smouldering volcanoes, bug-eyed tarsiers, fuzzy water buffalo and smiling, happy-go-lucky people.

Island-Hopping Paradise
With more than 7000 tropical islands to choose from, the Philippines is a beach bum's delight. There's an island to suit every taste, from marooned slicks of sand in the middle of the ocean, to volcanic fantasy-scapes concealing hidden lagoons, to sprawling mega-islands such as Luzon and Mindanao. Sun worshippers and divers should head straight to the Visayas, where island-hopping opportunities abound and the perfect beach takes many forms. More adventurous travelers can pitch a tent on a deserted stretch of coastline in Palawan and play solo Survivor for a few days.

The Great Outdoors
The Philippines is justifiably famous for its beaches, but sporty types need not feel left out. While surfers are just catching on to the tasty (if fickle) waves that form on both coasts, divers have long been enamoured of the country's underwater charms. Northern Palawan is perfect for sea kayakers, and Boracay and Pagudpud (North Luzon) are world-class kiteboarding destinations. Back on terra firma, trekking can be done just about anywhere, while mountain-bike and canyoneering tours are gaining popularity. And the Philippines is also, unofficially, the zipline capital of the world.

A Land Apart
The Philippines is a land apart from mainland Southeast Asia – not only geographically but also spiritually and culturally. The country's overwhelming Catholicism, the result of 350 years of Spanish rule, is its most obvious enigma. Vestiges of the Spanish era include exuberant town fiestas (festivals) and centuries-old stone churches. Malls, fast-food chains and widespread spoken English betray the influence of Spain's colonial successor, the Americans. Yet, despite these outside influences, the country remains its own unique entity. The people are, simply, Filipinos – and proud of it. Welcoming, warm and relentlessly upbeat, it is they who captivate and ultimately ensnare visitors.

Life in the Tropics
We've all had it happen: your trip to paradise is ruined by torrential monsoon rain. Rather than let the weather defeat them, in the Philippines travelers can embrace meteorological uncertainty and use it as an excuse to go with the flow. This is a place to dispense with advance bookings and, when the going gets rough (or wet), migrate to fairer climes. Domestic travel is cheap and fun, and is best done spontaneously. Do your homework too – Palawan and the western seaboard are pretty darned wet from July to September, so go east during this time (unless there's a typhoon brewing).
Itinerary
Day 1

Arrival Manila / City Tour

Arrival Manila … Welcome to Philippines

Meet & greet by our representative, transfer to hotel

Manila has outstanding sightseeing it's true, but visitors who put in the effort will discover its creative soul – from edgy galleries to a lively indie music scene. Combine this with a penchant for speakeasy bars, artisan markets and single-origin coffees, and it's clear to see that Manila is not only one of Asia's most underrated cities, but one of its coolest.

Manila's moniker, the 'Pearl of the Orient', couldn't be more apt – its unappealing shell reveals its jewel only to those resolute enough to pry. Skyscrapers pierce the hazy sky, mushrooming from the grinding poverty of expansive shanty towns, while gleaming malls foreshadow Manila's brave new air-conditioned world. The congested roads snarl with traffic, but, like the overworked arteries of a sweating giant, they are what keeps this modern metropolis alive. No stranger to hardship, the city has endured every disaster humans and nature could throw at it, and yet today the chaotic metropolis thrives as a true Asian megacity.

Check in at hotel

Later city tour of Manila

Discover the top sights of Manila on a 4-hour sightseeing tour by coach with an expert guide. Take in the City of Makati and Old Manila, including landmarks such as Nielson Tower, American Cemetery and Memorial and the old walled city of Intramuros. Walk through Intramuros to see UNESCO World Heritage sites including San Agustin Church and Fort Santiago, and learn about the nation's history and heroes like Dr Jose Rizal.

You'll gain insight into the Philippine's history, the Spanish colonial era and vibrant modern-day Manila. 4-hour guided sightseeing tour of Manila's past and present See the City of Makati, the heart of the Philippine's financial center. Drive past Forbes Park and the American Cemetery and War Memorial. Learn about the Spanish colonial period on a walk through the Intramuros district to Fort Santiago. Discover intricate Baroque architectural designs of UNESCO World Heritage-listed San Agustin Church. Round-trip hotel transport by comfortable, air-conditioned vehicle included

Overnight at Manila

Day 2

Flight from Manila to Boracay

After breakfast, transfer to airport for flight to Boracay

While only 7km tall and at its bikini line 500m wide, tiny Boracay is the Philippines' top tourist draw, fuelled by explosive growth and a tsunami of hype. The influx of visitors caused the Philippines government to temporarily close Boracay to tourists for six months. This 'rehabilitation' period, was used to restore the island to its former glory and it has since reopened with a limit on the number of daily visitors.The centre of the action is dreamy White Beach, a 4km, postcard-perfect stretch of sand lined from one end to the other with hotels, restaurants, bars and dive shops several blocks deep. The beach path is typically awash with visitors, including large groups of package tourists. The ocean is full of romantic paraws (an outrigger sailboat) giving rides; colourful parasails fill the air. After perfect sunsets, live music breaks out, and fire dancers twirl their batons.

Meet & greet by our representative at Boracay airport upon arrival & transfer to hotel

Rest of the day at leisure to explore the resort & beach activities

Evening free to hit the famous party scene of Boracay

The nightlife in Boracay has a reputation for being over the top. Party animals love Boracay as there are countless beach bars and nightclubs that keep pumping until very late into the night. The happy hours here are incredibly long, with some bars on White Beach offering 'buy 1, get 1 free' drink specials from 4pm until around 9pm. And many of them stay open until between 1am and 3am.

Overnight at Boracay

Day 3

Boracay Island / Island hopping

After breakfast, day at leisure … Go for Boracay Island Hopping, Hot Kawa Bath, Parasailing, Helmet Diving

Spend a day out on the clear waters of the beautiful islands of Boracay in this budget-friendly tour. This is perfect for anyone wanting to explore the beaches and seeing different kinds of marine life up close through swimming and snorkeling with Parasailing and Helmet Diving! And a chance to experience hot kawa bath. An unusual bath that will make you look like you're being boiled alive, but don't worry, the fire is just to keep it as warm as you please and the bath usually comes with flowers and herbs that helps you feel relax.

If travelling between June to November, visit - Ilig Iligan Beach, Crocodile Island, Star Fish Garden.

If travelling between December to May, visit - Coral Garden, Balinghai Beach, Puka Beach

Lunch will be served at Tabon Beach Parameters Place. Where you can also experience the hot kawa bath. This unusual bath will make you look like you're being boiled alive, but don't worry, the fire is just to keep it as warm as you please and the bath usually comes with flowers and herbs that helps you feel relax.

Helmet diving is a popular water activity in Boracay. It entails getting on a boat, putting on a helmet connected to an oxygen tank, and going down the water. ... The helmet is quite heavy, but underwater, it only weighs around 2 kilos. You will enjoy 15 full minutes of helmet diving.

Parasailing on Boracay is a great experience. Imagine being whisked into the sky while strapped in a seat covered by a colorful parachute! This is a popular activity where riders can view the beautiful shoreline of white beach from above while being pulled by a boat.

Evening at leisure

Overnight at Boracay

Day 4

Flight from Boracay to Cebu

After breakfast, transfer to airport for flight to Cebu

Cebu is the hub around which the Visayas revolve. It is the most densely populated island in the Philippines and is second only to Luzon in its strategic and economic importance to the country.

Tourism numbers are booming, Cebu draws almost two million foreign travellers a year. The island's prime attractions are its white-sand beaches and spectacular diving, chiefly off the northern tip of Cebu at Malapascua and down on the southwest coast at Moalboal. And don't ignore much-maligned Cebu City, which has lively bars, emerging eateries and burgeoning retail appeal.

Check in at hotel on arrival

Rest of the day at leisure to explore the resort & beach activities

In the evening, visit the downtown area which centers around Colon Street, said to be the oldest and shortest street in the country. This is where you'll find most of the city's historic attractions like the historic Fort San Pedro and the iconic Magellan's Cross

Enjoy panoramic views over the city, then dine on Filipino-Spanish cuisine at Chateau de Busay, an inn and restaurant set high in the Busay Hills.

Overnight at Cebu

Day 5

Cebu / Local sightseeing - Oslob Whaleshark with Sumilon Island

After breakfast, depart on a thrilling trip covering Oslob Whale shark watching & Sumilon Island

Oslob Whale Shark Watching - A drive to the south of Cebu will bring you to the town of Oslob for an exciting experience with the whale sharks. For a close encounter you may swim with them or just stay on the boat.

Sumilon Island A 30 minutes motor boat ride will take you to Sumilon Sand Bar. One of the best sand bars in the Philippines with white sand and crystal turquoise waters. Enjoy swimming or just sun bathing on the sandbars.

Tumalog Falls
Take a dip on the cool and refreshing waterfalls and enjoy the view around you.

Back to resort by the evening

Overnight at Cebu

Day 6

Cebu / At leisure or Day trip to Bohol

After breakfast, day at leisure to relax at the resort, indulge in water sports facilities, spa treatments, etc.

Alternatively, you can also go for a day trip to Bohol with Chocolate Hills & Loboc River Cruise

Check off all the Bohol highlights in one action-packed day on this comprehensive door-to-door private tour.

Traveling by ferry and private vehicle, see the Chocolate Hills, explore the mahogany forest, and meet tiny tarsier primates, some only the length of a human finger.

Cruise the Loboc River to a floating restaurant and enjoy a buffet lunch, then tour historic Baclayon Church and see the Blood Compact Monument. See Bohol's signature sights in one convenient day trip from Cebu Cruise the Loboc River for lunch at a floating restaurant

Get up close and personal with tiny bug-eyed tarsier primates Relax with door-to-door round-trip transfers, including ferry tickets

Back to Cebu by evening

Overnight at Cebu

Day 7

Departure from Cebu / Return flight

After breakfast, transfer to airport for flight to Manila

Take connecting flight from Manila to onward destination
Notes
Round the year destination ... Extension recommended to Singapore, Thailand & Other countries across Asia
Hotels
Tour Inclusions [Best of Philippines]
6 Nights accommodaiton as per itinerary
Daily breakfast at all hotels
Private Arrival & Departure transfers at all 3 cities
Sightseeing at Manila, Boracay & Cebu as per itinerary
Notes on itinerary
All our itineraries are "Just for Ideas" ... We will get to know you and customise an itinerary just for you that matches your requirements ... dates of travel, category of hotels, preferred airline, flexibility in choosing sightseeing, mode of travel between cities, etc.
Many of our clients have us design more relaxing, slower paced holidays with more in-depth experiences whereas some simply want to visit various destinations and cover only the highlights.
Together, we will determine the ideal route, pace of travel, accommodations, levels of pampering, style of touring, sightseeing to be included, dining preferences, adventure levels, options to meet locals, dates of travel & much more ! and based on this arrive at a price.
Do feel free to get in touch with us by a quick call on +91 79 29602961 or a short mail on mail@destinations4india.com ... Looking forward