Magical Spain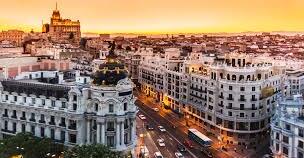 Passionate, sophisticated and devoted to living the good life, Spain is both a stereotype come to life and a country more diverse than you ever imagined.
An Epic Land
Spain's diverse landscapes stir the soul. The Pyrenees and the Picos de Europa are as beautiful as any mountain range on the continent, while the snowcapped Sierra Nevada rises up improbably from the sun-baked plains of Andalucía; these are hiking destinations of the highest order. The wildly beautiful cliffs of Spain's Atlantic northwest are offset by the charming coves of the Mediterranean. And everywhere you go, villages of timeless beauty perch on hilltops, huddle in valleys and cling to coastal outcrops as tiny but resilient outposts of Old Spain. That's where the country's charms are most likely to take hold.
A Culinary Feast
Food and wine are national obsessions in Spain, and with good reason. The touchstones of Spanish cooking are deceptively simple: incalculable variety, traditional recipes handed down through the generations, and an innate willingness to experiment and see what comes out of the kitchen laboratory. You may experience the best meal ever via tapas in an earthy bar where everyone's shouting, or via a meal prepared by a celebrity chef in the refined surrounds of a Michelin-starred restaurant. Either way, the breadth of gastronomic experience that awaits you is breathtaking and sure to be a highlight of your trip.
Art Imitates Life
Windswept Roman ruins, cathedrals of rare power and incomparable jewels of Islamic architecture speak of a country where the great civilisations of history have risen, fallen and left behind their indelible mark. More recently, what other country could produce such rebellious and relentlessly creative spirits as Salvador Dalí, Pablo Picasso and Antoni Gaudí and place them front and centre in public life? And here, grand monuments of history coexist alongside architectural creations of such daring that it becomes clear Spain's future will be every bit as original as its past.
Fiestas & Flamenco
For all the talk of Spain's history, this is a country that lives very much in the present and there's a reason 'fiesta' is one of the best-known words in the Spanish language – life itself is a fiesta here and everyone seems to be invited. Perhaps you'll sense it along a crowded, post-midnight street when all the world has come out to play. Or maybe that moment will come when a flamenco performer touches something deep in your soul. Whenever it happens, you'll find yourself nodding in recognition: this is Spain.
Itinerary
Day 1

Arrival Barcelona

Upon arrival transfer from airport to hotel.
Barcelona has the dynamic and open personality so typical of Mediterranean cities. It is the perfect city to relax in, stroll around and enjoy. Barcelona has its own way of life which makes it unique. Barcelona sited between the sea and the mountains, has found a formidable balance: a foot in the traditional things and the other in the avant-garde. Barcelona has the reputation of being the most cosmopolitan, modern and avant-garde city in Spain.
Day at leisure & Overnight at Barcelona

Day 2

Barcelona

Half day city tour with local guide with Spanish village
Overnight at Barcelona

Day 3

Barcelona

Half day city tour to Montserrat with local guide
Overnight at Barcelona

Day 4

Barcelona to Valencia

Train from Barcelona to Valencia
Spain's third-largest city is a magnificent place, content for Madrid and Barcelona to grab the headlines while it gets on with being a wonderfully liveable city with thriving cultural, eating and nightlife scenes.
Check in at Hotel
Visit Arts and science and Oceanic museum
Overnight at Valencia

Day 5

Valencia to Malaga

Train from Valencia to Malaga
Málaga is a world apart from the adjoining Costa del Sol; a briskly modern yet historic city, it still has the atmosphere and swagger of a Mediterranean port. Admittedly, initial impressions can be discouraging as, like most Spanish cities, the shell is drab and industrial. But the kernel, the historic city centre, is charming with its majestic, if peculiar, unfinished Gothic cathedral, surrounded by traditional balconied buildings, narrow pedestrian streets and some of the best tapas bars in the province.
Check in at Hotel
Day at leisure & Overnight at Malaga

Day 6

Malaga

Full day Gibraltar tour visiting caves and natural park on sic
Overnight at Malaga

Day 7

Malaga to Seville

Travel by Bus from Malaga to Seville
Some cities have looks, others have personality. The Sevillanos – lucky devils – get both, courtesy of their flamboyant, charismatic, ever-evolving Andalucian metropolis founded, according to myth, 3000 years ago by the Greek god Hercules.
Check in at Hotel
Flamenco show with drink and night city tour on sic
Overnight at Seville

Day 8

Seville - Cordoba - Seville

Full day city tour to Cordoba on sic with Jewish quarter and back to Seville
One building alone is enough to put Córdoba high on any traveller's itinerary: the mesmerising multiarched Mezquita. One of the world's greatest Islamic buildings, it's a symbol of the worldly and sophisticated Islamic culture that flourished here more than a millennium ago when Córdoba was the capital of Islamic Spain, and Western Europe's biggest and most cultured city.
Overnight at Seville

Day 9

Seville to Madrid

Train from Seville to Madrid
Madrid, the capital of Spain, is a cosmopolitan city that combines the most modern infrastructures and the status as an economic, financial, administrative and service centre, with a large cultural and artistic heritage, a legacy of centuries of exciting history.
Half day city tour of Madrid with local guide
Overnight at Madrid

Day 10

Departure from Madrid

Private transfer to Madrid airport for your return flight
Hotels
Notes on Hotel Reservations & Tour Bookings
Indicated tour rates will depend on dates of travel, number of travellers and local conditions at each destination

All

rates

are as per current availability / Subject to change at the time of booking

Rates are not applicable for Event and Exhibition dates

GST apply as extra

At most hotels : Check in time is 1400 hrs. / Check out time is 1200 hrs.

While we make recommendations for hotels all around the world, we do not stand guarantee and are not responsible for the services or the hardware provided by the hotel/s suggested by us. We strongly urge you to do your own research and make an informed choice
All requests like early check in, smoking / non-smoking rooms, views, floors, king / twin beds, adjoining and/or interconnecting rooms, etc are strictly subject to availability upon arrival and at hotel's discretion. These cannot be guaranteed prior.
Any amendment in reservations / itinerary before reconfirmation will attract a charge
Once the reservation has been reconfirmed and if the booking is cancelled or amended, retention will be applicable.
All Indian nationals need to present a valid photo ID at the time of check in. This is a mandatory requirement.
All Foreign nationals need to present a valid passport with VISA at the time of check in. This is a mandatory requirement.
We cannot be held accountable for any delay or disruption due to infra-structure development or lack of it, traffic held up due to accident or whatsoever reason, natural calamity, political unstability, delay in flights, etc.
Notes on itinerary
All our itineraries are "Just for Ideas" ... We will get to know you and customise an itinerary just for you that matches your requirements ... dates of travel, category of hotels, preferred airline, flexibility in choosing sightseeing, mode of travel between cities, etc.
Many of our clients have us design more relaxing, slower paced holidays with more in-depth experiences whereas some simply want to visit various destinations and cover only the highlights.
Together, we will determine the ideal route, pace of travel, accommodations, levels of pampering, style of touring, sightseeing to be included, dining preferences, adventure levels, options to meet locals, dates of travel & much more ! and based on this arrive at a price.
Do feel free to get in touch with us by a quick call on +91 79 29602961 or a short mail on mail@destinations4india.com ... Looking forward