Kolkata with Shanti Niketan & Ganga Sagar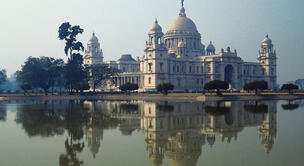 Kolkata (formerly Calcutta) is the capital of India's West Bengal state. Founded as an East India Company trading post, it was India's capital under the British Raj from 1773–1911. Today it's known for its grand colonial architecture, art galleries and cultural festivals. It's also home to Mother House, headquarters of the Missionaries of Charity, founded by Mother Teresa, whose tomb is on site.
India's third-largest city is a daily festival of human existence, simultaneously noble and squalid, cultured and desperate, decidedly futuristic while splendid in decay. By its old spelling, Calcutta readily conjures images of human suffering to most Westerners – although that's not a complete picture of this 330-year-old metropolis. Locally, Kolkata is regarded as India's intellectual, artistic and cultural capital. Although poverty is certainly apparent, the self-made middle class drives the city's core machinery, a nascent hipster culture thrives among its millennial residents and its dapper Bengali gentry frequent grand colonial-era clubs
Itinerary
Day 1

Arrival Kolkata - Local sightseeing

Upon arrival at Kolkata, meet & greet by our representative, transfer to hotel for check in

As the former capital of British India, Kolkata retains a feast of colonial-era architecture contrasting starkly with marginalised urban areas and dynamic new-town suburbs with their air-conditioned shopping malls.

Kolkata is the ideal place to experience the mild yet complex tang of Bengali cuisine. Friendlier than India's other metropolises, this is a city you 'feel' more than simply visit.

Later proceed for city tour

Visit Kumartuli (Potter's Colony), Jain Temple, College Street Book Market, Indian Coffee House (a short refreshment break included) and Tram Ride

Kumartuli - Countless clay effigies of deities and demons immersed in the Hooghly during Kolkata's colourful pujas (offering or prayers) are created in specialist kumar (sculptor) workshops in this enthralling district, notably along Banamali Sarkar St, the lane running west from Rabindra Sarani

Jain Temple - Calcutta Jain Temple (also called Parasnath Temple) a Jain temple at Badridas Temple Street is a major tourist attraction in Kolkata (Calcutta), India. The temple was built by a Marwari Shrimal Jain named Seth Badridas in 1867. Pratishtha was done by Sri Kalyansurishwarji Maharaj

College Street - College Street Bengali is a street in north Calcutta. It stretches from Bowbazar to Mahatma Gandhi road crossing. It houses many centres of intellectual activity in the city. Well-known academic institutions such as Presidency College, Sanskrit College, Scottish Church College, the Bethune College, the Medical College Kolkata , the Indian Institute of Social Welfare and Business Management, Vidyasagar College, Hare School, Hindu School and the University of Calcutta are situated on this street. The Indian Coffee House, a cafe that has attracted the city's intelligentsia for decades, and numerous bookstores are also located here. The College Street is most famous for its bookstores

Tram - Kolkata is the only city in India to have a tram transportation network. Started on 24th February 1873, between Sealdah and Armenian Ghat Street, it is one of the oldest means of modern transportation system in West Bengal. Trams are actually light weight rail borne vehicles, running on tracks, primarily on the road. They are also called tramcars, trolleys, trolley cars, or streetcars. The tram service in Kolkata, as rest of the world, was dependent on the horses in the beginning

Overnight at Kolkata

Day 2

Kolkata - Sightseeing

After an early breakfast, proceed on "The Walk Tour"... A Cultural Convergence, followed by a visit to the Flower Market and Howrah Bridge

The Walk Tour

An interesting walk through the cultural hotspot of Kolkata to discover the unique
convergence of various religions and cultures.

Kolkata, perhaps is the only city to have witnessed the maximum number of cultures, globally. Anglo-Indians, Chinese, Parsis, Armenians, Jewish, Muslims, Marwaris, Biharis and many more who made Kolkata a hotspot of diverse cultures. This walk gives an opportunity to trace the origins and remains of the various communities who once lived in Kolkata and made this city their home. Visit some magnificent temples, mosques, Synagogues, churches, markets and learn about the socio-cultural diversity of Kolkata.

Walk Route … Bow Barracks (Anglo-Indian community) –> Buddhist Temple –> Parsi Fire Temple –> Sea IP Chinese Church –> Chitpore Market –> Nakhoda Mosque –> Neveh Shalome Synagogue –> Maghen David Synagogue –> Portuguese Church (Cathedral of Holy Rosary) –> Armenian Church

This walk will be conducted by experienced licensed guides from the department of tourism.

Flower Market

Near the southeast end of Howrah Bridge, this flower market is fascinatingly colourful virtually 24 hours a day. However, if you visit at daybreak, you'll see wholesalers arrive with huge consignments of flowers that are then auctioned to retailers. Many workers live in makeshift shacks, bathing in the river behind from a ghat with sunset views of Howrah Bridge

Howrah Bridge

Howrah Bridge is a 705m-long abstraction of shiny steel cantilevers and rivets, which serves as a carriageway of nonstop human and motorised traffic across the Hooghly River. Built during WWII, it's one of the world's busiest bridges and a Kolkatan architectural icon

Lunch at 6 Ballygunge Place (Bengali Cuisine)

Post lunch visit Victoria Memorial and Mother Teresa's House

Victoria Memorial

The Victoria Memorial, located in Kolkata, India is a memorial of Queen Victoria of the United Kingdom who also carried the title of Empress of India. It currently serves as a museum and a tourist attraction. The memorial was designed by Sir William Emerson in an architectural style similar to Belfast City Hall

Mother House

54 Bose Rd, Chowringhee is one of the most famous addresses of Kolkata and an important part of every tourist's itinerary. This is the headquarters of the Missionaries of Charity, made famous by Mother Theresa. The three storied House, aptly called 'Mother House' is where Mother Theresa lived and spread her message of hope amongst the dying and destitute of Kolkata. She was a living legend who built this nerve center and hub of all activities connected with her vast empire of mercy, hope and charity

Evening at leisure

Overnight at Kolkata

Day 3

Kolkata - Excursion to Shantiniketan

After breakfast, transfer to Shantiniketan for a day trip [180 kms. / 4 hours drive, one way]

Shantiniketan ('abode of peace') is one of the outstanding creations of Rabindranath Tagore (1861 to 1941), the great writer, artist, songwriter, educationalist, 1913 Nobel literature laureate and central figure of the Bengali Renaissance. It was here in 1901 that Tagore found a school, and in 1921 a university, the Visva-Bharati, that became a nerve centre of Bengali culture with a focus on the arts, humanities and contact with nature and a revolutionary philosophy of breaking barriers between cultures, religions, castes, the sexes, teachers and students, city and country, east and west

Visit Amar Kutir, Sriniketan, Tagore Ashram, Vishwa Bharti University, Kala Bhavan, Sangeet bhavan, Rabindra Bhavan, Vidya Bhavan

Amar Kutir - The place where all types of hadicrafts like cloth/leather batiks, handlooms etc. are available

Sriniketan - the Institute of rural reconstruction

Bharati University - The University is famous for its arts and music departments

Kala Bhavan - It is the art department of the University, which was discovered by Rabindranath Tagore. It showcases sculptures by Ramkinkar Baij and Somenath Hore

Sangeet Bhawan - Dedicated to dance and music it imparts training for artists in various music forms such as Rabindra Sangit, Hindustani Classical Vocal and Instrumental Music

Rabindra Bhavan - BichitraIt is also called Rabindra Bhavan, which was designed by his son to display his father's work and personal belongings

Return back to Kolkatta by night

Overnight at Kolkata

Day 4

Kolkata - Excursion to Ganga Sagar

After breakfast, proceed for your visit to Gangasagar [130 kms. / 3 hours drive one way]

Ganga Sagar is the popular name given to the point where the Ganga drains out into the Bay of Bengal. The origin of the ritual and history of the temple are still unknown. The earliest mention of a bathing ritual is found in the Mahabharata where a learned sage explains to Bhisma the significance of taking a dip at the confluence of Ganga Sagar.

Once done with the ritual obligations, one can head towards the Kapilmuni Temple situated nearby, to worship the deity as a mark of respect.

Our vehicle will take you from Kolkata hotel to Lot 8 Point (Buri Ganga River), Cross the river by boat, thereafter non AC Sumo from Kachuberia Ghat To Ganga Sagar ... Return same way ... Our tor guide will assist you navigate through this trip

Evening back to Kolkata

Overnight at Kolkata

Day 5

Departure Kolkata

After breakfast, morning is at leisure

Later transfer to airport for onward flight
Notes
Round the Year Destination ... Extension recommended to Orissa covering Puri & Bhubaveshwar as well as Darjeeling & Sikkim
Tour inclusions [Kolkata with Shanti Niketan & Ganga Sagar]
5 days Transport by AC vehicle as per itinerary incl. of toll, parking, taxes, driver allowance
Accommodation for 4 nights at preferred hotel
Daily Breakfast
1 Lunch at 6 Ballygunge Place
Sightseeing as per Itinerary
Services of English speaking guide during sightseeing
"The Cultural Convergence" Walk Tour
Notes on itinerary
All our itineraries are "Just for Ideas" ... We will get to know you and customise an itinerary just for you that matches your requirements ... dates of travel, category of hotels, preferred airline, flexibility in choosing sightseeing, mode of travel between cities, etc.
Many of our clients have us design more relaxing, slower paced holidays with more in-depth experiences whereas some simply want to visit various destinations and cover only the highlights.
Together, we will determine the ideal route, pace of travel, accommodations, levels of pampering, style of touring, sightseeing to be included, dining preferences, adventure levels, options to meet locals, dates of travel & much more ! and based on this arrive at a price.
Do feel free to get in touch with us by a quick call on +91 79 29602961 or a short mail on mail@destinations4india.com ... Looking forward