Best of Hawaii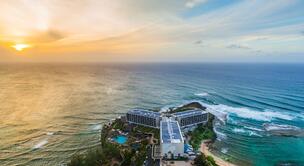 It's easy to see why Hawaii has become synonymous with paradise. Just look at these sugary beaches, Technicolor coral reefs and volcanoes beckoning adventurous spirits.

Natural Beauty
Snapshots of these islands scattered in the cobalt blue Pacific Ocean are heavenly, without the need for any embellishment by tourist brochures. Sunrises and sunsets are so spectacular that they're cause for celebration all by themselves, such as atop Haleakalā volcano on Maui. As tropical getaways go, Hawaii couldn't be easier or more worth the trip, though be aware that visiting these Polynesian isles isn't always cheap. But whether you're dreaming of swimming in crystal waterfall pools or lazing on golden-sand beaches, you can find what you're looking for here.

Play Outside
Just as in days of old, life in Hawaii is lived outdoors. Whether it's surfing, swimming, fishing or picnicking with the Ê»ohana (extended family and friends), encounters with nature are infused with the traditional Hawaiian value of aloha Ê»aina – love and respect for the land. Go hiking across ancient lava flows and down fluted pali (sea cliffs). Learn to surf, the ancient Hawaiian sport of 'wave sliding,' and then snorkel or dive with giant manta rays and sea turtles. Kayak to a deserted offshore island or hop aboard a whale-watching cruise. Back on land, ride horseback with paniolo, Hawaii's cowboys.

Island Style
Floating all by itself in the middle of the Pacific, Hawaii proudly maintains its own distinct identity apart from the US mainland. Spam, shave ice, surfing, ukulele and slack key guitar music, hula, pidgin, aloha shirts, 'rubbah slippah' (flip-flops) – these are just some of the touchstones of everyday life, island style. Pretty much everything here feels easy going, low-key and casual, bursting with genuine aloha and fun. You'll be equally welcome whether you're a globe-trotting surf bum, a beaming couple of fresh-faced honeymooners or a big, multigenerational family with rambunctious kids.

Modern Multiculturalism
Hawaii is as proud of its multicultural heritage as it is of former US President Barack Obama, who was born in Honolulu on Oʻahu. On these Hawaiian Islands, the descendants of ancient Polynesians, European explorers, American missionaries and Asian plantation immigrants mix and mingle. What's remarkable about contemporary Hawaii is that harmonious multiculturalism is the rule, not the exception. Boisterous arts and cultural festivals keep diverse community traditions alive, from Hawaiian outrigger canoe races to Japanese taiko drumming. Come here to see what the future of the USA could be.

Itinerary
Day 1

Arrival Maui / Day at leisure

Upon arrival at Maui International Airport - Kahului, please proceed through customs to collect your luggage. You will be met by our local representative at the airports' arrival hall with a placard in your name. You will be escorted to your awaiting vehicle for transfer to your hotel

Hawaii
A showcase of evolution, the Hawaiian Islands boast some of the world's most dramatic scenery, including tropical rainforest, miles and miles of sandy beaches, gushing waterfalls and exotic flowers in abundance. All of this, combined with world-class amenities and a truly welcoming atmosphere, make them the perfect destination for couples, families and adventurers!

Hawaii, as tourist bureaus and Hollywood constantly remind us, is 'paradise.' Push past the hype and what do you find? Darned if they're not right. Hawaii is hiking sculpted cliffs or diving coral-reef cities in the morning and drinking mai tais to slack-key guitar at sunset. It's slurping juicy papayas with hibiscus flowers in your hair; it's Pacific Rim cuisine, fiery volcanoes and cavorting whales. By serendipity and design, Hawaii is an almost flawless destination. It's an enchanting multicultural society with roots in Polynesia, Asia, North America and Europe, and it's an expression of nature at its most luscious and divine.

Maui
If watching the sunrise from atop a 10,000-foot volcano, swimming under waterfalls, hiking through craters and luxuriating on white-, red- and even black-sand beaches sounds like paradise, then Maui awaits.

Maui is the place to surf and windsurf. Or hop a catamaran to scuba and snorkel on Molokini Island, a crater emerging from the sea that hosts a wealth of marine life.

Golf, fine dining, a winery, museums and sipping a mai tai on the beach round out the perfect tropical vacation.

Check in at hotel

Rest of the day at leisure to enjoy the beach at your resort

Overnight at Maui

Day 2

Maui / Downtown Tour

After breakfast, day at leisure to explore the Maui town

Visit Maui downtown area - Lahaina - Compact and crowded.

It is also the only full-featured, walkable "down-town" you'll find on Maui. On the surface, Lahaina will be a place not dissimilar to a popular ocean town closer to home. But under the surface of bars and trinket shops, Lahaina reveals a uniqueness not duplicated anywhere else.

The number-one attraction in Lahaina is definitely "the buzz." Great restaurants, hoppin' night-life, swingin' bars – and shops featuring wares ranging form "made-in-China" trinkets to exquisite local hand crafts; from cheap jewelery to masterpieces of fine art.

For those quick to point toward commercialism as causing a loss of authenticity in this historic area, the irony would be that they're overlooking one important fact: shopping, eating, drinking and merriment have long been a central part of Lahaina Town. Love it or hate it, the frenzy of activity is aligned with history; Lahaina has been "buzzing" since well before tourism ever washed up on these shores.

Art
While the buzz could fit into most any of your run-of-the-mill tourist towns, the over 40 fine art galleries in Lahaina are definitely a "uniquely Lahaina" touch. In fact, fine art anchors this town to a level of sophistication that would probably otherwise be lacking. While you'll definitely find plenty of galleries that feature the works of local artists, and plenty of opportunities to view and purchase tropical and ocean genre-specific artwork, these are by no means the limit of the range of art offered.

On Friday evenings between 7-10pm the galleries offer Art Night. Many galleries offer special events, including featuring artists in person. So if you have an interest in art – this is a great time to stroll and catch a chance to chat with some of the artists.

Historical Value
Under the already uniquely eclectic surface, Lahaina also has an equally rich and varied history. It is best known for its role as a significant Pacific whaling port. But whaling is only a small slice of Lahana's history.
Lahaina has been central to key western-introduced industries such as whaling, pineapple and sugar. Lahaina has also been a place where immigrants landed; a place with ancient sacred grounds; a capital of a united Hawai'i; and a place where missionaries came to impose their ideals on a native people and visiting sailors with equal fervor. Lahaina has literally been everything from a place of battle, destruction and tragedy, to a place of royalty, celebration and pleasure.

Harbor
Lahaina is also home to the primary harbor in West Maui, and is where the majority of West Maui fishing, snorkeling and whale watching tours depart. Cruise ships ferry passengers for day-trips from their anchor further out in deeper water

Overnight at Maui

Day 3

Maui / Heavenly Hana Adventure Tour

After breakfast, embark on Heavenly Hana Adventure

The lush tropical beauty and constantly changing vistas of the Hana Coast are rightfully world-famous and best experienced in the company of one of our knowledgeable driver/guides.

Take this epic 120 kms. journey along the stretch of picturesque roadway known as the Road to Hana on this full-day tour that highlights the best of Hawaii's natural beauty and stunning landscapes.

See beautiful beaches, quiet coastline, and towering waterfalls as you make your way across the Kalepa Bridge, where the highway continues to KÄ«pahulu on the Piilani Highway. This journey through the iconic narrow highway is comprised of 59 bridges and more than 600 curves taking travelers in and out of rain forest and tropical foliage.

This is an unforgettable experience! Drive around Mauis east coast to Paia town, Kaumahina State Park and the Keanae Valley Lookout.

See Puaa Kaa and Waianapanapa State Parks. Visit Hana Town and Hasegawa General Store.

Swim in the Oheo Stream and Pools (weather permitting) Experience Wailua Falls Lookout. Discover windsurfing beaches and the hidden side of Maui.

Back to Maui by evening

Overnight at Maui

Day 4

Maui / Day trip to Big Island

After breakfast, day trip to Big Island

Experience the scenic beauty and volcanic excitement of Hawaii on a full-day Big Island Grand Circle tour!

Start with flight from Maui to Big Island [Transfer from Maui hotel to airport included]

Upon arrival at Big Island embark on The Grand Circle Island Adventure which takes you to lush tropical rain forests & Volcanoes National Park on a big day trip round the Big Island.

Travel in comfort aboard our spacious, "big window" minibus or motorcoach bus. Round-trip Kona hotel transportation & expert narration included on this Hawaii Big Island day trip. Enjoy a scenic drive in our air-conditioned bus along the southern coast of Hawaii.

View Kealakekua Bay and spectacular views of the coastline from your Kona Coffee stop. Ask your guide about Captain Cook. Travel around the southern tip of Hawaii to Volcanoes National Park, dubbed Pele's Playground. Tour the Jagger Museum and watch a spectacular video filled with volcanic eruptions! Walk through the Thurston Lava Tube and drive by Kilauea Iki and the Steam Vents. Leave the volcanoes behind as we head to Hilo. Stop at Big Island Candies for a free tour! Established in 1977, they manufacture & market fine quality candies & cookies. Enjoy complimentary Kona coffee and free samples

Helicopter Ride

Discover both the Big Island's beauty and its volcanic fury. Tour the most geologically active environment on earth-the famous Kilauea volcano, which has been continuously erupting since 1983. View lava flows and black sand beaches. Experience all the awesome spectacle of Madame Pele's lava and volcanic badlands, then explore the lush rainforests of the Hamakua Coast. The towering sea cliffs open into the dramatically deep and meandering valleys of the Kohala Mountains. Beautiful waterfalls cascade thousands of feet into the rainforest below and remnants of ancient Hawaiian settlements are still visible. This is the perfect flavour to the ultimate Big Island adventure.

Evening return flight to Maui & transfer to your resort

Overnight at Maui

Day 5

Maui / Haleakala Sunrise Tour

Early morning, depart on Haleakala Sunrise Tour

Start your trip in the dark of the very early morning with a pickup at your Maui hotel.

You'll then continue by air-conditioned minibus on a scenic drive passing the Kula District. and Maui's rare silversword plants. Arriving at the Haleakala National Park, steadily climb by minibus up Haleakala to 9,740 feet elevation to the Visitor Center.

You'll see Maui's rare and endemic silver sword plants that poignantly bloom once, then perish. You'll also witness the sunrise from the Visitor Center area. The views from Haleakala are nothing short of spectacular. Writer Mark Twain, upon visiting the peak in 1866, wrote that the volcano was "the most sublime spectacle I ever witnessed and the memory of it will remain with me always."

Observe the first rays of the new day slowly creep across the distant horizon. Soon the sky fills with the majestic glow of the new day, and the warm beams of light creep across the island of Maui, illuminating the land below. It's a sight you're sure to remember for many years to come.

At the end of your morning sunrise experience you'll head to breakfast at a local restaurant and then receive a drop-off back at your Maui hotel, tired but thrilled by your amazing morning trip.

Rest of the day at leisure

Overnight at Maui

Day 6

Maui / At leisure

Today entire day at leisure to make to best of your stay at Paradise … Relax at the resort or indulge in some water sports or visit the town for a walk

Overnight at Maui

Day 7

Departure from Maui

After breakfast, morning at leisure

Later transfer to airport flight onward flight
Notes
Round the year destination ... Extension recommended to Destinations across USA, Canada & South America
Hotels


Maui Hawaii



Maui Hawaii



Maui Hawaii

Tour Inclusions [Hawaii]
Accommodation for 6 nights
Daily breakfast at hotel
Airport – Hotel – Airport transfers
Heavenly Hana Adventure Tour
Day trip to Big Island with Helicopter Ride
Haleakala Sunrise Tour
Notes on itinerary
All our itineraries are "Just for Ideas" ... We will get to know you and customise an itinerary just for you that matches your requirements ... dates of travel, category of hotels, preferred airline, flexibility in choosing sightseeing, mode of travel between cities, etc.
Many of our clients have us design more relaxing, slower paced holidays with more in-depth experiences whereas some simply want to visit various destinations and cover only the highlights.
Together, we will determine the ideal route, pace of travel, accommodations, levels of pampering, style of touring, sightseeing to be included, dining preferences, adventure levels, options to meet locals, dates of travel & much more ! and based on this arrive at a price.
Do feel free to get in touch with us by a quick call on +91 79 29602961 or a short mail on mail@destinations4india.com ... Looking forward