Take a Short Break at Gir National Park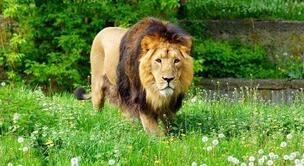 Gir Forest National Park is a wildlife sanctuary in Gujarat, western India. It was established to protect Asiatic lions, who frequent the fenced-off Devalia Safari Park, along with leopards and antelopes. Gir Jungle Trail, outside the fenced area, traverses deciduous forest and is home to wildlife including vultures and pythons. The Kamleshwar Dam has marsh crocodiles and birds, such as Indian skimmers and pelicans.
Early-morning sunlight filters through the leaves and shadows skittle through the undergrowth. Suddenly, the silence is broken by the high-pitched alarm call of a spotted deer: danger is at hand. Somewhere out there the king of the jungle is hunting.
This is Gir National Park, the last home of the Asiatic lion, and Gujarat's most applauded wildlife park. Coming here on a safari is an unforgettable experience. The best time to visit is December to April.
The park was set up in 1965, and a 259-sq-km core area was declared a national park in 1975. Since the late 1960s, lion numbers have increased from under 200 to over 650 (not all of these lions live within the park). The sanctuary's 37 other mammal species, most of which have also increased in numbers, include dainty chitals (spotted deer), sambars (large deer), nilgais (large antelopes), chousinghas (four-horned antelopes), chinkaras (gazelles), crocodiles and rarely seen leopards. The park is a great destination for birders, too, with more than 300 species, most of them resident.
While the wildlife has been lucky, more than half the sanctuary's human community of distinctively dressed maldhari (herders) have been resettled elsewhere, ostensibly because their cattle and buffalo were competing for food resources with the antelopes, deer and gazelles while also being preyed upon by the lions and leopards. About 1000 people still live in the park, however, and their livestock accounts for about a quarter of the lions' diet.
Airport at Rajkot is the closest [170 kms. / Distance from Ahmedabad to Sasan Gir is 350 kms. with exccellent roads making it a drive of about 6 to 7 hours

Somonath is just 40 kms. and a visit to Temple is recommended
Notes
Round the Year Destination ... Extention availalbe to Somnath, Dwarka & other locations around Gujarat
Hotels


Sasan Gir



Sasan Gir



Sasan Gir

Notes on itinerary
All our itineraries are "Just for Ideas" ... We will get to know you and customise an itinerary just for you that matches your requirements ... dates of travel, category of hotels, preferred airline, flexibility in choosing sightseeing, mode of travel between cities, etc.
Many of our clients have us design more relaxing, slower paced holidays with more in-depth experiences whereas some simply want to visit various destinations and cover only the highlights.
Together, we will determine the ideal route, pace of travel, accommodations, levels of pampering, style of touring, sightseeing to be included, dining preferences, adventure levels, options to meet locals, dates of travel & much more ! and based on this arrive at a price.
Do feel free to get in touch with us by a quick call on +91 79 29602961 or a short mail on mail@destinations4india.com ... Looking forward