Fiji ... A Tropical Paradise !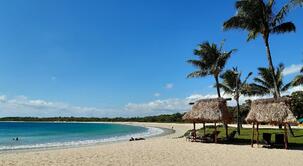 Set your internal clock to 'Fiji time': exploring the archipelago's exquisite beaches, undersea marvels, lush interiors and fascinating culture shouldn't be rushed.

Throwing Down the (Beach) Towel
Dazzling sands, perfect palm trees and waters so blue they glow – Fiji's beaches look airbrushed. While stunning stretches abound, it's on the islands of the Mamanucas and Yasawas that you'll find heavenly heavyweights. These beaches are the poster-child for paradise, luring thousands of visitors keen to discover their own South Sea idyll. The appeal of the islands stretches beyond holiday snaps; the reefs, bays and sublime sands have provided cinematic eye candy to films including Cast Away with Tom Hanks and 1980 teen-dream classic The Blue Lagoon.

Wetter is Better
Fiji's calm seas belie the riot of life going on within. With seemingly endless stretches of intensely coloured reefs and more than 1500 species of fish and colossal creatures Fiji's underwater world is worth the plunge. Seasoned divers and snorkellers will find plenty to excite them, while first-timers will be bubbling excited exclamations into their mouthpieces. Anywhere a fin flashes or coral waves, you'll find a diving or snorkel day trip and there are excellent live-aboard journeys for those after a truly immersive experience.

Beyond the Beach
While it's easy to spend your holiday in, on or under the water, those who take the time to towel off will be rewarded by a wealth of terra firma treats. Fiji offers ample opportunities for hikers, birdwatchers, amblers and forest-fanciers, particularly on the islands of Taveuni – known as 'The Garden Island' for its ludicrously lush interiors – and Kadavu, a less-travelled slice of prehistoric paradise with almost no roads to speak of. If urban wildlife is your thing, Suva boasts a surprising nightlife scene, while towns like Savusavu entice with rollicking taverns and meet-the-locals haunts.

A Warm Welcome
Fijian life revolves around the church, the village, the rugby field and the garden. While this may sound insular, you'd be hard-pressed to find a more open and welcoming population. Though the realities of local life are less sunny than the country's skies – many regions are poor and lack basic services – Fijians are famous for their hospitality and warmth, which makes it easy to make friends or immerse yourself in Fijian culture on a village homestay.
Itinerary
Day 1

Arrival Nadi Airport, Fiji / Transfer to Resort

Arrive at Nadi International Airport

After clearing Fiji's Immigration & Customs please exit the Customs Hall.

Our representative will meet you at the booth. You will be welcomed with a "Bula", shell leis, cool minted towels and cold bottled water before proceeding for transfer to your resort

Check in for 5 nights stay

All days at leisure to relax & enjoy the resort facilities and local activities

Overnight at Fiji Resort

Day 2

Authentic Fijian Day Cruise

Today, pick up from resort for a day cruise

The Mamanuca Islands can only be reached by boat, so take the stress out of transport planning by having everything organized for you. After a Denarau Island hotel pickup, you'll board the boat and head to Sand Island, Monu Island, and Modriki Island. Seeing multiple islands in one day means you'll make the most of your trip and cover more ground. Enjoy free time to swim and snorkel, and a delicious Fijian buffet lunch.

Departing from Port Denarau, you'll first head to Mana sand island to enjoy swimming and snorkeling around this beautiful island. After exploring this area, you'll head to a stunning deep sea cove at Monu Island. After lots of fun in the water at Monu Island you head to Modriki Island for an authentic Fijian Lovo lunch, a tour of the island and more swimming, snorkeling and relaxation. Your lunch, drinks and activities are all inclusive.

Denarau Beach ... Come & Enjoy a True Fijian Experience

With a guaranteed awesome day out in the beautiful Mamanuca Islands, you can come away feeling as if you have just experienced the real Fiji.

Overnight at Fiji Resort

Day 3

Skydive Fiji Legend 14000ft Tandem Jump [60 seconds free fall]

Today pick up from resort for Sky Diving experience

During your time in Fiji, go skydiving over the archipelago for the ultimate aerial views and thrilling experience. Choose from a variety of heights to begin your jump, and add a photo or video package to record your experience.

Every sky dive is a tandem jump, so even beginners can feel safe in the company of a professional guide.

Overnight at Fiji Resort

Day 4

Sea Spray Adventure

Today pick up from resort for Sea Spray adventure

Escape the tourist traps and cruise the crystal clear waters of the Mamanuca Islands' highlights aboard a 49-foot (15-meter) yacht on a full-day seaspray adventure. Explore the uninhabited islands, swim in vivid blue lagoons, and experience a traditional Fijian Kava ceremony.

Included in your experience are morning and afternoon tea, unlimited drinks, and a delicious barbecue lunch; plus, pick up from select Denarau and Nadi hotels.

Overnight at Fiji Resort

Day 5

Half-Day Fiji Zip-line Tour

Today pick up from resort for a Zip Line Tour

Take your Fiji adventure to new heights with a zipline tour through the treetops.

Soar across 16 zipline cables at jaw-dropping speeds, covering 3 miles (5 km) in a spectacular wilderness setting with panoramic ocean views. Your 5-hour tour includes a guided exploration of limestone caves and a tasty lunch.

Round-trip hotel transport is available from Nadi, Wailoaloa and Denarau.

Overnight at Fiji Resort

Day 6

Departure from Fiji

Today morning at leisure

Later departure transfer to Nadi Airport for onward flight
Notes
Round the year destination ... Extension recommended to Australia, New Zealand, Tahiti
Hotels
Tour Inclusions [Fiji]
Meet & Greet on arrival, shell lei welcome, cool minted towels, bottled water
Two way airport transfers
5 nights accommodation
Daily breakfast
Sightseeing & activities as stated
Notes on itinerary
All our itineraries are "Just for Ideas" ... We will get to know you and customise an itinerary just for you that matches your requirements ... dates of travel, category of hotels, preferred airline, flexibility in choosing sightseeing, mode of travel between cities, etc.
Many of our clients have us design more relaxing, slower paced holidays with more in-depth experiences whereas some simply want to visit various destinations and cover only the highlights.
Together, we will determine the ideal route, pace of travel, accommodations, levels of pampering, style of touring, sightseeing to be included, dining preferences, adventure levels, options to meet locals, dates of travel & much more ! and based on this arrive at a price.
Do feel free to get in touch with us by a quick call on +91 79 29602961 or a short mail on mail@destinations4india.com ... Looking forward