Best of Croatia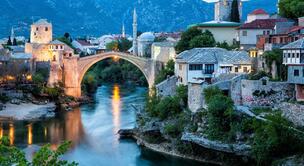 If your Mediterranean fantasies feature balmy days by sapphire waters in the shade of ancient walled towns, Croatia is the place to turn them into reality.

Coastal Croatia
Croatia's extraordinary island-speckled coastline is indisputably its main attraction. The first thing that strikes you is the remarkable clarity of the water. When it's set against a dazzling white pebbly beach, the water sparkles with a jewel-like intensity in shades of emerald and sapphire. There are long sandy and shingly stretches too – perfect for lazy days spent lounging and devouring trashy holiday novels. If that all sounds too relaxing, there are water-based activities at hand to lure you off your sun lounger – snorkelling, diving, kayaking, windsurfing and sailing, just for starters.

The Edge of Empires
Precariously poised between the Balkans and central Europe, this land has been passed between competing kingdoms, empires and republics for millennia. If there's an upside to this continual dislocation, it's in the rich cultural legacy that each has left behind. Venetian palaces snuggle up to Napoleonic forts, Roman columns protrude from early Slavic churches, and Viennese mansions face off with Socialist Realist sculpture. Excellent museums showcase treasures that cover the gamut of European history, from the prehistoric to the post communist, telling a story that is in equal parts fascinating and horrifying.

Beauty on the Inside
Shift your gaze for just a moment from the glittering waters and chances are an almighty mountain will loom into view. The Dinaric Range, which stretches all the way from Italy to Albania, hugs much of the coast. The limestone karst has bequeathed a wonderland of craggy peaks, caverns, river canyons, waterfalls and ridiculously picturesque lakes. Head further inland and things flatten out again into rolling farmland. Active types will find plenty of chances to get among it on the numerous hiking and biking trails, while the more adventurous can have a go at rock climbing, rafting and zip-lining.

Cultural Feast
If you're lucky enough to cross the tourist/guest barrier and be invited into a local's home, you'll soon become acquainted with the refrain 'Jedi! Jedi! Jedi!' (Eat! Eat! Eat!). Sharing food and drink plays a big part in the culture here, which speaks both to the nature of Croatian hospitality and to the quality of local produce. Simple, homestyle cooking is a feature of family-run taverns, but increasingly a new breed of chefs are bringing a more adventurous approach to the table. Meanwhile, Croatian wines and olive oils are making their mark on the world stage, garnering top awards.

Itinerary
Day 1

Arrival Zagreb

Arrival at Zagreb Airport, meet & greet by our representative, Transfer to hotel for check in

Zagreb is made for strolling. Wander through the Upper Town's red-roof and cobblestone glory, peppered with church spires. Crane your neck to see the domes and ornate upper-floor frippery of the Lower Town's mash-up of secessionist, neo-baroque and art deco buildings

Day at leisure to rest & explore the town on your own

Overnight at Zagreb

Day 2

Zagreb Sightseeing

After breakfast Zagreb local sightseeing tour

Zagreb grew up on two neighbouring hills: Kaptol - the centre of spiritual and religious life of north-western Croatia and Gradec - the commercial centre of skilful tradesmen and craftsmen

Visit the Upper Town with its Gothic Cathedral, the beautiful and ornate St. Catherine's church or the massive St. Mark's church with its famous colour-tiled roof. Continue to the medieval Stone Gate and Dolac, the open-air market which are a must for all visitors

Overnight at Zagreb

Day 3

Zagreb to Split via Plitvice National Park & Lake

After breakfast, depart for Split

Enroute visit Plitvice National Park & Lake

Plitvice National Park is one of the most beautiful and best preserved national parks in the country. This is why the entire lakes and surrounding area were declared a national park in 1949 and are listed on the UNESCO`s list of World Heritage Sites because of its exceptional beauty. it is a valley situated between high forested mountains in which lie, one below another, a string of sixteen beautiful lakes of crystal blue and green waters. Fed by small streams and brooks, they spill into each other in 92 foaming cascades and thundering waterfalls. The lakes themselves cover about 2 square kilometres and the entire national park covers 200 square kilometres. The Plitvice lakes` scenery will simply delight you regardless whether you are walking the paths and wooden bridges, taking a boat ride or just taking photographs

Later drive to Split

Croatia's second-largest city, Split (Spalato in Italian) is a great place to see Dalmatian life as it's really lived. Always buzzing, this exuberant city has just the right balance between tradition and modernity

On arrival check in at Hotel

Rest of the day at leisure to explore Split

Overnight at Split

Day 4

Split Sightseeing

After breakfast, transfer for local sightseeing

The old town of Split is built on and around the spectacular Roman Palace erected by the Roman Emperor Diocletian (born in Salona today's Solin) in the 4th century. The walking tour starts with a visit to the cellars of the Palace that are still very well preserved. The cellars offer a good view at how the life in the Palace was organized. Other sights such as the Golden Gate, the Silver Gate, the Peristyle Square etc. will be seen from the outside

Overnight at Split

Day 5

Split to Hvar Island

After breakfast, depart for Hvar Island ... We have designed a day long sightseeing tour covering the Islands around Split & Hvar for you to arrive at Hvar in style at the end of the tour

Make the most of your time on the Croatian coast—and enjoy a particularly speedy way to explore—when you book a full-day speedboat tour from Split. Set off in the morning from the Riva with just a small group for company. In the space of a single tour, you'll visit trendy Hvar Town, will see the extraordinary Blue Cave, will stop for a swimming break, will pause for lunch (if upgrade selected) and sightseeing in the Pakleni Islands, and more.

At the end of the tour, transfer to Hvar Island hotel for check in

Long, lean Hvar is vaguely shaped like the profile of a holidaymaker reclining on a sunlounger, which is altogether appropriate for the sunniest spot in the country and its most luxurious beach destination

Overnight at Hvar

Day 6

Hvar Town Sightseeing

After breakfast, day free for Hvar sightseeing

When we think of Hvar - we think about the island of heather, sunshine and crickets, the island of lavender, sage and wine and the island of rosemary and secluded coves

Evening at leisure for Happy Hours

Overnight at Hvar

Day 7

Hvar Island to Dubrovnik

After breakfast, take a ferry to Dubrovnik

Indeed it's hard to imagine anyone becoming jaded by the city's limestone streets, baroque buildings and the endless shimmer of the Adriatic, or failing to be inspired by a walk along the ancient city walls that protected the capital of a sophisticated republic for centuries

On arrival, transfer to hotel for check in

Rest of day at leisure to explore Dubronvik

Overnight at Dubrovnik

Day 8

Dubrovnik Sightseeing

After breakfast, transfer for Dubrovnik sightseeing

Those who seek paradise on Earth should come to Dubrovnik (George Bernard Shaw) This tour will reveal the finest sites of the old walled City. Our expert guide will lead you through the narrow streets of the Old Town introducing you to the history and culture of this magnificent city. Dubrovnik is the Pearl of the Adriatic - find out why!

Evening at leisure

Overnight at Dubrovnik

Day 9

Dubrovnik / Excursion to Montenegro

After breakfast, depart for day excursion to Montenegro

Located less than one hour's drive from Dubrovnik, Montenegro offers a natural beauty in combination with history and culture. Enjoy the drive around the Kotor Bay with its numerous small settlements; stop in Medieval Kotor to soak in the typical Mediterranean lifestyle; continue to Budva, the ancient town which is today a lively tourist resort

Later drive back to Dubrovnik

Overnight at Dubrovnik

Day 10

Dubrovnik / Excursion to Mostar, Bosnia and Herzegovina

After breakfast, depart for day excursion to Mostar, Bosnia and Herzegovina

In the true sense of the word it is the city where West meets East meets North meets South. Experience sights such as the Old Bazaar, the Turkish House and one of the many old Mosques. After the guided tour of the town free time for strolling around and browsing among the many old craft shops or maybe lunch in one of the picturesque local restaurants

Later drive back to Dubrovnik

Overnight at Dubrovnik

Day 11

Dubrovnik / Excursion to Island of Korcula

After breakfast, depart for day excursion to Island of Korcula

Marco Polo is the property and inheritance of the whole world!

Korcula town is considered the birthplace of Marco Polo. Experience the narrow streets, churches and palaces in one of the best preserved Medieval towns in the Mediterranean.Our walking tour of the town will reveal some of the finest sites such as St Marc's Cathedral. After sightseeing, free time for lunch [On your own] or even swimming

Later drive back to Dubrovnik

Overnight at Dubrovnik

Day 12

Departure Dubrovnik

After breakfast, morning at leisure

Later transfer from Hotel to Airport for onward journey
Notes
Round the Year Destination ... Extention possible to Hungary & other countries across Europe
Hotels
Tour Inclusions - Best of Croatia
2 nights Zagreb

2 nights Split

2 nights Hvar

5 nights Dubrovnik

Daily breakfast at Hotels

All transfers, inter-city transfers, sightseeings and excursions throughout the program as per Itinerary
Notes on itinerary
All our itineraries are "Just for Ideas" ... We will get to know you and customise an itinerary just for you that matches your requirements ... dates of travel, category of hotels, preferred airline, flexibility in choosing sightseeing, mode of travel between cities, etc.
Many of our clients have us design more relaxing, slower paced holidays with more in-depth experiences whereas some simply want to visit various destinations and cover only the highlights.
Together, we will determine the ideal route, pace of travel, accommodations, levels of pampering, style of touring, sightseeing to be included, dining preferences, adventure levels, options to meet locals, dates of travel & much more ! and based on this arrive at a price.
Do feel free to get in touch with us by a quick call on +91 79 29602961 or a short mail on mail@destinations4india.com ... Looking forward