Jim Corbett National Park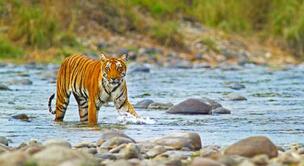 Jim Corbett National Park is a forested wildlife sanctuary in northern India's Uttarakhand State. Rich in flora and fauna, it's known for its Bengal tigers. Animals, including tigers, leopards and wild elephants, roam the Dhikala zone. On the banks of the Ramganga Reservoir, the Sonanadi zone is home to elephants and leopards, along with hundreds of species of birds.
World-renowned Corbett Tiger Reserve, established in 1936 as India's first national park, covers 1318 sq km of wild forests. It's named for legendary British hunter Jim Corbett (1875–1955), who brought this region international fame with his book The Man-Eaters of Kumaon.
As well as being famous for having the most tigers of all India's national parks, Corbett is known for its stunning scenery, including jungle, grasslands, riverine and hilly terrain, home to an abundance of wild elephant, deer, primate, reptile and birdlife, as well as leopard, Himalayan black bear and sloth bear.
The park is divided into six zones that all offer different experiences; most famous is Dhikala, which offers the best chance to spot animals. Take note: the bulk of the park is closed during rainy season (generally mid-November to mid-June), with only a few zones open year-round.
Nearest airport : Dehradun Airport
The nearest airport to the town is the Dehradun Airport, Uttrakhand, located at a distance of 156 km from NH34.
Notes on Hotel Reservations & Tour Bookings
Indicated tour rates will depend on dates of travel, number of travellers and local conditions at each destination

All

rates

are as per current availability / Subject to change at the time of booking

Rates are not applicable for Event and Exhibition dates

GST apply as extra

At most hotels : Check in time is 1400 hrs. / Check out time is 1200 hrs.

While we make recommendations for hotels all around the world, we do not stand guarantee and are not responsible for the services or the hardware provided by the hotel/s suggested by us. We strongly urge you to do your own research and make an informed choice
All requests like early check in, smoking / non-smoking rooms, views, floors, king / twin beds, adjoining and/or interconnecting rooms, etc are strictly subject to availability upon arrival and at hotel's discretion. These cannot be guaranteed prior.
Any amendment in reservations / itinerary before reconfirmation will attract a charge
Once the reservation has been reconfirmed and if the booking is cancelled or amended, retention will be applicable.
All Indian nationals need to present a valid photo ID at the time of check in. This is a mandatory requirement.
All Foreign nationals need to present a valid passport with VISA at the time of check in. This is a mandatory requirement.
We cannot be held accountable for any delay or disruption due to infra-structure development or lack of it, traffic held up due to accident or whatsoever reason, natural calamity, political unstability, delay in flights, etc.
Notes on itinerary
All our itineraries are "Just for Ideas" ... We will get to know you and customise an itinerary just for you that matches your requirements ... dates of travel, category of hotels, preferred airline, flexibility in choosing sightseeing, mode of travel between cities, etc.
Many of our clients have us design more relaxing, slower paced holidays with more in-depth experiences whereas some simply want to visit various destinations and cover only the highlights.
Together, we will determine the ideal route, pace of travel, accommodations, levels of pampering, style of touring, sightseeing to be included, dining preferences, adventure levels, options to meet locals, dates of travel & much more ! and based on this arrive at a price.
Do feel free to get in touch with us by a quick call on +91 79 29602961 or a short mail on mail@destinations4india.com ... Looking forward