Bintan ... Exotic & Luxurious ... Indonesian Island off Singapore Coast !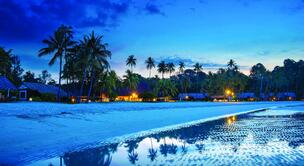 Bintan is truly a unique paradise - Simple life, beautiful beach and friendly people – All one can ask on a leisure trip. The island gives the refreshment to our mind and body.

Easiest way to reach Bintan is by a 45 mins ferry from Singapore

Due to it's strategic location and size Bintan has a rich history. It has for centuries been the home of Malay and the Orang Laut people (sea nomads). Later migrants came from south China and Indo china. Today people from a large region of Asia have settled here.

Bintan was located aside the China-India maritime trading route, and was early in the 14th century, together with Temasek (Singapore), recorded in Chinese maritime records as one of the islands of the Riau archipelago that was inhabited by Malay pirates.

Just across the water from Singapore, Bintan Island has some of the nicest white-sand beaches in Sumatra. While it markets itself as a high-end playground for well-heeled visitors from Singapore and beyond, there is some affordable accommodation too.

There is never a dull day at Bintan !

Among the Bintan island's things to do, include any one of these exciting Bintan activities to your resort package for an unforgettable holiday experience with us !

Sightseeing, Land activities, Water Sports, Golf, Leisure Center, Shopping, Gym, Night Club !

Banyan Tree Temple : One of the most well known places in Bintan Island, Riau Province is the Banyan Tree Temple. This temple is mentioned in almost all tourist literatures and is considered a "must see" for all visitors to Bintan.The Banyan Tree Temple is a Chinese shrine worshipped by locals. The shrine is a new development although probably decades old and occupies an older building said to be 200 years ago. The temple structure is wrapped and held together by the roots of a banyan tree hence its name Banyan Tree temple.Very little information is available about the shrine or the origins of the building. A possible clue is a stone plaque at the entrance of the structure.

Bintan Besar : Bintan Besar is the highest mountain of Bintan Island of Indonesia. Bintan Besar is the remnants of an old volcano. This mountain is the highest point on the Riau Archipelago. From the summit of Bintan Besar one can see the tropical rain forests of Bintan Island of Indonesia.Bintan Besar is often the choice of mountain trekkers and naturalists. Rare species of flora and fauna can be observed in the tropical rain forest of Bintan Besar, of which a few are silver leaf monkeys, eagles, kites, and sun birds.

Lagoi / Bintan Resorts : Situated less than an hour away via comfortable catamarans from the modern and culturally vibrant city of Singapore, Bintan Resorts is located on the largest of Indonesia's enchanting Riau islands in the South China Sea. Experience endless beaches, a wide variety of international-class resorts, and a refreshing host of tropical holiday activities. Discover a holiday within a holiday, when you visit Singapore and Bintan Resorts today! "Bintan Resorts" refers generally to the area on the entire northern coast of the Indonesian Island of Bintan which is master-planned and managed by PT Bintan Resorts Cakrawala. There are currently five independently owned and operated beach resorts, four designer golf courses, as well as a range of recreational facilities and attractions located within it.

Santa Maria Cave : Santa Maria Cave is situated opposite to Trikora Beach. The cave was built by a Dutch Pastor in the 18th century. This cave is distinct in its architectural design. One of the main features of this cave is that there is a statue of Mary standing at its entrance on half – a – globe in a graceful posture. The Santa Maria Cave is well preserved and maintained. This cave is still a place of worship. On every Sunday, a huge pack of devotees visits the place singing songs of praise. The devotees also use the vicinity of Santa Maria Cave as a place for their informal weekly social gathering.

Sumpat : Sumpat is a small island situated in the northern part of Bintan Island. It is a holiday destination for those looking for secluded beaches. Sumpat of Bintan consists of two beaches which are Sungai Sumpat and Pulau Sumpat. These beaches offer tourists white beaches with clear water. There are fishing villages nearby. Tourists often go to visit these villages to get to know the lifestyle of these villages. Sumpat is located half – way in between Trikora Beach and Lagoi or Bintan Resorts. Sumpat is at a distance of 90 minutes from Lagoi and can be reached via road.

Big on Spa, Water Sports & Golf

Indulge in a personal wellness journey at Bintan, offering a wide range of services that include signature spa rituals and therapies. Treatments are available for individuals in private rooms or in romantic suites that are designed for couples. Guests can choose from seasonal or signature day spa package and sink into a full day of treatment and relaxation.

Adventure Training Centre, All Terrain Vehicle (ATV), Archery, Badminton, Basketball, Batik Painting, Billiards/ Snooker, Board Games, Electric Cars, Table Football/ Foozball, Golf Driving Range, 18 Hole Golf at 2 championship golf courses, Guided bike tours, 24/7 Powerhouse Gym, Karaoke, Mahjong, T-Shirt Painting, Table Tennis, Tennis, Beach Volleyball, Jet ski, Kayaking, Snorkeling, Paddle Boating, Water Walking Ball, etc.

In Bintan, golf and fun are synonymous with Bintan Lagoon Golf Club (BLGC). The award-winning Bintan golf resort is renowned for it's two exceptionally designed championship 18-hole courses. The Jack Nicklaus Sea View Golf course and the Ian Baker-Finch Woodlands Golf course both offer spectacular signature holes, fast greens, undulating fairways, and scenic water hazards.

Featuring shaped fairways, ingenious doglegs, rolling greens, perfectly modeled bunkers, strategically allocated water features and a variety of elevation changes to challenge casual golfers and enthusiasts alike. The pristine Bintan golf courses are set amongst lush landscapes and breath-taking backdrops.
Notes
Round the Year Destination ... Extension recommended to Singapore
Hotels
Notes on itinerary
All our itineraries are "Just for Ideas" ... We will get to know you and customise an itinerary just for you that matches your requirements ... dates of travel, category of hotels, preferred airline, flexibility in choosing sightseeing, mode of travel between cities, etc.
Many of our clients have us design more relaxing, slower paced holidays with more in-depth experiences whereas some simply want to visit various destinations and cover only the highlights.
Together, we will determine the ideal route, pace of travel, accommodations, levels of pampering, style of touring, sightseeing to be included, dining preferences, adventure levels, options to meet locals, dates of travel & much more ! and based on this arrive at a price.
Do feel free to get in touch with us by a quick call on +91 79 29602961 or a short mail on mail@destinations4india.com ... Looking forward