Best of Cambodia & Vietnam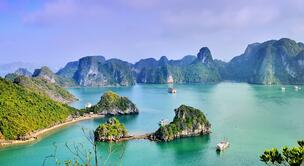 Vietnam

A land of staggering natural beauty and cultural complexities, of dynamic megacities and hill-tribe villages, Vietnam is both exotic and compelling.

Sensory Overload
Unforgettable experiences are everywhere in Vietnam. There's the sublime: gazing over a surreal seascape of limestone islands from the deck of a traditional junk in Halong Bay. The ridiculous: taking 10 minutes just to cross the street through a tsunami of motorbikes in Hanoi. The inspirational: exploring the world's most spectacular cave systems in Phong Nha-Ke Bang National Park. The comical: watching a moped loaded with honking pigs weave a wobbly route along a country lane. And the contemplative: witnessing a solitary grave in a cemetery of thousands of war victims.

History & Culture
Vietnamese culture is complex, diverse and represents something of a history lesson. The nation's labyrinthine, teeming trading quarters are rich in indigenous crafts and reflect centuries-old mercantile influences. Ancient temples display distinctly Chinese influences in the north and Hindu origins in the south. Meanwhile the broad, tree-lined boulevards and grand state buildings that grace the capital date from the French colonial period. And it's impossible to forget Vietnam's pivotal position close to the epicentre of East Asian power and prosperity, for its cities' skylines are defined by clusters of glass-and-steel corporate HQs and sleek luxury hotels.

A Culinary Superpower
Thailand may contest the top spot, but in Southeast Asia nothing really comes close: Vietnamese food is that good. Incredibly subtle in its flavours and outstanding in its diversity, Vietnamese cooking is a fascinating draw for travellers – myriad street-food tours and cooking schools are testament to this. Geography plays a crucial role, with Chinese flavours influencing the soups of the north, spices sparking up southern cuisine, and herbs and complex techniques typifying the central coastline, rightly renowned as Vietnam's epicurean hot spot. And up and down the country you can mingle with villagers, sample local dishes and sip rice wine in Vietnam's many regional markets.

Thrills & Chills
If you have the bills, Vietnam has the thrills and chills. Some require a little physical effort, such as motorbiking switchback after switchback up the jaw-dropping Hai Van Pass in central Vietnam. Others require even more sweat: kitesurfing the tropical oceanic waters off Mui Ne or hiking the evergreen hills around Bac Ha or Sapa. And when you're done with all that adrenaline stuff, there's plenty of horizontal 'me' time to relish. Vietnam has outstanding spas – from marble temples of treatments to simple family-run massage salons with backpacker-friendly rates.

Cambodia

There's a magic about this charming yet confounding kingdom that casts a spell on visitors. In Cambodia, ancient and modern worlds collide to create an authentic adventure.

An Empire of Temples
Contemporary Cambodia is the successor state to the mighty Khmer empire, which, during the Angkorian period, ruled much of what is now Laos, Thailand and Vietnam. The remains of this empire can be seen at the fabled temples of Angkor, monuments unrivalled in scale and grandeur in Southeast Asia. The traveller's first glimpse of Angkor Wat, the ultimate expression of Khmer genius, is sublime and is matched by only a few select spots on earth, such as Machu Picchu or Petra.

The Urban Scene
Just as Angkor is more than its wat, so too is Cambodia more than its temples, and its urban areas can surprise with their sophistication. Chaotic yet charismatic capital Phnom Penh is a revitalised city earning plaudits for its sumptuous riverside setting, cultural renaissance, and world-class wining-and-dining scene. Second city Siem Reap, with cosmopolitan cafes and a diverse nightlife, is as much a destination as the nearby iconic temples. And up-and-coming Battambang, reminiscent of Siem Reap before the advent of mass tourism, charms with graceful French architecture and a thriving contemporary art scene.

Upcountry Adventures
Experience the rhythm of rural life and landscapes of dazzling rice paddies and swaying sugar palms in Cambodia's countryside. The South Coast is fringed by tropical islands dotted with the occasional fishing village. Inland lie the Cardamom Mountains, part of a vast tropical wilderness providing a home to elusive wildlife and a gateway to emerging ecotourism adventures. The mighty Mekong River cuts through the country and hosts some of the region's last remaining freshwater dolphins. The northeast is a world unto itself, its wild and mountainous landscapes home to Cambodia's ethnic minorities and an abundance of natural attractions and wildlife.

The Cambodian Spirit
Despite having the eighth wonder of the world in its backyard, Cambodia's real treasure is its people. The Khmers have been to hell and back, struggling through years of bloodshed, poverty and political instability. Thanks to an unbreakable spirit and infectious optimism, they have prevailed with their smiles intact. No visitor comes away without a measure of admiration and affection for the inhabitants of this enigmatic kingdom.

Itinerary
Day 1

ARRIVAL HO CHI MINH CITY / HALF DAY CITY TOUR

Upon arrival at HCMC, meet & greet by our representative, Transfer to hotel for check in

Rest of a while

Later in the day half day city tour

Start the trip with visit to Reunification Palace which was the residence of the President of South Vietnam until end of the war in April 1975.

Continue seeing some impressive French colonial structures including Notre Dame Cathedral, the Old Central Post Office & XQ embroidery workshop.

After visiting the City Hall, take a break at Ben Thanh Market or Saigon Square shopping central where anything and everything is for sale.

Overnight at hotel in Ho Chi Minh City

Day 2

HO CHI MINH CITY / EXCURSION TO MEKONG DELTA

After breakfast, take a full day trip to the watery world of the Mekong Delta to catch a glimpse of the famous Mekong River which is just about an hour and a half by road from Ho Chi Minh City.

Upon arrival at Mekong Delta take a boat trip along narrow waterways overhung with dense vegetation visiting the fish whalf, the 4 famous islands - Dragon, Unicorn, Turtle and Phoenix.

Then take a short tour to the bank of Mekong River visiting a rice farm, candy workshop and honey bee farm.

Then journey by sampan through the canals and mangrove forests where we watch the fishermen lay their fish traps.

Enjoy time on the Unicorn island visiting the local fruit, tea mixed with bee's honey and enjoy a locally produced folk show of traditional Mekong Delta music.

Then Visit Vinh Trang Pagoda, the most famous pagoda in the south whose architecture is a mixture of Vietnamese, Khmer and Chinese.

Later transfer back to Ho Chi Minh City.

Overnight at hotel in Ho Chi Minh City

Day 3

HO CHI MINH CITY / VISIT CU CHI TUNNELS / FLIGHT TO DA LAT

After breakfast, transfer to Cu Chi tunnels

On the way, pass by paddy fields. Here grab an opportunity to meet villagers and witness how rice paper is made.

Explore the amazing labyrinth of tunnels used by the guerrillas during the war. The tunnel network of Cu Chi became legendary during the 1960s for its role in facilitating VC control of a large rural area only 30km to 40km from HCMC. At its peak the tunnel system stretched from the South Vietnamese capital to the Cambodian border; in the district of Cu Chi alone more than 250 kms of tunnels honeycomb the ground.

Later Transfer to airport for flight to Da Lat, the " City of Eternal Spring"

Hinged by the Cam Ly River, and nestled at an elevation of just under 1500m among the pitching hills of the Lang Bian Plateau, the city of DA LAT is Vietnam's premier hill station, a beguiling amalgam of squiggly streets, picturesque churches, bounteous vegetable gardens and crashing waterfalls, all suffused with the intoxicating scents of pine trees and wood-smoke.

Evening at leisure

Overnight at hotel in Da Lat city

Day 4

DA LAT to NHA TRANG BY CAR

After breakfast, a short sightseeing tour of Da Lat

Visit Dragon Pagoda - Valley of love, Prenn Waterfall where you can walk behind the curtain of falls, Truc Lam for Meditation, Tuyen Lam Lake & Bao Dai's summer palace, crazy house (Alice in Wonderland) and crazy monk. Also visit hand embroidery picture gallery.

Later leave for Nha Trang, a beautifully coastal city (It takes 4 hours by car)

Nha Trang is a coastal city and capital of KhanhHoa province, on the South Central Coast of Vietnam. Nha Trang is well known for its beaches and scuba diving and has developed into a popular destination for international tourists, attracting large numbers of backpackers, as well as more affluent travellers on the Southeast Asia circuit with it being widely considered as among the world's most beautiful bays.

Evening at leisure

Overnight at hotel in NhaTrang.

Day 5

NHA TRANG to HANOI BY FLIGHT

After breakfast, a sightseeing trip of Nha Trang

Enjoy the fabulous sunny weather, turquoise water surrounding a string of islands and white sandy beach. Stretching the whole length of the city makes Nha Trang one of Vietnam's premier beach resorts.

Take a boat trip around the coastal islands visiting the Tri Nguyen aquarium, a local fishing village to observe the island life.

You have lots of time on the blue clear water enjoying swimming and snorkeling or lazing on a beach.

Arrive back in town late afternoon and visit the Long Son Pagoda with its enormous white Buddha statue, and the impressive Ponagar Cham Towers, a secret Hindu site dating back to the 2nd century AD.

Later take a flight to Ha Noi - Vietnam's capital, a stylish and gracious city that retains an unique old world charm and some of Asia's most striking colonial architecture, many peaceful lakes, parks and oriental temples making for a relaxing atmosphere.

Pick up Hanoi airport & transfer to hotel for check in

Evening at leisure

Overnight at hotel in Hanoi.

Day 6

HANOI SIGHTSEEING / TRANSFER TO HA LONG BAY

After breakfast sightseeing tour of Hanoi

Visit Ho Chi Minh Mausoleum. Enjoy the architectural and historical aspects of Uncle Ho"s final resting-place. Just next door is Ho Chi Minh�s house on stilts. Lying to one side of the Mausoleum is the One Pillar Pagoda, founded by King Ly Thai To in 1049 the structure has become an important symbol for the people of Hanoi.

Continue to visit the Quan Thanh Temple (Taoist, dating from the Ly Dynasty) and Buddhist Tran Quoc Pagoda on West lake (One of the oldest in Vietnam).

Later, continue to visit the Literature Temple and Quoc Tu Giam. Vietnam�s first university constructed in 1070, it�s gardens and well-preserved architecture offers a relaxing glimpse into Vietnam�s past. Here we will also have a chance to see a traditional music performance.

Later transfer to Halong Bay

Halong Bay is a spectacular natural wonder. The dramatic scenery dotted with islets makes this an excellent semi-sheltered, open water location for kayaking. This day trip cruise is ideal for keen novice and experienced kayakers alike.

Check in at hotel on arrival

Evening at leisure to visit the local market

Overnight in hotel in Halong Bay

Day 7

HALONG BAY SIGHTSEEING / TRANSFER TO HANOI FOR FLIGHT TO SIEM REAP

After breakfast, cruise around the Islands of Halong Bay

Thien Cung grotto : Thien Cung Grotto (Heavenly Cave) is situated on Dau Go Island (Wooden Stakes Island) in the southwestern Halong Bay and about 4 kilometers from tourism wharf. Thien Cung Grotto is at the height of 25 meters above the sea level. Visiting the grotto, tourists will feel like visiting an art museum with variety of sophisticated statues and reliefs. In the center of the grotto, there are four big pillars propping against the roof.

Dinh Huong : Dinh Huong Islet (Incense Burner Islet) is so - called Lu Huong Islet. It's located in the southwest of Dau Go Island (about 6 kilometers from Bai Chay Tourist Wharf, Halong).

Dinh Huong Islet comprises only one huge stone. When the tide is low, tourists can see its four pins underneath. The islet is in the shape of an incense burner in the middle of the sea. In the majestic setting of sea and islands, Dinh Huong Islet seems like a holy symbol dedicated to national heroes who died to protect the country.

Ga Choi Islet : According to Vietnamese conception & imagination, the outstanding limestone islet located in the southwest of Halong Bay, about 5km from Bai Chay Beach, it was called Ga Choi (Fighting cock) Island, also known as Trong Mai (Couple � Rooster & Hen) Island.

Later drive back to Hanoi & drop to airport for flight to Siem Reap

Siem Reap, which literally means the �Defeat of Siam�, is the most prosperous region of contemporary Cambodia. Its close proximity to the Angkor Wat temple complex has turned the city into one of the world�s premier travel destinations. More than one million travellers visit Siem Reap every year to explore over a thousand years of Khmer heritage built near Tonle Sap Lake, the foundation of the economic power of the ancient Cambodian empire.

On arrival in Siem Reap Transfer to hotel for check in

Evening at leisure

Overnight at hotel in Siem Reap

Day 8

SIEM REAP / ANGKOR WAT TOUR

After breakfast, sightseeing tour of Angkor Wat

Angkor Thom is undeniably an expression of the highest genius. It is, in three dimensions and on a scale worthy of an entire nation, the materialization of Buddhist cosmology, representing ideas that only great painters would dare to portray. Angkor Thom, the last capital of the Khmer Empire, was a fortified cit enclosing residences of priest, officials of the palace and military, as well as buildings for administering the kingdom. These structures were built of wood and have perished but the remaining stone monuments testify that Angkor Thom was indeed a "Great City" as its name implies.

Visit South Gate of Angkor Thom, Bayon temple, Baphuon, Terrace of Leper King, Terrace of Elephants and Prasat Suor Prat.

Tour continues to Ta Prohm temple that popularize by Angelina Jolie in Tomb Raider movie.
Afternoon Visit World Heritage Angkor Wat and view sunset from Bakheng Hill,

Overnight at hotel in Siem Reap

Day 9

SIEM REAP / VISIT TONLE SAP LAKE / FLIGHT TO PHNOM PENH

After Breakfast, visit the floating village of Chong Khneas, located 10 kilometers south of Siem Reap.

Visit the village and take an excursion in a traditional wooden boat on the Tonle Sap Lake, the "Great Lake" of Cambodia, one of the wonders of Asia.

In the afternoon, drive 15km to the west for visit silk farm, where you can see the circle of silk product and how to do it through and then back to the city visit to killing field of Wat Thmey

Visit the "Les Artisans d'Angkor - Chantiers Ecoles" and local market.

Later Take flight to Phnom Penh

Upon arrival, transfer to hotel for check in

Evening at leisure

Overnight in hotel at Phnom Penh

Day 10

PHNOM PENH / CITY TOUR

After breakfast, start the city tour

Visiting of Royal Palace, Silver Pagoda. After that continue to visit National Museum, a French archaeologist and painter

In the afternoon, visit Toul Sleng Museum, the S21 prison, Russian market, Independence Monument, Wat Phnom (historical of Phnom Penh).

Overnight at hotel in Phnom Penh

Day 11

PHNOM PENH DEPARTURE

After breakfast, morning at leisure

Later transfer to the airport for return flight
Notes
Round the Year Destination ... Extention available to Thailand, Myanmar & Other Destinations across South East Asia
Hotels
Tour Inclusions [ Vietnam & Cambodia ]
Inclusion:
Round trip transfers with private air-conditioned vehicle

10 nights hotel accommodation in twin/double sharing room with daily breakfast

English speaking tour guide as mention in the itinerary

Meals as indicated in the itinerary: daily breakfast, 02 lunch ( on Halong Bay and on Mekong Delta)

Entrance fees.

Boat trip in My Tho, Nha Trang, Ha Long Bay; Tonle Sap Lake

Cable car in Da Lat

Traditional music in My Tho.

02 bottle of water/pax/day.
Notes on itinerary
All our itineraries are "Just for Ideas" ... We will get to know you and customise an itinerary just for you that matches your requirements ... dates of travel, category of hotels, preferred airline, flexibility in choosing sightseeing, mode of travel between cities, etc.
Many of our clients have us design more relaxing, slower paced holidays with more in-depth experiences whereas some simply want to visit various destinations and cover only the highlights.
Together, we will determine the ideal route, pace of travel, accommodations, levels of pampering, style of touring, sightseeing to be included, dining preferences, adventure levels, options to meet locals, dates of travel & much more ! and based on this arrive at a price.
Do feel free to get in touch with us by a quick call on +91 79 29602961 or a short mail on mail@destinations4india.com ... Looking forward