Best of Uzbekistan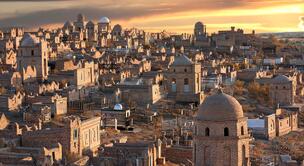 The region's cradle of culture for more than two millennia, Uzbekistan is the proud home to a spellbinding arsenal of architecture and ancient cities, all deeply infused with the bloody, fascinating history of the Silk Road. In terms of sights alone, Uzbekistan is Central Asia's biggest draw and most impressive showstopper.

Samarkand, Bukhara and Khiva never fail to impress visitors with their fabulous mosques, medressas and mausoleums, while its more eccentric attractions, such as the fast disappearing Aral Sea, the fortresses of desperately remote Karakalpakstan, its boom town capital Tashkent and the ecotourism opportunities of the Nuratau Mountains, mean that even the most diverse tastes can be catered for.
Uzbekistan remains an extremely friendly country where hospitality remains an essential element of daily life and you'll be made to feel genuinely welcome by the people you meet.

Itinerary
Day 1

Arrival Tashkent / Local Sightseeing

Upon arrival in Tashkent, meet & greet at the airport with our representative and transfer to hotel for check in

Sprawling Tashkent (Toshkent) is Central Asia�s hub and the place where everything in Uzbekistan happens. It's one part newly built national capital, thick with the institutions of power, and one part leafy Soviet city, and yet another part sleepy Uzbek town, where traditionally clad farmers cart their wares through a maze of mud-walled houses to the grinding crowds of the bazaar. Tashkent is a fascinating jumble of contradictions that's well worth exploring over several days.

Like most places that travelers use mainly to get somewhere else, Tashkent doesn't always immediately charm visitors, but it's a surprisingly fun and interesting place, with finest restaurants, museums and nightlife in the country.

After some rest, we will start sightseeing tour of Tashkent with a visit to the old town, the center of which is located the mosque complex Hast Imam, which keeps one of the oldest Korans of Osman.

Hast Imam : Hast Imam Square (Hazrati Imam) is a religious center of Tashkent. This complex appeared near the tomb of one of the first imam of Tashkent city, the famous scientist, scholar of the Koran and Hadith, poet and craftsman Hazrati Imam (full name - Abu-Bakr Muhammad Kaffal Shashi).

Next, a visit to one of the largest markets in Central Asia � Chorsu.

Chorsu Bazaar : For many centuries Chorsu bazaar have been one of the busiest bazaars in Central Asia, since it is located on the Silk route. The location hasn�t changed in all these years but the old buildings have been replaced by modern ones. But here, locals still source for spices, vegetables, dried fruits, traditional and modern apparel, including carpets.

This world-famous bazaar specializes in everything from jewelry, ceramics, pottery, national costumes, house wares and much-more. It is always bustling and well worth visit even if you do not intend to buy.

Lunch at the national tea house, where you can enjoy the Uzbek cuisine.

After reviewing the historical part of the city, we move to the modern part of Tashkent visiting Independence Square, the monument - Sorrowful Mother, the Opera and Ballet Theatre, Alisher Navoi, Amir Temur square, etc.

Dinner at local restaurant, where a delicious national cuisine is specially prepared for you

Overnight at Tashkent

Day 2

Tashkent - Excursion to Chimgan Mountains & Charvak Lake – Tashkent

After Breakfast at the hotel, around 9 am we depart for a 2 hours drive (100 kms) to the beautiful Chimgan Mountains and later to Charvak Lake

On the way, enjoy lovely mountain views & life of local people

Chimgan Mountains

The Valley of Chimgan is located on the height of 1200-1600 meters above sea level and is surrounded with mountains. Greater Chimgan Mountain (3309 m) is the main peak of the valley and towers above the entire valley. Chimgan mountains include such beauty spots as Gulkam, Beldersay and others.

For its beauty and health-improving properties Chimgan is called as "Uzbek Switzerland". Slopes of mountains are covered with relict fir-tree woods. Mountains and hills are indented by mountain rivers, which people call "sai". There is the fresh and pure air with fragrance of numerous flowers and herbals (the word �Chimgan� or �Chim yon� is translated as �green grass�, �green valley�).

Take a ride on chair lift (subject to operations on the day of visit)

Later, we will have lunch at Piramida Lakeside restaurant (Indian + local mixed food).

Enjoy free time at beautiful Charvak Lake

Charvak Lake

Charvak Reservoir is located 60 km from Tashkent and is the most popular recreational area for local people. The coastline of the reservoir is almost 100 km, and half of this area is occupied by various recreation zones, boarding houses and summer camps.

The most comfortable place here is the complex �Charvak Oromgokhi�, where you can have good time, tanning on sandy beach, boating or riding on water scooter. In addition you can enjoy your time in Yusupkhona and Brichmula villages overlooking the great panorama of Big and Small Chimgan peaks and other rock mountains, which are also popular tourist sites for residents and guests of the capital.

It takes one hour or more to reach Charvak Reservoir from Tashkent. Here you can swim, go on a hike along surrounding hills and mountains as well as paraglide or ride on water scooter or just come to enjoy fresh air, pure mountain water and see unforgettable sunrises and sunsets.

We�ll then drive back to Tashkent around 3 pm and drop to hotel for rest after the excursion

Dinner at a local restaurant

Overnight at Tashkent

Day 3

Tashkent to Khiva / Flight / Local Sightseeing

After breakfast transfer to Tashkent airport for flight to Urgench

Upon arrival, meet & greet at the airport with our representative and transfer to Khiva ... 30 kms.

Khiva�s name, redolent of slave caravans, barbaric cruelty, terrible desert journeys and steppes infested with raiding Turkmen tribesmen, struck fear into all but the boldest 19th-century hearts. Nowadays it�s a friendly and welcoming Silk Road old town that's well set up for tourism.

The historic heart of Khiva (Xiva) has been so well preserved that it�s sometimes criticised as lifeless � a �museum city�. But walk through the city gates and wander the fabled Ichon-Qala (inner walled city) in all its monotone, mud-walled glory and it's hard not to feel like you are stepping into another era.

Try to spend at least one night in Khiva. The old town is at its best at dawn, sunset and by night, when the moonlit silhouettes of the tilting minarets and medressas, viewed from twisting alleyways, work their real magic.

After check in at hotel, sightseeing of Khiva to give you acquainted with the great culture and the architecture of Uzbek

Mosque and madrasah Atadjan-Tura have been constructed in 1893 - 1899. Younger brother Said Muhammada, it is located in Khivan area of the Khorezm area. Rakhim-khan II (Feruz) - Atadjan-Tura which has been temporarily proclaimed by khan during Russian standoff cities.

Minaret Abdal-Bobo is a small (height - 10m, base diameter - 3.2m) but expressive tower, in the shape of a fat, sharply tapering barrel, crowned by an elegant cornice, or "Sharaf". On the way to Koy-Darvaza sits the architectural complex of Abdal-Bobo, developed around a small cemetery. Here in the House Bank, the largest quarter mosque, slaves were traded.

Lunch at local restaurant

Continue Khiva sightseeing. Visit to the complex �Ichan Kala� - This complex includes historical monuments like Kuna arch, Kalta minar, Muhammad Amin Khan, Tash Khauli, Pakhlavan Makhmud, Islam Khadji.

Later dinner at local restaurant

Overnight at Khiva

Day 4

Khiva to Bukhara / Flight / Visit to local market

After breakfast transfer to Urgench airport for flight to Bukhara

Central Asia�s holiest city, Bukhara (Buxoro) has buildings spanning a thousand years of history, and a thoroughly lived-in and cohesive old centre that hasn�t changed too much in two centuries. It is one of the best places in Central Asia for a glimpse of pre-Russian Turkestan.

Most of the centre is an architectural preserve, full of medressas and minarets, a massive royal fortress and the remnants of a once-vast market complex. Government restoration efforts have been more subtle and less indiscriminate than in flashier Samarkand. The city�s accommodation options are by far the best and most atmospheric in the country.

You�ll need at least two days to see the main sights. Try to allow time to lose yourself in the old town; it�s easy to overdose on the 140-odd protected buildings and miss the whole for its many parts.

Upon arrival, meet & greet at the airport with our representative and transfer to hotel

Day at leisure to explore Bukhara on your own ... We recommend you visit the local market

Bukhara market - During the walk in the market, you can feel the real & original atmosphere with eastern flavour.

Although the old city of Bukhara is full of Madrasahs, Minarets, Mosques and Mausoleums, it is also famous for its 3 surviving undercover bazaars, or trade domes � Taki-Sarrafon (dome of money changers), Taki-Telpakfurushon (dome of hat makers) and Taki-Zargaron (dome of jewelers). These bazaars sat at the intersections of major crossroads within the city and their domed roofs were designed to draw in cool air.

Dinner at local restaurant with folklore entertainment

Overnight at Bukhara

Day 5

Bukhara / Sightseeing

After breakfast, depart for sightseeing of Bukhara

Places to visit are mausoleum Samanidov, Chashma Ayub, Amir Temur�s summer and spring palaces called Chor minor, Labi Khauz, Miri Arab.

Mausoleum Samanidov : The mausoleum Samanidov is the cult place in Bukhara. It is one their unique structures in Central Asia. The mausoleum Samanidov, according to the legend, has been built by Ismail Samani for the father Ahmad ibn Assad. Later it became their family tomb. At first sight, the building doesn't look as something outstanding, but having considered it is closer, you will feel that in him there is something magic. In a form the mausoleum is the cube topped with a hemispherical dome.

Mausoleum of Chashma-Ayub : Mausoleum of Chashma-Ayub is the religious building in the heart of Bukhara. It consists of the mausoleum and a holy spring. Today it includes a Museum of Water. The mausoleum was built by the order of Karakhanid rulers in the 12th century. It was rebuilt several times during the 14th-19th centuries. During the Tamerlane�s reign the mausoleum was completed. The building features four rooms, situated on the East-West axis. Each room is topped with a dome. The western room was the first building and was built as a sepulchral tower;

Chor minor : Speaking of the Bukhara�s unusual monuments, first of all, we should tell about the Chor-Minor madrasah. It is located right behind Lyabi-Khauz, in the open space. �Chor�Minor� is translated as �four minarets�. This name is well justified: the corners of the square-rectangular madrasah building are really decorated with four small minarets crowned with blue domes, different in decors from each other. Each of the four minarets is of a different shape. The towers� d�cor elements are believed to reflect the religious-philosophical understanding of the world�s four religions.

Labi Khauz : Architectual ensemble Lyabi-Khauz is formed with three large monumental buildings: Kukeldash Madrasah in the north, khanaka and Nodir Divan-begi in the west and in the east. From the south the square was closed with Trade Street. The center of old Bukhara large ensemble became a reservoir.

Miri Arab : There are two big blue domes of the Miri-Arab madrasah towering above the surrounding buildings in the center of Bukhara. Along with the Kalyan mosque and minaret, this religious educational establishment forms the whole ensemble Poi-Kalyan that is the spiritual center of the city.

Construction of the Miri-Arab madrasah dates back to the 16th century and is related to the sheikh Abdallah Yamani (from Yemen), the spiritual pir (guide) of sheybanids.

Lunch at local restaurant.

Further, we will continue our excursion with the visit the �Ulugbek� medrasah , and will finish it in the trading dome, where the time stopped for a while.

Ulugbek Madrasah : Ulugbek Madrasah was found in 1417, as the inscription on the bronze plate of door runs says. There is a name of master in the portal tympanum, which was building this monument � Ismail ibn Takhir ibn Makhmud Ispfargoni. It is possible he was a grandson of one of the masters, who had been captured by Timur in Iran and left their names on the portal of Gur-Amir complex in Samarkand. Bukhara Madrasah is the first Madrasah, built by Ulugbek.

Dinner & Overnight at Bukhara

Day 6

Bukhara to Samarkand [280 Kms. - 5 hrs drive] / At leisure

After breakfast, drive to Samarkand

Enroute visit Sitorai Mokhi-Khosa Palace: the residence of last emir of Bukhara - its courtyard and rooms, listen to a story and walk through the cool residence where peacocks live

Sitorai Mokhi-Khosa Palace : For a look at the lifestyle of the last emir, Alim Khan, go to his summer palace (1912�18), 6km north of Bukhara. The three-building compound mixes Russian architecture with Central Asian design in an explosion of kitsch. A 50-watt Russian generator provided the first electricity the emirate had ever seen. In front of the harem is a pool where the women frolicked, overlooked by a wooden pavilion from which the emir supposedly tossed an apple to his chosen bedmate.

Lunch at the pottery Alisher aka whose works are appreciated worldwide

Continue drive to Samarkand

No name is as evocative of the Silk Road as Samarkand (Samarqand). For most people it has the mythical resonance of Zanzibar or Timbuktu, fixed in the Western popular imagination by imaginative poets and playwrights, few of whom saw the city in the flesh.

On the ground the sublime, larger-than-life monuments of Timur (Tamerlane) and the city�s long, rich history still work some kind of magic. You can visit most of Samarkand�s high-profile attractions in two or three days. If you�re short on time, at least see the Registan, Gur-e-Amir, Bibi-Khanym Mosque and Shah-i-Zinda.

Away from these islands of majesty, Samarkand is a well-groomed modern city, with a large Russian town of broad avenues and parks. The recent walling off of parts of the old town and the pedestrianisation of Toshkent street has led to the 'Disneyfication' of some areas, but there's enough grandeur left to say that Samarkand remains a breathtaking place to visit.

Check in at hotel on arrival and rest for a while

Later dinner at local restaurant

Overnight at Samarkand

Day 7

Samarkand sightseeing / Evening High Speed Train to to Tashkent

After breakfast, a sightseeing tour of Samarkand

Visit to Ulugbekv observatory & Registan Square - the center of the Great Silk Road.

Ulugbekv observatory
Among the historical monuments of Samarkand, the special place occupied by the remains of the observatory, built by Ulugbek on the Kuhak hill near Samarkand in 1424-1428 years.

According to archaeological remains can be concluded that the Ulugbek observatory was one of the biggest in the East. According to our reconstruction, the observatory has the form of cylindrical three-storey building

Registan Square - the center of the Great Silk Road
The Registan Square is a real gem located in the very heart of the ancient city of Samarkand. It has gained its worldwide fame thanks to the great architectural ensemble that has become a monument of the oriental architecture. From three sides, the square is surrounded with grand madrassah, portals of which are facing the center of the space. All three erections have their own unique d�cor. It is by virtue of these buildings, preserved on the territory of the city, Samarkand was included in the UNESCO World Heritage List in 2001.

Lunch at local restaurant

Later carry on sightseeing to Siyob bazaar, Shahi Zinda - city of the dead, but with an incredibly positive and peaceful energy.

Siyob bazaar
Siyob Bazaar also called Siab Bazaar, is the largest bazaar in Samarkand. All daily necessities, such as "Samarkand naan" are sold.

Shahi Zinda - city of the dead

Samarkand�s most moving and beloved site is this stunning avenue of mausoleums, which contains some of the richest tile work in the Muslim world. The name, which means �Tomb of the Living King�, refers to its original, innermost and holiest shrine � a complex of cool, quiet rooms around what is probably the grave of Qusam ibn-Abbas, who is said to have brought Islam to this area in the 7th century. The most stunning Timurid-era tilework dates from 14th and 15th centuries.

In the shops you can see vintage photos of old Samarkand and its inhabitants, Gur Emir � the mausoleum of the great empire Temurids that houses the Amir Temur�s remains.

Dinner at a local restaurant

Later Samarkand to Tashkent by high-speed train 35 kms., 2 hrs. 30 mins. journey

Upon arrival in Tashkent, meet & greet by our representative at the station and transfer to hotel for check in

Overnight at Tashkent

Day 8

Tashkent / Shopping Tour / Departure flight

After breakfast we will check out from the Hotel by noon

Proceed to lunch and later shopping tour with visit to Alay Bazaar, Samarkhand Darvaza Mall or Mega Planet Mall

Later in the evening, transfer to Tashkent International Airport for departure flight
Notes
Round the Year Destination ... Extension recommended to Azerbaijan and Georgia
Hotels
Tour Inclusions [Best of Uzbek]
Accommodation as stated
Transfers & sightseeing by excellent vehicle
Breakfast at hotels
Dinners at local restaurants
Services of local English-speaking guides during sightseeing
Entrance fees to monuments
Air tickets (Tashkent – Urgench [Khiva] – Bukhara)
Railway ticket (Samarkand – Tashkent)
Notes on itinerary
All our itineraries are "Just for Ideas" ... We will get to know you and customise an itinerary just for you that matches your requirements ... dates of travel, category of hotels, preferred airline, flexibility in choosing sightseeing, mode of travel between cities, etc.
Many of our clients have us design more relaxing, slower paced holidays with more in-depth experiences whereas some simply want to visit various destinations and cover only the highlights.
Together, we will determine the ideal route, pace of travel, accommodations, levels of pampering, style of touring, sightseeing to be included, dining preferences, adventure levels, options to meet locals, dates of travel & much more ! and based on this arrive at a price.
Do feel free to get in touch with us by a quick call on +91 79 29602961 or a short mail on mail@destinations4india.com ... Looking forward