Off Beat Uttarakhand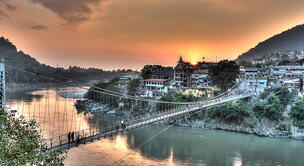 Uttarakhand is a place of myth and mountains. Hindus think of it as Dev Bhoomi – the Land of Gods – and the dramatic terrain is covered with holy peaks, lakes and rivers. Twisting roads and high-altitude hiking trails lead to spectacular pilgrimage sites where tales from Hindu epics are set. Though the presence of Shiva and Parvati (in a few of her forms) tower over the state, the imprint of the British is equally apparent: the legend of Jim Corbett lives on in the famed tiger reserve that bears his name; popular holiday towns were once Raj-era hill stations; and the Beatles turned Rishikesh into a magnet for spiritual seekers and yoga practitioners worldwide.

Uttarakhand may seem like a silver medallist: it's the state with the second-highest tiger population (after Karnataka) and has India's second-highest peak (Nanda Devi); but its diversity of activities and sheer natural beauty are pure travellers' gold.

We are pleased to offer you an Incredible Holiday Destination for visit round the year. Covering the Best of Uttrakhand - Rishikesh, Kanatal & Mussoorie, these destinations give you an exposure to Himalayas as well as touches divinity within you !
Itinerary
Day 1

Arrival Dehradun

Arrive Dehradun airport, meet & greet by our representative, transfer to Rishikesh [50 kms. - 1 to 2 hrs. drive]

Ever since the Beatles visited the ashram of the Maharishi Mahesh Yogi in the late '60s, Rishikesh has been a magnet for spiritual seekers. Today it styles itself as the 'Yoga Capital of the World', with masses of ashrams and all kinds of yoga and meditation classes.

The action is mostly north of the main town, where the exquisite setting on the fast-flowing Ganges River, surrounded by forested hills, is conducive to meditation and mind expansion. In the evening, an almost supernatural breeze blows down the valley, setting temple bells ringing as sadhus ('holy' men), pilgrims and tourists prepare for the nightly ganga aarti (river worship ceremony). You can learn to play the sitar or tabla; try Hasya yoga (laughter therapy), practise meditation or take a punt on crystal healing.

Rishikesh is not all spirituality and contorted limbs, it's also a popular white-water rafting centre, backpacker hang-out and Himalayan-trekking gateway.

Check in at Hotel

Day at leisure or one can go for River Rafting at Brahmpuri or Shivpuri

River Rafting at Brahmpuri or Shivpuri : Rishikesh, the 'Yoga capital of India', is also known as a paradise for adventure enthusiasts. River rafting in Rishikesh is one of the most popular things to do in Uttarakhand state. The experience of cruising on the challenging waters of the holy Ganges is truly memorable, and allures rafters from all across the globe, every year. The high adrenaline rush is clubbed with stunning landscapes and is an amazing experience.

Dinner & Overnight at Rishikesh

Day 2

Rishikesh - Local sightseeing

After breakfast, day at leisure for local sightseeing of Rishikesh & Haridwar

Ram Jhula : Positioned in Muni Ki Reti, Ram Jhula is one of the most popular attractions of Rishikesh. This bridge was constructed later than the Laxman Jhula, in the year 1980. Both these bridges are quite similar in design and steel construction. Ram Jhula is placed a few miles downstream from Laxman Jhula and links Swarg Ashram on the western bank of River Ganga to the Sivananda Ashram on the eastern one.

Laxman Jhula : Built in 1939, Laxman or Lakshman Jhula is a suspension bridge in Rishikesh With a length of 450 feet and at a height of around 70 feet from the river. According to Hinduism, this bridge is built in the same place, where Lakshmana once crossed the river Ganges on a jute rope, thus making this another important pilgrim attraction.

Neelkanth Mahadev Temple : Situated at a height of 1675 meters, on a hill above Swarg Ashram the Neelkantha Mahadev Temple is one of the most important shrines dedicated to Lord Shiva in the Republic of India. In Hindu mythology, the temple stands at the exact spot where lord Shiva drank the Venom 'halahala' that originated after the churning of the ocean by the Devas and Asuras in order to obtain the Amrita or the elixir of life.

Jumpin Heights for Adventure activities : Rishikesh is one place which does not only provide the visitors with a dose of spirituality but also a taste of the thrill of adventure sports. The best example of such an offering is the Jumpin heights centre, which is a must visit for adventure enthusiasts. It is one of the most recommended places to visit for adventure sports like Flying Fox, Giant Swing, Bunjee jumping in Rishikesh because of their safety precautions, experienced instructors and location.

Later visit Haridwar

Haridwar is the gateway to the four pilgrimages of Uttaranchal. It's also a starting point on the journey to the sacred sources of the rivers Ganga and the Yamuna.

According to legend, Prince Bhagirath performed penance here to salvage the souls of his ancestors who had perished due to sage Kapil's curse. The penance was answered and the river Ganga trickled forth from Lord Shiva's locks and its bountiful water revived the sons of King Sagara. In the tradition of Bhagirath, devout Hindus stand in the sacred waters here, praying for salvation of their ancestors.

While at Haridwar you may visit sacred bathing ghat Har ki Pauri, it is also known as Brahmakund, where you can experience the evening prayer offered to Goddess Ganga.

Evening Ganga Aarti : Ganga Aarti is a religious prayer that takes place at the bank of the sacred river Ganga at the Har-ki-Pauri ghat in Haridwar. Bringing in tourists and devotees from all over the world, it is a ritual of light and sound where the priests perform prayers with bowls of fire and the ringing of the temple bells. Visitors float "diyas" (small candles) and flowers, surrounded by the chanting of the mantras and the reflection of the lights off the surface of the flowing river, which is said to be blessed by the Goddess Ganga.

Later drive back to Rishikesh

Dinner & Overnight at Rishikesh

Day 3

Rishikesh to Kanatal

After breakfast, transfer from Rishikesh to Kanatal [105 kms. - 2 to 3 hrs. drive].

A few decades ago there used to be a lake by the name of Kanatal; now it has dried up and hence the name Kanatal, literally meaning "one eyed lake" in Hindi. To make it memorable, the place was named Kanatal.

Kanatal is popular for the view of snow-clad Himalayan peaks. Following are some of the places of interest one can cover while at Kanatal apart from indulging in some trekking

Upon arrival check in at Hotel

Rest of the day at leisure to enjoy the Himalayan Views

Dinner & Overnight at Kanatal

Day 4

Kanatal

After breakfast, day at leisure to relax or local sightseeing

Kodia Jungle : Kodai Jungle is paradise for photographers and nature lovers. It is an easy trek of say 5 to 6 km almost 1km from Kanatal en route Chamba. The trek amidst the thick cover of greenery affords amazing view of huge stretch of valleys and hills along with many natural springs on the course. One can spot animals like musk deer, kakar, wild boar Ghoral etc and many species of birds.

New Tehri : New Tehri in Kanatal provides a fascinating view of the Tehri Dam. Located in the state of Uttarakhand, this is the only planned city in the state. Surrounded by the enchanting views of the mountains and the mighty waters of the Tehri dam, this is one picturesque destination. This lovely location is shrouded in incredible natural beauty and is a perfect getaway from the din of regular life.

New Tehri located in the vicinity of some popular local tourist spots. Kirtinagar is a small town located on the banks of the Alaknanda river and is the best way to experience the local life first hand. The Chandrabandini temple is a holy shrine dedicated to Goddess Sati and is a highly revered Shakti Peeth.

Chamba : Situated 17 km from Kanatal, Chamba is one of the major tourist attractions among travellers. Apart from offering the panoramic views of Himalayas, it also provides an amazing view of the holy River Bhagirathi. Perched at the height of 1676m above the sea level, Chamba is a place to relax while bounded by pines and deodars all around.

Dhanaulti [also mentioned under Mussoorie sightseeing] : Located on the Mussoorie - Chamba route almost 22km from Kanatal, Dhanaulti is a land of hidden treasures. With very few travellers aware of the degree of beauty, the raw trails are almost untouched. Bounded by thick cover of rhododendrons, deodar and oak, the snow covered peaks, green valleys and pleasant weather makes it ideal getaway to rejuvenate your mind.

Surkanda Devi Temple [also mentioned under Mussoorie sightseeing] : Situated near Dhanaulti, Surkanda Devi Temple is perched at an exhilarating altitude of 3030m above the sea level. The temple is dedicated to Goddess Sati and is approachable by an easy trek of about 2 km.
The temple attracts large number of devotees throughout the year. Apart from the religious aspect, the trek itself is quite full of natures bounty. Enriched in flora and fauna, the trail offers splendid view of Himalayas and has a beautiful effect of tranquility about it.

Dinner & Overnight at Kanatal

Day 5

Kanatal to Mussoorie

Transfer from Kanatal to Mussoorie [50 kms. - 2 hrs. drive]

Perched on a ridge 2km high, the 'Queen of Hill Stations' vies with Nainital as Uttarakhand's favourite holiday destination. When the mist clears, views of the green Doon Valley and the distant white-capped Himalayan peaks are superb, and in the hot months the cooler temperatures and fresh mountain air make a welcome break from the plains below.

Established by the British in 1823, Mussoorie became hugely popular with the Raj set. The ghosts of that era linger on in the architecture of the churches, libraries, hotels and summer palaces. The town is swamped with affluent Indian tourists between May and July, when it can seem like a tacky holiday camp for families and honeymooners, but at other times many of the 300 hotels have vacancies and their prices drop dramatically. During monsoon, the town is often shrouded in clouds.

Upon arrival check in at Hotel

Rest of the day at leisure to relax or visit the Mall Road


Most famous promenade in Queen of the Hills, Mussoorie is The Mall. Like other hill stations Mussoorie has a Mall road with a valley view on one side. However the valley side is getting full with shops and restaurants living narrow paths to have a view of the valley.

At an height of above 2000 mtrs, The Mall is major attraction in Mussoorie. Almost every visitor of Mussoorie have to visit the beautiful Mall Road which stretches from Picture Palace at east to the Library at the west. all Road is the main market / shopping area of Mussoorie.

It has Library Chowk at one end and Picture Palace 2 km away which is the other end. In between there are shops and shops and shops, hotels, restaurants and hotels, coffee shop

Dinner & Overnight at Mussoorie

Day 6

Mussoorie

After breakfast, day at leisure for local sightseeing

Camel's Back Road : The place offers a picturesque view of the sunset and a life like resemblance of a sitting camel. One can also enjoy long walks and horse riding here.

Lake Mist : About 5 km before Kempty falls on the Mussoorie-Kempty road is a developed good picnic spot with accommodation and restaurant facilities, boating is also available. The place showcases nature in an exquisite manner. With the Kemptyriver flowing through it, Lake Mist has many small but beautiful waterfalls made by the river. Thus, this is a gem in the queen of hills.

Gun Hill : One can enjoy a thrilling ropeway ride to Gun Hill, the second highest peak of Mussoorie(2122 mts). The peak offers a panoramic view of the Himalayan ranges.

Cable Ride : Enjoy a Ropeway ride to the second highest peak of Mussoorie. It can also be negotiated by bridles path which forks-off from Mall Road near Kutchery and to reach takes about twenty minutes. The Ropeway distance is only 400 mtrs. And the sheer thrill of the ride is memorable.

Mussoorie Lake : A newly developed picnic spot situated on Mussoorie-Dehradun road. The lake is situated at 6 km on Mussoorie-Dehradun road having a facility of pedaled boats. It offers an enchanting view of Doon Valley and nearby villages. View during Night is marvelous.

Vinog Mountain Quail Sanctuary : 11 Kms to the south of Library Point lies an old sanctuary established in 1993 and covering an area of 339 hactares. It is famous for the extinct bird species, Mountain Quail(PahariBater), which was last spotted in 1876.

Kempty Fall : 15 kms from Mussoorie on the Yamunotri Road is the most fascinating and the biggest water fall, Kempty located in a beautiful valley of Mussoorie.

Dhanaulti – Dhanolti : 24 Kms from Mussoorie. DhanaultiDhanolti provides a breath-taking view of the valleys and the Himalayan peaks. The long wooded slopes, lazy outings, cool caressing breeze, warm and hospitable inhabitants, lovely weather and fabulous view of of snow covered mountains makes it an ideal retreat for a relaxed holiday.

Nagtibba : 34 kms from Mussoorie one reaches Thatyur. 7 Kms further is devalsari and a 14 kms further trek to Nagtibba is an ideal spot for trekking.

Surkanda Devi : Situated at an elevation of 3030 mts above sea level near village Kaddukhal the temple of Surkanda Devi is 33 kms from Kaddukhal and one has to trek about 2 kms. The temple of Surkanda Devi is situated on the top of the mountain and is of great religious significance. A fair is held every year on "Ganga Dussehra" during May-June in which thousands of people participate.

Dinner & Overnight at Mussoorie

Day 7

Mussoorie to Dehradun

After breakfast, morning is at leisure

Later transfer to Dehradun Airport [60 kms. - 2 hrs. drive] for your onward flight
Notes
Round the Year Destination ... Extension recommended to Corbett, Nainital & Other Destinations around Uttranchaal
Hotels
Tour Inclusions [Off Beat Uttrakhand]
02 nights stay at Rishikesh
02 nights stay at Kanatal
02 nights stay at Mussoorie
Daily breakfast & dinner at hotels
All sightseeing and transfers by private vehicle
All Taxes included
Notes on itinerary
All our itineraries are "Just for Ideas" ... We will get to know you and customise an itinerary just for you that matches your requirements ... dates of travel, category of hotels, preferred airline, flexibility in choosing sightseeing, mode of travel between cities, etc.
Many of our clients have us design more relaxing, slower paced holidays with more in-depth experiences whereas some simply want to visit various destinations and cover only the highlights.
Together, we will determine the ideal route, pace of travel, accommodations, levels of pampering, style of touring, sightseeing to be included, dining preferences, adventure levels, options to meet locals, dates of travel & much more ! and based on this arrive at a price.
Do feel free to get in touch with us by a quick call on +91 79 29602961 or a short mail on mail@destinations4india.com ... Looking forward