Best of Switzerland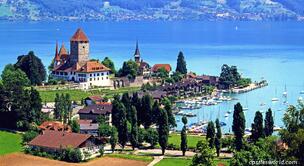 Look beyond the chocolate, cuckoo clocks and yodelling – contemporary Switzerland, land of four languages, is all about once-in-a-lifetime journeys, heart-racing Alpine pursuits and urban culture.

Great Outdoors
Switzerland's ravishing landscapes demand immediate action – grab boots, leap on board, toot bike bell and let spirits rip. Skiing and snowboarding in Graubünden, Bernese Oberland and Central Switzerland are winter choices. When pastures turn green, hiking and biking trails abound in glacier-encrusted mountain areas and lower down along lost valleys, glittering lake shores and pea-green vineyards. View the grandeur from a hot-air balloon or parachute, or afloat a white-water raft.

Urban Edge
The perfect antidote to rural beauty is Switzerland's urban edge: capital Bern with its medieval old town and world-class modern art, deeply Germanic Basel and its bold architecture, chic Geneva astraddle Europe's largest lake, party-loving Lausanne, tycoon magnet Zug and uber-cool Zürich with its riverside bars, reborn industrial west district and atypical street grit. Castles and craft beer, gigs and new-wave restaurants – you'll find the lot in Swiss cities. And never has the urban been so close to the outdoors: within minutes you can reach nearby peaks, chill at waterfront bars with Alpine views, or enjoy invigorating swims in the Rhine, Aare and Limmat.

Alpine Tradition
Variety is the spice of rural life in this rich, earthy land where Alpine tradition is rooted in the agricultural calendar and soaring mountains are a dime a dozen. Travels are mapped by villages with timber granaries built on stilts to keep the rats out and chalet farmsteads brightened with red geranium blossoms. Ancient markets, folkloric fairs, flag waving and alp-horn concerts engrave the passing of seasons in every soul. And then there's the food: a hearty and flavoursome gastronomic celebration of gooey cheese desperate to be dipped in, along with velvety chocolate, autumnal game and air-dried meats.

Avant-Garde Culture
Ever innovative, the Swiss have always embraced the new and the experimental. Capturing the zeitgeist up and down the country are cultural venues, attention-grabbing architecture and avant-garde galleries. Bern's wavy Zentrum Paul Klee bearing architect Renzo Piano's hallmark, Basel's Frank Gehry–designed Vitra Design Museum and astounding Fondation Beyeler, Lugano's Mario Botta–splashed centre and state-of-the-art MASI gallery, and Geneva's thought-provoking Musée d'Art Moderne et Contemporain in a revamped 1950s factory are just the tip of the cultural iceberg. Even in back-of-beyond corners of the Alps you'll encounter unexpected nods to modern aesthetics, contemporary art and fresh-faced design.

Stay for 7 nights is offered at Lucerne in the below detials. Same can be replaced with stay at Interlaken or any other central location from where entire Switzerland can be explored.

After Lucerne, we have offered stay for 2 nights at charming city of Montreux ... which again can be replaced with stay at Lausanne

And last night stay has been offered at Geneva, being the departure city, it's best to avoid last minute rush to catch the flight or board a train for onward journey !
Itinerary
Day 1

Arrival Zurich

Welcome to Switzerland !

Look beyond the chocolate, cuckoo clocks and yodelling – contemporary Switzerland, land of four languages, is all about once-in-a-lifetime journeys, heart-racing Alpine pursuits and urban culture.

Switzerland's ravishing landscapes demand immediate action – grab boots, leap on board, toot bike bell and let spirits rip. Skiing and snowboarding in Graubünden, Bernese Oberland and Central Switzerland are winter choices. When pastures turn green, hiking and biking trails abound in glacier-encrusted mountain areas and lower down along lost valleys, glittering lake shores and pea-green vineyards. View the grandeur from a hot-air balloon or parachute, or afloat a white-water raft. Then there's those must-do-before-death experiences like encountering Eiger's chiselled north face up close or reaching crevassed ice on Jungfraujoch. Most extraordinary of all, you don't need to be a mountaineer to do it.

Upon arrival at Zurich, take train directly from station at airport to Lucerne ... A journey of 1 hr. 30 mins.

Boasting invigorating mountain views, lake cruises and a picturesque old quarter, LUZERN (Lucerne in French and English, Lucerna in Italian) has long been one of Europe's most heavily touristed towns.

When Queen Victoria came for a long holiday in August 1868 (checking in under a pseudonym), the town was already renowned, and a century of steady growth has resulted these days in five million admirers passing through each year.

Tourism is the leading source of income, and yet the city has adeptly managed to retain all of its charm.

The River Reuss splits the town, flowing rapidly out of the north western end of the lake. River banks on both sides are clustered with medieval squares, frescoed houses, ancient guildhalls, churches and chapels, and filled with a liveliness that belies the city's age.

Check in at Hotel / Apartment

Day at leisure to explore streets around Lucerne Lake on your own

The city rests beside Lake Lucerne, couched in a heart-lifting mountainous landscape. Both the lake and the mountains are at your fingertips, whether you feel like a paddle steamer cruise or want to conquer a mighty Alpine peak like Pilatus or Rigi.

There's also plenty to occupy you in the city, on the historic streets of the traffic-free Old Town, where medieval guildhalls have frescoes on their facades. You'll venture over medieval wooded bridges with paintings in their ceiling vaults, and scale a line of powerful defensive towers. For more recent wonders see the poignant Lion Monument for Louis XVI's massacred Swiss Guard, and a park of glacial potholes formed during the last ice age.

Overnight at Lucerne

Day 2

Lucerne / Local sightseeing

Day at leisure for Lucerne sightseeing

Aside from using Luzern as a base from which to explore the region, it would be easy to spend at least a couple of days taking in some of its quality museums – a Picasso gallery, the impressive Verkehrshaus (Transport Museum) – in between walking on the medieval battlements, and exploring cobbled alleys and hidden garden courtyards.

But Luzern is no museum piece; café culture is treasured by the city's large population of young people, and at midnight on a weekend night, the main Pilatus strasse boulevard has the feel of any European capital, with people bar-hopping, waiting for the last bus, or hanging out deciding where to go.

Whether you're charmed by Luzern's sense of history and tradition, or by the misty lake at its doorstep and the snow-capped Pilatus rising above, or even by its nightlife, charmed is what you'll be.

Lake Lucerne - Among several routes and excursions, there is a lunch boat where you can enjoy the scenery and a good Swiss lunch aboard the ship.

Verkehrshaus - Swiss Transport Museum - It is located just outside Luzern, directly on the lake. Europe's largest, most comprehensive Transport Museum. With everything that keeps the Swiss on the move, that marks the development of transport and communications it also has a IMAX theater.

Mt. Pilatus - Lucerne's landmark - Two cable cars make the north side of the mountain accessible and on the south flank the world's steepest cogwheel railway climbs gradients of 48% on its way to the peak. Take warm clothes and good shoes.

Overnight at Lucerne

Day 3

Lucerne / Trip to Interlaken & Jungfrau

Trip to Interlaken ... Scenic journey by train is 2 hours, one way

Interlaken lies in the Bernese Oberland on an alluvial plain, between Lake Thun and Lake Brienz. The vacation destination, which is presided over by the three mighty mountains, Eiger, Mönch and Jungfrau, is the starting point for numerous activities.

Interlaken's success as a tourist destination was further enhanced by the completion of the Bernese Oberland Railway in 1890 and the Jungfrau Railway in 1912. As a vacation destination and convention location of international importance, Interlaken is an ideal starting point for countless excursions.

Over 45 mountain railways, cable cars, chair lifts and ski lifts lead to 200 kilometers of pistes and a dense network of hiking trails.

Crystal-clear lakes, sparkling streams and fantastic falls, caressed by the rays of the sun.The towering trio of the Eiger, Mönch and Jungfrau, standing like stately sentinels over a wonder world of eternal snow. And between these captivating contrasts, a treasure trove of holiday delights just waiting to be discovered.

Here are just a few of the many attractions which never fail to fascinate vacation visitors to the Interlaken region of Switzerland.

Jungfraujoch and Schilthorn - The rides by rack-railway to the highest railway station in Europe and the cableway to the Piz Glora revolving restaurant: two top mountain experiences in the Bernese Oberland. Jungfraujoch, popularly known as Top of Europe is the highest railway station in Europe, Snow and ice 100% guaranteed!Schilthorn-Piz Gloria gives the most spectacular 360° panorama in the Alps!

Schynige Platte near Wilderswil - Nostalgic rack-railway, fascinating view of Eiger, Mönch and Jungfrau, Alpine garden with about 500 plant species and a lot of hiking possibilities.

Boat Cruises on Lake Thun and Brienz - Enjoy an outing on a motor-powered vessel or on an elegant, restored paddle-wheel steamboat.

Caution : While visiting the peaks, it is advisable to wear woolens as well as sun glasses

Back to Lucerne by evening

Overnight at Lucerne

Day 4

Lucerne / Trip to Engelberg & Mt. Titlis & Chocolate factory

Trip to Engelberg, Mt. Titlis & Chocolate factory ... 45 mins. by train

Mount Titlis and Rotair cableway - Highest glacier excursion destination and biggest ski and snowboard paradise in Central Switzerland, accessible by rotating cablecar. The Titlis and its glacier park are accessible by revolving rotair cableway. At an altitude of 3020 metres above sea level visitors are treated to a fabulous view of the central Alps. The Titlis Glacier Park and 'Ice Flyer' chairlift are a paradise for those keen to glide down the slopes on skis or some of the other snow-gliding equipment for beginners and adventurers which is available free of charge. And there are a freestyle park, glacier grotto in the eternal ice and walking options on the Titlis.

Engelberg Monastery - The biggest church organ in Switzerland, collegiate library and exhibition cheese diary are the most important attractions of the monastery.

Four-lake tour - Magnificent tour from mirror-smooth Lake Trüb to deep blue Lake Engstlen, on to turquoise Lake Tannen all the way to picturesque Lake Melch.

Chocolate Factory Trip : The Swiss like to think they make the best chocolate in the world. Bold statement, I know. But I don't think it's too far fetched. After all, who doesn't love a good handful of Lindor chocolates or a couple of Toblerone triangles? Right. Nobody. This comprehensive 4-hour tour set against the backdrop of Lucerne Castle and the Swiss Alps allows you to cover the city by boat and foot, while tasting some of the best chocolate in the world. Shutterbugs will love the boat tour, which takes you past the famous Chapel Bridge and Lucerne's distinct buildings. If a taste of chocolate isn't enough, you have the option to extend tour and add on a chocolate-making workshop.

Back to Lucerne by evening

Overnight at Lucerne

Day 5

Lucerne / Trip to Europa Park [Germany]

Trip to Europa Theme Park … Biggest Theme Park in Europe

Take a train to Freiburg for visit to Europa Park ... Journey of 2 hrs. by train

Europa-Park is the largest theme park in Germany and second most popular theme park resort in Europe. Having over 4.2 million visitors in 2009, it is the most popular seasonal theme park in the world and is only behind Disneyland Paris. The park is split into fifteen different areas, mostly named after European countries or regions. The park mascot is a grey mouse named "Euromaus" although there are over a dozen other characters that "live" at the park. Europa-Park is run by the Mack family which have produced vehicles since 1780, circus wagons since 1880 and rollercoasters since 1921.

Along with the park and rides, Europa-Park is also a major resort. It boasts four hotels, a guest house, Tipi Village and campsite.

Across the park, there are many shows performed on a daily basis, such as an Ice Show in Greece, a Gladiator Arena Show in Spain, an Acrobatics Show in an Italian Theatre and a fully re-created Globe Theatre, based on that of William Shakespeare. In addition, there are several smaller theatres and outdoor stages, street artists and a daily parade. The Magic 4D Cinema also opens during the evening and shows current blockbusters.

Back to Lucerne by evening

Overnight at Lucerne

Day 6

Lucerne / Trip to Zermatt

Trip to Zermatt ... A beautiful journey of 4 hrs. by train

Zermatt lies at the foot of the Matterhorn and in the middle of an enormous hiking and ski region makes it one of the world's most attractive vacation villages. The vacation destination is a car-free zone, has preserved its original character and offers nearly unlimited possibilities as far as excursions are concerned. The ski region encompasses 63 mountain railways and 360 kilometers of pistes. The region called "Matterhorn glacier paradise" is Europe's largest and highest lying summer skiing region. Numerous national ski teams train here in the summer.

The region is legendary amongst mountaineers: the Haute Route, a challenging international route that takes several days to complete, leads from Mont Blanc to Zermatt. Over 400 kilometers of hiking trails lead through and out of the Matter Valley, including the mule traders' trails, which date back to the 13th century.

Must Do : A ride on a mountain lift to one of the high summits above Zermatt should be a top priority. Zermatt offers a choice of three (year-round, lift-serviced) peaks - Gornergrat, Klein Matterhorn and Rothorn. Each are beautiful and appeal for different reasons..

Back to Lucerne by evening

Overnight at Lucerne

Day 7

Lucerne / Trip to Lugano & Lake Como [Italy]

Trip to Lugano & Lake Como [Italy] ... Lugano is 2 hrs. by train & Lake Como is further 45 mins.

Lugano : Ticino's lush, mountain-rimmed lake isn't its only liquid asset. The largest city in the canton is also the country's third-most-important banking centre. Suits aside, Lugano is a vivacious city, with chic boutiques, bars and pavement cafes huddling in the spaghetti maze of steep cobblestone streets that untangle at the edge of the lake and along the flowery promenade

Lake Como [Italy] : Como is the most 'James Bond' of the Italian lakes, where shiny red Ferraris weave through narrow lakeside towns and neoclassical villas take on a whole new level of opulence. Parts of the 2006 Bond movie Casino Royale were filmed here and many of the fancy lakeside hotels have a 007 price tag.

So, what's left for the hoi polloi? Plenty. Como's mountain-backed shores are furrowed with ancient paths that wind through attractive villages where for the price of a cappuccino you can while away a sunny afternoon watching beautiful people in expensive clothes. Even better, many of the historic palaces open their rooms and gardens for public viewing, meaning you can experience history vicariously like an erstwhile duke or duchess.

Back to Lucerne by evening

Overnight at Lucerne

Day 8

Lucerne to Montreux by train

Today depart for Montreux ... A journey of 2 hrs. 45 mins. by train

The town of Montreux nestles in a sheltered Lake Geneva bay, surrounded by vineyards and against the breath-taking backdrop of snow-covered Alps. The long, flower-bordered lake promenade which links Vevey and Montreux going all the way to Chillon Castle is simply asking to be strolled along.

Many of the houses along the lakeside road, including the magnificent Fairmont Le Montreux Palace, date from the hayday of the Belle Epoque. The lake is ideal for bathing, water sports or a cruise. And along the lake promenade piano and jazz bars, discos and Switzerland's oldest casino, mingle with hotels and restaurants.

Check in at hotel / apartment on arrival

Day at leisure to explore Lake side & old town of Montreux

Clinging to the steep slopes, the Old Town of Montreux seems lost on the heights – yet it takes no more than ten minutes to walk from the lakeside to this picturesque area. And it's well worth it for the view, especially from the St-Vincent Temple. The Old City is also the starting point for beautiful walks, including the famous Chauderon Gorges path.

Montreux Museum revives the rich history of Montreux and the Visinand House offers its exhibitions. As for the Montreux-Riviera Theatre (TMR), it offers, in the privacy of its 120 seats, a cheerful repertoire throughout the year.

Coming out of St. Vincent temple, the view is even more beautiful. Chillon Castle in Lavaux vineyards, the entire Upper Lake offers itself to the gaze.

Of course, typical bistros and hotels will satisfy large thirst and strong appetites. After admiring the many fountains flowing with source water of the village, why not enjoy a little Montreux wine on a terrace?

Overnight at Montreux

Day 9

Montreux / Trip to Lausanne

Montreux / Trip to Lausanne ... 20 mins. by train

Surrounded by vineyards, rolling down a trio of hillsides to the lakeshore, Switzerland's fourth-largest city, Lausanne, likes to think it gives Geneva a run for its money.

While gridlocked Geneva seems to focus on the past and its reputation for hosting more international organisations than anywhere in the world, Lausanne looks to the future. The city is known for its upbeat vibe, perhaps on account of its enviable location (vistas this end of Lake Geneva are more dramatic than Geneva's) and its high-brow though party-hearty student population – Lausanne's EPFL Research Institute is considered Europe's version of Boston's MIT. The headquarters of the International Olympic Committee are here, as well as unique museums undergoing exciting transformations and a new aquarium contrasting with the city's Gothic Old Town.

The neighbourhoods of chichi lakeside Ouchy and Flon, with its re-imagined warehouses, reflect Lausanne's hip, urban culture; both beckon you to visit.

Back to Montreux by evening

Overnight at Montreux

Day 10

Montreux to Geneva / Local sightseeing

Today take a train from Montreux to Geneva ... 1 hr. journey

Super sleek and cosmopolitan, Geneva is a rare breed of city. It's one of Europe's priciest. Its people chatter in every language under the sun and it's constantly thought of as the Swiss capital - which it isn't.

This gem of a city superbly strung around the sparkling shores of Europe's largest Alpine lake is, in fact, Switzerland's third largest city. Yet the whole world is here: the UN, International Red Cross, International Labour Organization, World Health Organization. You name it, they're in Geneva; 200-odd top-dog governmental and non-governmental international organisations meting out world affairs with astonishing precision and authority. They fill the city's bounty of plush four- and five-star hotels with big-name guests. They feast on an incredulous choice of international cuisine, cooked up by restaurants to meet 'local' demand. And they help prop up the overload of banks, luxury jewellers and chocolate shops for which the city is known.

Strolling through manicured city parks, sailing on the lake and skiing in the Alps next door are hot weekend pursuits. But, ask critics, where's the urban grit? Not in the lakeside with its tourist boats, silky-smooth promenades and record-breaking high fountain. Not in its picture-postcard Old Town. No. If it's the rough-cut side of the diamond you're after, you need to dig into the Pâquis quarter, walk west along the Rhône's industrial shores or south into trendy Carouge where rejuvenated factories, alternative clubs and humble neighbourhood bars hum with attitude.

Check in at hotel / apartment on arrival

Day at leisure to explore Geneva

While at Geneva, one must visit ... Lake Geneva, Jet d'eau (water fountain), Flower Clock, Saint Peter's Cathedral, Reformation Wall, Place Neuve, United Nations Building, Place du Bourg-de-Four and Carouge

Overnight at Geneva

Day 11

Departure from Geneva

Morning at leisure

Transfer to airport for onward flight
Notes
Round the Year Destination - Extensions availalbe to France, Austria & other European Countries
Hotels
Tour Inclusions [Best of Switzerland]
Accommodation for 10 nights
Swiss Pass & Local train tickets
Sightseeing entry tickets as per selection of options

Notes on itinerary
All our itineraries are "Just for Ideas" ... We will get to know you and customise an itinerary just for you that matches your requirements ... dates of travel, category of hotels, preferred airline, flexibility in choosing sightseeing, mode of travel between cities, etc.
Many of our clients have us design more relaxing, slower paced holidays with more in-depth experiences whereas some simply want to visit various destinations and cover only the highlights.
Together, we will determine the ideal route, pace of travel, accommodations, levels of pampering, style of touring, sightseeing to be included, dining preferences, adventure levels, options to meet locals, dates of travel & much more ! and based on this arrive at a price.
Do feel free to get in touch with us by a quick call on +91 79 29602961 or a short mail on mail@destinations4india.com ... Looking forward