Best of South Korea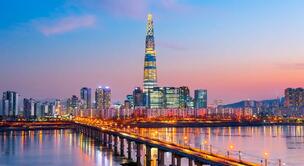 Split by a hair-trigger border, the Korean Peninsula offers the traveler a dazzling range of experiences, beautiful landscapes and 5000 years of culture and history.

Welcoming Hospitality

Decorum plays a major role in Korean people's generosity to outsiders, and their instinctive graciousness possesses a highly endearing quality. Helpfulness abounds, whether it's at a tourist office, asking someone for directions or finding yourself deep in a conversation with a stranger. Time-honoured Confucian principles have set a template for strong civic pride in a society that is introspective, perhaps, but also decorous and affirmative. You may pass glorious landscapes and gaze out across dazzling seas but don't forget, half of your travel journey will be about the people, and the Korean tribe are a joy to be among.

Urban Buzz

Korea might be known as the Land of the Morning Calm, but dive into its capital Seoul, the powerhouse of Asia's third-largest economy, and serenity may be the last thing you'll perceive. This round-the-clock city is constantly in motion, with a work-hard, play-hard mentality that epitomises the nation's indefatigable, can-do spirit. You can hardly turn a corner without stumbling across a helpful tourist information booth, a bustling subway station or a taxi in this multifaceted metropolis where meticulously reconstructed palaces rub shoulders with teeming night markets and dramatically modern architecture.

Idyllic Countryside

South Korea's compact size and superb transport infrastructure mean that tranquillity is always within easy reach of urban sprawl. Hike to the summits of craggy mountains – some of which transform into ski slopes come winter – enveloped within densely forested national parks. Get further off the beaten path than you thought possible by sailing to remote islands, where farming and fishing folk welcome you into their homes or simple seafood cafes. Gaze up at the distant stars from serene villages surrounded by rice fields, sleeping in rustic hanok (traditional wooden house) guesthouses.

Festivals & Food

Rest assured the ROK also knows how to rock. A packed calendar of festivals and events means there's almost always a celebration of some sort to attend wherever you are – it might be Boryeong for its mud fest, or Gwangju for its Biennale or its annual salute to that most Korean of foods: kimchi. Koreans are proud of their culinary culture and rightly so – there's a tantalising array of dishes, flavors, aromas and textures in the local cuisine, to be washed down with plenty of toasting involving a head-spinning array of alcoholic concoctions.

Itinerary
Day 1

Arrival Seoul / Transfer to Mt Seorak / Enroute sightseeing

Arrive at Incheon airport Seoul. Meet & greet by our guide. Drive to Mt. Seorak-San ... 195 kms.

One of the most beautiful and iconic parks on the entire Korean Peninsula, and a draw for Koreans and travellers from all over, Seoraksan National Park is a Unesco Biosphere Protection site. Seorak-san (Snowy Peaks Mountain) is the third-highest mountain in South Korea, with its highest peak, Daecheong-bong soaring to 1708m. Set within this landscape are two stately Buddhist temples, Sinheung-sa and Baekdam-sa.

Enroute visit Gwongeumsung Fortress Via Cable Car, Shinheungsa Temple and Grand Buddha Statue.

Journey towards Mt. Seoraksan, also known as Mt. Sorak, the highest in the Taebaeksanmaek Mountain Range. This area boasts beautiful landscape and scenery all year round. The national park, designated a UNESCO Biosphere Reserve, covers 154 square miles (398 sq km) and is home to more than 2,000 animal species and 1,400 rare plant species. As you follow your guide along a well-maintained path, keep an eye out for a variety of animals such as musk deer.

Next, you'll proceed to the Gwongeumseong Fortress by cable car. It is also called Gwon-Kim Castle as there was a legend that two generals named Gwon and Kim built the castle to avoid war. As you ascend, view the interesting rock formations of the Gwongeumseong region, including Ulsanbawi Rock, and watch the East Sea come into sight.

Let your guide show you around the mountain's Shinheungsa Temple, with its giant bronze Buddha standing guard. Then you'll be transferred to Daepohang Port Fish Market, where eel, flounder, yellowtail and gourmet seafood are sold. See the lively stalls and restaurants surrounding the fish market, selling dishes featuring the local seafood.

Check in at hotel upon arrival at Mt. Seorak

Evening at leisure

Overnight in Mt Seorak

Day 2

Mt Seorak to Danyang / Enroute sightseeing

After breakfast depart for Danyang ... 135 kms.

A little gem of a resort town, Danyang is cosied right up against the mountains of Sobaeksan National Park, at a bend in the river Namhan-gang.

This is small-town Korea at its most charming: you can stay at a riverfront motel and explore limestone caves, hiking trails and a one-of-a-kind Buddhist temple, basking in wooded mountain views wherever you go and paragliding down from peaks above town. It's a great place to dawdle for a couple of days and just stay put.

The name of the town means 'Cinnabar Sun': indeed, when the sun goes down over the hills and the river, have your camera handy for photogenic shots.

Enroute visit Chungju Lake for a Cruise & Gosu Cave

Chungju Lake Cruise

Chungjuho Lake is the nation's largest lake, and was formed after the construction of Chungju Dam. When constructing the dam, an approximately 66.48㎢-area was submerged throughout three region in Chungju, Danyang and Jecheon. Even though nearly 50,000 people lost their hometown, the lake became a famous tourist spot of the region, along with Woraksan National Park, Songgye Valley, Cheongpung Culture Center, Eight Sceneries of Danyang, Gosu Cave, Guinsa Temple, Suanbo Hot Springs, Nodong Cave and other spots.

From Chungju Dam to Janghoenaru, it takes approximately 1 hour 30 minutes, making it a long-distance course and offers special sightseeing on board. This course also holds great views of Chungjuho Lake and Yeongbong Peak of Woraksan Mountain, the surrounding scenery of Woraknaru, and two scenic spots of Danyang which are Gudanbong and Oksunbong Peak featuring uniquely-shaped rocks and peaks. This course is the most attractive among Chungjuho ferry excursion routes.

Gosu Cave

Gosu Cave is a multi-level limestone cave located near the town of Danyang in the Chungcheonbuk-do province. It's tens of millions of years old, having formed over time from limestone that was deposited during the Ordovician Period (around 450 million years ago). When the cave was discovered, tools and instruments were discovered near the entrance suggesting that the cave was once home to prehistoric humans.

It opened to the public in 1976 and was designated a Natural Monument. The length of the cave is approximately 1395 metres and much of it can be explored via metal walkways and stairways twisting through the caverns. Its stunning geological features have earned it a nickname of "underground palace".

Later continue drive to Danyang

Check in at hotel on arrival

Evening at leisure

Overnight in Danyang

Day 3

Danyang - Andong - Gyeongju

After breakfast, depart for Gyeongju via Anong ... 145 kms.

Famous for its mackerel, particularly strong soju (local vodka), wooden masks and myriad ancient sites, Andong is the capital of Gyeongsangbuk-do and makes a terrific base for exploring the numerous historical and cultural diversions in the surrounding area. The city itself has a very laid-back vibe, with a good selection of places to eat and stay. The old hanja name for the city that you will see outside the train station and in other places is (Peaceful East), pronounced exactly the same in modern day Mandarin Chinese (Āndōng).

Visit Andong Hahoe Village

This delightful traditional riverside village – a Unesco World Heritage site – is a place to commune with the traditional fabric of old Korea and, in the busy months, with large crowds of visitors. Avoid the weekends, go off-season and be rewarded with a glimpse of bucolic enchantment and the gentle rhythms of countryside village life. Cross the river or drive to Buyongdae Cliff for the bird's-eye perspective and search out the sacred Goddess Samsin Tree at the heart of Hahoe.

The name Hahoe means 'River Returning', which reflects the village's position at a looping bend in the Nakdong River. Some Korean folk villages can seem a bit artificial but Hahoe has 230 residents who give the place life and the sensation of a working community; this also means it is important to respect people's privacy if you step beyond a house threshold

Continue drive to Gyeongju

Known as 'the museum without walls', Gyeongju (경주) has more tombs, temples, rock carvings, pagodas, Buddhist statuary and palace ruins than any other place in South Korea. It's a lovely city, stuffed to the gills with history.

Most visitors touring the city center are taken aback by the distinctive, low-lying urban centre sculpted by astonishing and substantial round grassy tombs – called tumuli – as well as traditional architecture, with colorful hip roofs set against a canvas of green rolling mountains.

Two of Gyeongju's not-to-be-missed sites – Bulguk-sa and Seokguram – are in the outlying districts, within reach of public transport. Gyeongju and its surrounding districts covers a vast area – some 511 sq mi (1323 sq km) – so you should plan on several days' stay if you want to visit some of the lesser-known places.

Upon arrival visit Gyeongju Heaven's Horse Tomb

Cheonmachong tomb dates from the Silla era between the fifth and sixth centuries AD. Until 1973 the tomb remained uncatalogued and unexcavated, lying undisturbed in the densely populated Gyeongju valley. Excavation began on April 6, 1973 as part of a comprehensive archaeological study of the Gyeongju area.

The tomb is 47 meters in diameter and 12.7 meters in height. A coffin was the first artifact to be discovered after months of digging, and treasures were found about 100 days later.

On July 15 artifacts such as golden jewelry, beads, a sword, belts, and shoes were found. The most important find was a gold belt about 125 centimeters long, probably worn by the king. Also found on that day was an unglazed stoneware pot with a dragon head and turtle body, which probably once functioned as a lamp.

Later check in at hotel

Overnight in Gyeongju

Day 4

Gyeongju to Busan

After breakfast, depart for Busan ... 80 kms.

Enroute visit Bulguksa Temple & Seoguam Grotto

Established in the 8th century under the Silla Dynasty, on the slopes of Mount Tohamsan, Seokguram Grotto and Bulguksa Temple form a religious architectural complex of exceptional significance. Prime Minister Kim Dae-seong initiated and supervised the construction of the temple and the grotto, the former built in memory of his parents in his present life and the latter in memory of his parents from a previous life.

Seokguram is an artificial grotto constructed of granite that comprises an antechamber, a corridor and a main rotunda. It enshrines a monumental statue of the Sakyamuni Buddha looking out to sea with his left hand in dhyana mudra, the mudra of concentration, and his right hand in bhumisparsa mudra, the earth-touching mudra position.

Bulguksa is a Buddhist temple complex that comprises a series of wooden buildings on raised stone terraces. The grounds of Bulguksa are divided into three areas – Birojeon (the Vairocana Buddha Hall), Daeungjeon (the Hall of Great Enlightenment) and Geungnakjeon (the Hall of Supreme Bliss). These areas and the stone terraces were designed to represent the land of Buddha.

Later continue drive to Busan

Home to majestic mountains, glistening beaches, steaming hot springs and fantastic seafood, South Korea's second-largest city is a rollicking port town with tons to offer. From casual tent bars and chic designer cafes to fish markets teeming with every species imaginable, Busan has something for all tastes. Rugged mountain ranges slice through the urban landscape, and events such as the Busan International Film Festival underscore the city's desire to be a global meeting place.

On arrival visit the Busan Tower With Lift.

Busan Tower stands 120 m tall from the center of the city's Yongdusan Park. Built in 1973 and modelled on Bulguksa Temple's Dabotap Pagoda, the tower is a popular visit day and night. Head to the viewing deck via high-speed elevator, and enjoy panoramic views of Busan, South Korea's second-largest city. Come at sunset to see the city lights start to twinkle under the night sky. On the lower deck of Busan Tower, there's a souvenir shop and a cafe where you can while away the hours and enjoy the views of busy Busan port.

Later check in at hotel

Overnight in Busan

Day 5

Busan / At leisure

After breakfast, day at leisure to explore Busan

We recommend - Busan Tour with Gamcheon Culture Village

Get a comprehensive overview of Busan's highlights on this 8-hour, small-group tour. Visit the Mountain Hwangnyeong Observatory, the Gamcheon Culture Village, the Songdo Sky Walk, and other attractions. Korean barbecue lunch and round-trip transportation from your hotel are included.

Gamcheon Culture Villiage is formed by houses built in staircase-fashion on the foothills of a coastal mountain, earning this village the nickname of "Machu Picchu of Busan." The many alleys cutting through this community are vibrantly decorated with murals and sculptures created by the residents.

Yongdusan Park, one of the most popular mountains in Busan Yongdusan in downtown Busan, is one of the 3 well-known mountains in Busan. Its old name is Songhyunsan, which means a mountain has a view of the sea through the dense fine tree forest. Later the name has changed into Yongdusan. It came from its shape, which is similar to dragon head and people thought it has a spirit to defeat enemies coming over the sea.

Following the Korean War, refugees who had fled to Busan set up stalls in order to make a living, and this was the beginning of the Gukje Market (gukje meaning "international"). The Gukje Market is one of Korea's largest markets; each alleyway is crowded with stalls, and it connects to the Bupyeong Market, Kkangtong Market, and other smaller markets. The market stocks such a wide variety of goods, that you can find almost everything you need right here.

Evening at leisure to spend an evening at Haeundae beach

Haeundae beach is one of the most popular beaches in Busan. Locals & tourists flock it during day & night. The location of the beach & easy accessibility makes it one of the most sought after destinations by visitors in Busan.

The place has an amazing selection of restaurants, local eateries, international cuisines & pubs. All you need is to get up & hit the beach. I went there several times throughout the year. It gives a totally different experience in every season.

Overnight in Busan

Day 6

Busan to Seoul

After breakfast, visit Taejongdae Cliff at Busan

Taejongdae Cliff, named after the 29th King of the Silla Dynasty, King TaeJong, who enjoyed shooting arrows off the cliffs, is a must see for anyone traveling to Busan, Korea.

The southernmost tip of Yeongdo-gu offers beautiful views of the ocean, cliffs and on clear days people can even spot Daema, or Tsushima, Island of Japan. This is one of the top tourist spots in Busan and it's worth the trip it takes to get out there. Whether it's sunny, rainy, spring, summer, winter, or autumn, the views are gorgeous and the walk around the tip of the island, fun and energizing. The varying shades of blue as they wave back and forth from the cliffside out to the horizon is dreamy and there is much to be found there.

Later proceed to Seoul ... 325 kms.

Fashion- and technology-forward but also deeply traditional, this dynamic city mashes up palaces, temples, cutting-edge design and mountain trails, all to a nonstop K-Pop beat.

Design Matters
Over the last decade Seoul has worked hard to soften its industrial hard edges into an appealing urban ideal of parks, culture and design. Glass, concrete and steel are crafted into natural forms at the spectacular Dongdaemun Design Plaza & Park and City Hall. The popularity of the beautifully landscaped parks alongside the central Cheong-gye stream and the Han River has spurred on the creation of more green spaces and cycle routes. Join Seoulites enjoying time out shopping in stylish boutiques and drinking at cool cafes and convivial bars.

Historical Fragments
Gaze down on this sprawling metropolis of around 10 million people from atop any of Seoul's four guardian mountains and you'll sense the powerful pungsu-jiri (feng shui) that has long nurtured and protected the city. History clings tenaciously to the 'Miracle on the Han', a phoenix arisen from the ashes of the Korean War. So while Seoul has its eye clearly on the future, you'll also encounter fascinating fragments of the past in World Heritage–listed sites such as Jongmyo shrine, in the alleys between the graceful hanok (traditional wooden homes) in Bukchon, and striding along the magnificent Seoul City Wall.

24-Hour City
Whatever you want, at any time of day or night, Seoul can provide. An early-morning temple visit can lead to a palace tour followed by tea-sipping in Bukchon and gallery-hopping in Samcheong-dong. Soju (a vodka-like drink) and snacks in a street tent bar will fuel you for shopping at the buzzing Dongdaemun or Namdaemun night markets, partying in Hongdae or Itaewon, or singing in a self-service karaoke noraebang. Follow this with steaming, soaking and snoozing in a jjimjilbang (sauna and spa). By the time you look at your watch, it will be dawn again.

Beyond the Walls
Public transport is brilliant, so there's no excuse for not stretching your travel horizons beyond the city limits. The fearsome Demilitarized Zone (DMZ), splitting South from North Korea, exerts a powerful attraction and makes for a compelling day trip. To the west, Incheon is a fascinating port where the modern world came flooding into Korea at the end of the 19th century, and today whose Chinatown and waterfront are still an interesting fusion of people. To the south is Suwon, home to impressive World Heritage–listed fortifications, built by King Jeongjo, that snake 3.5 miles (5.7km) past majestic gates and pavilions.
Check in at hotel on arrival

Evening at leisure

Overnight in Seoul

Day 7

Seoul / City tour

After breakfast, enjoy a Half Day City Tour

Experience the best of the South Korean capital and explore with ease on this tour of Seoul.

Visit Jogye Temple, The Blue House, Gyeongbok Palace, Insadong, Bugak Skyway, Bukchon Hanok Village, and Myeongdong.

Gyeongbokgung Palace

Start off your journey at Gyeongbokgung Palace (on Tuesdays it is replaced by Deoksugung Palace or Changdeokgung Palace). the Changing of the Royal Guard Ceremony will welcome you at the main entrance of Gyeongbokgung Palace. Observe the ceremony and then, explore the Palace! Your knowledgeable tour guide will take you to major parts of the Palace with secret stories about the Palace and Joseon Dynasty that you would have never heard of before. If the weather allows you will enter the Palace, wearing Korean traditional costume, Hanbok and take life shots.

Jogyesa

Begin your tour with a visit to Jogye Temple, famous for its beautiful lotus lanterns hanging from the ceilings. Jogye-sa is one of the largest and most important temples in Seoul. Here you will see how locals pray in front of Buddha and meditate.

Insadong

Stop at Insadong to enjoy lunch, an area filled with old streets and shops. Walk through the beautiful alleys lined with handicrafts shops and street food stalls. This is the best place to purchase souvenirs and gifts. If the weather is raining your guide will take you to one of the most famous hanbok shops in Seoul, where you can try on hanbok and take pictures in the studio

Bukchon Hanok Village Bukchon Hanok Village maybe South Korea's best kept secret. Bukchon has become a favorite attraction of Korea's trend-conscious youth and tourists. The real charm of Bukchon lies in its tiny alley, which wind and twist between its age-old, still-lived in hanoks.

he Blue House (Cheong Wa Dae) Cheongwadae, also known as the Blue House is the Korean Presidential residence. On the way up to the Bugak Skyway, you will pass by this Presidential Blue House with your guide's explanation.

Bugak Skyway Then, admire panoramic views over Seoul from Palgakjeong, a huge gazebo on Bugak Mountain. Bugak Skyway has been known as the beautiful driving route in Korea. Palgakjeong is located at an elevation of 342m, allowing visitors to appreciate not only the beauty of mother nature but also a panoramic view of the whole city of Seoul.

Myeongdong Shopping Street Our day will end with free time at Myeongdong shopping area. This bustling district is packed with people at all hours enjoying shopping, street food and nightlife. You can buy trendy beauty products and try local street food such as hotteok (sweet pancakes with honey), skewered fish cakes, gimbap (a seaweed rice roll), and more. Choose to stay at Myeongdong or enjoy the drop off back at your hotel.

Evening free for Shopping … Visit Ginseng Center, Bokanyeong (Korean Herb Center), Amethyst Factory, etc.

Overnight in Seoul

Day 8

DMZ tour / Departure from Seoul

After breakfast, depart on DMZ [The Demilitarized Zone] tour

Your tour starts with pick-up at your hotel in downtown Seoul. Your driver will take you to Imjigak Park in comfort, which is located one-hour distance from Seoul. Afterwards, pass through the Unification Bridge, which is the first door to DMZ. Don't forget to bring your passport to cross this Bridge.

The highlight of this DMZ tour is the 3rd infiltration tunnel. Discovered in 1978, this tunnel was dug by the Northern army to invade the South.

You will be stunned at how hostile the relations between the two Koreas were and witness the prime example of the South – North confrontation. On the Dora Observatory deck, do not miss on the chance to get a glimpse of North Korean village life.

There is no where else in the South Korea where you can look at so close to the North Korea. Then, head towards the Dorasan Station, a zone that strictly restrict general civilian access.

Later, transfer to airport for onward flight
Notes
Round the Year Destination ... Extension available to Bali, Japan, Singapore, Thailand & Countries across South East Asia
Hotels
Tour Inclusions [Best of South Korea]

1 night accommodation in Mt Sora
1 night accommodation in Danyang
1 night accommodation in Gyeongju
2 nights accommodation in Busan
2 nights accommodation in Seoul
Daily breakfast
Arrival & departure transfers on Private basis
Sightseeings in Mt Sorak, Danyang, Anong, Gyeongju, Busan on Private basis
Sighteeings in Seoul on SIC
English speaking guide during sightseeing
All Admission fees

Notes on itinerary
All our itineraries are "Just for Ideas" ... We will get to know you and customise an itinerary just for you that matches your requirements ... dates of travel, category of hotels, preferred airline, flexibility in choosing sightseeing, mode of travel between cities, etc.
Many of our clients have us design more relaxing, slower paced holidays with more in-depth experiences whereas some simply want to visit various destinations and cover only the highlights.
Together, we will determine the ideal route, pace of travel, accommodations, levels of pampering, style of touring, sightseeing to be included, dining preferences, adventure levels, options to meet locals, dates of travel & much more ! and based on this arrive at a price.
Do feel free to get in touch with us by a quick call on +91 79 29602961 or a short mail on mail@destinations4india.com ... Looking forward