Best of Sikkim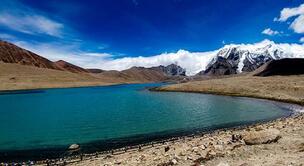 Sikkim was its own mountain kingdom till 1975 and still retains a very distinctive personality. The meditative, mural-filled traditional monasteries of Tibetan Buddhism coexist with Hindu shrines of the ever-growing Nepali community, with both religions creating some astonishing latter-day megasculptures to adorn the skyline.

Hassle-free and warm-hearted, it's a state that's all too easy to fall in love with, explaining perhaps why permit regulations prevent foreigners staying too long or going too far. Clean, green and 'all organic' since 2016, Sikkim is mostly a maze of plunging, supersteep valleys thick with lush subtropical woodlands and rhododendron groves, rising in the north to the spectacular white-top peaks of the eastern Himalaya. When clouds clear, an ever-thrilling experience from many a ridge-top perch is spotting the world's third-highest mountain, Khangchendzonga (8598m), on the northwestern dawn horizon.

Itinerary
Day 1

Arrival Bagdogra / Transfer to Gangtok / Visit to local market

Arrival at Bagdogra airport, meet & greet by our representative, transfer to Gangtok for check in at hotel ... 125 kms. / 4 hrs. drive

Irreverent, cheerful and pleasantly boisterous, Sikkim's modern capital is layered along a precipitous mountain ridge, descending the hillside in steep tiers. Viewpoints survey plunging green valleys that remain beautiful even when partly shrouded in mist. If the weather plays ball, look for glimpses of snow-topped Khangchendzonga on the distant skyline.

More than specific sights, Gangtok is appealing as a place for post-trek R & R or for meeting fellow travellers to organise group tours and permits. The city's mostly pedestrianised social-commercial heart is Mahatma Gandhi (MG) Marg, packed with restaurants, shops, travel companies and a bustling early-evening passeggiata of relaxed wanderers. High above, the contrastingly calm central ridgetop links manicured gardens and an almost jungle-like area around the Chogyal Palace (former royal residence).

Rest of the day at leisure to relax ... Or we recommend to take a stroll around the local market ...

You can't go to Gangtok and not visit the markets. The products here are an eclectic collection of local work and Chinese merchandise, which comes across during trading periods. The best place to buy local handicrafts is at the Directorate of Handicrafts and Handlooms. All items are made by local craftsmen and you can find here some excellent works of art, such as the Thangkas (embroidered or painted scrolls depicting religious figures), carved wooden items, and carpets.

There are many other government or NGO run shops in Gangtok but to get an authentic idea of local products, head to the local markets. The Lal Market, MG Market, and New Market are among the most popular which has an array of shops, restaurants and cafes.. You can find anything from porcelain or ceramic cups to paper lamps, trinkets, to winter wear and all types of clothes! Besides, just walking through these markets is a beautiful experience.

Dinner & overnight at Gangtok

Day 2

Gangtok - Excursion to Tshangu Lake, Baba Mandir & Nathula Pass

After breakfast, start for excursion to Tshangu Lake (12400 Ft., 43 Kms., 3 hrs. one way from Gangtok), Baba Mandir (13100 ft., 16 Kms., 1 hr. one way from Tshangu Lake) & Nathula Pass (14140 Ft., 20 Kms., 1 Hr one way from Tshangu Lake)

Nathula Pass is on Indo-China border & controlled by the Indian Army. Visit is subject to grant of permission

Tshangu Lake - Also know as Changu Lake, it is a glacial lake in the East Sikkim district of the Indian state of Sikkim, some 40 kilometres from the capital Gangtok. Located at an elevation of 12313 A ft, the lake remains frozen during the winter season. The lake surface reflects different colors with change of seasons and is held in great reverence by the local Sikkimese people

Baba Mandir - Is a holy shrine situated at the distance of 50 km from Gangtok towards Nathula Border between China and India. It was constructed to show reverence to Baba Harbhajan Singh, a soldier of an Indian army, who was drowned in a glacier while trying to lead a column of mules carrying supplies to a remote outpost. The search operation was launched and every effort was made to find his missing body but it was nowhere to be found. According to the legend, it was Baba himself through a dream, helped the searching party to find his body covered under a huge lump of snow and even expressed the strong desire to have a samadhi made after him. It is further believed that during the event of a war between India and China, Baba would warn the Indian soldiers of any impending attack atleast three days in advance. It is said that he did continue to serve the nation even after his death. This folklore has been very popular not only among the Indian soldiers but also to the Chinese side as well. In fact during flag meetings between the two nations at Nathu La, the Chinese would set a chair aside in honour of Harbhajan Singh who has since come to be known as "Saint Baba".

Nathula Pass - Located at a distance of approximately 56 kms from Gangtok, the Nathula Pass used to be a corridor of passage between India and Tibet. It is located at an altitude of 4,310 meters and one can view the Tsomgo Lake on their way to it. The word Nathula is derived from two words Nathu meaning listening ears and La meaning pass.

The road towards the Nathula Pass is one of the highest motorable roads in the world. It is richly surrounded with alpine flora. The road winding down the Chumbi valley can be seen on a clear day. Chinese soldiers on the other side of the barbed wire can be viewed from the international border. Initially this trade route between India and China was closed down in 1961 but was reopened in 2006.

Entry restricted for Non-Indian passport holders at Baba Mandir & Nathula Pass

Return back to Gangtok by evening

Dinner & overnight at Gangtok

Day 3

Gangtok to Lachung / At leisure

After breakfast, transfer to Lachung ... 110 Kms - 4 hrs. drive

On the way visit Tashi view point, Seven sister's water fall (Subject to vehicle taking normal route)

Justifying its name, Seven Sisters Waterfalls comprises of seven different waterfalls amicably arranged side by side on a wide rugged cliff which seems distinct when looked at from a distance. This famous waterfall is situated at a distance of 32 kilometres from Gangtok on the Gangtok-Lachung Highway. It appears even more beautiful after rains when it comes to life and offers a captivating view. The gurgling water passes through the green vegetation onto the rugged cliffs and falls on the limestones making a roaring sound. The view of the setting sun pulls the visitors to indulge in a long photography session.

With the Tourist and Civil Aviation Department building a waiting shed and a cafeteria for the tourists to refresh themselves and click pictures of this nature's beauty, the Seven Sisters Waterfalls turn out to be a perfect picnic spot to spend time at with family and friends.

Later continue drive to Lachung ... Check in at hotel on arrival

Soaring, rock-pinnacled valley walls embroidered with long ribbons of waterfall surround the isolated if widely scattered village/hotel-centre of Lachung. Near the central bridge you can zip-line across the river from tiny Dzongten Cafe, rent mountain bikes, or stroll uphill for around 20 minutes to find the colourful little Lachung Gompa. However, the main reason anyone comes here is to get a dawn start for day-trip drives to the picture-perfect, peak-rimmed meadow of Yumthang and, permits permitting, 30km further to Zero Point.

Evening at leisure

Dinner & overnight at Lachung

Day 4

Lachung - Excursion to Yumthang Valley

After breakfast, proceed for an excursion to Yumthang Valley ... 11800 Ft / 3598 Mts, 25 Kms / 1 hr. drive one way

Yumthang Valley, known as the Valley of Flowers, is a spectacular paradise of rich flora and fauna amidst green meadows and abundant pine and silver fir trees.

During the spring season, it displays rare wildflowers like primulas and rhododendrons. The Shingba Rhododendron Sanctuary located in this valley showcases more than 24 kinds of rhododendrons, you won't find anywhere else in India. The soaring snow-capped peaks, and herds of wandering yaks makes this a Himalayan paradise

Close to the Yumthang river is a hot water spring whose water is rich in sulphur and is believed to have miraculous healing powers.

Dinner & overnight at Lachung

Day 5

Lachung to Gangtok / Local Sightseeing

After breakfast, transfer to Gangtok. Check in at hotel on arrival

Proceed for Gangtok sightseeing covering Rumtek Monastery, Jhakri Water Fall, Research Institute of Tibetology, Directorate of Handicraft & Handloom and Flower Show.

Rumtek Monastery - Rumtek Monastery is also known as Dharma Chakra Centre. From its location on a hilltop, Rumtek Monastery is facing the city Gangtok. The monastery is located 24 km away from Gangtok, in the east Sikkim. This monastery is the largest monastery in Sikkim, which is dwelling to the monk community. This is the place where the monks do the sacred rites in addition to the practices of the Karma Kagyu lineage.

Jhakri Falls - Bhanjhakri Falls' is an energy park as well as a shamatic theme park. This park lies amidst lush green valley which is spread over two acres of land. At the outskirts of Gangtok, the Capital of Sikkim. It is surrounded by trees and a gushing mountain river.

Institute of Tibetology - The Namgyal Institute of Tibetology, after the late Chogyal of Sikkim, PaldenThondupNamgyal whose brainchild it was has since become one of the most prestigious depository of Tibetan literature, rare manuscripts, paintings, thangkas, statues and religious objects and other works of art and history. Today, it is a renowned worldwide centre for study of Buddhist philosophy and religion.

Handloom and Handicrafts Centre - It is now known as the Directorate of Handicrafts and Handlooms as well as the Government Institute of Cottage Industries. Started during the time of the Chogyals of Sikkim, as a venture to protect and propagate the craft and skills of local and village artisans, it has become on t of the major attractions for people visiting Sikkim where traditional handcrafts, furniture, handlooms carpets and other products can be viewed and also purchased .

Flower Show - Flower Show Hall in recent years has become quite popular and famous as there are flower exhibitions throughout the year in accordance with the seasons and the flowers in bloom.

Dinner & overnight at Gangtok

Day 6

Gangtok to Pelling / At leisure

After breakfast, proceed for remaining sightseeing of Gangtok

Later around noon, transfer to Pelling ... 130 Kms - 4 hrs., 30 mins. drive

Pelling's raison detre is to provide countless visitors with stride-stopping dawn views of white-robed Khangchendzonga. At first glance the small town is an architecturally uninteresting cascade of concrete hotels tumbling down an otherwise-gorgeous woodland ridge. Walk a little, however, and you'll quickly find yourself wandering through beautiful natural forest.

We make your excursions easy to organise. Within 3km of Pelling along the same series of ridge tops are the ruins of an 18th-century palace plus two historic monasteries: busy Pemayangtse Gompa and more peaceful Sanghak Choeling, now overlooked by a gigantic Chenrezig Statue which is visible for kilometres.

On arrival check in at hotel

Rest of the day at leisure

Dinner & overnight at Pelling

Day 7

Pelling / Excursion to Yuksom

After breakfast, proceed for an excursion to Yuksom ... 5840 Ft / 1780 Mts, 35 Kms / 2 hrs. drive one way

On way, panoramic sightseeing of Darap Village, Rimbi Water fall, Hydro Project, Khecheopalri Lake (6000 Ft / 1829 Mts) - it is one of the sacred Buddhist mountain lake and it is believed that whatever is wished in front of the lake comes true & Kanchanjunga Water fall.

A further drive takes you to Yuksom (the meeting place of three monks) - the first capital of Sikkim. This was the place where the first Chogyal (a ruling dynasty in Sikkim) was crowned

Though it's tiny, Yuksom was the historical starting point of the Sikkimese nation, its first capital and the coronation place of its first chogyal (king) in 1641. For adventurers Yuksom is the main trailhead for treks towards Khangchendzonga, while if you don't have that kind of energy, it's still an ideal starting point for shorter walks, monastery visits or simply watching local life. Views don't offer the big-mountain panoramas that you'll see from Pelling, but some white-top peaks are visible at dawn, and the lovely forest paths are ample consolations.

Evening back to Pelling

Dinner & overnight at Pelling

Day 8

Pelling to Darjeeling / Visit to local market

After breakfast, transfer to Darjeeling ... 70 kms. / 3 hrs. drive

Spread in ribbons over a steep mountain ridge, surrounded by emerald-green tea plantations and towered over by majestic Khangchendzonga, Darjeeling is the definitive Indian hill station and, for many, West Bengal's premier destination. When you aren't gazing open-mouthed at Khangchendzonga (Great Five-Peaked Sbow Fortress – at 8598m it's the world's third-highest mountain), you can admire colonial-era architecture, visit Buddhist monasteries, and take a ride on the 140-year-old steam-billowing Darjeeling Himalayan Railway.

The adventurous can arrange a trek to Singalila Ridge or ride a mountain bike around the hills. Meanwhile, the steep and winding bazaars at the foot of the town bustle with an array of Himalayan products and faces from across Sikkim, Bhutan, Nepal and Tibet. And when energies start to flag, a good, steaming Darjeeling brew is never far away.

On arrival check in at hotel

Rest of the day at leisure ... We recommend you take a stroll around the local market

While there are so many things to do here, shopping from the various Darjeeling markets are particularly enticing for all shopaholics. From woolens to the exclusive tea, handicrafts, and trinkets, you can find almost everything here.

What makes this place more fascinating is the aroma of Darjeeling tea that lingers in the air just like freshly brewed coffee. The pleasant weather makes sipping a hot cup of tea amidst the stunning hills even better! So, scroll down to know what awaits you in this gorgeous gem.

Dinner & overnight at Darjeeling

Day 9

Darjeeling - Sunrise from Tiger Hill & Local Sightseeing

Early morning at around 4 am depart for a glorious sunrise from Tiger Hills ... 8482 Ft., 15 kms., 35 mins drive

To watch the dawn light break over a spectacular 250km stretch of Himalayan horizon, including Everest (8848m), Khangchendzonga (8598m) and two more of the world's five highest peaks, rise very early and take a jeep out to Tiger Hill (2590m), 11km south of Darjeeling, above Ghum. This daily morning spectacle (views are best in autumn and spring) is a major tourist attraction

On way back visit Ghoom Monastery and Batasia Loop

After breakfast go for a half-day sight seeing of Darjeeling covering Japanese Temple, Peace pagoda, Padmaja Naidu Himalayan Zoological Park & Himalayan Mountaineering Institute, Darjeeling Ropeway Ride, Tenzing & Gombu Rock, Tibetan Refugee Self-Help Center & panoramic view of Tea Estate

Evening at leisure

Dinner & overnight at Darjeeling

Day 10

Darjeeling - Mirik Lake - Bagdogra Airport

After breakfast, depart for Bagdogra airport with enroute visit to Mirik Lake ... 5800 Ft., 50 Kms., 2 to 3 hrs. drive

Nestled near the Nepal border, halfway between Siliguri and Darjeeling, the mellow hill station of Mirik (1770m) is surrounded by an undulating carpet of tea estates, orange orchards, cardamom plantations and forests of tall, dark Japanese cedars.

The lower town is centred on the artificial murky-coloured Sumendu Lake and there's a pleasant walk around its 3.5 km circumference.

Perched above Mirik, the large Kagyud-school Bokar Gompa is very active. Come in the afternoon to sit in on the chanting. It's a bracing 10-minute walk up Monastery Rd from opposite Hotel Jagjeet.

You'll get good Kangchenjunga views (in clear weather) from the helipad beside Swiss Cottage, on a hilltop above the south end of the lake and accessible by a footpath from the lake shore trail.

Horse riding & Boating are available around the lake

Later continue drive to Bagdogra Airport (70 Kms / 3 hrs. drive) for your onward flight
Notes
Round the Year Destination
Hotels
Tour inclusion [Best of Sikkim]
2 nights Gangtok

2 nights Lachung

1 night Gangtok

2 nights Pelling

2 nights Darjeeling

Daily breakfast & dinner

All applicable Transfers & Sightseeing by Exclusive vehicle (on point to point basis as per local guidelines)

All sightseeing entrance fee as per the itinerary

English speaking local guide during sighteeing as per the itinerary
Notes on itinerary
All our itineraries are "Just for Ideas" ... We will get to know you and customise an itinerary just for you that matches your requirements ... dates of travel, category of hotels, preferred airline, flexibility in choosing sightseeing, mode of travel between cities, etc.
Many of our clients have us design more relaxing, slower paced holidays with more in-depth experiences whereas some simply want to visit various destinations and cover only the highlights.
Together, we will determine the ideal route, pace of travel, accommodations, levels of pampering, style of touring, sightseeing to be included, dining preferences, adventure levels, options to meet locals, dates of travel & much more ! and based on this arrive at a price.
Do feel free to get in touch with us by a quick call on +91 79 29602961 or a short mail on mail@destinations4india.com ... Looking forward