Highlights of Scandinavia & Baltic Cruise ... Escorted Tour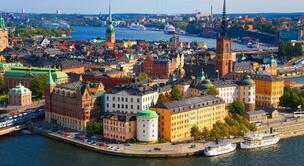 Endless day, perpetual night. Rocking festivals, majestic aurora borealis. With effortlessly chic cities and remote forests, Scandinavia attracts style-gurus and wilderness-hikers alike.

Outdoors
The great outdoors is rarely greater than in Europe's big north. Epic expanses of wilderness – forests, lakes, volcanoes – and intoxicatingly pure air mean engaging with nature is a viscerally pleasurable experience. National parks cover the region, offering some of Europe's best hiking as well as anything from kayaking to glacier-walking to bear-watching. Spectacular coasts invite exploration from the sea, whether there be rugged fjords, cliffs teeming with seabirds or archipelagos so speckled with islands it looks like an artist flicked a paintbrush at a canvas. Wildlife from whales to wolverines awaits the fortunate observer.

City Style
Stolid Nordic stereotypes dissolve in the region's vibrant capitals. Crest-of-the-wave design can be seen in them all, backed by outstanding modern architecture, excellent museums, imaginative solutions for 21st-century urban living, internationally acclaimed restaurants and a nightlife that fizzes along despite hefty beer prices. Live music is a given: you're bound to come across some inspiring local act, whether your taste is Viking metal or chamber music. Style here manages to be conservative and innovative at the same time, or perhaps it's just that the new and the old blend with less effort than elsewhere.

Seasons
They have proper seasons up here. Long winters carpeted with thick snow, the sun making cameo appearances if at all. Despite scary subzero temperatures, there's a wealth of things to do: skiing, sledding behind huskies or reindeer, snowmobile safaris to the Arctic Sea, ice fishing, romantic nights in snow hotels, visiting Santa Claus and gazing at the soul-piercing aurora borealis. Spring sees nature's tentative awakening before the explosive summer's long, long days, filled with festivals, beer terraces and wonderful boating, hiking and cycling. Autumn forests display a glorious array of colours, offering marvellous woodland walking before the first snows.

Green Choices
You'll rarely come across the word 'ecotourism' in Scandinavia, but those values have long been an important part of life here. Generally, green, sustainable solutions are a way of living, rather than a gimmick to attract visitors. Scandinavia will likely be affected by climate change significantly, and big efforts to reduce emissions are being made across the region. Travelling here, you'll be struck by the excellent levels of environmental protection, the sensible 'why don't we do that back home' impact-reducing strategies and the forward thinking. It makes for pleasurably enlightening travel.

ON THIS ESCORTED TOUR …

SEE THE BEAUTIFUL NORDIC CAPITALS FROM THE BALTIC SEA AND BEYOND. Explore the grand capitals of Finland and Estonia independently, before travelling through Sweden, Denmark and Norway, with a tour leader and expert guides answering all your questions and imparting their local knowledge onto you. Walk down centuries-old cobblestone streets, sample local delicacies, stroll through charming villages, and be in awe of the breathtaking landscapes - including fjords and mountains - you'll see by foot, train, boat and coach. On this tour, you get all the exciting adventures of the Highlights in Scandinavia Tour plus the chance to explore the beautiful capital of Finland, Helsinki, at your own pace.

WHY BOOK WITH US …

Experience more in a small group

With no more than 16 passengers on your tour, you'll have more flexibility with sightseeing.

Meet like-minded travellers and make friends for life in a cosy, fun-filled setting.

Enjoy the expertise of an experienced tour leader and local tour guides who are experts on each country.

Tour leader accompanying the group

You will be accompanied by an experienced Scandinavian tour leader, who will travel with you from country to country.

The tour leader will join you on all guided tours, transfers and other planned activities listed in the itinerary.

The tour leader will act as the logistical organiser for the group, ensuring that everything is running smoothly and that you're having a good time during your holiday.

As an expert on the Scandinavian region, the tour leader is also a valuable resource for questions about local customs, languages, shopping, food and other practical travel information.

Note: The pre-tour in Helsinki and Tallinn, including the journey to Stockholm, is not part of the guided small group tour. You will meet your tour leader and group on day five at the welcome dinner in Stockholm.

Quality & value for your money

We give you more inclusions as part of the package - with no hidden fees. And each departure is 100% guaranteed.

Enjoy daily breakfasts, privately guided tours, attraction entrance fees and more, all pre-arranged for you.

Peace of mind as we plan and book your entire vacation in Scandinavia before you arrive, including accommodations, activities and more.

Service from trusted local experts in Scandinavia

Our travel experts in Scandinavia have an in-depth knowledge regarding the locations in your itinerary.

Enjoy the service of your own personal Scandinavian travel consultant, before, during and after your trip.

The journey is designed based on our own travel experiences and clients' feedback.

As a local travel agency, we handpick only the accommodations, services and guides that meet our high standards.

In case of bad weather or other travel hiccups, we modify your itinerary while keeping you safe and informed.

TOUR HIGHLIGHTS …

Explore the colorful capitals of Sweden, Denmark and Norway
Stroll around the Finnish and Estonian capitals, Helsinki and Tallinn
Cruise along the Norwegian fjords
Enjoy privately guided sightseeing tours of the major cities
Board the Norway in a Nutshell tour® to experience breathtaking landscapes
Experience the real Scandinavian travel style, hopping between trains and cruises
Discover Scandinavian royalty by visiting Rosenborg Castle
Experience the legendary Flåm railway, one of the world's steepest railway line
Visit top rated attractions such as Tivoli, Bryggen, and Gamla Stan
Taste Scandinavian Cuisine, with local and fresh ingredients
Hassle-free travel experience with a designated tour leader accompanying the group throughout the journey
Itinerary
Day 1

Arrival Helsinki, Finland

Upon arrival at Helsinki-Vantaa Airport, start your Scandinavian adventure with a private transfer to the heart of the Finnish capital, where your hotel is situated.

Entwined with the Baltic's bays, inlets and islands, Helsinki's boulevards and backstreets overflow with magnificent architecture, intriguing drinking and dining venues and ground-breaking design.

Helsinki's design scene is one of the most electrifying in the world today, and a major influence across the globe. Boutiques, workshops and galleries filled with glassware, lighting, textiles and innovative homewares proliferate in the Design District just south of the centre in Punavuori, which is home to Helsinki's superb Design Museum, and throughout the city, from its thoroughfares to repurposed industrial spaces.

While it's a culture-packed urban centre, Helsinki is surrounded by sublime natural environment that's easily reached from every part of the city. Opportunities to get active abound here, from boating to its archipelago's islands, strolling along its beaches and through its extensive parks and gardens, and hiking in its surrounding forests.

Check in at hotel

Take advantage of this first day on your own to discover this Nordic gem at your own pace, and eat at one of the many delicious restaurants.

If you arrive early, we recommend you book an optional sightseeing tour, by boat or bus, to make the most of your time in Helsinki. These tours will show you around Helsinki's top attractions for a great overview of the sights and history of the city.

Tonight you will dine on your own in Helsinki.

Overnight at Helsinki

Day 2

Helsinki - City Tour

After breakfast, city tour of Helsinki

The Finnish capital is known for its creativity and, in 2012, was awarded the UNESCO "City of Design" title, boasting its very own Design District and "design tram route".

Some notable city landmarks to see or visit include Senate Square, Uspenski Cathedral, Sibelius Park, Finlandia Hall, the Finnish National Opera House, and Parliament House. We recommend a stop at Kauppatori, the central Market Square of Helsinki, which is full of stalls that sell fresh fish, fruit and vegetables, as well as handcrafts and souvenirs.

We can offer you - Helsinki Panorama Sightseeing by Bus
Duration 1 hour 45 minutes

Lasting just under two hours, this guided tour is a popular sightseeing opportunity for visitors to Helsinki. The double decker bus tours the famous sights and attractions of the capital, accompanied by commentary in 10 languages. It will give you a better insight into the city's history and present.

The tour will show you around and tell you more about some of Helsinki's most interesting buildings and sights, including the City Hall, Finnish Parliament buildings, Finlandia Hall and the Finnish National Opera House.

Tonight you will dine on your own in Helsinki.

Overnight at Helsinki

Day 3

Ferry from Helsinki to Tallinn, Estonia

After breakfast, transfer to ferry terminal for a 2 hour Ferry to Tallinn, Capital of Estonia

No longer the plaything of greater powers – Danish, Swedish, Polish, German and Soviet – Tallinn is now a proud European capital with an allure all of its own. It's lively yet peaceful, absurdly photogenic and bursting with wonderful sights – ancient churches, medieval streetscapes and noble merchants' houses. Throw in delightful food and vibrant modern culture and it's no wonder Tallinn seems in danger of being loved to death, especially after a few cruise ships dock. But it's one of those blessed places that seems to cope with all the attention.

Despite the boom of 21st-century development, Tallinn safeguards the fairy-tale charms of its Unesco-listed Old Town – one of Europe's most complete walled cities. Some examples of exuberant post-Soviet development aside, the city clearly realises it's better to be classy than brassy. Hence the blossoming of first-rate restaurants, atmospheric hotels and a well-oiled tourist machine that makes visiting a breeze.

After checking in at your hotel in Tallinn, take the rest of the day to explore this beautiful medieval city. We recommend walking around the Old Town, a UNESCO World Heritage Site, and taking a walk up the Upper Town (Toompea).

Make sure to see the top sights including the Town Hall, the Alexander Nevsky Cathedral, and the Toompea Castle, the current seat of the Estonian Parliament.

Tonight you will dine on your own in Tallinn.

Overnight on Tallinn

Day 4

Tallinn sightseeing / Cruise to Stockholm, Sweden

After breakfast, morning at leisure to continue your exploration of the Estonian capital before boarding an overnight cruise to Sweden.

Like most European cities with an 800-year history, Tallinn is a patchwork of historic areas, offering a fascinating blend of Eastern and Western European influences. For a blast from the past, take a stroll through the Kadriorg district, reminiscent of a time when Estonia was ruled by Russian tsars. This area houses several interesting sights, such as the Kadriorg Palace and the Estonian Art Museum (KUMU). You could also visit the newer parts of Tallinn, such as Vabaduse väljak (Freedom Square), to get a glimpse of Soviet-era life.

In the late afternoon, at 5 pm, you will board an overnight cruise to Stockholm.

There's plenty to do on board besides sleeping, with a variety of cafés, restaurant and shops to enjoy.

Tonight you will dine on your own on board.

Overnight on board cruise, in a private cabin with sea view

Day 5

Arrival Stockholm - Day at leisure

As you sail through the gorgeous Stockholm archipelago, made up of more than 24,000 islands and islets, enjoy breakfast on board the ship

Stockholmers call their city 'beauty on water'. But despite the well-preserved historic core, Stockholm is no museum piece: it's modern, dynamic and ever-evolving.

Cultural Riches - Across the city, world-class museums and galleries inform and provoke, harbouring everything from glittering Viking treasures and an ill-fated warship, to Abba props and subversive contemporary art. It's a stimulating, inspiring mix, where the past, present and future constantly merge, converse and engage.

Impeccable Style - Stockholm's sense of style is legendary. Here, good design is not a luxury, it's a right – even the humblest coffee shop is usually design literate, from its lighting right down to its cups, bowls and cutlery.

Easy Town - Stockholm is easy in all the right ways. Despite being spread across 14 islands, it's a relatively compact creature, and walking is often the best way to get around. Bridges connect most of the islands, while ferries and the tunnelbana (metro) link the rest. Public transport is safe, smooth and efficient, covering every corner of the city and its bucolic surrounds.

Upon your arrival in Stockholm around 10 am, make your way to the hotel and then enjoy some free time.

We recommend spending the afternoon in the city centre, enjoying some shopping on the well-known pedestrian street Drottninggatan and taking a stroll in the surrounding area of Östermalm.

There you will find numerous shops, cafés, and restaurants for a perfect introduction to Scandinavian culture.

At 18:00, you will join the group for a welcome dinner, the perfect occasion to get to know your fellow travel companions and your tour leader for the next 9 days.

Overnight at Stockholm

Day 6

Stockholm - City Tour

After breakfast, today you will explore the historical heart of Stockholm

Embark on a guided bus tour taking you to attractions including City Hall, and the hip district of Södermalm, where you will get a panoramic view over Stockholm, before coming back to the Old Town (Gamla Stan).

Next, you will go on a guided walk through the Medieval cobbled streets of Old Town before ending at lunch with the group in this historical area of Stockholm.

After lunch, you get the rest of the day to explore on your own. We recommend taking a short ferry ride to the charming island Djurgården where you will find the famous Vasa Museum, the Abba museum and the Skansen open-air museum.

Other options include joining a guided boat tour along the archipelago or visiting the Royal Palace.
Tonight you will dine on your own in Stockholm.

Overnight at Stockholm

Day 7

Train from Stockholm to Copenhagen, Denmark - Sightseeing tour

After breakfast, the group will head to Stockholm Central Station for a half-day train journey to Denmark.

As you travel to your next Scandinavian destination, you'll be rewarded with the gorgeous scenery of the idyllic farmlands and forests of southern Sweden.

Once you've reached Copenhagen, the capital of Denmark, you will be transferred by bus to your hotel.

Copenhagen is the epitome of Scandi cool. Modernist lamps light New Nordic tables, bridges buzz with cycling commuters and eye-candy locals dive into pristine waterways.

Culinary Prowess p In little over a decade, Copenhagen has gone from dining dowager to culinary powerhouse. The Danish capital claims no less than 15 Michelin-starred restaurants, more than any other Scandinavian capital. In recent years, sous chefs from numerous high-profile kitchens have spread their own wings, opening a string of thrilling new eateries where culinary prowess comes with a more approachable price tag.

Danish Design - Only here does the morning rush of cyclists look more like a runway show on wheels. Forget Milan; when it comes to style, it's hard to beat Copenhagen's denizens. Few people have such a knack for effortless cool, driven by a reverence for simplicity, detail and understated beauty. These tenets drive everything from Copenhagen's painfully hip streetwear labels, its world-famous furniture and lighting, to its grassroots ceramics and glassware.

Enviable Liveability - When cities seek enlightenment, they commonly look to Copenhagen. The hometown of architect Jan Gehl – one of the world's leading authorities on sustainable urban planning – the Danish capital regularly tops world liveability lists. After all, this is one of the globe's greenest, cleanest, most sustainable urban centres, a place where cycling is serious transport, where buses and the metro run frequently and around the clock, and where the harbour is squeaky clean enough for a bracing dip.

At the hotel, you will meet with your local guide who will take you on a walking tour around Copenhagen's main landmarks. You will stroll through the grand courtyard of the Amalienborg Palace, where the Danish Royal Guard stands watch day and night, see the impressive Frederiks Kirke, and the picturesque Nyhavn with its colourful, narrow houses lining the canal.

You will also be treated to the local refreshment as part of the tour.

After the walking tour, you will dine with the group.

Overnight at Copenhagen

Day 8

Copenhagen - Castles & Gardens Tour

This morning after breakfast, you will enjoy a guided tour of the Renaissance-era Rosenborg Castle followed by a walk through the lush Botanical Garden.

You will stop for lunch at the famous Torvehallerne food market – a favourite amongst local and visiting foodies.

After lunch, you will get a different perspective of the city, with a short boat tour with views of Christiansborg Palace, the Royal Danish Opera House and the colourful Christianshavn Canal.

You'll then get the rest of the afternoon and evening to explore at your leisure. A perfect way to spend the afternoon and evening is visiting the famous Tivoli Gardens amusement park, which combines exotic architecture, nostalgic games and rides, as well as lights and music (entrance fee included).

Tonight you will dine on your own.

Overnight at Copenhagen

Day 9

Copenhagen to Oslo, Norway by Cruise

After breakfast, morning at leisure to explore the Danish capital on your own.

We recommend strolling along Strøget, a central street of Copenhagen renowned for world-class shopping, or relaxing at one of the cafés or restaurants by Nyhavn. If you're up for it, walk up the winding equestrian staircase of the Round Tower (Rundetårn), or, for amazing views of the city, climb the 400 steps to the spiralling steeple of the Church of our Saviour. You can also take this time to take a leisurely stroll along the shoreline to the world famous Little Mermaid statue.

In the late afternoon, the group, along with the tour leader, will board a cruise to Oslo and enjoy a traditional Scandinavian dinner buffet on board.

As you sail up the Kattegat Sund to Norway's capital, you can take part in the on-board entertainment or just relax and watch the sunset from the deck.

Overnight on board cruise, in a private cabin with sea view

Day 10

Arrival Oslo - City Tour

Enjoy the views of the Oslo Fjord during breakfast as the ship sails into port.

Surrounded by mountains and sea, this compact, cultured and fun city has a palpable sense of reinvention.

Natural Pleasures - Oslo's skyline might be crowded by cranes but this rapidly growing urban metropolis is also one of the world's most overwhelmingly green cities. It has earned the honour of being named European Green Capital for 2019, via one of the lowest carbon footprints in the world, excellent and well-patronised public transport, and a real commitment to sustainable food production and green space. The city is blessed with a large number of bucolic parks, and the Oslofjord's waterways and islands are just minutes away from the centre, as are the ski slopes and forests of Nordmarka.

Culinary Capital - Once known only for hot dogs and high prices, Oslo's culinary scene is currently enjoying a Neo Nordic moment in the sun, and has become a culinary destination in its own right. This delicious change takes in everything from the most northern three-Michelin-starred restaurant in the world (Maaemo) to its deservedly hyped neighbourhood coffee scene and fabulous fusion cuisine.

Cracking Nightlife - Has Oslo become Scandinavia's late-night party hot spot? Wander Møllegata on a Wednesday and you might be convinced it is. Whether it's working your way through a list of the latest natural wine from Burgenland or Sicily, getting your hands in the air with local DJ acts or an international indie band, drinking a local beer or sipping cocktails made from foraged spruce or Arctic seaweed, you'll notice that, with a grungier, wilder, realer edge than Copenhagen or Stockholm, this is certainly a city that knows how to have fun.

As you disembark, you'll head straight into exploring the Norwegian capital with a local knowledgeable guide. The bus tour will take you along the famous landmarks of the city.

The highlights include the beautiful Vigeland Sculpture Park, filled with over 200 metal and stone artworks, the Royal Palace, Akershus fortress, and City Hall.

The guide will leave you at the Viking Ship Museum giving you an hour to explore before being transferred back to your hotel by bus.

Tonight you will dine on your own.

Overnight at Oslo

Day 11

Norway in a nutshell & Flam

After an early breakfast, you will head to Oslo Central Station to start your Norway in a Nutshell journey towards Bergen.

This train ride, ranked amongst the 20 best train journeys in the world, takes you over Norway's mountainous "rooftop" and through charming villages like Gol and Geilo.

In Myrdal, you will board the Flåm Railway for an incredible 20 km ride with a 900-metre descent to the beautiful village of Flåm.

At the head of Aurlandsfjorden, Flåm sits in a truly spectacular setting beside Sognefjord. The main attraction here is the stunning mountain railway that creeps up into the surrounding peaks and offers truly eye-popping panoramas. Unfortunately it's far from a well-kept secret, and on the busiest summer days the tiny village can find itself swamped by several thousand visitors – it's probably best left for the quieter seasons of spring and autumn, or early summer at a push. The popular Norway in a Nutshell tour also stops here.

In Flåm, you'll have free admission to the Flåm Railway Documentation Centre, located right beside Flåm Station, where you can learn about the construction of one of the world's steepest railway lines.

Stegastein View Point
Duration 1 hour 30 minutes

Do you always look for the perfect viewpoint to see your destinations from above?

For a different perspective, head up high to the spectacular Stegastein Viewpoint. A bus will take you from Flåm to the viewpoint, passing by Aurland.

The viewing platform extends about 30 meters from the cliffside and 650m above the fjords below, to offer extraordinary and unbeatable views.

In the evening, the group will dine together at the hotel restaurant.

Overnight at Flam

Day 12

Flam to Bergen - Splendid Fjord Cruise & Mountainous Ride

After breakfast, you are free to explore Flåm as you wish this morning before the group boards a cruise to continue the journey.

The boat tour will take you onto Aurlandsfjord and the World Heritage-protected Naeroyfjord, the narrowest fjord in the world. This is perhaps the most beautiful and wildest arm of the Sognefjord, with its tall mountains, mighty waterfalls and small farms clinging to the steep mountainsides.

On arrival at the pier in Gudvangen, you'll board a coach bus for a thrilling ride around the 13 hairpin bends of Stalheimskleiva, Northern Europe's steepest stretch of road. This will take you on to Voss, where you will switch onto a train for the last stretch of the journey to Bergen, arriving around 9 pm.

Surrounded by seven hills and seven fjords, Bergen is a beguiling city. During the early Middle Ages, it was an important seaport and a member of the Hanseatic League, as well as Norway's capital – a heritage that can still be glimpsed in the beautifully preserved wooden buildings of Bryggen, now protected as a Unesco World Heritage site. Chocolate-box, clapperboard houses creep up the hillsides, ferries flit around the fjords, and a cluster of excellent art museums provide a welcome detour, and not only in case Bergen's notoriously fickle weather sets in. Meanwhile, a large student population ensures the city has a buzzy bar scene and nightlife, and easy access to nature means you're minutes away from complete tranquillity.

Tonight you will dine on your own, eating something light on the train or eating later upon your arrival in Bergen.

Overnight at Bergen

Day 13

Bergen - Medieval Alleys & Panoramic Views Tour

After breakfast, a tour of Bergen

Despite being Norway's second largest city, Bergen – the Fjords capital – still has all the charms of a small town.

You'll experience its beauty and character first-hand as a local guide will lead the group on a walking tour around Bryggen, the medieval part of the city, which is also a UNESCO World Heritage Site.

You will then take the funicular up to nearby mountain, Fløyen, for stunning panoramic views over the city and surrounding fjords. You get the rest of the afternoon to explore Bergen at your leisure.

Then, in the evening, you'll have one last dinner with your travel companions, a chance to share your favourite memories from your Scandinavian tour.

Overnight at Bergen

Day 14

Departure from Bergen, Scandinavia

After breakfast, morning at leisure

When it's time for your Scandinavian adventure to come to an end, you can take the airport bus from one of the many departure points in the Bergen city centre or you can take a taxi directly from your hotel to Bergen Flesland Airport.

If your flight is in the afternoon, enjoy some last-minute shopping, visit one of Bergen's museums or relax at a cafe, enjoying the last few moments of this amazing journey.
Notes
Round the Year Destination ... Extension recommended to Northern Scandinavia for Northern Lights & Mid-Night Sun experience
Hotels
Notes on itinerary
All our itineraries are "Just for Ideas" ... We will get to know you and customise an itinerary just for you that matches your requirements ... dates of travel, category of hotels, preferred airline, flexibility in choosing sightseeing, mode of travel between cities, etc.
Many of our clients have us design more relaxing, slower paced holidays with more in-depth experiences whereas some simply want to visit various destinations and cover only the highlights.
Together, we will determine the ideal route, pace of travel, accommodations, levels of pampering, style of touring, sightseeing to be included, dining preferences, adventure levels, options to meet locals, dates of travel & much more ! and based on this arrive at a price.
Do feel free to get in touch with us by a quick call on +91 79 29602961 or a short mail on mail@destinations4india.com ... Looking forward