Best of Poland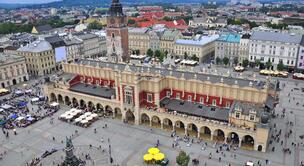 Picturesque cities such as Krakow and Gdansk vie with energetic Warsaw for your urban attention. Elsewhere, woods, rivers, lakes and hills beckon for some fresh-air fun.

A Thousand Years
Poland's roots go back to the 10th century, leaving more than a thousand years of twists and turns and kings and castles to explore. WWII history buffs are well served. Tragically, Poland found itself in the middle of that epic fight, and monuments and museums dedicated to these battles – and to Poland's remarkable survival – can be seen everywhere. There's a growing appreciation, too, of the country's rich Jewish heritage. Beyond the deeply affecting Holocaust memorials, synagogues are being sensitively restored, and former Jewish centres such as ?ód? and Lublin have heritage trails where you can trace this history at your own pace.

Castles to Log Cabins
The former royal capital of Kraków is a living museum of architecture through the ages. Its nearly perfectly preserved Gothic core proudly wears overlays of Renaissance, baroque and art nouveau, a record of tastes that evolved over centuries. Fabulous medieval castles and evocative ruins dot hilltops around the country, and the fantastic red-brick fortresses of the Teutonic Knights stand proudly in the north along the Vistula. Simple but finely crafted wooden churches hide amid the Carpathian hills, and the ample skills of the highlanders are on display at the country's many skansens (open-air ethnographic museums).

Heart-Warming Food
If you're partial to good home cooking, the way your grandmother used to make it, you've come to the right place. Polish food is based largely on local ingredients such as pork, duck, cabbage, mushrooms, beetroot and onion, combined simply and honed to perfection. Regional specialities and accomplished chefs keep things from getting dull. As for sweets, it's hard to imagine a more accommodating destination. Cream cakes, apple strudel, pancakes, fruit-filled dumplings and a special mania for lody (ice cream) may have you skipping the main course and jumping straight to the main event.

Fresh-Air Pursuits
Away from the big cities, much of Poland feels remote and unspoiled. While large swathes of the country are flat, the southern border is lined with a chain of low-lying but lovely mountains that invite days, if not weeks, of splendid solitude. Well-marked hiking paths criss-cross the country, taking you through dense forest, along broad rivers and through mountain passes. Much of the northeast is covered by interlinked lakes and waterways ideal for kayaking and canoeing – no experience necessary. Local outfitters are happy to set you up for a couple of hours or weeks.

Neither wildly popular nor completely unknown, the central European country of Poland continues to charm those who visit. This great wide country rivals many more popular European destinations with its wealth of cities, towns, castles and national parks. It's very much a country steeped in turbulent history, both medieval and modern, not to mention delightful culture and hearty cuisine.

With such a long list of options available to you, there's little chance that you'll run out of places to visit in Poland. But this can make working out the perfect Poland itinerary a challenge; Where do you start? The answer – right here, with this 10-day sample itinerary that takes you around the best of this storied land.

This Poland itinerary takes you on a circuit that starts and finishes in the capital of Warsaw. Along the way you'll take in many of Poland's most popular cities and sights. Occasionally you'll have the chance to venture out on day trips to uncover more of what this remarkable country has to offer.

To align longer journeys with certain cities, it helps to travel this particular itinerary circuit counter clockwise. However, it's not hard to make some minor changes to alter the direction or starting point either, as both Krakow and Gdansk feature significant airports as well.

Itinerary
Day 1

Arrival Warsaw / City tour

It�s only natural that you start your visit with Poland�s capital, Warsaw. Meet & greet by our representative upon arrival and transfer to hotel.

Alternatively, if your preference is to self-drive, pick up your pre-booked car from rentals & drive to Warsaw hotel

A phoenix arisen from the ashes, Poland's capital impresses with its resilience, respect for history, contemporary style and sheer joie de vivre.

Diverse Architecture
Rather than being centred on an old market square, modern-day Warsaw is spread across a broad area and includes an eye-catching range of architecture: restored baroque, Gothic, neoclassical and Renaissance in the Old and New Towns; gems of the post-WWII socialist realist period, such as the Palace of Culture & Science and the Marsza?kowska Residential District (MDM); and contemporary beauties like the Copernicus Science Centre and the POLIN Museum of the History of Polish Jews. This jumble reflects the city�s tumultuous past and makes for a fascinating collection of neighbourhoods and landmarks.

Beautiful Outdoor Spaces
As the royal capital for several centuries, Warsaw is blessed with the beautiful palace and parklands at Wilan�w, aptly described as Poland's Versailles, and the park and serene Palace on the Isle of ?azienki. Greenery also abounds at the central Saxon Garden, Krasi?ski Garden and the rooftop garden of the University Library. Not to be missed is a stroll beside the Vistula River: on the west bank runs the Vistulan Boulevard, a contemporary promenade dotted with waterside bars and cafes, while on the eastern Praga side nature holds sway with meandering, wooded pathways leading to sandy beaches.

Cultural Treasures
Warsaw has endured the worst history could throw at it, including near destruction at the end of WWII. Much has been rebuilt and the fragments that survived are now preserved in a superb selection of museums and cultural storehouses. The exhibitions at the Warsaw Rising Museum and POLIN Museum of the History of Polish Jews leave practically no stone unturned on their respective subjects, while the National Museum will astound you with its art and design collection. Then there is Chopin, Warsaw's favourite son, who has his own museum and whose romantic and dramatic music is played at nightly recitals.

Eat, Drink, Be Merry
If the city's architectural flourishes, lush outdoor spaces and cultural treasures haven't already seduced you, expect all resistance to fall at its superb selection of dining spots. Home to everything from bargain-priced, retro-trendy milk bars to chic restaurants serving cutting-edge molecular gastronomy, Warsaw is a culinary delight. There's also no shortage of cool cafes or bars for creative cocktails, craft beers and vodka shots. This is a city that knows how to have fun, whether it be glamming up for the opera or a symphony performance or clubbing it through the night.

Check in at hotel

Later proceed for a city tour

A perfect place to start a visit to Warsaw is with the towering Palace of Culture and Science and its observation deck. With sublime views out across the city, it also helps you get your bearings by identifying the city�s landmarks and points of interest.

From the city centre, a walk along Nowy ?wiat takes you past dozens of historic palaces and elegant buildings. This includes the grand Presidential Palace, the seat of Poland�s president, and numerous stately churches and monuments.

The street leads you up to Warsaw�s Castle Square by the Royal Castle and brings you to the colorful and scenic Old Town. You�re then able to wander through this completely rebuilt old town and its surrounding fortifications, either on your own or with one of the numerous free walking tours that begin at Castle Square. Don�t miss the Old Town Market Square and the Mermaid of Warsaw statue, the symbol of the city.

Evening at leisure

Overnight at Warsaw

Day 2

Warsaw to Torun / At leisure to explore the town

After breakfast, depart for Torun � 270 kms. / 3 hrs. by train or car

Welcome to Torun, home to famed astronomer Nicolaus Copernicus ! Not particularly well-known by tourists, this medium-sized city features a memorable historic centre by the banks of the Vistula River. There may be many historical Old Towns in Poland, but none are quite like Torun.

If you�ve spent your time in Poland jostling with the crowds in Krakow or wandering Warsaw�s sprawling boulevards, then Torun will come as a revelation. This magnificent walled Gothic town on the banks of the Vistula should be high on every traveller�s list, especially as its delights seem low on everyone else�s, leaving visitors to revel virtually unrestricted in its wealth of historic buildings and city defences, all of which WWII left mercifully untouched. The entire town is listed as a Unesco World Heritage site for being an unusually well-preserved example of a medieval European trading and administrative centre.

Check in at hotel on arrival

Day at leisure to explore the city
Beyond architecture, Torun is also well known as the birthplace of Nicolaus Copernicus (1473�1543). His name (Miko?aj Kopernik in Polish) is all over the town, and you can even buy gingerbread shaped in his image. This other Torun icon � its pierniki (gingerbread) � is famous across Poland.

Make sure to linger in the Old Town Market Square and take in each of its brilliant brick buildings, from the old post office to the Artus Court. In the centre of it all, the Town Hall hosts an enlightening city museum and its narrow tower provides spectacular city views. Other noteworthy landmarks down the charming medieval streets include the Copernicus House where he was born in 1473, plus a number of churches and cathedrals, each worth a look.

Did you know that Pisa isn�t the only one with a leaning tower? Follow the remains of the town walls south from the ?uk Cezara Gate and soon you�ll come to the Leaning Tower of Torun.

Follow the walls to find other old city gates, not to mention what�s left of the old Teutonic Castle. With a visit to the ruins you get to learn more about the city and how the locals fought to gain independence for themselves.

Maybe take a stroll by the riverfront as the sun begins to set. It�s also worth exploring at night as the historic buildings light up under the street lights. Afterward, return back to the city centre to indulge in some delectable and hearty pierogi � Polish dumplings � at Pierogarnia Stary Torun.

Overnight at Torun

Day 3

Torun to Gdansk / At leisure to explore the town

After breakfast, depart for Gdansk � 170 kms. / 3 hrs. by train & 2 hrs. by car

Up by the Baltic coast lies the wonderful city of Gdansk. Unlike many European destinations, the most interesting part of this city isn�t its oldest district. Instead, visitors flock to the heavily reconstructed city centre that had to be rebuilt after WWII. Still, you�d never know by looking at it.

Like a mini-state all to itself, Gdansk has a unique feel that sets it apart from other cities in Poland. Centuries of maritime ebb and flow as a major Baltic port; streets of distinctively un-Polish architecture influenced by a united nations of wealthy merchants who shaped the city�s past; the toing and froing of Danzig/Gdansk between Teutonic Prussia and Slavic Poland; and the destruction wrought by WWII have all bequeathed a special atmosphere that makes Gda?sk an increasingly popular destination.

Visitors throng in ever greater numbers to wander historical thoroughfares lined with grand, elegantly proportioned buildings, and to enjoy a treasure trove of characterful bars and cafes, seafood restaurants, amber shops and intriguing museums, not to mention pleasure-boat cruises along the river and a wealth of maritime history to soak up in between brews at dockside beer gardens.

Check in at hotel

Day at leisure to get the feel of Gdansk

The perfect place to start any visit to Gdansk is the picturesque Long Lane that spans the city centre. As you stroll along, the street will present you with scenic landmark after scenic landmark. Both the Golden Gate and Green Gate that bookend the street are pure works of art, as is nearly every house that lines the Long Market.

Wander northward and you�ll be treated to the beautiful Ulica Piwna or Beer Street, perfect for a break �wink wink�, and Ulica Mariacka or Amber Street with its numerous amber jewelers. Between the two you�ll find the Basilica of St. Mary, who�s stunning tower offers unparalleled views of Gda?sk.

It doesn�t hurt to go for a stroll along the city�s canals to admire the Gdansk Crane that has become a city icon. Across the canal you�ll find the modern Amber Sky Wheel, which offers a view without all those stairs.

For dinner, why not delve into everything potato at Pyra Bar, with its range of potato-centric dishes.

Overnight at Gdansk

Day 4

Gdansk / Local sightseeing

After breakfast, day at leisure for local sightseeing of Gdansk & surrounding areas

Today is a chance to shape your Poland itinerary by what interests you the most. There�s definitely more to see in Gda?sk but northern Poland has plenty of other compelling sights as well. Any of the following would be a welcome addition to your Poland trip, but one of the following may jump out at you more than the others:

War History of Gdansk

The Free City of Gdansk has the unfortunate honor of being the first city the Nazi�s seized at the start of World War II. Take a river cruise through Gdansk to Westerplatte, the coastal site of this tragic moment in history, or visit the Gda?sk WWII Museum.

Beaches of Sopot and Gdynia

Together with Sopot and Gdynia, Gdansk is part of what is known as the Three Cities. Its smaller northern neighbors make up for their size with great, wide sandy beaches. Just a quick local train away, you can find yourself sunbathing and swimming on many different beautiful beaches in record time, although the Sopot city beach is probably the most popular choice.

Malbork Castle

Ever wondered where the largest castle in the world is ? Well, Poland is the answer; Malbork to be specific. A colossal Teutonic castle from the 13th century, you�ll be stunned by the sheer scale of the building, not to mention the state of its many halls and chambers.

Evening at leisure

Overnight at Gdansk

Day 5

Gdansk to Wroclaw / At leisure to explore the town

After breakfast, depart for Wroclaw � 510 kms. / 6 hrs. by train or car

Say farewell to the north with a considerable car or train ride down to the elegant city of Wroclaw. Actually pronounced �Vroczwav�, the city�s name is just one of many challenges visitors have with the Polish language. Regardless, Wroclaw is home to some beautiful and pleasantly kitsch attractions.

Everyone loves Wroclaw and it�s easy to see why. With an idyllic location on the Odra River, the venerable city comprises 12 islands, 130 bridges and verdant riverside parks. The beautifully preserved Cathedral Island is a treat for lovers of Gothic architecture.

Though in some ways it�s a more manageable version of Krakow, with all the cultural attributes and entertainment offerings found in that popular destination, the capital of Lower Silesia has an appealing character all its own. Having absorbed Bohemian, Austrian and Prussian influences, the city has a unique architectural and cultural make-up, symbolised by its magnificent market square (Rynek).

But Wroclaw is not just a pretty face � it�s Poland�s fourth-largest city and the major industrial, commercial and educational centre for the region. At the same time it�s a lively cultural hub, with several theatres, major festivals, rampant nightlife and a population of more than 130,000 students.

Check in at hotel on arrival

Rest of the day at leisure to explore the city

It�s best to not to be too ambitious after the lengthy journey, but thankfully the centre of Wroclaw isn�t all that big. Of course, the best place to start is the city�s Market Square that centres on the elaborate, gothic Town Hall.

Make your way south to take in impressive landmarks like the Royal Palace of Wroclaw, the Opera House and the Corpus Christi Church. But first, treat yourself for making it through a long day with the sweet goodness of a traditional Polish donut at Stara P?czkarnia.

If you still have some energy left, take a stroll along the southern part of the canal that stretches around the city�s old town like a moat. Otherwise, why not kick up your feet at the laid back Bulkaz Maslem pub?

Overnight at Wroclaw

Day 6

Wroclaw / Local sightseeing

After breakfast, it�s a great day to learn more about this special city and go hunting for dwarfs� let me explain!

A walking tour is a great way to get up to speed on the history of Wroclaw and learn more about the sites you visited the day before.

The tour will also take you through other pockets of the city centre, like the grand old buildings of the city�s university and the local delights of the Fair Market.

Beyond the town centre, you should make your way across the Oder River to Ostrow Tumski and its wealth of churches and cathedrals. If you have a spare padlock and a romantic soul, why not leave it on Most Tumski with the thousands of other trinkets?

Now� the dwarfs. While walking around the city, you may have noticed small bronze gnomes here and there. Your tour guide will have hopefully explained the story behind these �dwarfs� or krasnal and how they�ve become a symbol of the city. There are over 300 unique ones out there, how many can you find?

Evening at leisure

Overnight at Wroclaw

Day 7

Wroclaw to Krakow / At leisure to explore the town

After breakfast, depart for Krakow � 270 kms. / 3 hrs. 30 mins. by train or car

And finally, we reach the darling of Poland, the exquisite city of Krakow. It�s rare to hear a bad thing said about this delightful, historic city. Unscathed physically through WWII, Krakow is an authentic, yet often troubled slice of history.

Poland�s former royal capital effortlessly fuses medieval pomp and pageantry with modern-day, student-fuelled fun into a harmonious whole.

Riveting History
Alternating themes of destruction and rebirth run throughout Krakow�s history, all the way back to the 13th century, when marauding Tatars sacked the city and pierced the town crier's throat with an arrow. A century later, Krakow was back on top as Poland�s capital, and then dashed again in the 16th century when the capital moved to Warsaw. In more recent times, Krakow re-emerged after WWI only to be occupied by Nazi Germany 20 years later. After that came communism, and another chapter of rebirth. It�s a never-ending episode of Games of Thrones and just as enthralling.

Stunning Architecture
Architecture buffs will think they died and went to heaven. Over the thousand years of Krakow's existence, all of the great European architectural styles � Romanesque, Gothic, Renaissance, baroque and art nouveau � have cycled through and left behind traces that prove the whole is infinitely greater than the sum of the parts. Find the world's largest late-Gothic altarpiece within the darkened interiors of St Mary�s Basilica, and then step out into the sunshine to see the gleaming 16th-century Renaissance Cloth Hall, built at a time when Krakow�s royal authority was at its apex.

Culture, Culture, Culture
Krakow may no longer be Poland's political capital, but it makes a strong case for being the country's cultural capital. The annual list of festivals and events is as long as your arm, and every week, it seems, brings another celebration of theatre, the arts, music, film, dance, literature and, yes, food. Did we mention there�s even a pierogi fest ? Outside the festival calendar, Cracovians are inveterate theatre-goers, jazz aficionados, poetry lovers, film buffs and klezmer listeners, and seemingly every corner of the city, every dark basement and hidden garden, buzzes with artistic anticipation.

Pierogi, Vodka & More
No accounting of Krakow's charms would be complete without a nod toward the culinary. Come for your fill of traditional delights like kielbasa (Polish sausage), pierogi and vodka, served everywhere from grand Gothic cellars to simple stands. But Cracovians also love to expand their palates. French, Italian and Asian-inspired restaurants are popular, while vegan and vegetarian foods are experiencing something of a moment � vegan sushi and meatless kebabs are all the rage. Finish off with lody (ice cream), a national mania.

Check in at hotel

Day at leisure to explore the town

A true highlight of Krakow is the city�s Main Square that lies at the heart of the wonderfully preserved Old Town. Here you�re introduced to some of the city�s most superb icons, such as the grand Cloth Hall and uneven St Mary�s Basilica with its hourly trumpet call. There�s even an underground museum beneath the Main Square for those who aren�t claustrophobic.

Wandering the Old Town on foot, find your way to St. Florian�s Gate and the Krakow Barbican, the remains of the city�s walls. Cross the Old Town via the Grodzka pedestrian street or the park that encircles the historic centre to reach the mighty Wawel Castle, a true beauty.

Dig into a hearty Polish meal at the traditional Pod Wawelem Kompania Kuflowa opposite Wawel Castle or head to the Jewish quarter of Kazimierz. You won�t have trouble finding places to drink and party either.

Overnight at Krakow

Day 8

Krakow / Local sightseeing

After breakfast, day at leisure for local sightseeing

There are two ways you can approach this second day in Krakow: you can either dedicate another day to exploring Krak�w or choose to do a day trip. This will really depend on what you want to do the next day, but options can be:

Excursion to Auschwitz Birkenau

The infamous Nazi death camp, a tour to Auschwitz is one of the most frequent trips made by people visiting Krakow. Detailing the heart-breaking history and tales from this place, this trip may not be for everybody, as it can be an emotionally taxing experience.

After return, explore Krakow

Jewish History of Krakow

It�s also possible to learn about actions undertaken within Krakow against Jewish victims. Besides walking tours, there�s the chance to tour Oskar Schindler�s Factory (of Schindler�s List fame). The haunting memorial in Ghetto Heroes Square is not to be missed.

Ghost Stories Tour

Either way you choose to spend your day, why not change things up with something a little spooky? Most nights of the week you can take a walking tour that takes you into Krakow�s macabre side. Wait for ghosts to appear and learn about local urban legends. A fun scare to shake off the heavier moments of the day.

Overnight at Krakow

Day 9

Krakow / Excursions around Krakow

One of the aspects of Krakow that make it such a mainstay on most Poland itineraries is the various options for day trips from the city.

After breakfast today, depart on excursion to following locations

Wieliczka Salt Mine � 15 kms. from Krakow

Ticking multiple boxes at once, the Wieliczka Salt Mine is a UNESCO listed, historic, underground salt mine. After descending into the mine, you�re able to explore numerous caverns and even visit an elegant underground chapel. Some tours actually combine a tour of the salt mine with a visit to Auschwitz Birkenau, like this one for example. However, you can also book a tour of just the salt mine.

Zakopane � 100 kms. from Wieliczka Salt Mine

At the foot of the Tatra Mountains that border Slovakia, Zakopane is a retreat perfect for outdoor activities. While visiting in the winter will mean skiing and snowboarding, a trip in the summer leads to mountain hikes. Either way, you can expect some amazing views after taking the cable car up Guba?�wka mountain to overlook the town below.

Later in the evening back to Krakow � 115 kms. return journey

Overnight at Krakow

Day 10

Krakow to Warsaw / At leisure to explore the town

fter breakfast, depart for Warsaw � 295 kms. / 3 hrs. by train & 4 hrs. by car

Return to the nation�s capital and your starting point for one final day in Warsaw.

Check in at hotel

Later venture out to the far bank of the Vistula River and explore the alternative Praga neighborhood. This bohemian district almost feels like a different city, which it actually was for a long time. It�s said that many locals still treat it that way.

For a slice of serenity and scenery, consider taking a tram down to Lazienki Park. This huge park is great for a romantic picnic or casual stroll, and Lazienki Palace is quite the stunning spot. Here, it certainly feels like you�ve left Warsaw behind.

Overnight at Warsaw

Day 11

Departure from Warsaw

After breakfast, morning at leisure

Later transfer to airport for onward flight
Notes
Best between May & Oct. ... Extension recommended to Austria, Czech Republic, Germany, Hungary & Other Countries across Europe
Hotels
Tour Inclusions [Best of Poland]
1 night Warsaw
1 night Torun
2 nights Gdansk
2 nights Wroclaw
3 nights Krakow
1 night Warsaw
Daily breakfastat at hotels
All transfers, sightseeings, inter-city travel and excursions throughout the Itinerary by train, van, bus or self-drive car
All sightseeings with an English speaking guide
Notes on itinerary
All our itineraries are "Just for Ideas" ... We will get to know you and customise an itinerary just for you that matches your requirements ... dates of travel, category of hotels, preferred airline, flexibility in choosing sightseeing, mode of travel between cities, etc.
Many of our clients have us design more relaxing, slower paced holidays with more in-depth experiences whereas some simply want to visit various destinations and cover only the highlights.
Together, we will determine the ideal route, pace of travel, accommodations, levels of pampering, style of touring, sightseeing to be included, dining preferences, adventure levels, options to meet locals, dates of travel & much more ! and based on this arrive at a price.
Do feel free to get in touch with us by a quick call on +91 79 29602961 or a short mail on mail@destinations4india.com ... Looking forward