Best of Panama with Costa Rica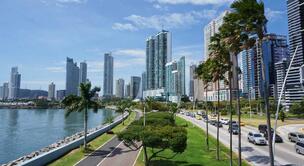 From clear turquoise seas to the coffee farms and cloud forests of Chiriquí, Panama can be as chilled out or as thrilling as you wish.

Endless Summer
With a plethora of deserted islands, chilled Caribbean vibes on one side and monster Pacific swells on the other, Panama sits poised to deliver the best of beach life. And a whole other world begins at the water's edge. Seize it by scuba diving with whale sharks in the Pacific, snorkeling the rainbow reefs of Bocas del Toro or setting sail in the indigenous territory of Guna Yala, where virgin isles sport nary a footprint. Meanwhile surfers will be psyched to have world-class breaks all to themselves. Hello, paradise.

Cosmopolitan Panama
The dazzling blue coastline and shimmering skyscrapers say Miami, though many joke that you hear more English spoken in Panama. Panama City is culturally diverse and driven, rough-edged yet sophisticated. And there's much that's new or improved. Central America's first subway is operating, the historic Casco district has been beautifully restored and a massive canal expansion completed. Take in the city's funky particulars. Pedal the coastal green space, explore the Casco or attend an avant-garde performance and you will realize this tropical capital isn't only about salsa: that's just the backbeat.

The Great Outdoors
In Panama, nature is all about discovery. Explore the ruins of Spanish forts on the Caribbean coast or boat deep into indigenous territories in a dugout canoe. Wildlife is incidental: a resplendent quetzal on the highland trail, an unruly troupe of screeching howler monkeys outside your cabin or a breaching whale that turns your ferry ride into an adrenaline-filled event. Adventure tourism means zipping through rainforest canopies, swimming alongside sea turtles or trekking to sublime cloud-forest vistas. One small tropical country with two long coasts makes for a pretty big playground.

Lost-World Adventure
You don't have to make it all the way to the Darién to get off the beaten path – though if you do, you've hit one of the most biodiverse spots on the planet. Go where the wild things are. Soak in the spray of towering waterfalls near highland Santa Fé. Visit one of Panama's seven indigenous groups through community tourism. Live out your castaway fantasies in the Guna Yala or idle on a wilderness beach in Península de Azuero. Howl back at the creatures sharing the canopy. Panama is as wild as you want it to be.

Itinerary
Day 1

Arrival Costa Rica / San Jose City

Welcome to Costa Rica!

Upon arrival at Juan Santa Maria airport in San Jose, meet & greet by our representative and transfer to hotel for check in

Chances are San José wasn't the top destination on your list when you started planning your Costa Rica trip, but give this city a chance and you might be pleasantly surprised. It's true that Chepe – as San José is affectionately known – doesn't make a great first impression, with its unremarkable concrete structures and honking traffic, but it's well worth digging deeper to discover the city's charms.

Rest of the day at leisure to explore the city …

Take your time exploring historic neighborhoods such as Barrio Amón, where colonial mansions have been converted into contemporary art galleries, and Barrio Escalante, the city's gastronomic epicenter.

Stroll with Saturday shoppers at the farmers market, join the Sunday crowds in Parque La Sabana, dance the night away to live music at one of the city's vibrant clubs, or visit the museums of gold, jade, art and natural history, and you'll begin to understand the multidimensional appeal of Costa Rica's largest city and cultural capital.

Overnight in San Jose

Day 2

San Jose City to Arenal Volcano

Today, after breakfast, you will start traveling north, in the direction of the northern plains, where the Arenal Volcano begins to crown ... 165 kms.

This volcano has an almost perfect cone-shaped shape and his origin is placed over three million years ago with a height of 1.633 meters.

The rich land is covered with different plantations such as pineapple, cassava, bananas, and more.

Whether you approach from the west or from the east, the drive into the Arenal area is spectacular. Coming from Tilarán in the west, the road hugs the northern bank of Laguna de Arenal. The lake and forest vistas are riveting. On either side lovely inns, hip coffeehouses and eccentric galleries appear like pictures in a pop-up book. Approaching from Ciudad Quesada (San Carlos), you'll have Volcán Platanar as the backdrop, and if the weather cooperates, the resolute peak of Arenal looms in front of you.

The volcano may be dormant, but plenty of adventure still awaits you here. There are trails to hike, waterfalls to rappel down, and sloths to spot. No matter what your preferred method of exploring – hiking, biking, horseback riding, ziplining – you can do it here. And when your body says it's had enough, you can ease into a volcano-heated pool to soak your aches away.

Check in at hotel on arrival

In the afternoon we will enjoy the touristic attraction "Ecotermales" which is famous for its medical properties and their hot springs which directly come from the volcano.

Depending on the climate conditions we will be able to see a volcanic eruption during our stay there

Tonight, you can have dinner at the hotel or, if time permits, you may go and explore the village of La Fortuna where you will find many kinds of dining options and some nightlife too.

Overnight in Arenal

Day 3

Arenal to Tortuguero

After breakfast today morning, we will leave the Hotel and start towards Guapiles to reach Tortuguero National park … 125 kms.

Humid Tortuguero is a 311-sq-km coastal park that serves as the most important breeding ground of the green sea turtle. With annual rainfall of up to 6000mm in the northern part of the park, it is one of the wettest areas in the country. In addition, the protected area extends into the Caribbean Sea, covering about 5200 hectares of marine habitat. In other words, plan on spending quality time in a boat

The famed Canales de Tortuguero are the introduction to this park. Created to connect a series of lagoons and meandering rivers in 1974, this engineering marvel allowed inland navigation between Limón and coastal villages in something sturdier than a dugout canoe. Regular flights service the village of Tortuguero – but if you fly in, you'll be missing half the fun. The leisurely taxi-boat ride, through banana plantations and wild jungle, is equal parts recreation and transportation.

When we arrive at the regional harbor we will take a boat that will bring us to our Lodge.

In the afternoon we visit the museum and the town of Tortuguero

Overnight at Tortuguero

Day 4

Visit Canals of Tortuguero

After breakfast, we depart on tour round the main Canals of Tortuguero with small boats to have the best view and accessibility to this magnificent place.

Located within the confines of Parque Nacional Tortuguero, accessible only by air or water, this bustling little village with strong Afro-Caribbean roots is best known for attracting hordes of sea turtles (the name Tortuguero means 'turtle catcher') – and the hordes of tourists who want to see them. While peak turtle season is in July and August, the park and village have begun to attract travelers year-round. Even in October, when the turtles have pretty much returned to the sea, families and adventure travelers arrive to go on jungle hikes, take in the wild national park, and canoe the area's lush canals.


This park is the most important area for turtles in the eastern part of the Caribbean coast. The park contains an amount of natural canals which are important for the transportation and for the exploration of this territory. The fauna and flora are very extensive; because of this it is possible to observe tropical forest in his magnificence. Furthermore we can observe exotic species like the toucan, monkeys and crocodiles.

Back to the lodge by evening

Overnight at Tortuguero

Day 5

Tortuguero to Puerto Viejo

After breakfast depart for Puerto Viejo via Siquirres & Canals of Tortuguero … 205 kms.

Extensive lunch enroute

Puerto Viejo

This burgeoning party town is no longer a destination for intrepid surfers only; it's bustling with tourist activity. Street vendors tout Rasta trinkets and Bob Marley T-shirts, stylish eateries serve global fusion, and intentionally rustic bamboo bars pump dancehall and reggaetón. It can get downright hedonistic, attracting revelers wanting to marinate in ganja and guaro (a local firewater made from sugarcane)

Despite that reputation, Puerto Viejo manages to hold onto an easy charm. Stray a couple of blocks off the main commercial strip and you might find yourself on a sleepy dirt road, savoring a spicy Caribbean stew in the company of local families. Nearby you'll find rainforest fruit and cacao farms set to a soundtrack of cackling birds and croaking frogs, and wide-open beaches where the daily itinerary revolves around surfing and snoozing. If you're looking to chill a little, party a little and eat a little, you've come to the right place.

Check in at hotel on arrival

Rest of the day at leisure to explore this laid back town … Puerto Viejo has incredible beaches, delicious food, and a dread-locked, tropical Rasta vibe. For those looking to get away from corporate sorts and package tours, this Caribbean village is a countercultural breath of fresh air. A place where bicycles outnumber cars, hammocks are more important than air-conditioning, and yoga is a way of life.
Beaches and social life are the town's main draw. But there are plenty of additional activities. Surfing, snorkeling, boat trips, wildlife sanctuaries, chocolate tours, day trips to indigenous communities. You could easily spend a month here and not run out of things to do.

Overnight at Puerto Viejo

Day 6

Puerto Viejo / Visit National Park of Gandoca – Manzanillo

After breakfast we visit the National Park of Gandoca – Manzanillo.

Turquoise water and rocky white sand beaches backed by coconut trees and lush rainforest are characteristic of the southern Caribbean coast of Costa Rica. Gandoca Manzanillo Wildlife Refuge protects roughly 70% of the southern Caribbean which stretches from the little village of Manzanillo all the way down to Panama. The wildlife refuge has wild white sand beaches, picturesque little coves, rocky outcrops, and rainforest teeming with wildlife.

On land, monkeys, coat, sloths, iguanas, poison dart frogs, and more can be found in Gandoca Manzanillo Wildlife Refuge. Over 350 bird species can be seen within the park: the red-capped manikin, the red-lored parrot, and the chestnut-mandibled toucan to name a few.
Offshore, the coral reef attracts marine life to the park. The waters here are some of the clearest in the country when the water is calm (August through October) – ideal for snorkeling! Three different dolphin species (including an endemic freshwater species), four different sea turtle species (from March to July), manatees, crocodiles, lobsters, and long-spine sea urchins have been seen offshore.
One of the highlights and best photo opportunities is Mirador Gandoca Manzanillo, the viewpoint overlooking the picturesque Manzanillo Beach. From the lookout, you can take the staircase down to the beach for a swim.

Within the wildlife refuge, Punta Mona (monkey point) is a refuge for waterfowl. South of Punta Mona is a natural oyster bank and the only red mangrove on Costa Rica's Caribbean coast.

Further south, Playa Gandoca is a brown-sand beach backed by wetlands where sea turtles return annually to nest.

Furthermore Gandoca-Manzanillo is one of the places where the turtle Baula broods which is one of biggest turtles in the country. Additionally you will see hundred years old trees.

Overnight at Puerto Viejo

Day 7

Costa Rica to Panama … Puerto Viejo to Bocas del Torro

Early in the morning our transport service takes us to the area of Sixaola where we are going to pass the border line of Panama

After this a transport service takes us towards Puerto Almirante where we take boats to get to the island of Bocas del Torro. This island is one of the magnificent ones in the sea.

With its Caribbean islands dotting a shock of blue waters, Bocas del Toro is all that's tropical. This is Panama's principal tourist draw and it will no doubt provide some of your most memorable experiences. The archipelago consists of six densely forested islands, scores of uninhabited islets and the Parque Nacional Marino Isla Bastimentos, Panama's oldest marine park.

The long time base of the Chiquita Banana company, the mainland boasts the Parque Internacional La Amistad, shared with Costa Rica. It's also home to diverse wildlife such as the elusive jaguar, traditional Ngöbe-Buglé settlements, and the Naso, one of few remaining American tribes with its own monarch.

Most visitors come for a hefty dose of sun and surf. Few are disappointed with the Bocas cocktail of water, fun and thatched luxury, but there's a lot more to what might be Panama's most beautiful corner.

Check in at hotel on arrival

Rest of the day at leisure to explore the luxurious rainforests, sunny islands, a crystal-blue sea with beautiful corrals, typical ethnic towns and a navy national park which protects the natural refuge of this area

Overnight at Bocas Del Torro

Day 8

Bocas del Torro / Local sightseeing

After the breakfast we leave the hotel via boat towards the Laguna Bocatorito where we are able to observe dolphins which swim around our boats

After this, our guide leads us to Cayo Coral at the island Bastimentos. There you have the opportunity to go snorkeling to explore the wonderful world of corrals and the fauna of the sea around the island.

Later our guide leads us to the beach la Rana Roja. There we do a walk through the forest where peculiar amphibians live.

We finish the day by enjoying the sun at the beach!

Overnight at Bocas Del Torro

Day 9

Bocas Del Torro to Panama City Flight / City tour & Miraflores Locks

Very early in the morning we will have our breakfast to start right after our transport from the hotel to the airport.

We take the flight from Bocas del Toro to Panamá City.

Upon arrival meet & greet by our representative and proceed for a tour around the Panama Canal and the City.

This is a guided tour to the most important and typical spots of Panama. During this tour we will be able to have a quick to the Contemporary Panama ,then we will move on to the Panama Canal where we will have a guided tour that will allow us to appreciate the history and function of this engineering structure considered to be the largest of this century and the "Eighth Wonder of the World". With a little bit of luck, we will be able to observe the passage of a ship through the Canal.

Afterwards, we will head to Causeway (3 islands joined by the land that was digging took off from the canal construction), and Casco Antíguo (colonial Panama) where we will have the pleasure of touring its narrows streets, plazas and parks that still conserve much of the country's history.

Our visit will extend up to the France Plaza, The Vaults, the San Jose Church with its impressive gold altar, the "Arco Chato" (flat arc), and the cathedral among others.

Later check in at hotel

Overnight at Panama City

Day 10

Panama City / Visit Embera community at Corotu

Today trip to Embera community

We will depart early in the morning. We will be able to observe many rural areas dedicated to the agricultural activity.

We will arrive to the shipment point of Corotu where we will board a rowing canoe that with our input will take us through the Chagres River, which is characterized for its scenic landscapes.

Upon arrival to our destination we will be welcomed by the indigenous community whom will give us a speech in the Bohío (a type of hut made of guagara and palms) on their customs, work materials, medicinal plants, etc.

We will enjoy of their typical music, dance and food and will have the opportunity to make paintings on the body similar to the ones they possess.

Back to Panama City by evening

Overnight at Panama City

Day 11

Panama City / Excursion to Portobello

Today visit Portobello by train

Early morning hours we will depart to the station of the train that will take us to Colon, the final link that served to unite the north and South American continents.

The short journey of about 70 km by the Panama Canal sidelines will last a little more than an hour and will remind us of the Spanish conquerors, pirate hosts, gold seekers, and even the via constructors.

Upon arrival to the free zone, one of the most important centers of wholesale distribution for imports and re-exports, we will have the option of touring the area to shop for goods that will be subject to the custom's house regulations.

Later on we will visit the picturesque bay of Portobello, and ruins of its first settlers. Portobello was the loading point of the Spaniards for all the treasures of the Inca Empire and the favorite point of attack of pirates such as Sir Francis Drake.

We will end our tour with a visit to the local church famous for Black Christ

Overnight at Panama City

Day 12

Departure from Panama City

After breakfast, morning at leisure

Later our transport service leads us to the International Airport as per flight schedule
Notes
Round the year destination ... Extension recommended to Nicaragua
Hotels
Tour Inclusions [Best of Panama with Costa Rica]

11 night accommodation
Breakfast and hotel taxes
Airport -Hotel-Airport Transfer
Visit Arenal volcano and Ecothermals
Visit Tortuguero national park
Visit Gandoca Manzanillo national park
Panama city tour with lunch
Visit Embera Indigenous Community with lunch
Tour to Bocatorito, Cayo Coral and Red Frog Beach with lunch
Flight from Bocas del Toro to Panama City
All transfers & inter-city travel as mentioned in the itinerary

Notes on itinerary
All our itineraries are "Just for Ideas" ... We will get to know you and customise an itinerary just for you that matches your requirements ... dates of travel, category of hotels, preferred airline, flexibility in choosing sightseeing, mode of travel between cities, etc.
Many of our clients have us design more relaxing, slower paced holidays with more in-depth experiences whereas some simply want to visit various destinations and cover only the highlights.
Together, we will determine the ideal route, pace of travel, accommodations, levels of pampering, style of touring, sightseeing to be included, dining preferences, adventure levels, options to meet locals, dates of travel & much more ! and based on this arrive at a price.
Do feel free to get in touch with us by a quick call on +91 79 29602961 or a short mail on mail@destinations4india.com ... Looking forward