Best of Oman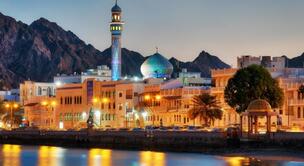 In Muscat's Grand Mosque, there is a beautiful hand-loomed carpet; it was once the world's largest rug until Abu Dhabi's Grand Mosque, in the United Arab Emirates, pinched the record. This is poignant because Oman doesn't boast many 'firsts' or 'biggests' in a region bent on grandstanding. What it does boast, with its rich heritage and embracing society, is a strong sense of identity, a pride in an ancient, frankincense-trading past and confidence in a highly educated future.

For visitors, this offers a rare chance to engage with the Arab world without the distorting lens of excessive wealth. Oman's low-rise towns retain their traditional charms, and Bedouin values remain at the heart of an Omani welcome. With an abundance of natural beauty, from spectacular mountains, wind-blown deserts and a pristine coastline, Oman is the obvious choice for those seeking out the modern face of Arabia while wanting still to sense its ancient soul.

On this tour with an ideal itinerary, discover Oman's treasures on an adventure that includes the Arab Tourism Capital Muscat, Wadis, Coast, Smooth sands, Rugged mountains and Rustic villages combined with cultural experience.

Itinerary
Day 1

Arrival Muscat … Welcome to the Sultanate of Oman!

Upon arrival at Muscat, meet & greet by our representative, transfer to your hotel

Scenically wedged between mountains and ocean, with old forts and excellent museums, an opera house and flower-filled parks, the gentle city of Muscat is a delight to visit. Its name means 'safe anchorage', and the sea plays an important role in city life to this day, sustaining the fishing industry and providing opportunities for visitors to swim from sandy beaches or dive with turtles in nearby lagoons.

The city has a character quite distinct from neighbouring capitals. There are few high-rise blocks, and even functional buildings are required to reflect tradition with a dome or an arabesque window. The result is an attractive, whimsically uniform city that retains the elegance observed by early travellers. The city is quite conservative in nature, asking of visitors decorum in dress and manner, but in return it offers a warm sense of Omani hospitality and an opportunity to connect with the country's rich heritage.

Check in at hotel

The remainder of the day offers free time for you to explore and relax in walking distance to the beach and dining possibilities

Overnight at Muscat

Day 2

Muscat / City Tour

After breakfast today you visit the 5th largest mosque in the world, the Sultan Qaboos Grand Mosque.

Passing by the diplomatic quarter, you will be taken to the oldest and largest market in the country, Muttrah souq. This is a time for you to shop for your Omani souvenirs. Walk through its narrow alleys where the air is filled with the smell of frank incense and sandalwood.

Next stop is the Al Alam Palace where the Sultan receives his state guests. The palace is flanked by two Portuguese fortresses, Al Jalali (1578) to the right and Al Mirani (1581) to the left. At a museum, you will witness traditional artefacts and traces of history and pre-history of Muscat.

Evening at leisure

Overnight at Muscat

Day 3

Muscat - Nizwa - Jabal Akhdar

After breakfast your day starts by visiting Nizwa

The historic town of Nizwa, with its giant fort and high-walled souq, lies on a plain surrounded by a thick palm oasis and some of Oman's highest mountains. Only half a century ago, British explorer Wilfred Thesiger was forced to steer clear of Nizwa: his Bedouin companions were convinced that he wouldn't survive the ferocious conservatism of the town and refused to let him enter. He would have been amazed to find that Nizwa is now the second-biggest tourist destination in Oman. The seat of factional imams until the 1950s, Nizwa, or the 'Pearl of Islam' as it's sometimes called, is still a conservative town, however, and appreciates a bit of decorum from its visitors.

Marked by a grand double-arched gateway, Nizwa forms a natural access point for the historic sites of Bahla and Jabreen, and for excursions up the mountain roads to Jebel Akhdar and Jebel Shams.

Niwaz, the capital city until 1783 and to this day headquarter of the Imam, is the sacred centre of the country. Explore the traditional Souq, which is famous for its splendid silver products and the pottery of Bahla. The fort of Nizwa offers an amazing view over the city and the surrounding mountains.

Later ccontinue your exploration upwards onto Jebel Akhdar, the green mountain. The name derives from the fact that the area is one of the most fertile in the country. In the plantations grow apricots, pomegranates, peaches, grapes, almonds, walnuts and of course the roses that are the base of the popular Omani rose water. In spring, when the roses bloom, the visit of a rosewater factory is a special experience.

Later you check in your mountain resort

Jebel Akhdar (Green Mountain) is one of the Sultanate's most popular destinations for residents and visitors, thanks to its diverse options for relaxation, hiking and visiting cultural sites. The region features sumptuous resorts, spectacular scenery as far as the eye can see and a wealth of opportunities to shop for locally made handicrafts or visit centuries-old villages and historical building to learn about Oman's rich history.

Jebel Akhdar is located 150 km from Muscat. The range is mostly desert, but at higher altitudes, the famed Damask rose flourishes, along with shrubs, trees, and orchards of apricots, pomegranates and walnuts.

Jebel Akhdar is also home to Diana's Point, a site with a spectacular panoramic view that the late Princess Diana enjoyed when she visited Oman in 1986.

Along with top-tier accommodations and natural beauty that attracts visitors from across the world, the area also features souks and heritage sites in the cities including Nizwa, Bahla and Ebri, along with ancient landmarks such as Nizwa Fort, Jabreen Castle and Bahla Fort.

Dinner & overnight at Jabal Akhdar

Day 4

Jabal Akhdar / Day trip to Jabal Shams

After breakfast, today morning you proceed to Al Hamra

This venerable village at the foot of the Hajar Mountains is one of the oldest in Oman, and it is interesting for its well-preserved row of two- and three-storey mud-brick houses built in the Yemeni style. There are many abandoned houses in the upper parts of the village, which make for an atmospheric stroll, especially at sunset when the honey-coloured buildings appear to melt into one.

Visitors are welcome, and there's a museum devoted to domestic pursuits that helps open up the inner life of this 400-year-old community. As with most rural villages in Oman, it's best to explore on foot.

Al Hamra has a new as well as an old quarter; these are located either side of a large plantation of dates. The route through the old quarter is best explored on foot by following the falaj (irrigation channel) at the bottom of the village.

Here, the village women demonstrate old practices such as milling, coloring, cooking and more. A truly enriching experience.

To the west of Al Hamra lies the road winding up Jebel Shams, the mountain of the sun. It is the highest mountain of the Arabic world and reaches 3075 m above sea level.

The drive to the peak is adventurous, you pass the old village Ghul with its green terrace fields. Some kilometers further you reach the abyss of the Omani Grand Canyon. Enjoy the breath-taking views.

Then visit the mountain village of Misfah which offers rewarding views of ancient architecture seen in stone houses.

Dinner & overnight at Jabal Akhdar

Day 5

Jabal Akhdar to Wahiba Sands

After breakfast, drive through the stunning dunes to Wahiba Sands Their forms change with the wave of the wind.

A destination in their own right, or a diversion between Muscat and Sur, these beautiful dunes, still referred to locally as Wahiba Sands, could keep visitors occupied for days. Home to the Bedouin, the sands offer visitors a glimpse of a traditional way of life that is fast disappearing as modern conveniences limit the need for a nomadic existence.


The sands are a good place to interact with Omani women whose Bedouin lifestyle affords them a more visible social role. Despite their elaborate costumes, with peaked masks and an abaya (full-length robe) of gauze, they are accomplished drivers, often coming to the rescue of tourists stuck in remote sands.

It is possible to visit the sands as a day trip, but the majesty of the night sky and the pleasure of dawn in the dunes makes a stay at one of the desert camps a better bet.

After your arrival in the camp you climb up on a lonely dune to watch the miraculous sunset. The day ends under the sky of Oman while you sit together around the fire place and try Omani specialties.

Overnight at Wahiba Sands Camp

Day 6

Wahiba Sands to Sur

After breakfast start your day by visiting the celebrated Wadi Bani Khalid. The ever-green Wadi Bani Khalid is one of the most famous ones of the entire Sharqiyah region. The river never dries out with continuous water current. Large palm-lined ponds with turquoise and sapphire colored water invite for a swim.

Arriving to the fishing town of Sur, the home of Omani traditional Dhows (boat), you will visit the dhow factory in the open air museum.

Once famous for dhow-building, Sur's boatyards are still functioning and open to visitors. Given this, plus a fine corniche, two forts, souqs and excellent beaches nearby, Sur is generally included on tours of Oman. It also serves as a convenient base for beauty spots around Tiwi and the turtle reserve at Ras Al Jinz.

At night, an extraordinary experience awaits you at the Turtle beach where you will get the opportunity
to witness sea turtles coming to the shore and laying eggs!

Overnight at Sur

Day 7

Muscat Coast and Wadis / Departure from Muscat

After breakfast today we start the day with passing by Bimmah Sinkhole with its azure saltwater pool.

Then a possibility of leisure hike through the twin wadis of Shab and Tiwi. You and your guide will determine the best suited itinerary for the day.

There is a possibility for swimming along the way so prepare some change of clothes!

Later drop to Muscat airport and here your unforgettable journey ends
Notes
Round the year destination ... Extension recommended to Dubai
Hotels
Tour Inclusions [Best of Oman]

2 Nights at Muscat hotel with breakfast
2 Nights at Jabal Akhdar hotel with breakfast & dinner
1 Night at Wahiba Sands Camp with breakfast and dinner
1 Night at Sur hotel with breakfast
Private Arrival & Departure transfer as per the itinerary
Private Half day Muscat city tour as per the itinerary with English speaking chauffeur
4 Days in a 4WD with the services of English speaking chauffeur from Day 3 to Day 6
Entrance fees as per the itinerary
Turtle Watch Tour

Notes on itinerary
All our itineraries are "Just for Ideas" ... We will get to know you and customise an itinerary just for you that matches your requirements ... dates of travel, category of hotels, preferred airline, flexibility in choosing sightseeing, mode of travel between cities, etc.
Many of our clients have us design more relaxing, slower paced holidays with more in-depth experiences whereas some simply want to visit various destinations and cover only the highlights.
Together, we will determine the ideal route, pace of travel, accommodations, levels of pampering, style of touring, sightseeing to be included, dining preferences, adventure levels, options to meet locals, dates of travel & much more ! and based on this arrive at a price.
Do feel free to get in touch with us by a quick call on +91 79 29602961 or a short mail on mail@destinations4india.com ... Looking forward