Best of Myanmar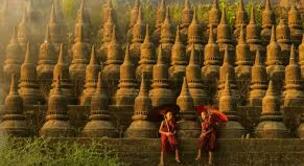 It's a new era for this extraordinary and complex land, where the landscape is scattered with gilded pagodas and the traditional ways of Asia endure.

'This is Burma', wrote Rudyard Kipling. 'It will be quite unlike any land you know about.' Amazingly, over a century later, Myanmar retains the power to surprise and delight even the most jaded of travellers. Be dazzled by the 'winking wonder' of Shwedagon Paya. Contemplate the 4000 sacred stupas scattered across the plains of Bagan. Stare in disbelief at the Golden Rock at Mt Kyaiktiyo, teetering impossibly on the edge of a chasm. These are all important Buddhist sights in a country where pious monks are more revered than rock stars.

Traditional Life
In a nation of multiple ethnic groups, exploring Myanmar can sometimes feel like you've stumbled into a living edition of National Geographic, c 1910. For all the recent changes, Myanmar remains at heart a rural nation of traditional values. You'll encounter men wearing the sarong-like longyi and chewing betel nut, spitting the blood-red juice onto the ground, women with faces smothered in thanakha (a natural sunblock), and cheroot-smoking grannies. Trishaws still ply city streets, while the horse or bullock and cart is common rural transport. Drinking tea – a British colonial custom – is enthusiastically embraced in thousands of teahouses.
The New Myanmar
In 2015, Myanmar voted in its first democratically elected government in more than half a century. Sanctions have been dropped and Asian investors especially are coming to do business. Modern travel conveniences, such as mobile-phone coverage and internet access, are now common. But the economic and social changes Myanmar is undergoing are largely confined to the big cities and towns, and large swaths of the country remain off limits due to ongoing ethnic conflict. The Burmese military continue to play a key, if less visible, role in politics. The new Myanmar is very much a work in progress.
Simple Pleasures
Thankfully, the pace of change is not overwhelming, leaving the simple pleasures of travel in Myanmar intact. Drift down the Ayeyarwady (Irrawaddy) River in an old steamer or luxury cruiser. Stake out a slice of beach on the blissful Bay of Bengal. Trek through pine forests to minority villages scattered across the Shan Hills without jostling with scores of fellow travellers. Best of all, you'll encounter locals who are gentle, humorous, engaging, considerate, inquisitive and passionate – they want to play a part in the world, and to know what you make of their country. Now is the time to make that connection.
Itinerary
Day 1

Arrival Mandalay - Local sightseeing

Upon arrival at Mandalay airport, meet & greet by our representative and transfer to Mandalay (1 hour drive) for check in at hotel

Mandalay will never win any beauty contests. Myanmar's second city is a relatively new creation, founded at the foot of Mandalay Hill in 1857 by King Mindon as his royal capital. The hill, its slopes studded with pagodas, still looms over the city. But Mandalay was bombed flat in WWII and the palace disappeared, along with much else. The palace was rebuilt in the 1990s, and since then Mandalay has undergone a haphazard construction boom that was never about aesthetics. An ever-growing number of motorbikes and cars clog the roads, too, making for a sometimes smoggy city.

But if you can shut out all the honking, Mandalay has its own charm. There are splendid markets, many monasteries, Indian temples, mosques, gold workshops and a bustling, working riverside to explore, as well as a thriving teahouse culture that offers visitors the chance to mingle with the exceptionally friendly locals.

Rest a while at hotel

Later visit to Kuthodaw Pagoda, whose 729 marble stone slabs of Buddhist scriptures have earned it the title 'World's Biggest Book'. Continue to Shwenandaw Monastery, the only remaining building from the 19th century Royal Palace. This grand teak building is known for its exquisite woodcarving. Head to the top of Mandalay Hill as the sun begins to set to enjoy magnificent views of the city and Irrawaddy River. Kuthodaw Pagoda is listed on the memory of the World register of the UNESCO

Dinner at Indian Restaurant

Overnight at Mandalay

Day 2

Mandalay - Sightseeing of Mingun, Sagaing & Amarapura ... 80 kms. drive around

After breakfast, proceed to Mayan Chan jetty and board on a local wooden boat for Mingun across Ayeyarwady river / 11 kms - Approx 1 hour ride

The boat trip is interesting because you see all types of wooden boats and bamboo rafts, carrying goods up and down the river. Observe the world's largest ringing bell casted by Bodawpaya in 1800 weighing 55555 viss which calculated equal to 90 tons and Mingun Pahtodawgyi, an enormous pile of bricks is all that remains of King Bodawpaya's ambition to make it the world's largest Buddhist stupa.

After a visit of beautiful Mya Thein Tan Pagoda return to Mandalay.

Afternoon proceed to Sagaing, covered with 600 white-painted pagodas and monasteries, Sagaing hill is widely regarded as the religious centre of Myanmar and is home of 6000 monks and nun, 100 meditation centers. On your way visit traditional bronze casting, silver smith works which Sagaing is famous for. Sagaing become the capital of independence of Shan around 1315 after fall of Bagan. Visit Tilawkaguru cave temple filled with impressive mural painting date back from 1672, Umin Thounzeh cave temple with multitude of seated Buddha statues and Kaungmudaw Paya, further west towards Monywar is enormous white dome rise 64 meter.

Later enjoy fantastic sunset view from the 200 year old U Bein teak bridge span across Thaungthaman Lake at the time when Amarapura was Royal capital.

Return to Mandalay by evening

Dinner at Restaurant serving Myanmar Menu

Overnight at Mandalay

Day 3

Mandalay to Bagan (by ferry)

Early morning with a packed breakfast, transfer to Jetty for ferry to Bagan. Cast off time - 06:30 hrs.

Visit to one of the villages on way

12:00 - Lunch onboard

Afternoon cruise down and arrival to Bagan will be around 17:30 hrs.

This temple town is one of Myanmar's main attractions. Once the capital of a powerful ancient kingdom, the area known as Bagan or, bureaucratically, as the 'Bagan Archaeological Zone' occupies an impressive 26-sq-mile area. The Ayeyarwady (Irrawaddy) River drifts past its northern and western sides.

The area's most active town and main transport hub is Nyaung U, in the northeastern corner. About 2.5 miles west, Old Bagan is the former site of the village that was relocated 2 miles south to New Bagan in 1990. Between the two is Myinkaba, a village boasting a long-running lacquerware tradition.

Bagan has been hit by earthquakes over the centuries. The most recent, in August 2016, damaged 400 temples; work on repairing them is ongoing. Bear in mind that Bagan is not a traveller destination with nightlife like Siem Reap (Cambodia) or even Luang Prabang (Laos). It's an overgrown village, so party elsewhere.

You are met by our representative at Jetty and transferred to hotel for check in

Dinner at Indian Restaurant

Overnight at Bagan

Day 4

Bagan sightseeing

After breakfast, full day sightseeing in Bagan

Sightseeing in Bagan includes : Nyaung Oo Market; a village market where you can find from wet market of fish and meat to house hold things like rattan baskets, cotton wear and antiques. Visit the golden Shwezigon Pagoda; prototype golden stupa

Afternoon visit , Ananda Temple; the most beautiful temple with 4 standing Buddhas in four cardinal points, history or lord Buddha and outside of the temple is decorated withTerra-Cotta worriers in green glaze plaques. Visit Lacquerware home industry and stroll around the village of Myinkaba, visit Manuha Temple; the temple of captive king of Tha-ton.

Late afternoon, take a horse cart ride through the temple field of Bagan passing by several pagodas and temples along the path. While the sun is setting down, red brick color of small temples such as Shwe Nan Yin Taw pagoda complex make the photogenic spot. Continue to the massive Damayangyi Pahto

Sunset from one of the temples of Bagan.

(Due to earthquake on 24th August 2016 ,about 350 temples were slightly damaged & about 15 were severely damaged . Regional administrative has stopped permission to go up sunset watch temples, such as Pyattadagyi Temple, Shwe sandaw Pagoda,etc . But since around 2000 temples accommodated in Bagan, you will be taken to one of the temples to watch the famous sunset of Bagan)

Dinner at Restaurant serving Myanmar Menu

Overnight at Bagan

Day 5

Bagan - Excursion to Salay & Mt. Popa ... 120 kms. driving around

After breakfast, drive to Salay, a small town on the eastern bank of the Ayeyarwaddy River.

Salay is also a birthplace of a famous playwright and poet of the 18th century, U Ponnya. Salay has a beautiful old teak monastery simply known as Yoke Sone Kyaung or Decorated monastery that is carved all over with scenes from Jataka, Buddha's life stories. This monastery is a treasure trove of excellent craftsman ship.

Visit the famous Shin Bin Sar Kyo temple where delegation from the court of Bagan welcome The Three Canons of Buddhist Texts on the return of King Anawratha after conquering Thaton. The interesting aspect of this small temple is that contain mural painting of 3 periods. Another interesting place is a Lacquered Buddha statue, which was drifted along the River sometimes 1890 A.D and was taken to the temple.

Later, we will set out for a scenic journey through toddy palm country side to Mt. Popa; it is the core of an extinct volcano and it rises abruptly from the surrounding hills. Mt. Popa and its environs are the only lush green place amidst the desert area of middle Myanmar. We will climb up the 730 steep steps. It is the sacred home of what is known as NATS spirits. We will enjoy the panoramic view of the surrounding landscapes atop Popa Taung Kalat. We will then transfer to the Popa Mountain Resort. Get a chance to visit the Popa National Park, with dense Sandalwood forests and rare species of birds and butterflies.

On way back to Bagan, about 15 mis drive from Nyaung, you will reach road side temporary huts of home industries. People living there work for plantation of ground nut / sesame /maize etc. They collect Palm juice from Toddy Palm tree and make toddy palm sugar. They do farming of Ground nut and extract peanut oil by using traditional method of wooden grinder. You can also taste fermented Toddy juice and watch processing from Toddy palm juice to local liquor.

Return to Bagan.

Dinner at Hotel (Asian set menu)

Overnight at Bagan.

Day 6

Bagan - Heho (Flight) / Pindaya - Kalaw

After breakfast, transfer to Bagan Airport for flight to Heho

Transfer from Heho airport to Pindaya [35 kms.], an interesting drive up into the hills and across the Shan Plateau, through mountainous route.

The road to sleepy Pindaya cuts across one of the most densely farmed areas in Myanmar – at first glance, the patchwork of fields and hedges could almost be a landscape from central Europe. But it's the Danu, Palaung and Pa-O villages, rather than the farms, around Pindaya that draw travellers for treks through less-visited areas than elsewhere in western Shan State. Another good reason to make the journey here is to visit the famous Shwe Oo Min Natural Cave Pagoda, a massive limestone cavern filled with thousands of gilded buddha statues.

Lunch at Local Restaurant, specialized in Danuo food (on your own expense).

Visit magnificent Pindaya Caves, set in a limestone ridge overlooking a picturesque lake, where thousands of different types of Buddha images are on display in the various cave chambers. Visit some local houses where families produce Shan paper and parasols.

Continue drive to Kalaw ... 50 kms., 1 hr. 20 mins.

Kalaw was founded as a hill station by British civil servants fleeing the heat of the plains. The town still feels like a high-altitude holiday resort – the air is cool, the atmosphere is calm and the tree-lined streets still contain a smattering of colonial-era architecture – while the surrounding hills are fine for relatively easy day or overnight treks to Danu, Danaw, Palaung, Pa-O and Taung Yo villages.

One of the few destinations in Myanmar that genuinely caters for backpackers rather than tour groups, Kalaw is an easy place to kick back for a few days. The town is also notable for its significant population of Nepali Gurkhas and Indians, whose ancestors came here to build the roads and railway during the colonial era.

Check in at hotel on arrival

Dinner at hotel (Veg & Non Veg Indian Restaurant).

Overnight at Hotel Kalaw Hill Lodge

Day 7

Kalaw - Inle Lake

After breakfast, take community trail to visit nearby Nepali Village and Danu Village.

Then transfer to Inle Lake ... 65 kms., 1 hr 30 mins drive

The Inle Lake region is one of Myanmar's most anticipated destinations, and all the hype is justified. Picture a vast, serene lake – 13.5 miles long and 7 miles wide – fringed by marshes and floating gardens, where stilt-house villages and Buddhist temples rise above the water, and Intha fisher folk propel their boats along via their unique technique of leg-rowing. Surrounding the lake are hills that are home to myriad minorities: Shan, Pa-O, Taung Yo, Danu, Kayah and Danaw, who descend from their villages for markets that hopscotch around the towns of the region on a five-day cycle.

Nyaungshwe is the area's accommodation and transport hub. It's a scrappy place, but once you've experienced the watery world that sits right by it and explored the environs of Inle Lake, that won't matter. Few people leave here disappointed with what they've seen and done.

Upon reaching the edges of Inle Lake, board a private motor boat to head out to Inle Lake, one of Myanmar's most spectacular sights. Pass villages built on stilts over the lake, inhabited by the local Intha people. Observe the leg-rowing fishermen and see their floating gardens built up from strips of water hyacinth and mud and anchored to the bottom with bamboo poles. Visit Nga Hpe Chaung Monastery, which houses dozens of Shan Buddha Images, but is more famous for its unique ˜jumping cats' those jump through hoops in the air! (now no cats are kept in this monastery).

Continue to Phaung Daw Oo Pagoda, the lake's main sanctuary, which contains five sacred Buddha images covered in gold leaf. If time permit, Explore the local crafts of Inle Lake with a stop at the weaving village of Inpawkhone where you will see the silk weaving on wooden handlooms, and a cheroot factory, where the typical Burmese cigars are made by hand.

Transfer to Hotel and check-in

Dinner at hotel (Chinese Menu)

Overnight at Inle Lake

Day 8

Inle Lake - Boat ride & local sightseeing

After breakfast, this morning, enjoy another boat tour to Indein, at the western end of the Lake.

The boat takes you through a long channel where you watch the farmers cultivate their produce. This ride is one of the most scenic boat tours in Lake Inle. You will find Indein village and continue by a stair path leading to the hidden and unknown INN DEIN PAGODA complex : approximate 1,050 stupas of 15 century. Seeing the ruin pagodas hide in the bushes, you will have an impression of you were in the 12th - 13th Centuries ago.

Rest of the day at leisure to enjoy the area around Inle Lake

Dinner & over night at Inle Lake

Day 9

Inle Lake - Heho - Yangon (Flight)

After breakfast, this morning, enjoy another boat tour to Indein, at the western end of the Lake.

The boat takes you through a long channel where you watch the farmers cultivate their produce. This ride is one of the most scenic boat tours in Lake Inle. You will find Indein village and continue by a stair path leading to the hidden and unknown INN DEIN PAGODA complex : approximate 1,050 stupas of 15 century. Seeing the ruin pagodas hide in the bushes, you will have an impression of you were in the 12th - 13th Centuries ago.

Later in the afternoon, transfer to Heho airport [30 kms.] for flight to Yangoon

Yangon, Myanmar's largest city, is by far the most exciting place in the country to be right now, as former political exiles, Asian investors and foreign adventurers flock in. As Myanmar's commercial and artistic hub, it's Yangon that most reflects the changes that have occurred since the country reopened to the world. There's a rash of new restaurants, bars and shops. And there are building sites – and traffic jams – everywhere.

But in many ways Yangon, formerly known as Rangoon, has hardly changed at all. The city remains focused on Shwedagon Paya, an awe-inspiring golden Buddhist monument around which everything else revolves. Close to it are the parks and lakes that provide Yangonites with an escape from the surrounding chaos. Then there's downtown, its pavements one vast open-air market, which is home to some of the most impressive colonial architecture in all Southeast Asia.

Upon arrival, you will be met by our representative at airport and transfer to restaurant for dinner

Dinner at Italian Restaurant

Later transfer to hotel for check-in

Overnight at Yangon

Day 10

Yangon sightseeing

After breakfast, full day sightseeing tour of Yangon

The tour leads along Strand Road, into Mahabandoola Street, through India-town and China-town, photo stop near Sule Pagoda with its golden chedi, which makes a useful landmark in downtown Yangon and impressive colonial style government buildings such as the City Hall, Immanuel Baptist Church, High Court, central fire department and many pastel- painted shops and apartments.

Later visit to Bogyoke Market, formally known as Scott Market, a sprawling 75 year old shopping complex noted for its variety of handicrafts and other items which provide an excellent opportunity for a shopping spree.

Afterwards, visit Chaukhtatgyi Reclining Image, then we make a short stop at the Royal Lake where we can admire the view of the Karaweik Hall overlooking this scenic lake.

Enjoy the sunset at Shwedagon Pagoda, famous world wide - its golden stupa is the 'heart' of Buddhist Myanmar. The Pagoda is believed to be 2,500 years old and the central stupa in surrounded by dozens of intricately decorated buildings and statues. There are always many Myanmar people praying and making offerings at Shwedagon, and it's a fascinating place to spend time watching the world go by.

Dinner at Restaurant serving French-Myanmar Menu

Overnight at Yangon

Day 11

Departure from Yangon

After breakfast, morning at leisure

Later transfer to airport for your departure flight
Notes
Daily Depatrures, Round the year Destination
Hotels
Tour Inclusions [Best of Myanmar]
Accommodation for 9 nights
Breakfast at hotels and dinners at local restaurants
Transfers & sightseeing with private air-conditioned vehicle
English speaking guide during sightseeings
2 Domestic flight tickets
Entrance fees & Boat Ride as per tour plan
1 bottle of drinking water and refreshing towels every day
Notes on itinerary
All our itineraries are "Just for Ideas" ... We will get to know you and customise an itinerary just for you that matches your requirements ... dates of travel, category of hotels, preferred airline, flexibility in choosing sightseeing, mode of travel between cities, etc.
Many of our clients have us design more relaxing, slower paced holidays with more in-depth experiences whereas some simply want to visit various destinations and cover only the highlights.
Together, we will determine the ideal route, pace of travel, accommodations, levels of pampering, style of touring, sightseeing to be included, dining preferences, adventure levels, options to meet locals, dates of travel & much more ! and based on this arrive at a price.
Do feel free to get in touch with us by a quick call on +91 79 29602961 or a short mail on mail@destinations4india.com ... Looking forward