Best of Morocco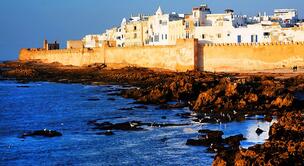 Morocco is a gateway to Africa and a country of dizzying diversity. Here you'll find epic mountain ranges, ancient cities, sweeping deserts – and warm hospitality.

Mountains & Desert

From Saharan dunes to the peaks of the High Atlas, Morocco could have been tailor-made for travellers. Lyrical landscapes carpet this slice of North Africa like the richly coloured and patterned rugs you'll lust after in local cooperatives. The mountains – not just the famous High Atlas but also the Rif and suntanned ranges leading to Saharan oases – offer simple, breathtaking pleasures: night skies glistening in the thin air, and views over a fluffy cloudbank from the Tizi n'Test pass. On lower ground, there are rugged coastlines, waterfalls and caves in forested hills, and the mighty desert.

Ancient Medinas

Morocco's cities are some of the most exciting on the continent. Join the centuries-old trail of nomads and traders to their ancient hearts, from the winding medina maze of Fez to the carnivalesque street-theatre of the Djemaa El Fna in Marrakesh. In the rocky deserts medinas are protected by kasbahs, on the coast by thick sea walls. But it's not just a heritage trip, as Morocco's cities are forward-facing too, with glitzy new urban design in Casablanca, Rabat and Tangier looking to the future as well as paying homage to their roots.

Moroccan Activities

Enjoying Morocco starts with nothing more strenuous than its national pastime – people-watching in a street cafe with a coffee or a mint tea. Use the opportunity to plan your next moves – hiking up North Africa's highest peak, learning to roll couscous, camel trekking in the desert, shopping in the souqs or getting lost in the medina. Between the activities, you can sleep in boutique riads, relax on panoramic terraces and grand squares, and mop up delicately flavoured tajines – before sweating it all out in a restorative hammam.

Traditional Life

Morocco is a storied country, that has, over the centuries, woven its ties to sub-Saharan Africa, Europe and the wider Middle East into whole cloth. Its mixed Arab and Berber population forms a strong national identity, but an increasingly youthful one, taking the best of its traditions and weaving the pattern anew – from the countryside to the city, from the call to prayer from the mosque to the beat of local hip hop. Morocco has a hundred faces and sounds, all ready to welcome the traveller looking for spice and adventure.
Itinerary
Day 1

Arrival Casablanca / Transfer to Rabat

Upon arrival at Casablanca airport, meet and greet our representative, then transfer to Rabat, the capital of Morocco and one of the Imperial Cities ... 90 kms. / 1 hr. drive

Morocco�s political and administrative capital may be short on top-drawer tourist attractions, but it compensates with plenty of charm. The ville nouvelle's palm-lined boulevards are clean, well kept and relatively free of traffic � a blessed relief for those who have spent time in Casablanca. There's a clean central beach, an intact and evocative kasbah, and an attractive walled medina that is far less touristy than those in other large cities. All in all, the city is a good choice for a short sojourn.

Check in at your hotel then start a short tour of wonderful city.

Begin with the Kasbah of the Udayas. This kasbah is a fortification constructed on a hill,
overlooking the Atlantic Ocean. The Kasbah of the Udayas was constructed during the realm
of the Almohads

Evening at leisure

Overnight in Rabat

Day 2

Rabat - Meknes - Volubilis - Fes

After breakfast, City tour of Rabat

First stop at Mohammed V Mausoleum. This Mausoleum is home to the tombs of the current king's grandfather, King Mohammed V, and his two sons King Hassan II and Prince Moulay Abdellah. Inside the mausoleum, mosaics rise from the marble floor to a ceiling of gold leaf and hand-carved cedar wood, while the three ground-floor tombs are carved from white onyx. Next to the Mausoleum, stop at Hassan Tower, which is the towering minaret of the Hassan Mosque. The construction of the site began in 1195.

Transfer to Meknes [155 kms. / 2 hrs. drive], the fifth largest city of the kingdom. Meknes was the capital of Morocco under the reign of Moulay Ismail (1672 - 1727), before it was relocated to Marrakesh.

Quieter and smaller than its grand neighbour Fez, Meknes feels rather overshadowed and receives fewer visitors than it should. It�s more laid-back with less hassle, yet still has all the winding narrow medina streets and grand buildings that it warrants as an imperial city and one-time home of the Moroccan sultanate.

Sultan Moulay Ismail, the architect of Meknes� glory days, might be a little disgruntled at the city�s current modesty, but visitors will find much to be enchanted by. Remnants of no less than three sets of fortifications, ingeniously incorporated into the city's road networks, make it clear how important this city once was. The king's tomb sits at the heart of what remains of the original imperial city, flanked by an almighty royal granary, the magnificent Bab El Mansour � the likes of which even Fez can't compete with � and Place El Hedim, a local mini-me of Marrakesh's popular square Djemaa El Fna.

The city tour of Meknes includes the massive Bab El Mansour gate. Stop to take pictures there. The city tour of Meknes will include also the Harri Souani stables, the medina ramparts, and the entrance to the Royal Palace.

Continue along to the UNESCO-sponsored Roman ruins in Volubilis [30 kms. from Meknes] where you will have a guided tour ... Berber king Juba II, whose wife was the daughter of Antony and Cleopatra, was installed at Volubilis by the Romans. The town became a thriving farming community producing olive oil, wheat and wine for the Roman army. Stand on the basilica steps today, look out over the same fertile fields and survey his kingdom. This World Heritage site has few rules about where you can walk, little signage and lots of storks nesting on column-tops. It has some dazzling mosaics and a brand-new museum

Later transfer to Fes ... 85 kms., 1 hr. 30 ins.

In its heyday, Fez attracted scholars and philosophers, mathematicians and lawyers, astronomers and theologians. Craftsmen built them houses and palaces, kings endowed mosques and medersas (religious schools), and merchants offered exotic wares from the silk roads and sub-Saharan trade routes. Although Fez lost its influence at the beginning of the 19th century, it remains a supremely self-confident city whose cultural and spiritual lineage beguiles visitors. Something of the medieval remains in the world�s largest car-free urban area: donkeys cart goods down the warren of alleyways, and while there are still ruinous pockets, government efforts to restore the city are showing results.

Some 90,000 people still live in the Fez medina. It can seem like it�s in a state of perpetual pandemonium; some visitors fall instantly in love, and others recoil in horror. But its charms are many. Seemingly blind alleys lead to squares with exquisite fountains and streets bursting with aromatic food stands, rooftops unveil a sea of minarets, and stooped doorways reveal tireless artisans.

Check in at hotel for overnight stay

Day 3

Fes / City tour

Enjoy a guided city tour of the spiritual capital of Morocco, Fes.

The first stop of the morning is a visit to the entrance of the largest royal palace in Morocco. This palatial complex rests in the center of the Fes El-Jedid area and is surrounded by high walls with an intricate and elaborately decorated gateway that is permanently closed. The doors are bronze but they shine like gold.

The next stop will be the old Medina (Fes el Bali). This medieval centre of Fez has not changed for centuries. Its narrow alleys house hundreds of merchants and craftsmen selling a range of products such as dates, fish, spices, copper urns and musical instruments. One of the most interesting sites in Fez is the Leather Souq and the oldest leather tannery in the world. The tannery dates back at least nine centuries. In the medina you will visit the Jamaa Al-Karaouine (the world's first established university) and a Medersa (a Koranic school).

Evening at leisure to visit the local market

Overnight at Fes.

Day 4

Fes - Ifrane - Erfoud - Merzouga

After breakfast, leave Fes heading to the heart of the desert.

Stop first at Ifrane [65 kms. / 1 hr. drive], a charming town and ski resort in the Middle Atlas region of Morocco. Ifrane is famous for its Alpine climate, European-style houses and its 1665 metres (5,460 ft) in elevation. The town experiences snow during winter months and a cool climate during summer. Ifrane is also the place where the lowest temperature was ever recorded in Africa, -24C in 1935. While in Ifrane, expect to find animals like the threatened Barbary Macaque and local tree species such as the native Atlas cedar, Scrub oak and the introduced London plane.

As foreign tourists head to the medinas for a taste of the �real� Morocco, Moroccan tourists find more favour with places such as Ifrane. Tidy, ordered and modern, it feels more like Switzerland relocated to the Middle Atlas than North Africa. Its clean air, scrubbed streets and leafy outlook make it popular with tour groups.
The French built Ifrane in the 1930s, deliberately trying to re-create an alpine-style resort. It has neat red-roofed houses, blooming flower beds and lake-studded parks. It is a popular summer day trip for picnickers; in the winter, the affluent flock here to ski, and the hoi polloi come for the pure fun of throwing snowballs.
The main road from Meknes is called Blvd Mohammed V and it runs through Ifrane from west to east. Most of the cafes and hotels are clustered in the centre along Rue de la Cascade and Ave de la Poste, close to the stone lion statue.

Continue through many Amazigh (Berber) villages before getting to Midelt where you will stop for an optional lunch.

Leave through Ziz River, passing through a series of fortified villages before getting to Erfoud ... 410 kms. / 5 hrs. 30 mins. drive

Erfoud makes a pleasant pit stop on the journey heading south to Merzouga from Fez or Meknes, with wood-fired madfouna (Berber 'pizza'), fossils dating back hundreds of millions of years and the photogenic ancient Ksar M�Aadid, 5km north of town. The souq at the southern end of Erfoud sells local dates and fresh produce, and in October the town has an increasingly popular date festival, with dancing and music.

Enjoy an optional 4x4 transfer to the heart of the sahara desert at Merzouga 50 kms. / 1 hr. drive

When a wealthy family refused hospitality to a poor woman and her son, God was offended and buried them under the mounds of sand called Erg Chebbi. So goes the legend of the dunes rising majestically above the twin villages of Merzouga and Hassi Labied, which for many travellers fulfil Morocco's promise as a dream desert destination.

But Erg Chebbi's beauty coupled with Merzouga's accessibility has its price. Paved roads across the Middle Atlas from Midelt and east from Ouarzazate mean that desert tourism is booming. In high season, coaches and convoys of 4WDs churn up huge dust clouds as they race across the hamada (stony desert) in time for sunset camel rides, and purists lament the encroachment of hotels flanking the western fringes of the dunes � although there�s no denying the spectacular dune views from rooms and terraces.

Dinner and overnight in a charming Camp by the dunes.

Day 5

Merzouga - Tinghir

Enjoy an optional early morning sunrise camel ride along the golden sand dunes in Merzouga.

Return to the Camp for breakfast before driving to Tinghir via Rissani and Tinjdad ... 200 kms., 3 hrs. drive

Tinghir is a gorgeous, 40 kms oasis, which boasts one of the largest palm groves in the country. Walk above the Todra Gorge, a 300m wall, carved deep into the High Atlas Mountains.

Charm falls a distant third to dust and hustle in Tinerhir (aka Tinghir), a busy mining town transit hub recently benefiting from a rash of expansion and construction thanks to an administrative upgrade to independent provincial capital. If you need a break after the 51km drive from Boumalne Dades, head to the eastern edge of town, where a palm oasis unfolds like a green umbrella. Under the canopy, you�ll discover crumbling kasbahs, the abandoned 19th-century Medersa Ikelane (look for the whitewashed mudbrick cupola) and, to the north of town, the ruins of Ksar Asfalou, where Muslim and Jewish students once studied under the same roof.

An enormous souq is held 2.5km west of the centre on Monday, and there�s a Saturday livestock souq in town.

Optional lunch a local restaurant, then enjoy an afternoon tour of the old village and a short walk in the oasis.

Check in, dinner and overnight in Tinghir

Day 6

Tinghir - Dades - Kellat Mgouna - Ouarzazate

After breakfast, transfer to Ouarzazate along Dades Valley and Kelaat Mgouna ... Total drive of 210 kms., 3 hrs,

The drive is spectacular, with hundreds of Kasbahs lining the route, winding through stunning desert landscapes, villages, palm groves, and with the expansive Jebel Sarhro lunar-scape to thesouth. Dades valley is known as valley of figs. Optional lunch at a local restaurant, then continue to Kelaat M'Gouna, a large village which is famous for cultivating roses. Expect to find many fine, rose-infused products there.

Nomad crossings, rose valleys and two-tone kasbahs: even on paper, the Dad�s Valley stretches the imagination. From the daunting High Atlas to the north to the rugged Jebel Saghro range south, the valley is dotted with oases and mudbrick palaces that give the region its fairy-tale nickname � Valley of a Thousand Kasbahs. Some of the best views are only glimpsed when travelling on foot, along hidden livestock tracks between the Dad�s and Todra Gorges and nomad routes across the Saghro.

Paved roads from Tinerhir to Imilchil and the intersection of the N8 between Beni Mellal and Khenifra, and from Errachidia north up the N13 to Meknes, allow travellers to connect easily with Middle Atlas itineraries.

Although it takes its name from the nearby M�Goun mountain, the small town of Kalaat M'Gouna is famous for roses and daggers. Some 50km from Skoura, pink roses start peeking through dense roadside hedgerows, and you can�t miss the bottles of local rosewater for sale in town. During the May rose harvest, you�ll see rose garlands everywhere, especially during the town�s signature rose festival (first weekend of May). At the Wednesday souq, you can load up on dried edible roses.

Transfer to Ouarzazate, also known as - Morocco's Hollywood

Strategically located Ouarzazate (war-zazat) has gotten by largely on its wits instead of its looks. For centuries, people from the Atlas, Draa and Dad�s Valleys converged to do business at Ouarzazate�s sprawling Taourirt Kasbah, and a modern garrison town was established here in the 1920s to oversee France�s colonial interests. The movie business gradually took off in Ouarzazate after the French protectorate left in the 1950s, and �Ouallywood� movie studios have built quite a resume providing convincingly exotic backdrops for movies supposedly set in Tibet, ancient Rome, Somalia and Egypt.

Since King Mohammed VI started visiting here and fixing up the roads, Ouarzazate has been developing quickly with vast new residential areas marked out to the south of town along with new condo-hotel complexes, a spacious pedestrian plaza and well-stocked supermarkets. With scores of agencies offering bikes, motorbikes and camels, this is an ideal launching pad for mountains, desert and gorges.

Check in, dinner and overnight at Ouarzazate

Day 7

Ouarzazate - Ait Ben Haddou - Marrakech

Begin city tour of Ouarzazate with Taourirt Kasbah, which is considered one of the most beautiful kasbahs in Morocco.

Next, visit the film studios where some of the most famous desert landscapes were and are still being shot. Continue on to the spectacular fortress of Ait Ben Haddou [30 kms. / 30 mins. drive]. The village is a great example of earthen clay architecture that has been a UNESCO World Heritage Site since 1987. Ait Ben Haddou is an iconic landscape immortalized in such films as - The Man Who Would Be King (film) (1975), Jesus of Nazareth (1977), The Last Temptation of Christ (1988), Gladiator (2000), Son of God (film) (2014), etc.

With the help of some Hollywood touch-ups, this Unesco-protected red mudbrick ksar (fortified vilage) seems frozen in time, still resembling its days in the 11th century as an Almoravid caravanserai. Movie buffs may recognise it from Lawrence of Arabia, Jesus of Nazareth (for which much of A�t Ben Haddou was rebuilt), Jewel of the Nile (note the Egyptian towers) and Gladiator. A less retouched kasbah can be found 6km north along the tarmac from A�t Ben Haddou: the Tamdaght kasbah, a crumbling Glaoui fortification topped by storks� nests.

After the visit of Ait Ben Haddou, transfer to Marrakech [180 kms., 3 hrs. 30 mins. drive] crossing the High Atlas Mountains via the magnificent Tiz In Tichka pass.

Prepare for your senses to be slapped. Marrakesh's heady sights and sounds will dazzle, frazzle and enchant. Put on your babouches (leather slippers) and dive right in.

Artisan Heritage
Bahia Palace and the Dar Si Said are a riot of tilework and intricate floral painted-wood ceilings, the Saadian Tombs are enriched by an opulent bounty of marble, while the Mus�e de Mouassine and Mus�e de Marrakech are a showcase of swirling stucco and carved-wood design. And if you choose to bed down for a night in a riad, you'll be able to sleep amid some of this splendour too. Marrakesh is a city steeped in ancient artistry that continues to thrive, kept alive by the modern craftspeople of the souqs and the contemporary art and design scene of the Ville Nouvelle.

Faith & Culture
You�ll understand how religion permeates the rhythms of daily life when you hear the sonorous call to prayer echo out from the mosques. As an old imperial capital, Marrakesh is home to some beautiful examples of Islamic architecture, most impressively the Ali Ben Youssef Medersa and the Koutoubia minaret. The city also holds on to a heritage of the other religious communities that once helped it become a vibrant caravan town. Head to the old Jewish district of the mellah to visit the Lazama Synagogue and the Miaara Jewish cemetery to gain a greater understanding of Marrakesh's cosmopolitan past.

Souq Shopping
Think of the medina's souqs as a shopping mall, but laid out according to a labyrinthine medieval-era plan. Whether you want to spice up your pantry with North African flavours or buy a carpet to add Moroccan-wow to your house, this magpie's nest of treasures is manna for shop-til-you-drop fanatics.
The main market streets are Souq Semmarine and Souq El Kebir. If you see something you really like there, fine � but understand prices will be higher. Smaller souqs and souqs dedicated to artisan workshops such as Souq Haddadine (Blacksmith�s Souq), where you can buy direct from the producer, generally have the best deals.

The Medina
Got your map ready? Well, it's probably of little use to you here. Wrapped within the 19 kilometres of powder-pink rammed-earth ramparts, the medina is Marrakesh's show-stopping sight of crowded souqs, where sheep carcasses swing from hooks next door to twinkling lamps, and narrow, doodling ochre-dusted lanes lead to nowhere. The main artery into this mazy muddle is the vast square of Djemaa El Fna, where it's carnival night every night. Stroll between snail vendors, soothsayers, acrobats and conjurers, musicians and slapstick acting troupes to discover the old city's frenetic pulse. The party doesn't end until the lights go out.

Check in at hotel on arrival

Evening at leisure

Overnight at Marrakech

Day 8

Marrakech / City tour

Enjoy the guided city tour of Marrakech after breakfast.

The morning begins with a visit to the Kotoubia Mosque. The mosque is the largest in Marrakech and one of the oldest mosques in the world. The minaret, 77 metres (253 ft) in height, includes a spire and orbs. It was completed under the reign of the Almohad Caliph Yaqub al-Mansur (1184 to 1199), and has inspired other buildings such as the Giralda of Seville and the Hassan Tower of Rabat.

Continue to the world-famous Jemaa el Fna Square, which houses arrays of food, snake charmers, local musicians, and fortune-tellers. There's nowhere on Earth like the Jemaa el Fna, the square at the heart of old Marrakesh. Your next stop is the Bahia Palace, and the Saadian Tombs. The Saadian tombs in Marrakech date back from the time of the sultan

Ahmad al-Mansur (1578-1603). The tombs were discovered in 1917 and were restored by the Beaux-arts service. The mausoleum comprises the interments of about sixty members of the Saadi Dynasty that originated in the valley of the Draa River.

Overnight at Marrakech.

Day 9

Marrakech - Casablanca

After breakfast, transfer to Casablanca ... 245 kms., 3 hrs. drive

Though not as atmospheric as other Moroccan cities, Casablanca is the best representation of the modern nation. This is where money is being made, where young Moroccans come to seek their fortunes and where business and the creative industries prosper.

The city's handsome Moorish buildings, which meld French-colonial design and traditional Moroccan style, are best admired in the downtown area. Visitors who spend time there, in the Quartier Habous and in the beachside suburb of Ain Diab, are sure to get into the local swing of things and realise that this old pirate lair is looking towards the future, embracing the European-flavoured urban sophistication that has underpinned life here for the past century.

The number of construction projects currently under way here is simply extraordinary � major redevelopments include those at Place Mohammed V and the Parc de la Ligue Arabe, and new public buildings include the Grand Theatre de Casablanca.

Check in at hotel on arrival

Later enjoy an orientation tour beginning with an outside visit of Hassan II mosque, the largest mosque in the country and the 7th largest in the world.

Continue to Ain Diab Corniche for a pleasant stroll along the coast. Your last stop is Mohammed V Square in the city center.

Overnight in Casablanca.

Day 10

Casablanca airport

After breakfast, morning at leisure

Later we will assist you to Casablanca airport for your return flight.
Notes
Round the Year Destination ... Extention available to Purtugal, Spain, Egypt, Dubai & other countries across Africa & Europe
Tour Inclusions - Best of Morocco
Accommodation for 9 nights
Breakfast at hotels and 3 dinners at camps / hotels
Transfers & sightseeing with private air-conditioned vehicle
English speaking guide during sightseeings
Local assistance
Notes on itinerary
All our itineraries are "Just for Ideas" ... We will get to know you and customise an itinerary just for you that matches your requirements ... dates of travel, category of hotels, preferred airline, flexibility in choosing sightseeing, mode of travel between cities, etc.
Many of our clients have us design more relaxing, slower paced holidays with more in-depth experiences whereas some simply want to visit various destinations and cover only the highlights.
Together, we will determine the ideal route, pace of travel, accommodations, levels of pampering, style of touring, sightseeing to be included, dining preferences, adventure levels, options to meet locals, dates of travel & much more ! and based on this arrive at a price.
Do feel free to get in touch with us by a quick call on +91 79 29602961 or a short mail on mail@destinations4india.com ... Looking forward