Best of Mongolia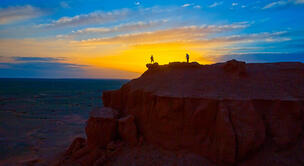 Rugged Mongolia is an adventure destination where travellers can experience nomadic culture and vast, untouched landscapes.

An Open Country
Mongolia existed in a Soviet bubble for most of the 20th century. Now a generation beyond the fall of communism, Mongolia has emerged as a young democracy with a promising economy based on mining, agriculture and tourism. Some revenue is being funnelled back into improving tourist facilities, including a new international airport near Ulaanbaatar. Visas are relatively easy to acquire; a handful of nationalities won't even require one. Competition among the tour operators has led to better services. Despite the warm welcome, travel can be rough at times, with only basic facilities in many areas.

Mongolian Wilderness
Mongolians are fully aware of the unique beauty of their country. Ask locals and they will probably start gushing about the spectacular countryside, vast steppes, rugged mountains, clear lakes and abundant wildlife and livestock. Some areas are so remote you could drive a full day and see almost no signs of human habitation. It's this true wilderness experience that many people find so appealing. City residents from Ulaanbaatar have also started to discover their own country and camping is now popular among urban locals. Protected areas cover almost a fifth of the country and the government is looking to increase that figure.

Nomad Hospitality
Mongolia's nomadic culture is famous – visitors can sleep in a herder's ger (traditional felt yurt), help round up the sheep, ride horses and simply 'get back to nature'. The legacy of Chinggis Khaan and resurgent nationalist pride sharpens the experience. A culture of tremendous hospitality makes locals more accessible. In a world beset by locks and gates, it's refreshing to meet people willing to open their doors to strangers. When travelling in Mongolia, however, keep in mind that guests are expected to reciprocate any forms of generosity, so when visiting families, always have a ready supply of gifts for the kids.

Not Just Grass & Horses
Once half nomadic, Mongolia is changing rapidly as its citizens flock to Ulaanbaatar and other big cities for work and study opportunities. The capital in particular is changing at a dizzying pace and many Mongolians have bought wholeheartedly into the global economy, capitalism and consumerism. Whether they are rural or urban, Mongolians take pride in their country's democratic institutions of civic participation. Mongolia is eager to be part of the global community, sending its troops on peacekeeping missions around the globe and promoting itself as a country to host northeast Asian peace talks; visiting now puts you in the middle of these dramatic transformations.

Take a trip to the Land of the Eternal Blue Sky, Mongolia on a 9 day 8 night trip.

The tour starts on arrival at the capital Ulaanbaatar where you will spend the first day sightseeing.

Over the course of the tour, you will explore Ulaanbaatar, Dalanzadgad, Khongoryn Els, Gobi Desert, Bayanzag, Gachuurt and Tuul among others.

The tour is built to provide you with utmost comfort while letting you have a great experience of this beautiful nomadic country.

The tour includes accommodation, transport, meals and a lot of sightseeing and activities.

Itinerary
Day 1

Arrival Ulaanbaatar, Welcome to Mongolia / City tour

Arrive at the capital city of Mongolia, Ulaanbaatar, meet & greet by our representative, transfer to hotel

If Mongolia's yin is its pristine countryside, then Ulaanbaatar (UB; Улаанбаатар) harmonises as its vibrant yang. It's a sprawling, industrialised city of pulsating commerce, wild traffic, sinful nightlife and bohemian counterculture. The contrasts within the city are intriguing: Armani-suited businessmen rub shoulders with mohawked punks and del-clad nomads fresh off the steppes; one minute you're dodging the path of a Hummer H2 and the next you're entranced by chanting Buddhist monks at Gandan Khiid. It's the coldest capital in the world, but come summer the city bursts into life after slumbering through a long winter.

Ulaanbaatar is not always the easiest city to navigate, but with a little patience travellers can take care of all their logistical needs, visit world-class museums, watch traditional theatre, sample international cuisine and party till three in the morning. Indeed, this ever-changing city may be the biggest surprise of your Mongolian adventure.

After check in & freshen up, proceed for sity sightseeing

Start with visit to the Zaisan Memorial in the southern parts of the city to pay your respects to the Soviet soldiers who were killed during World War II.

Visit the Gandantegchilin Monastery, which is one of the largest functioning monasteries in the country.

Proceed to the Mongolian Natural History Museum, which catalogues the flora and fauna found in the country with over 6,000 specimens.

Sit in on a presentation by the university professors about Mongolian history and its rare archaeological findings.

Back to hotel by evening

Overnight at Ulaanbaatar

Day 2

Ulaanbaatar to Gobi Desert Flight / Enroute sightseeing

After breakfast, you will be transferred to the airport for your flight to Dalanzadgad, from where you head to the Valley of the Eagles, Gobi Desert

The Gobi reveals itself in pockets of amazing scenery, bridged by vast stretches of desolation where smartphone signals die and silence saturates. It can be daunting to be this far out in such harsh conditions, but this is where desert foliage shimmers in greens and golds, and where Tibetan lamas etched ancient messages on red rock cliffs. You'll watch horses romp and gazelles sprint, hear goats and sheep cry, and commiserate with camels huddling in fierce winds that gather and roll across the steppe. At night galaxies erupt on the domed sky.

No wonder it's one of Mongolia's top-draw regions, promising colossal sand dunes, ice-filled canyons, dinosaur fossils, camel treks, and hospitable nomadic herders who will shower you with warmth, and more than a little milky tea. So choose one of those criss-crossed two-wheel tracks and follow it ever deeper into the mystery.

Check in at the Gobi Gobi Discovery Ger Camp

Later explore this arid area and look for wild sheep and goats grazing high up in the cliffs.

You may occasionally spot an eagle hunting for prey.

Visit the Natural History Museum in the area that has displays of the animals found in the area as well as a collection of dinosaur eggs and bones.

Overnight at Gobi Discovery Ger Camp

Day 3

Gobi Desert / Visit Khongoryn Els

After breakfast, take a road trip to Khongoryn Els [180 kms. drive], where you can find some of the largest sand dunes of the Gobi Desert.

Khongoryn Els are some of the largest and most spectacular sand dunes in Mongolia. Also known as the Duut Mankhan (Singing Dunes – from the sound they make when the sand is moved by the wind), they are up to 300m high, 12km wide and about 100km long.

The largest dunes are at the northwestern corner of the range. From afar the dunes look painted on the south horizon in front of those gorgeous granite mountains.

Up close you get more texture as the sand forms peaks that look like whipped meringue. Getting to the top (45 minutes to one hour) is exhausting; every step forward is followed by a significant backslide, and as you approach you may be sandblasted as the wind shears the lip off the dune and showers you with stinging sand, but the views of the desert from the sandy summit are wonderful.

Back to the camp by evening

Overnight at Gobi Discovery Ger Camp

Day 4

Gobi Desert / Visit Khongoryn Els for Camel Experience & Nomadic life

After breakfast depart for Khongoryn Els and spend the second full day on the sand dunes of Khongoryn

Visit a camel breeder family and ride a Bactrian camel across the dunes. Experience first-hand, a slice of nomadic Mongolian life.

It is actually a nice aspect of camel trekking that one can get off and walk for a while without slowing down the caravan too much. Of course camels can move faster as well, and on shorter rides, without pack camels, we have done a fair bit of trotting across the desert this year. But in general, camel trekking in Mongolia's Gobi is at a slower pace than a horse back expedition with riding and pack horses, and allows for trekking along on foot – be it to give the camel a break, to be safer when a camel becomes a bit weary of imagined predators, or just for the enjoyment of walking through a serene landscape.

Our spring time camel trekking in Mongolia's Gobi turned out to be a great way to take in the landscape, and a more intimate experience than vehicle travel would provide you. Learning about camel behavior, and being so close to these creatures that are so well adapted to their desert environment, is a very interesting experience itself. And last not least, camel trekking inevitably brings you in close contact with members of the community of nomadic livestock herders who call the Gobi their home and share their knowledge of their unique culture and environment with those who venture to travel with them.

Overnight at Gobi Discovery Ger Camp

Day 5

Gobi Desert / Visit Bayanzag, The Flaming Cliffs

After breakfast, head to the Flaming Cliffs of the Gobi Desert, Bayanzag

Visit one of the largest fossil excavation sites in the area. These parts are known to have been inhabited by dinosaurs millions of years ago and several important fossil finds have been made here.

Bayanzag means 'rich in saxaul shrubs', so named for the tree-like shrubs dotting the surrounding landscape that vaguely resemble Joshua trees. It's more commonly known as the 'Flaming Cliffs' thanks to the reddish tint in the soil that glows as the sun falls. It was a name first penned by palaeontologist Roy Chapman Andrews, who arrived in 1922 to excavate the area.

Even if you're not a 'dinophile', the eerie beauty of the surrounding landscape is a good reason to visit. It's a classic desert of rock, red sands, scrub, sun and awesome emptiness. The cliffs look to be formed by great rifts in the earth, like a layer cake torn open, offset by the surprisingly green valley below. There's not much to do once you're here except explore the cliffs – both the rim and the base – or grab a cold drink from the souvenir sellers who hang out on the edge of the cliff.

In the early 1920s, newspapers brought news of the world's first discovery of dinosaur eggs in the southern Gobi Desert by American adventurer Roy Chapman Andrews. Expeditions have added to the picture of life in the Gobi during the late Cretaceous period 70 million years ago. One of the most famous fossils unearthed so far is the 'Fighting Dinosaurs' fossil, discovered by a joint Polish–Mongolian team in 1971 and listed as a national treasure. The remarkable 80-million-year-old fossil is of a Protoceratops and Velociraptor locked in mortal combat. It is thought that this and other fossilised snapshots were entombed by a violent sandstorm or by collapsing sand dunes. One poignant fossil is of an Oviraptor protecting its nest of eggs from the impending sands.

Overnight at Gobi Discovery Ger Camp

Day 6

Gobi Desert to Ulaanbaatar Flight / Transfer to Gachuurt

After breakfast, you will be transferred to the airport for your flight back to Ulaanbaatar

You will be met by our representative and escorted to the vehicle for transfer to Gachuurt

The small village of Gachuurt is 20 kilometres East Ulan-Bator, at the edge of the Gorkhi-Terelj National Park and of the strictly protected area of Khan Khentii. It stretches on the banks of the Tuul River, invaded by many picknickers in summer. The village offers a peaceful atmosphere, a good environment for field sports like biking, hiking, horse riding. It's a booming suburb very popular for rich Mongolians ; they build houses on the highest hills. Each year, Gachuurt also organises the Playtime music festival.

Check in at the hotel

Spend the rest of the day in a traditional Mongolian ger by the riverside in the middle of rolling hills.

Overnight at Gachuurt

Day 7

Gachuurt / Local sightseeing & activities

After breakfast, explore the Tuul riverside on horseback

Cross the river and ride over hills. Stop over at a local herder's home and learn about the nomadic Mongolian lifestyle.

Walk around the camp and explore its surroundings or simply kick back and relax for the latter part of the day. If you feel adventurous enough, you could try your hand at a traditional form of archery.

Overnight at Gachuurt

Day 8

Gachuurt sightseeing / Transfer to Ulaanbaatar

After breakfast, morning depart for Ulaanbaatar

Enroute visit Tsonjin Boldog to see the 131ft tall stainless steel statue of Genghis Khan. One can walk up to the horse's head after taking an elevator through the neck, and get sweeping views of the Mongolian steppe.

Continue drive to Ulaanbaatar

Check in at hotel on arrival

Later a sightseeing tour of Ulaanbaatar … Start with visit to the National Library of Mongolia. It is Mongolia's largest library and has a collection of rare books, sutras and manuscripts from the Chinese, Mongolian, Tibetan and Manchurian histories.

In the afternoon, head to the markets to shop for local art and cashmere, after which you proceed to a folklore show followed by dinner at a local restaurant.

Overnight at Ulaanbaatar

Day 9

Departure from Ulaanbaatar

After breakfast, morning is at leisure

Later transfer proceed to the airport for your flight back home
Notes
Round the year destination ... Extension recommended to China, Russia, Other surrounding countries
Tour Inclusions [Best of Mongolia]

Accommodation
Days 1 and 8: Ulaanbaatar Hotel
Days 2, 3, 4, and 5: Gobi Discovery Ger Camp
Days 6 and 7: Tuul Riverside Lodge Gachuurt

Meals
Day 1: Lunch and dinner
Day 2 to 7: Breakfast, lunch, and dinner
Day 8: Breakfast

Activity
Sightseeing
Camel Ride
Horse Riding

Transport
Private Vehicle
Domestic Flight

Notes on itinerary
All our itineraries are "Just for Ideas" ... We will get to know you and customise an itinerary just for you that matches your requirements ... dates of travel, category of hotels, preferred airline, flexibility in choosing sightseeing, mode of travel between cities, etc.
Many of our clients have us design more relaxing, slower paced holidays with more in-depth experiences whereas some simply want to visit various destinations and cover only the highlights.
Together, we will determine the ideal route, pace of travel, accommodations, levels of pampering, style of touring, sightseeing to be included, dining preferences, adventure levels, options to meet locals, dates of travel & much more ! and based on this arrive at a price.
Do feel free to get in touch with us by a quick call on +91 79 29602961 or a short mail on mail@destinations4india.com ... Looking forward