Best of Mexico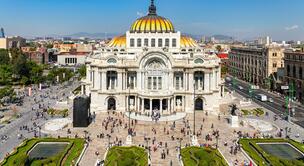 Palm-fringed beaches, chili-spiced cuisine, steamy jungles, teeming cities, fiesta fireworks, Frida's angst: Mexico conjures up diverse, vivid dreams. And the reality lives up to them.

An Outdoor Life

With steaming jungles, snowcapped volcanoes, cactus-strewn deserts and 10,000km of coast strung with sandy beaches and wildlife-rich lagoons, Mexico is an endless adventure for the senses and a place where life is lived largely in the open air. Harness the pounding waves of the Pacific on a surfboard, strap on a snorkel to explore the beauty beneath the surface of the Caribbean Sea and ride the whitewater of Mexico's rivers. Or stay on dry land and hike Oaxaca's mountain cloud forests, scale the peaks of dormant volcanoes or marvel at millions of migrating Monarch butterflies.

Art & Soul of a Nation

Mexico's pre-Hispanic civilizations built some of the world's great archaeological monuments, including Teotihuacán's towering pyramids and the exquisite Maya temples of Palenque. The Spanish colonial era left beautiful towns full of tree-shaded plazas and richly sculpted stone churches and mansions, while modern Mexico has seen a surge of great art from the likes of Diego Rivera and Frida Kahlo. Top-class museums and galleries document the country's fascinating history and its endless creative verve. Popular culture is just as vibrant, from the underground dance clubs and street art of Mexico City to the wonderful handicrafts of the indigenous population.

A Varied Palate

Mexico's gastronomic repertoire is as diverse as the country's people and topography. Dining out is an endless adventure, whether you're sampling regional dishes, such as Yucatán's cochinita pibil (slow-cooked pork) or a vast array of moles (complex sauces, their recipes jealously guarded) in Oaxaca and Puebla, or trying the complex, artsy concoctions of world-class chefs in Mexico City. Some of Mexico's best eating is had at simple seafront palapa (thatched-roof shack) restaurants, serving achingly fresh fish and seafood, and the humble taquerías, ubiquitous all over Mexico, where tortillas are stuffed with a variety of fillings and slathered with homemade salsas.

Los Mexicanos

At the heart of your Mexican experience will be the Mexican people. A super-diverse crew, from Mexico City hipsters to the shy indigenous villagers of Chiapas, they're renowned for their love of color and frequent fiestas, but they're also philosophical folk, to whom timetables are less important than simpatía (empathy). You'll rarely find Mexicans less than courteous. They're more often positively charming, and know how to please guests. They might despair of ever being well governed, but they're fiercely proud of Mexico, their one-of-a-kind homeland with all its variety, tight-knit family networks, beautiful-ugly cities, deep-rooted traditions and agave-based liquors.

Itinerary
Day 1

Arrival Mexico City

Upon arrival at Mexico City airport, you will be met by our local representative at the airports' arrival hall with a placard in your name for transfer to hotel.

Mexico City is, and has always been, the sun in the Mexican solar system. Though much-maligned in the past, these days the city is cleaning up its act. Revamped public spaces are springing back to life, the culinary scene is exploding and a cultural renaissance is flourishing. On top of all that, by largely managing to distance itself from the drug war, the nation's capital remains a safe haven of sorts. Far from shaking off visitors, the earthquakes of 2017 revealed a young society who attracted admiration through their solidarity.

A stroll through the buzzing downtown area reveals the capital's storied history, from pre-Hispanic and colonial-era splendor to its contemporary edge. This high-octane megalopolis contains plenty of escape valves in the way of old-school cantinas, intriguing museums, inspired dining and boating excursions along ancient canals. With so much going on, you might consider scrapping those beach plans.

Rest of the day at leisure … We recommend you explore the city's downtown …

Mexico City's historic centre, known as the centro histórico or centro, is the heart of the Mexican capital and one of the spots that all first-time visitors to Mexico City should aim to explore, even if just for an evening …

Zocalo

It's practically impossible to go to Mexico City and not visit the zocalo, a.k.a. the central square. However, most people fail to realise that the appeal lies in the surrounds, rather than the open expanse of pavement of the plaza itself, which features only a giant flagpole at its core. Instead, when heading to the zócalo, admire the Palacio de Gobierno building and other nearby edifices, before spreading your net a little wider and exploring the rest of what the centre has to offer.

Plaza Garibaldi

Once known as Plaza Santa Cecilia, Plaza Garibaldi was renamed in 1920 and has since become strongly associated with the most Mexican genre of music, mariachi. Even though this genre is typically associated with the western state of Jalisco, Plaza Garibaldi is the best place to enjoy it in the capital, as every day and night you'll find musicians offering up songs

Eat cake and tacos

As well as stopping by the important buildings, you must find time to stuff some food in your face in Mexico City's historic centre. One of the most popular taco joints in the zone is El Huequito, whereas Pastelería Ideal will satiate the appetite of any sweet tooth.

Overnight at Mexico City

Day 2

Mexico City / Sightseeing

After breakfast, pick up from the hotel for City tour and visit to Antropologia Museum

Antropologia Museum

The National Museum of Anthropology (Museo Nacional de Antropologia) in Mexico City contains the world's largest collection of ancient Mexican art and also has ethnographic exhibits about Mexico's present-day indigenous groups. There is a hall dedicated to each of the cultural regions of Mesoamerica and the ethnological exhibits are located on the second floor. You could easily spend a full day, but you should at least dedicate a few hours to exploring this museum.

Later continue city Tour visiting the historical center and its major attractions, including the Main Square Zocalo, National Palace with the Murals of Diego Rivera & Metropolitan Cathedral

Main Square Zocalo

The Zocalo is the main plaza or square in the heart of the historic center of Mexico City. The plaza used to be known simply as the "Main Square" or "Arms Square," and today its formal name is Plaza de la Constitución. However, it is almost always called the Zócalo today. Plans were made to erect a column as a monument to Independence, but only the base, or zócalo, was ever built. The plinth was destroyed long ago but the name has lived on. Many other Mexican towns and cities, such as Oaxaca and Guadalajara, have adopted the word zócalo to refer to their main plazas, but not all.

National Palace with the Murals of Diego Rivera

This historic building was once occupied by Hernán Cortés, the Spanish explorer who conquered the Aztecs, and includes a famous panoramic mural of Mexican history by Diego Rivera. Diego Rivera is considered the father of Mexican mural art and the father of modern political art in Mexico. Rivera was a Marxist who believed that art belonged on public walls rather than in private galleries.

Metropolitan Cathedral

The Metropolitan Cathedral of the Assumption of Mary of Mexico City is the oldest and largest cathedral in the Americas and seat of the Roman Catholic Archdiocese of Mexico. It is situated atop the former Aztec sacred precinct near the Templo Mayor on the northern side of the Plaza de la Constitución in downtown Mexico City. The cathedral was built in sections from 1573 to 1813 around the original church that was constructed soon after the Spanish conquest of Tenochtitlán, eventually replacing it entirely.

Evening at leisure

Overnight at Mexico City

Day 3

Mexico City / Sightseeing

After breakfast, pick up from hotel to visit Basilica de Guadalupe & Teotihuacan site

Basilica de Guadalupe

This modern basilica was built in order to replace the Spanish construction of the 17th century, if it's true it still exists, it damages more every day and it hopelessly sinks in the swampy ground. The devotion to the "Dark Virgin of Guadalupe", is so big that even the Mexicans call themselves "guadalupanos" before Catholics. This devotion is daily show, with long walks in their knees till the basilica entrance. The atmosphere in this place is unique, full of fervor and prayers.

Teotihuacan Site

Visit of the archaeological site of Teotihuacan, which was the most populated and dynamic city of the central valley. The Quetzalcoatl temple, as long as the two impressive pyramids of the Sun and the Moon are immutable witnesses of its glorious past. In the top of the pyramids you can get a super view that embraces all the plain. On your way back to Mexico City you will taste "Pulque" an ancient drink and you will visit an obsidian workshop.

Overnight at Mexico City

Day 4

Mexico City / Sightseeing

After breakfast, pick up from hotel to visit Coyoacan, Frida Kahlo Museum & Xochimilco

House in Coyoacan

The house in Coyoacan speaks of the daily life of Frida and Diego. The kitchen and dining room show signs of the pleasure they took in entertaining the luminaries who visited them. The Casa Azul also reflects the couple's love for folk art, such as the papier-mâché judas figures by Carmen Caballero and the sculptures by Mardonio Magaña. The ex-voto collection on the stairway is one of the most important in the country. Both painters also collected pieces of pre-Hispanic art. Many of these pieces decorate the interior and gardens, where Diego had a pyramid built to put his favorite pieces.

Frida Kahlo Museum

Following Diego's wishes, the Casa Azul was turned into a museum in 1958, four years after Frida Kahlo died. Currently it is among the most well attended museums in the country; every month it receives some twenty-three thousand visitors.

Xochimilco

Is better known for its extended series of canals. Xochimilco has kept its ancient traditions, even though its proximity to Mexico City influence that area to urbanize. Years have given that area a romantic reputation where all inhabitants travel in colorful trajineras (Xochimilco boats) between chinampas covered with flowers.

Overnight at Mexico City

Day 5

Mexico City to Merida / City Tour

After breakfast, transfer to Mexico City Airport for flight to Merida

Since the Spanish conquest, Mérida has been the cultural capital of the entire Yucatán Peninsula. A delightful blend of provincial and cosmopolitan, it is a town steeped in colonial history. It's a great place to explore, with narrow streets, broad central plazas and the region's best museums. It's also a perfect place from which to kick off your adventure into the rest of Yucatán state. It has excellent cuisine and accommodations, thriving markets, and events happening just about every night.

Long popular with European travelers looking to go beyond the hubbub of Quintana Roo's resort towns, Mérida is a tourist town, but a tourist town too big to feel like a tourist trap. And as the capital of Yucatán state, Mérida is also the cultural crossroads of the region. There's something just a smidge elitist about Mérida: locals have a beautiful town, and they know it.

Upon arrival at Merida airport, you will be met by our local representative at the airports' arrival hall with a placard in your name for transfer to hotel.

Later, Merida City tour

Departure from hotel towards the Main Square of the city of Mérida, capital of the State of Yucatan, to visit the Cathedral –constructed in the 16th century; its sobriety remembers a fort–, and the Palace of Government –where there are murals of Fernando Pacheco, which explain the history of this region inhabited by the Mayas when the Spaniards arrived–. In this visit, we will be able to admire the Paseo Montejo. Along this avenue there are residences constructed in the last century and the monument to the Flag, located in the North zone.

Overnight at Merida

Day 6

Merida / Sightseeing

After breakfast, sightseeing tour of Hacienda Sotuta del Peon & Cenotes

Time seems to have stood still in the Hacienda of Sotuta de Peon, one feels to be transported back to the 19th century when the fibre henequen was cultivated right across the Yucatan and sold all over the world. It´s one of the few haciendas in Yucatan where hennequen is still produced. The visitor is given a tour in the main homestead which covers the colonial furnishings, decoration and architecture.

A traditional mayan house, Don Antonio Ucan, a local mayan man will tell the visitor about the life of the mayas and also explain the process of cultivating henequen. The tours also includes a visit of a cenote, where guests can swim in.

Overnight at Merida

Day 7

Merida sightseeing / Drive to Cancun / Day at leisure

After breakfast, pick up from hotel for visit to Chichen Itza site

Chichen Itza site

Known as the city of the water sorcerers, the imposing site of Chichen Itza was the most important city in Yucatan's northern lowlands enjoying dominion over the surrounding areas and controlling the commerce of salt and other products. Buildings such as el Castillo are testimony to its past splendour. The Castillo is considered a masterpiece of Mayan culture due to its mathematic, astronomical and religious significance. The Ball Court of Chichen Itza is the biggest in the mayan world. The observatory and the temple of the warriors make this archaelogical site unique amongst all other mayan sites

Later continue drive to Cancun … 300 kms., 4 hrs. drive

Cancun is a tale of two cities, with the Zona Hotelera offering majestic Caribbean beaches and Maya culture and Cancún Centro providing the local flavor.

Beaches

One look at Cancún's aquamarine Caribbean waters and it makes perfect sense why planners back in the 1970s were so eager to develop the area as Mexico's next big resort destination. With about 19km of powdery white-sand beaches in the Zona Hotelera and a quieter 15km stretch of coast north of downtown, Cancún is a beach bum's haven. You'll find some of the most swimmable waters on the Zona Hotelera's north side, between Km 4 and Km 9, while north of Cancún Centro, Isla Blanca beckons with its long stretch of relatively undeveloped coastline.

Maya Culture

When most people think of Cancún, wild party town comes to mind. But rest assured that you can also soak up some Maya culture in between the fiestas. The Museo Maya de Cancún, a world-class museum with some 400 Maya artifacts on display, is a must-see and it's adjoining San Miguelito archaeological site is well worth checking out as well. For a day of ruins-hopping, head about 2km south to El Rey, known for its small temple and several ceremonial platforms. Cancún's Maya sites may not have the wow factor of say, a Chichén Itzá, but they provide intriguing historical context when paired with the museum visit.

Food

From Yucatecan comfort food and atmospheric downtown taco joints to Michellin-starred haute cuisine in the Zona Hotelera, Cancún's diverse culinary scene keeps your tummy thoroughly content. Classic Yucatecan menu items such as cochinita pibil (slow-roasted pork with achiote and orange juice) and panuchos (bean-filled fried tortilla snacks) rank among Mexico's most iconic dishes, while thatch-roofed restaurants serving high-quality fresh fish and seafood add yet another facet to the varied dining experience. A growing number of establishments specializing in contemporary Mexican cuisine draw on Caribbean and indigenous Maya recipes to create innovative regional dishes.

Outdoor Activities

Outdoorsy types and children will truly appreciate the activities on offer in Cancún. Great diving and snorkeling sites are nearby, including a famous underwater sculpture museum, and in addition to ocean dives, you can hook up tours to explore nearby cenotes (limestone sinkholes) and their fascinating underwater cave systems. Nature enthusiasts will enjoy a day trip from Cancún to Isla Contoy, an uninhabited island that provides great hiking, bird-watching and snorkeling opportunities. And, of course, there's the beach, where water activities range from swimming and kayaking to kiteboarding.

On arrival, Check in at hotel

Evening at leisure to explore the beach area & chic streets of Cancun

Overnight at Cancun

Day 8

Cancun / At Leisure

After breakfast day at leisure ... Free to explore Cancun on your own …

Interactive Aquarium

Watch dolphin shows, and swim with these intelligent creatures at the aquarium, located in La Isla Shopping Plaza. For a different experience, feed the sharks as you're lowered into their habitat in an acrylic cage. Reserve the dolphin swim and the shark cage dive ahead of time.

Isla Mujeres

After a 20-minute ferry ride from Puerto Juarez north of Cancun, you reach Isla Mujeres, a five-mile-long island that's a nice day-trip. Playa Norte, the island's prettiest beach, features a wide stretch of sand, but the waters can have a strong undertow, so always ask if swimming is safe before venturing in. Along with snorkeling and swimming, Garrafon Natural Reef Park features dolphin encounters, kayaking, a zip line, hammocks for lounging and restaurants.

Selvatica Eco Park

Come to this eco-adventure park, located 11.4 miles west of Puerto Morelos, for the thrill of gliding through the treetops on a 12-station zip line course and for swimming in the cenote, a freshwater sinkhole. You can opt to reach the cenote by driving a buggy, navigating a Segway or riding a horse. The park also offers a zip line and snorkel option.

Shopping

Open-air La Isla Shopping Plaza is the most appealing of Cancun's shopping malls. Along with the Interactive Aquarium, the mall features restaurants and cafes. When exploring the Riviera Maya's attractions, stop at Playa del Carmen's Avenida 5 (Fifth Avenue), which is lined with shops and eateries. Or, browse the adjacent Paseo del Carmen shopping area. Kids and teens like the lively atmosphere at both, as well as the chance to buy souvenirs.

Overnight at Cancun

Day 9

Departure from Cancun

After breakfast, morning at leisure

Later transfer to Cancun airport for onward flight
Notes
Round the year destination ... Extension recommended to countries across South America ... Argentina, Brazil, Peru, etc.
Hotels
Tour Inclusions - Best of Mexico
8 nights accommodation as per itinerary
Daily Breakfast at all hotels
Transfers and sightseeing by private vehicle
Sightseeing with English speaking guide
Flight ticket from Mexico City to Merida
Notes on itinerary
All our itineraries are "Just for Ideas" ... We will get to know you and customise an itinerary just for you that matches your requirements ... dates of travel, category of hotels, preferred airline, flexibility in choosing sightseeing, mode of travel between cities, etc.
Many of our clients have us design more relaxing, slower paced holidays with more in-depth experiences whereas some simply want to visit various destinations and cover only the highlights.
Together, we will determine the ideal route, pace of travel, accommodations, levels of pampering, style of touring, sightseeing to be included, dining preferences, adventure levels, options to meet locals, dates of travel & much more ! and based on this arrive at a price.
Do feel free to get in touch with us by a quick call on +91 79 29602961 or a short mail on mail@destinations4india.com ... Looking forward