Best of Malta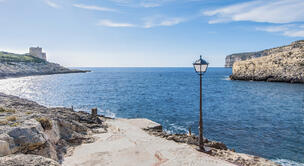 Malta packs glorious variety into its small archipelago. You'll find prehistoric temples, fossil-studded cliffs, hidden coves, thrilling scuba diving and a history of remarkable intensity.

The Deep Blue Sea

Malta's landscape contrasts rocky stretches of coast that end in dizzying limestone cliffs with sheltered bays that hide gin-clear water and red-gold beaches. The islands' many marinas jostle with boats, and you can take to the water in sky-blue traditional craft, stately yachts or speedboats. Snorkellers and divers have much to explore underwater as well, a world of caves, crags and wrecks. Above the water, walking tracks negotiate view-filled pathways linking isolated coves and surprising historical structures. Even for the short-term visitor to Malta, a simple ferry journey across Grand Harbour in Valletta is a magical experience.

A Mediterrean Cocktail

Malta is staunchly Roman Catholic but is also home to a beguiling mix of cultures that has stewed together over generations. Traditional Maltese food mixes Sicilian and Middle Eastern flavours, while making use of local ingredients such as rabbit and honey. The Maltese people are warm and welcoming: if you ask for directions, it's likely a local will walk with you to help you find the way. Plenty of 21st-century sophistication can be found, but there are also pockets where you feel you've gone back in time, especially on Gozo, where mammoth churches tower over quiet villages.

Historic & Contemporary

Malta's geographical location in the centre of the Mediterranean made it an alluring and much-fought-over prize, and the islands are full of majestic above- and below-ground defences. The capital, Valletta, built by the Knights of St John, is a harmonious grid, Mdina and Victoria are fortress-like hilltop towns, and watchtowers dot the coast. Even Malta's fishing boats resonate with the past, their prows painted with eyes, just like the boats of their Phoenician predecessors. Following Valletta's stint as a European Capital of Culture in 2018, the country's capital is also a re-energised centre of contemporary design and architecture.

Mysterious Ancients

Malta and Gozo's astounding prehistoric sites were constructed by sophisticated-seeming temple builders, who also left miniature figurines and mammoth sculptures of 'fat ladies', which have survived millennia and are housed in Malta's fascinating museums. Out in the open, gigantic temples and towers from many different eras stand proud, continuing their endless watch over the sea. The most extraordinary site of all lies underground: Hal Saflieni Hypogeum, a 5000-year-old necropolis carved from the living rock. Elsewhere throughout the islands, smaller prehistoric sites are more subtle in their impact across the centuries, but still provide profound insight into the civilisation's legacy.

On this tour ...

Malta may be one of the world's smallest countries, but when it comes to ancient history, natural beauty and compelling culture, it's in the big league. Uncover the highlights and hidden treasures of Malta and Gozo on a 8-day adventure with a leader to help you see the country through the eyes of a local. Discover what makes Valletta so special, go back in time at the Three Cities and explore the ancient site of Hagar Qim. Jump across to neighbouring Gozo and hike along the coastline, kayak over dazzling blue water and discover its history. One thing's for sure – this is a place worth raising a toast to.

Just as a heads up before you book: this trip is new to our range this year. And while we have thoroughly researched every detail of the logistics, new destinations can sometimes throw us some unexpected surprises. More often than not, it'll be a great surprise. But every now and again there might be a hiccup. We like to think that's what puts the 'adventure' in 'adventure travel'.

Itinerary
Day 1

Arrival Valletta … WELCOME TO MALTA !

On arrival at Valletta, you are greeted at the airport by our local staff for transfer to hotel

Valletta is Malta's lilliputian capital, built by the Knights of St John on a peninsula that's only 1km by 600m. Its founder decreed that it should be 'a city built by gentlemen for gentlemen', and it retains its 16th-century elegance. It may be small, but it's packed full of sights; when Unesco named Valletta a World Heritage site, it described it as 'one of the most concentrated historic areas in the world'.

The Renzo Piano–designed City Gate, Parliament Building and Opera House have changed the cityscape and galvanised it into life. These sights, along with Valletta's status as European Capital of Culture for 2018, have seen the city reborn, with new museums, restored golden-stone fortresses, and new hotels, bars and restaurants in 16th-century mansions. Valletta's outskirts are also worth a visit. Take the beautiful ferry trip to the Three Cities or visit the astounding prehistoric Hal Saflieni Hypogeum.

Check in at hotel & relax till afternoon

Later, at leisure to explore the town on your own

Valletta – this little capital city packs a real punch when it comes to historical sights and top-drawer attractions. You may like to pay a visit to the National Museum of Archaeology, or perhaps take a stroll along the restaurant-lined waterfront & select one for dinner today evneing. Aljotta (fish soup) and Gbejniet (Maltese cheese) are particularly delicious!

Overnight at Valletta

Day 2

Valletta / Local sightseeing & visit Vittoriosa, Senglea and Cospicua

After breakfast time morning, meet up with our local guide from Valletta who will let you in on local secrets as you explore the city on foot.

Start off with a visit to the St. John's Co-Cathedral and learn about the city's fascinating connection to the Order of the Knights of St. John, then you're in for a real treat as you stop by a traditional cafe and sample some tasty Maltese pour-over coffee.

Once you're energized, swing by the Upper Barrakka Gardens, a beautiful public space with a history stretching back to the 16th century.

From the gardens, ride a large elevator down to the Grand Harbour, taking in incredible views as you descend, then say goodbye to your guide and hop aboard a ferry with your leader. Visit the Three Cities, Senglea, Cospicua and Vittoriosa, each providing a unique glimpse into the country's past.

Despite their picturesque narrow streets and stunning views, the village-like 'Three Cities', Vittoriosa, Senglea and Cospicua, are largely off the tourist radar and are lovely places to absorb some local atmosphere.

Vittoriosa and Senglea occupy two narrow peninsulas, and are now connected by a pedestrian bridge linking visitors to recent Senglea developments, including a luxury hotel and the privately run American University of Malta (AUM). Cospicua merges into Vittoriosa and lies just south of it. Regular ferries from Valletta make the area a pleasure to visit. Other attractions nearby include the recently opened Esplora science centre, an excellent destination for families.

After the Great Siege, Birgu was renamed Vittoriosa (Victorious), L'Isla became Senglea (after Grand Master Claude de la Sengle) and Bormla turned into Cospicua (as in conspicuous courage). Local people and signs often still use the old names.

We start from Cospicua and arrive in Vittoriosa: we walk through the narrow streets of the city and discover this ancient refuge of the Knights of the Order of St. John.

We head to the pier to board on a dghajsa, a typical Maltese boat, for a picturesque boat ride. We reach the Senglea Garden from which we can enjoy an incredible view of the Great Port and the Fort of Sant'Angelo.

We then have some free time to explore the surrounding

Return to Valletta and enjoy the rest of the evening

Overnight at Valletta

Day 3

Valletta / Excursion to Mdina

After breakfast, a full day excursion in the medieval city of Mdina, the ancient capital of Malta.

The mysterious golden-stone Arabic walled city of Mdina crowns a hilltop, and is a world apart from modern Malta. Its hidden lanes offer exquisite architectural detail and respite from the day-tripping crowds, who largely stick to the main street. Today, with its massive walls and peaceful, shady streets, it is often referred to as the Silent City, a nickname that becomes appropriate after dark.

Throughout the year, the Mdina area hosts excellent festivals and events ranging from food and art through to classic cars.

We walk along the characteristic paths, surrounded by Sicilian-Norman palaces and Baroque buildings, until we reach the ramparts that dominate the "Silent City": from up here you can enjoy a special view!

We say goodbye to Mdina to visit the Christian catacombs of Rabat and then proceed towards the cliffs of Dingli.

After lunch we visit the San Anton Botanical Gardens at the Presidential Palace and enjoy some free time in the narrow streets of Ta 'Qali, an artisan village. Last but not least, the majestic Dome of Mosta, one of the largest in Europe.

Back to Valletta by evening

Overnight at Valletta

Day 4

Valletta to Gozo

After breakfast, all aboard, heading for Gozo !

After a quick crossing of about 20 minutes we disembark at the port of Mgarr. The authentic atmosphere that reigns in this town on the island of Malta overwhelms us.

For such a small island, Gozo packs in a wide variety of experiences and attractions. Travelling history fans shouldn't miss the megalithic temples at Ggantija, and the recently restored Il-Kastell fortress towering above Gozo's compact capital of Victoria is one of Malta's finest sights. Mountain biking, kayaking and clifftop hiking are all opportunities for active visitors, while Gozo's food and wine scene focuses strongly on fresh local produce and briny-fresh seafood. While Malta can sometimes feel busy and crowded, sleepy and laid-back Gozo offers the perfect opportunity to breathe out and relax.

Head to your resort located at Marsalforn. This delightful seaside resort town will be your base for the time spent on Gozo.

During the day, visit the medieval citadel of Victoria, Xlendi Bay and Dwejra. We can't go home without a souvenir: Gozo is famous for its handmade lace and woolen garments!

This evening just sit back and soak up the laidback atmosphere.

Overnight at Gozo.

Day 5

Gozo / Local sightseeing & Visit Comino

After breakfast this morning, discover Gozo from a different perspective.

Head to the turquoise blue waters of Hondoq Bay and jump in a kayak for a guided adventure. Paddle to the shores of Comino Island and come upon the Blue Lagoon, a truly breath-taking display of bright blue water. Take some time to explore the glorious coastline before returning to land.

Comino is a small, barren chunk of limestone wedged smack-bang between Malta and Gozo. It was once reportedly the hideout of pirates and smugglers, and its remoteness saw it used as a place of isolation for cholera and plague victims in the early 19th century.

The almost empty island – there's just one hotel here – is a breathtakingly beautiful place, ringed by caves and sea cliffs. It's home to the Blue Lagoon, one of Malta's loveliest and most-visited natural attractions. In summer, hordes of day trippers descend from Malta and Gozo, but in spring, autumn and winter you'll have a better chance of enjoying the turquoise waters.

Comino is only 2.5km by 1.5km. It's a nature reserve and bird sanctuary, and free of cars. A walk along the rough tracks affords some great views of northern Malta and of Gozo. It's impossible to get lost here.

Later, head to Victoria, the capital of Gozo island, and explore the ancient citadel and some of the town's most interesting museums, including the Gozo Museum of Archaeology, Gran Castello Historic House and Gozo Nature Museum.

After brushing up on the cultural and natural history of Gozo, rest of the day at leisure

Overnight at Gozo

Day 6

Gozo / Hagar Qim, Blue Grotto

After breakfast, today we discover the millenary working of limestone. We reach Hagar Qim, the main prehistoric site in Malta.

The megalithic temples of Hagar Qim and Mnajdra are the best preserved and most evocative of Malta's prehistoric sites, and have an unparalleled location atop sea cliffs, looking over to the islet of Filfla.

From here we continue to Wied Iz-Zurrieq where we embark to head to the Blue Grotto, famous for its crystal clear waters.

Overnight at Gozo

Day 7

Gozo at leisure

After breakfast, the day is yours to discover more of what Gozo has to offer.

There's something here to suit every interest on how to get the most out of your day.

You may like to head to one of the island's gorgeous beaches and stretch out with a good book, cooling down with dips in the Mediterranean, or perhaps you'd prefer to get active and hike to more ancient ruins and medieval villages.

However you choose to spend your time here, it's sure to be a day to remember!

Overnight at Gozor breakfast, it's time to leave Gozo behind, by hopping on a fast ferry back to Valletta.

Your adventure comes to an end with transfer to Valletta airport

Day 8

Gozo to Valletta / Departure from Malta

After breakfast, it's time to leave Gozo behind, by hopping on a fast ferry back to Valletta.

Your adventure comes to an end with transfer to Valletta airport
Notes
Round the year destination ... Extension recommended to Portugal, Spain & Other countries across Europe
Hotels
Tour Inclusions - Best of Malta
Accommodation for 7 nights
Breakfast
Transports & Local Transportation by private vehicle & boat
Sightseeing
Guide Services


Notes on itinerary
All our itineraries are "Just for Ideas" ... We will get to know you and customise an itinerary just for you that matches your requirements ... dates of travel, category of hotels, preferred airline, flexibility in choosing sightseeing, mode of travel between cities, etc.
Many of our clients have us design more relaxing, slower paced holidays with more in-depth experiences whereas some simply want to visit various destinations and cover only the highlights.
Together, we will determine the ideal route, pace of travel, accommodations, levels of pampering, style of touring, sightseeing to be included, dining preferences, adventure levels, options to meet locals, dates of travel & much more ! and based on this arrive at a price.
Do feel free to get in touch with us by a quick call on +91 79 29602961 or a short mail on mail@destinations4india.com ... Looking forward