Best of Kenya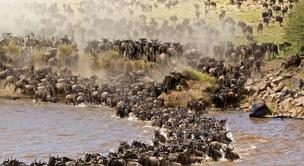 Vast savannahs peppered with immense herds of wildlife. Snow-capped equatorial mountains. Traditional peoples who bring soul and colour to the earth. Welcome to Kenya.

Stirring Landscapes
When you think of Africa, you're probably thinking of Kenya. It's the lone acacia silhouetted on the savannah against a horizon stretching into eternity. It's the snow-capped mountain almost on the equator and within sight of harsh deserts. It's the lush, palm-fringed coastline of the Indian Ocean, it's the Great Rift Valley that once threatened to tear the continent asunder, and it's the dense forests reminiscent of the continent's heart. In short, Kenya is a country of epic landforms that stir our deepest longings for this very special continent.

Proud Peoples
Filling the country's landscape, adding depth and resonance to Kenya's age-old story, are some of Africa's best-known peoples. The Maasai, the Samburu, the Turkana, the Swahili, the Kikuyu: these are the peoples whose histories and daily struggles tell the story of a country and of a continent – the struggle to maintain traditions as the modern world crowds in, the daily fight for survival in some of the harshest environments on earth, the ancient tension between those who farm and those who roam. Drawing near to these cultures could just be a highlight of your visit.

Abundant Wildlife
Kenya is the land of the Masai Mara, of wildebeest and zebras migrating in their millions with the great predators of Africa following in their wake, of endangered species like black rhinos managing to maintain their precarious foothold. But Kenya is also home to the red elephants of Tsavo, to Amboseli elephant families in the shadow of Mt Kilimanjaro and to the massed millions of pink flamingos stepping daintily through lake shallows. Africa is the last great wilderness where these creatures survive. And Kenya is the perfect place to answer Africa's call of the wild.

Conservation's Home
The abundance of Kenya's wildlife owes everything to one of Africa's most innovative and successful conservation communities. Through some pretty tough love – Kenya pioneered using armed rangers to protect rhinos and elephants – Kenya stopped the emptying of its wilderness and brought its wildlife back from the brink after the poaching holocaust of the 1970s and 1980s. More than that, in places like Laikipia and the Masai Mara, private and community conservancies fuse tourism with community development and wildlife conservation to impressive effect. In other words, if you want your visit to make a difference, you've come to the right place.
Itinerary
Day 1

ARRIVAL NAIROBI / SAFARI BRIEFING & OPTIONAL SIGHTSEEING

Upon arrival at Nairobi, meet our team outside the arrival halls, transfer to the Hotel for check-in

East Africa's most cosmopolitan city, Nairobi is Kenya's beating heart, an exciting, maddening concrete jungle that jarringly counterpoints the untrammelled natural beauty to be found elsewhere in the country.

Nairobi's polarising character ensures that the city is reviled and loved in equal measure, and even those who love it might well admit that it's the kind of place many rave about only once they're away from it. For those who call it home, the city's charms include a vibrant cultural life, fabulous places to eat and exciting nightlife. Its detractors point to its horrendous traffic, poor safety levels ('Nairobbery' is a common expat nickname) and its less-than-gorgeous appearance.

However, with a fabulous national park on its doorstep, some wildlife-centric attractions, the excellent National Museum and a series of quirky sights, Nairobi's reality � like that of so many places with a bad reputation � will often come as a pleasant surprise.

Safari briefing during the day

Time permitting, embark on a short sightseeing trip visiting ... David Sheldrick Elephant Orphanage, Giraffe Center, and Karen Blixen Museum

Experience three top Nairobi destinations on a half-day tour of the David Sheldrick Wildlife Trust, Giraffe Manor and the Karen Blixen Museum that includes door-to-door transport from your hotel.

Making the most of limited time in the city, explore wildlife, conservation, and history: visit an elephant orphanage, feed giraffes, and enjoy views of the Ngong Hills from Blixen�s beautifully preserved home.

Overnight at Nairobi

Day 2

NAIROBI - ABERDARE (160 KMS / 4 HOURS DRIVE)

After breakfast, transfer to Aberdare

Boasting a large number of elephants as well as black rhinos, Aberdare National Park lures those who want more than just a safari. With dense forests, 300m-high waterfalls and amazing hikes, this park is as much about the flora as it is the fauna. While trekking, keep an eye open for bush pigs, rare black leopards and buffaloes

On arrival check in & lunch at hotel

Afternoon game drive

The experience in Aberdare National Park is unlike anywhere else in Kenya. The Park is most famous as the place where Princess Elizabeth found out that she was Queen upon the death of her father at Treetops Lodge. Since then this lodge has been popular with tourists on safari to Kenya.

Half the thrill of game viewing in this park is an Elephant or Buffalo suddenly appearing out of the thick rainforest vegetation. One of the best places to see the local denizens is at one of the waterholes by the lodge. The Park has several high mountain peaks, deep ravines with icy mountain streams and many beautiful waterfalls with a moorland plateau. You can explore the park while on game drives and trek up the high peaks and take in the spectacular scenery.

The thick rainforest gives way to bamboo forest and interesting alpine vegetation the higher you travel up the mountain peaks within the park. The forest is home to populations of forest Elephants, Buffalo, Lion and several species of antelope such as Waterbuck, Duiker, the rare Suni and Bushbuck. If you are very lucky you might catch a glimpse of Kenya's rarest antelope, the Bongo. The Park is also home to a healthy population of Black Rhino.

Serval and Leopard also occur some of which have a rare black coat. There are many species of primates, including Black and White Colobus and Sykes and Vervet Monkey's.

Dinner & overnight at Aberdare

Day 3

ABERDARE - MOUNT KENYA (115 KMS / 3 HOURS DRIVE)

Early morning game drive

Transfer back to hotel

After breakfast, depart for the Ol Pajeta Conservancy in the Mount Kenya Region

Africa�s second-highest mountain might just be its most beautiful. Here, mere minutes from the equator, glaciers carve out the throne of Ngai, the old high god of the Kikuyu. To this day the tribe keeps its doors open to the face of the sacred mountain, and some still come to its lower slopes to offer prayers. Besides being venerated by the Kikuyu, Mt Kenya and Mt Kenya National Park have the rare honour of being both a Unesco World Heritage Site and a Unesco Biosphere Reserve.

The highest peaks of Batian (5199m) and Nelion (5188m) can only be reached by mountaineers with technical skills, but Point Lenana (4985m), the third-highest peak, can be reached by trekkers and is the usual goal for most mortals. When the clouds part, the views are simply magnificent.

Upon arrival at the Camp / Hotel, check-in and lunch

Later game drive at Ol Pejeta Conservancy

Ol Pejeta Conservancy is a 364sq km wildlife conservancy situated between the foothills of Mount Kenya and the Aberdares and its game-to-area ratio tops the Kenyan park and reserve league. Ol Pejeta has over 10000 large mammals and it is the only park where the big 5 and chimpanzees can be seen. It is also where the fastest growing population of rhino in Africa can be found. There are southern white rhino, about 80 endangered black rhino and in a special sanctuary there are two of the world�s last remaining northern white rhino.

Afternoon the game drive, visit the Chimpanzees

Dinner and overnight at Mount Kenya

Day 4

MOUNT KENYA - LAKE NAKURU (160 KMS / 4 HOURS DRIVE)

Early morning game drive

Transfer back to hotel for breakfast and Lunch

Drive to the Lake Nakuru National Park in the Great Rift Valley. Enroute visit the Thomson Falls

Lake Nakuru is among Kenya's finest national parks. Flanked by rocky escarpments, pockets of acacia forest and at least one waterfall, the park is gorgeous year-round and is home to both black and white rhinos, lions, leopards, hippos and endangered Rothschild's giraffes.

Rising water levels in 2014 forced the park's famous flamingos to flee (although a small number had returned at the time of research), and the lake is now hauntingly surrounded by drowned trees.

The southern end of the lake is the best place to see wildlife. The forested area below Flamingo Hill is a favourite lion-spotting point � lionesses love to sleep in the trees � while leopards frequent the same area

Arrive at the Game Lodge, Check-in and lunch

Afternoon game drive in the park

Lake Nakuru National Park famous for its rich bird life and abundant game. Lake Nakuru is one of the alkaline Rift Valley lakes and a fantastic bird sanctuary, its shores populated aquatic birds. The famous ornithologist Roger Tory Peterson defined it as "the greatest bird spectacle on earth�. Other wild animals found in this park include the Rhino, Lion, Cheetah and the most elusive of the cats, the Leopard.

Lake Nakuru is an ornithologist�s paradise with over 400 recorded species of birds. Around the lake one can find flamingos, a wide range of waders including avocet, while large rafts of pelicans can also be seen sweeping the water in unison.

This park is host to over 450 species of birds and it is possible to spot many without moving from your own balcony. But of all the birds which consider this park their home, none is more spectacular or more awe-inspiring or unforgettable, than the great mass of pink flamingos which ring the lake, constantly fluttering and flying about, feeding on the algae in these rich alkaline waters. This is home for the largest flamingo population in the world and, every year after the long rains (April/May), the flamingos perform a mating dance - a seemingly orchestrated spectacle which is a truly amazing to watch.

Dinner and overnight at Lake Nakuru

Day 5

LAKE NAKURU - MASAI MARA (250 KMS / 5 HOURS 30 MINUTES DRIVE)

After breakfast, depart to Masai Mara National Reserve via Narok Town

Dream of Africa and chances are that you dream of the Masai Mara !

This huge expanse of gently rolling grassland � specked with flat-topped acacia trees and trampled by massive herds of zebras and wildebeest � is the ultimate African clich�. But for once the reality lives up to the image and the Masai Mara, which comprises not just the famous reserve but also around a dozen community conservancies, several group ranches and numerous Maasai villages, is for many people not just the highlight of their Kenyan adventure but the very reason they came in the first place.

Upon arrival at the Camp, Check-in and Lunch

Afternoon game drive in the reserve

Maasai Mara National Reserve offers wonderful scenery and plenty of game. It is perhaps the only region left in Kenya where the visitor may see animals in the same super-abundance as existed a century ago. The reserve has a rich bird life. Explore the plains and rolling hills for a chance to spot the elephant, black-manned lion, leopard, buffalo, cheetah and diverse species of hoofed mammals.

Dinner and overnight at Masai Mara

Day 6

MASAI MARA - GAME DRIVES

Morning and afternoon game drives at Masai Mara

Full day spent game-viewing in the reserve. Explore the plains and rolling hills for a chance to spot the images of your dreams ranging from beautiful scenery to fascinating views of wildlife, in a natural habitat

After breakfast, proceed for full day game viewing following the migration herds of gnus and zebra in the Masai Mara

The Masai Mara National Reserve is 1510 sq km of open rolling grasslands that extend northward from Tanzania's Serengeti. It reaches its pinnacle every July and August when over a million wildebeest and herd animals migrate here in search of lush grass, only to turn south for greener pastures in October and November

All Meals and overnight at Masai Mara

Day 7

MASAI MARA - GAME DRIVES

Morning and afternoon game drives at Masai Mara

If you are visiting between July & September, the Mara welcomes you to an extra ordinary experience of The Great Migration of Wildebeest

The great wildebeest migration is one of the most phenomenal natural spectacles in the world. It is an annual movement by millions of wildebeest, accompanied by large numbers of zebra, Grant�s gazelle, Thompson�s gazelle, elands and impalas across the greater Masai Mara-Serengeti ecosystem.

From July to September the Mara welcomes the Great Migration of thousands of wildebeest and zebra from the Serengeti in Tanzania to Masai Mara in Kenya. During the wildebeest migration, you will witness how the constant battle for survival makes the Migration Season a particularly exhilarating time to visit Basecamp Explorer Kenya.

The Mara River crossing activity is considered the climax of the migration period. Mara River crossing is an event that will take you through a range of emotions: anticipation, heartache, inspiration, excitement and so much more. The sheer sight of the first herds of animals rushing into the crocodile-infested river will make you long for this wildebeest migration every year.

All Meals and overnight at Masai Mara

Day 8

MASAI MARA - NAIROBI - MOMBASA

After breakfast, transfer to airport for flight to Nairobi

On arrival transfer to station for train to Mombasa or take connecting flight to Mombasa

Mombasa, a melting pot of languages and cultures from all sides of the Indian Ocean, waits like an exotic dessert for travellers who make it to Kenya's coastline. Having more in common with Dakar or Dar es Salaam than Nairobi, Mombasa's blend of India, Arabia and Africa can be intoxicating, and many visitors find themselves seduced by East Africa's biggest and most cosmopolitan port despite its grime and sleaze, which somehow only adds to the place's considerable charm

On arrival check in at hotel

Rest of the day at leisure

Overnight at Mombasa

Day 9

MOMBASA � CITY TOUR

After breakfast, proceed for a city tour of Mombasa

Explore Mombasa�s colonial history, old town, and nature on a full-day private tour that includes entrance fees, all activities, and round-trip hotel transport. Get the perfect introduction to the city by visiting with a local guide, who will share stories about Mombasa culture and heritage, and introduce you to local cuisine in the old town market.

Begin with pickup at your Mombasa accommodations, then travel to Fort Jesus, a UNESCO-listed, 16th-century Portuguese fort. Visit a series of exhibits inside the fort, which is also Mombasa�s oldest museum, following the history of local people, the Swahili language, and the sultans.

Continue into Mombasa�s old town, where diverse historical architecture tells the story of the Africans, Arabs, Asians, Portuguese, and British who have shared the city for hundreds of years. Take in the elephant trunk monument, a poignant reminder of the now-illegal ivory trade that flourished in Mombasa. Pass the atmospheric fish market, where local fishermen display each day�s catch, and take time to sample local dishes in the market (own expense)�visiting the market with the guide is a perfect way to learn about Mombasa specialties.

Spend the afternoon in Haller Park, a wildlife sanctuary with a fish farm and reptile zoo. The park was constructed in a disused cement quarry, and has been transformed with hundreds of indigenous plants, casuarina trees, and other vegetation, which now support a thriving animal population. Try to spot some of the bushpigs, giraffes, elands, and oryx that live within the park. After visiting the park, return to your Mombasa hotel, where this private tour concludes.

Evening at leisure

Overnight at Mombasa

Day 10

MOMBASA � AT LEISURE ON THE BEACH

After breakfast, day at leisure

Today proceed for visit local beaches and enjoy a day of fun in the sun. Relax & enjoy the white soft sandy beach, clear ocean waters and tropical weather in a beautiful and relaxed setting.

You also have an option to indulge in water sports such as snorkelling to marvel the rich marine life where corals, exotic fish and sea plants are protected, scuba diving and water skiing.

Be sure to stick around for sunset on the beach.

Overnight at Mombasa

Day 11

DEPARTURE FROM MOMBASA

After breakfast, morning at leisure

Later transfer to airport for onward flight
Notes
Round the Year Destination ... Extention available to Tanzania, South Africa, Victoria Falls & other countries across Africa
Hotels
Tour Inclusion [Best of Kenya]

1 night Nairobi
1 night Aberdare
1 night Mt Kenya
1 night Lake Nakuru
3 nights Masai Mara
3 nights Mombasa
Breakfast at Nairobi & Mombasa
All meals on Safari
Safari transport and game drives in our custom-built Land cruisers 4X4 with pop-up roof [maximum 7persons]
Airport transfers by private vehicle
Park fees
Complimentary mineral provided in our vehicle (Guests to bring own reusable bottles to reduce the use of plastics)
Notes on itinerary
All our itineraries are "Just for Ideas" ... We will get to know you and customise an itinerary just for you that matches your requirements ... dates of travel, category of hotels, preferred airline, flexibility in choosing sightseeing, mode of travel between cities, etc.
Many of our clients have us design more relaxing, slower paced holidays with more in-depth experiences whereas some simply want to visit various destinations and cover only the highlights.
Together, we will determine the ideal route, pace of travel, accommodations, levels of pampering, style of touring, sightseeing to be included, dining preferences, adventure levels, options to meet locals, dates of travel & much more ! and based on this arrive at a price.
Do feel free to get in touch with us by a quick call on +91 79 29602961 or a short mail on mail@destinations4india.com ... Looking forward