Best of Italy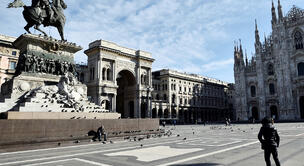 Home to many of the world's greatest works of art, architecture and gastronomy, Italy elates, inspires and moves like no other.

Cultural Riches
Epicentre of the Roman Empire and birthplace of the Renaissance, this European virtuoso groans under the weight of its cultural cachet: it's here that you'll stand in the presence of Michelangelo's David and Sistine Chapel frescoes, Botticelli's Birth of Venus and Primavera and da Vinci's The Last Supper. In fact, Italy has more Unesco World Heritage cultural sites than any other country on Earth. Should you walk in the footsteps of ancient Romans in Pompeii, revel in Ravenna's glittering Byzantine treasures or get breathless over Giotto's revolutionary frescoes in Padua? It's a cultural conundrum as thrilling as it is overwhelming.

Inimitable Style
In few places do art and life intermingle so effortlessly. This may be the land of Dante, Titian and Verdi, but it's also the home of Prada, Massimo Bottura and Renzo Piano. Beauty, style and flair furnish every aspect of daily life, from those immaculately knotted ties and seamless espressos to the flirtatious smiles of striking strangers. The root of Italian psychology is a dedication to living life well, and effortless as it may seem, driving that dedication is a reverence for the finer things. So slow down, style up and indulge in a little vita all'italiana (life, Italian style).

Endless Feasts
It might look like a boot, but food-obsessed Italy feels more like a decadently stuffed Christmas stocking. From delicate tagliatelle al ragù (pasta ribbons in a meat-based sauce) to velvety cannoli (crisp pastry shells filled with sweet ricotta), every bite can feel like a revelation. The secret: superlative ingredients and finely tuned know-how. And while Italy's culinary soul might prefer simplicity, it's equally ingenious and sophisticated. Expect some of the world's top fine-dining destinations, from San Pellegrino 'World's Best 50' hot spots to Michelin-starred musts. So whether you're on a degustation odyssey in Modena, truffle hunting in Piedmont or swilling powerhouse reds in the Valpolicella wine region, prepare to loosen that belt.

Spectacular Landscapes
Italy's fortes extend beyond its galleries, wardrobes and dining rooms. The country is one of nature's masterpieces, with extraordinary natural diversity matched by few. From the north's icy Alps and glacial lakes to the south's fiery craters and turquoise grottoes, this is a place for doing as well as seeing. One day you're tearing down Courmayeur's powdery slopes, the next you could be galloping across the marshes of the Maremma, or diving in coral-studded Campanian waters. Not bad for a country not much bigger than Arizona.
Itinerary
Day 1

Arrival Rome

Arrival Rome, meet & greet by our representative, Transfer to hotel for check in

A heady mix of haunting ruins, awe-inspiring art and vibrant street life, Italy's hot-blooded capital is one of the world's most romantic and charismatic cities.

Monumental History
The result of 3000 years of ad hoc urban development, Rome's cityscape is an exhilarating sight. Ancient icons such as the Colosseum, Roman Forum and Pantheon recall the city's golden age as caput mundi (capital of the world), while monumental basilicas tell of its history as seat of the Catholic Church. Lording it over the skyline, St Peter's Basilica towers over the Vatican, testifying to the ambition of Rome's Renaissance popes and the genius of its game-changing architects. Elsewhere, ornate piazzas and showy fountains add a baroque flourish to the city's captivating streets.

Artistic Treasures
Few cities can rival Rome's astonishing artistic heritage. Throughout history, the city has starred in the great upheavals of Western art, drawing top artists and inspiring them to push the boundaries of creative achievement. The result is a city awash with priceless treasures. Ancient statues adorn world-class museums; Byzantine mosaics and Renaissance frescoes dazzle in art-rich churches; baroque facades flank medieval piazzas. Stroll through the centre and without even trying you'll come across masterpieces by the titans of European art – sculptures by Michelangelo, paintings by Caravaggio, frescoes by Raphael and fountains by Bernini.

Living the Life
A trip to Rome is as much about lapping up the dolce vita lifestyle as gorging on art and culture. Idling around picturesque streets, whiling away hours at streetside cafes, people-watching on pretty piazzas – these are all central to the Roman experience. The tempo rises in the evening when fashionable drinkers descend on the city's bars and cafes for a sociable aperitivo (drink with snacks) and trattorias hum with activity. Elsewhere, cheerful hordes mill around popular haunts before heading off to hip cocktail bars and late-night clubs.

Roman Feasting
Eating out is one of Rome's great pleasures and the combination of romantic alfresco settings and superlative food is a guarantee of good times. For contemporary fine dining and five-star wine there are any number of refined restaurants, but for a truly Roman meal head to a boisterous pizzeria or convivial neighbourhood trattoria. That's where the locals go to indulge their passion for thin, crispy pizzas, humble pasta dishes, and cool white wines from the nearby Castelli Romani hills. To finish off, what can beat a gelato followed by a shot of world-beating coffee?

Rest of the day at leisure to explore the ancient streets of Rome ... We recommend visiting the core of Roman antics ...

Hangout in the Pantheon : In a city that is simply replete with important historic buildings and monuments, the Pantheon still manages to stand out. Because while the Forum requires a spectacular imagination (or a spectacular guide, or both) and even the Colosseum is a shell of its former self, the Pantheon looks today – inside and out – much the way it has for nearly 2,000 years

Stroll the Trastevere Streets : The cobbled streets are mostly car-free, the restaurants and cafes serve up some of the cheapest eats you'll find in Rome (and it's good, too), the shops aren't hawking the usual tourist crap, and the piazza in front of the Santa Maria in Trastevere church (which is beautiful) is as charming and delightful as you'd find in any Tuscan hill town

Enjoy Pizza & Pasta dinner at one of the local cafes

Overnight at Rome

Day 2

Rome - Sightseeing of Ancient Rome

After breakfast, Sightseeing of Ancient Rome ... Visit Colosseum, Palatine Hill and Roman Forum

Have fun discovering Roman history and Gladiator combats. You will visit the Colosseum with an enthusiastic guide in a small group with an average of 16 people ( the group may reach up to 24 people.)

Skip the line tickets to enter the spectacular roman amphitheater will be provided. Your tour will proceed to the Palatine hill and Roman forum where the amazing temples are still standing. Ruins and Roman history will be brought back to life.

Stop At: Colosseum, Rome, Lazio
Your guide will offer a brief introduction of Ancient Rome, getting every member of the group up to speed with the key aspects of the fascinating history of Ancient Rome. Your small group will then head to the most iconic symbol of Ancient Rome, the Colosseum. Armed with Colosseum skip-the-line tickets, your guide will help you to avoid the long ticket queue maximizing your time here in Rome. As you enter the Colosseum you will be blown away by this spectacularly preserved theatre.

Stop At: Roman Forum, Rome, Lazio
From the Colosseum you will proceed to the famous Palatine hill, one of Rome's seven hills. The place where the emperors used to live, you will enjoy a stunning view over the Roman Forum and Circus Maximus.

Stop At: Palatine Hill, Rome, Lazio
You will then climb down to the fascinating Roman Forum, the meeting point of Ancient Rome. Strolling among these ancient ruins, you will feel like you've been transported to another world. Your guide will use overlay books and 3D pictures to help you to visualize how magnificent these ruins once were. Bring Ancient Rome to life with this best-selling small group tour.

Rest of the day at leisure to explore the town on your own ... We recommend you to cover the following ...

Trevi Fountain - Close to the Pantheon, you'll find the most famous fountain of Europe: The Trevi Fountain ... A must see for anyone visiting Rome. Because of the legend surrounding it, this fountain is also renowned for hosting a large number of wedding proposals! Legend has it that in order to save her virginity, a young girl had to reveal the location of the source to the Romans.

The Piazza Navona is located in the heart of the historic center, not far from the Pantheon. it's one of the most beautiful and famous square of Rome! With its showy fountains, baroque palazzi and colourful cast of street artists, hawkers and tourists, Piazza Navona is central Rome's elegant showcase square. Built over the 1st-century Stadio di Domiziano, it was paved over in the 15th century and for almost 300 years hosted the city's main market. Its grand centrepiece is Bernini's Fontana dei Quattro Fiumi, a flamboyant fountain featuring an Egyptian obelisk and muscular personifications of the rivers Nile, Ganges, Danube and Plate.

Enjoy a gelato (Italian ice cream) - After Trevi fountain, to recover from your emotions (if you were proposed or if you knelt down on your knees while sweating with stress!) or simply to take a short break during the day, it's time to enjoy an ice cream. The great new is that you're in the ideal place, very close to one of the 2 best ice cream shops of Rome: San Crispino located on the Via della Panatteria. The queue is often impressive, but the best things in life are the hardest to obtain!

Overnight at Rome

Day 3

Rome - Sightseeing of Vatican

After breakfast, Sightseeing of The Vatican covering Vatican Museums, Sistine Chapel and St. Peter's basilica

Meet your local guide, who ll pay your fee to enter the Vatican Museums. Then, with your skip-the-line ticket, step inside to start your Vatican and Sistine Chapel tour. Follow your guide, listening to tales of saintliness and scandal, and learn about the Vatican's place as one of the holiest sites in Christendom. Italian art flourished in the Renaissance and baroque periods, and the Vatican popes put together one of the world's largest collections of private art with frescos, paintings, sculptures and treasure. See the highlights as you walk through galleries such as Raphael's Rooms, and hear stories behind works such as the School of Athens — a piece that features images of Michelangelo and Raphael himself. Pass through halls such as the Gallery of the Masks and Gallery of the Maps.

Then, make your way into the Sistine Chapel. A sacred spot and the private papal chapel, the Sistine Chapel is also renowned for its Michelangelo frescoes — The Last Judgement and The Creation of Adam.

Continue to St Peter's Basilica, which is said to be built on the ground where St Peter is buried. Admire La Pietà, an early Michelangelo sculpture, and pause to rub the foot of a statue of St Peter, said to bring good luck. Your Vatican and St Peter's Basilica tour then finishes outside the church.

Rest of the day at leisure to stroll the streets of Rome

Overnight at Rome

Day 4

Rome to Sorrento, Amalfi Coast

After breakfast, travel to Amalfi Coast / Sorrento ... 3 to 4 hours journey via Naples

A small resort with a big reputation, Sorrento is a town of lemons, high-pedigree hotels and plunging cliffs that cut through the heart of the historical core.

The town's longstanding popularity stems from its location at the western gateway to the Amalfi. It's also on the train line to Pompeii and has regular fast-ferry connections to Naples and Capri.

Tourism has a long history here. It was a compulsory stop on the 19th-century 'Grand Tour' and interest in the town was first sparked by the poet Byron, who inspired a long line of holidaying literary geniuses – including Goethe, Dickens and Tolstoy – to sample the Sorrentine air. The romance persists. Wander through Piazza Tasso on any given Sunday and you'll be exposed to one of Italy's finer passeggiatas (strolls), snaking past palatial hotels, magnificent marquetry shops and simple Campanian restaurants serving gnocchi alla sorrentina finished off with a shot of ice-cold limoncello.

On arrival check in at hotel

Rest of the day at leisure ... We recommend you to visit the street of Old Sorrento

The old section of Sorrento is a wonderful place to get lost in its narrow streets and alleyways. Here you'll discover colorful shops and quaint trattorias and the true essence of Sorrento. Spend a few hours wandering this section of town and you'll know why Sorrento is such a popular destination. The old town centre is home to numerous historical buildings including the Basilica of Sant'Antonino and the complex of San Francesco, which includes the church, cloister, and a convent.

Overnight at Sorrento

Day 5

Sorrento - Local Sightseeing

After breakfast, day at leisure to enjoy the beauty of Sorrento & do some local sightseeing as well

Piazza Tasso : Looking for a spot to just chill and relax for a bit? Grab a table at one of the cafes here on the Piazza Tasso and watch the coming and goings of Sorrento. Piazza Tasso is undoubtedly the hub of activity in Sorrento and a great location to find a seat and get off your feet for a spell. The piazza is surrounded by shops, cafes, fruit stands and horse drawn carriages waiting to take visitors on a leisurely tour of Sorrento. It all makes for a non-stop symphony of colorful activity.

Marina Grande – Marina Piccola : Take a walk down to the Marina Grande and Marina Piccola for a different perspective on Sorrento. The easy walk down the cliff will be not so easy on the return trip but it's worth the effort. Marina Piccola is the main port of Sorrento and where the ferries to and from Capri, Naples and Amalfi dock. Marina Grande is the old, former port of Sorrento that is now a quaint fishing village with excellent seafood restaurants and rustic homes and shops.

Cathedral of Sorrento [Duomo] : With its beautiful clock tower, the Cathedral of Sorrento is easily recognizable and is centrally located on the Corso Italia, the main thoroughfare in the heart of Sorrento. The interior of the Duomo, as it is known, is in sharp contrast to the simple exterior of the church and treats visitors to some wonderful frescoes and a dramatic altar with a crucifixion above it. We were lucky enough to attend a mass in this beautiful cathedral and it is certainly worth a visit.

Overnight at Sorrento

Day 6

Sorrento - Excursion to Pompeii & Amalfi Coast

After breakfast, depart for an excursion of Pompeii & Amalfi Coast

A day full of adventure and relaxation: travel back in time to discover the majestic ruins of Pompeii, and enjoy unforgettable views of the Amalfi Coast. Your driver will pick you up punctually at your hotel and take you in comfort to Pompeii: travel back in time to 79 BC, when the thriving metropolis of Pompeii fell victim to the eruption of Mount Vesuvius that led to its disappearance, yet also gave it eternal life.

Visiting the impressive Roman age excavations in the company of an expert archaeological guide, you can see the theatres, majestic villas, cobbled streets and impressive public buildings with your own eyes, perfectly preserved over the centuries by the volcanic ash. After so much culture it is time to take a breather and immerse yourself in an earthly paradise just a stone's throw from Pompeii: the tour continues toward wonderful views of the Amalfi Coast along 75 km of winding road, with the cobalt blue sea on one on the other side and the majestic Lattari mountains on the other.

Continue excursion with visit to Amalfi Coast

Deemed an outstanding example of a Mediterranean landscape by Unesco, the Amalfi Coast is one of Italy's most memorable destinations. Here, mountains plunge into the sea in a nail-biting vertical scene of precipitous crags, cliff-clinging abodes and verdant woodland.
Its string of fabled towns read like a Hollywood cast list.

There's jet-set favourite Positano, a pastel-coloured cascade of chic boutiques, spritz-sipping pin-ups and sun-kissed sunbathers. Further east, ancient Amalfi lures with its Arabic-Norman cathedral, while mountaintop Ravello stirs hearts with its cultured villas and Wagnerian connection. To the west lies Amalfi Coast gateway Sorrento, a handsome clifftop resort that has miraculously survived the onslaught of package tourism.

Turquoise seas and cinematic piazzas aside, the region is home to some of Italy's finest hotels and restaurants. It's also one of the country's top spots for hiking, with well-marked trails providing the chance to escape the star-struck coastal crowds.

Overnight at Sorrento

Day 7

Sorrento to Capri / Visit Blue Grotto, Green Grotto & White Grotto

After breakfast, take a boat to Capri

Jump aboard our boat and let's set sail for an incredible seafaring voyage. It's as easy as leaping off the shore and leaving by boat. Feel the sea breeze tousle your hair while viewing the breathtaking panoramas of the Sorrento Coast. Interesting sites include the fishing hamlet of Marina Grande, and the remains of a Roman villa close to Bagni della Regina Giovanna.

Upon arrival in Capri, the boat will take you around the entire island first. We will stop and see famous sites such as the White Grotto, the Blue Grotto, the Green Grotto and the Marvellous Grotto. Of course, we will also make time to visit the unforgettable Faraglioni Rocks and Punta Carena's stunning lighthouse.

Later drop to Capti Island

Capri is beautiful – seriously beautiful. There's barely a grubby building or untended garden to blemish the splendour. Steep cliffs rise majestically from an impossibly blue sea; elegant villas drip with wisteria and bougainvillea; even the trees seem to be carefully manicured.

Long a preserve of celebrities and the super-rich, this small, precipitous island off the west end of the Sorrento Peninsula has a tangible deluxe feel. Your credit card can get a lot of exercise in its expensive restaurants and museum-quality jewellery shops – a cappuccino alone can cost €7. But, regardless of this, Capri is worth visiting, whatever your budget. Glide silently up craggy Monte Solaro on a chairlift. Relive erstwhile poetic glories in Villa Lysis. Find a quiet space in the sinuous lanes of Anacapri. In the process, you'll enjoy some sublime moments.

On arrival check in at hotel

Rest of the day at leisure to explore the streets of Capri ...

Meander through narrow alleys and wander through picturesque artisan's shops, surrounded by opulent vegetation and vibrant flowers.

Discover the island's history and the beauties! Start from the famous Piazzetta - the main square of the island, the heart of the jet set and Capri life. Walk through the VIP shopping streets to the Augustus' Gardens with the most famous and spectacular view.

Overnight at Capri

Day 8

Capri to Florence / Visit Piazzale Michelangiolo

After breakfast, depart for Florence ... 4 to 5 hrs. journey

Cradle of the Renaissance, romantic, enchanting and utterly irresistible, Florence (Firenze) is a place to feast on world-class art and gourmet Tuscan cuisine.

Art & Architecture
Few cities are so compact in size or so packed with extraordinary art and architecture masterpieces at every turn. The urban fabric of this small city, on the banks of the Arno river in northeastern Tuscany, has hardly changed since the Renaissance and its narrow cobbled streets are a cinematic feast of elegant 15th- and 16th-century palazzi (palaces), medieval candle-lit chapels, fresco-decorated churches, marble basilicas and world-class art museums brimming with paintings and sculptures by Botticcelli, Michelangelo et al. Unsurprisingly, the entire city centre is a Unesco World Heritage Site.

Boutique Shopping
Italy's fashion industry was born and bred here. Homegrown designers Guccio Gucci and Salvatore Ferragamo opened haute-couture boutiques in Florence in the 1920s and shopping in the Tuscan capital has been stylish ever since. A-lister fashion houses lace Via de' Tornabuoni and a Pandora's box of specialist boutiques selling all manner of beautiful objects parade alongside family-run botteghe (workshops) in a glorious tangle of medieval backstreets. Watch fourth-generation Florentine goldsmiths and shoemakers at work, buy artisan scents evocative of the Florentine countryside and Tuscan sea breeze, and know the tag 'Fiorentina' is one of the finest international labels going.

Food & Wine
Quality produce sourced locally, seasonally and sustainably is the holy trinity and Florentines share an enormous pride in their culinary tradition. Their city, surrounded by wine-rich hills, is a gourmet paradise where eating and drinking exceedingly well is mandatory. Be it a traditional bowl of earthy ribollita (bean, bread and veg soup), a tripe panino at a family-run food truck or a blue T-bone steak served in a market trattoria unchanged since 1915, dining in Florence is timeless and memorable. Raw cuisine, fish bistros, craft cocktails and the dazzling creativity of modern young Tuscan chefs add contemporary edge.

La Dolce Vita
Stand on a bridge over the Arno several times in a day and the light and mood changes every time. At sunset hike to Piazzale Michelangelo to be dazzled by a palette embracing every known shade of soft pink, orange and fiery amber. Surprisingly small as it is, Florence looms large on the world's 'must-sees' list – and not just for its unmatched treasure chest of art. Rich in culture, backdropped by history and anchored by family, faith and food, the Florentine lifestyle is enviably sweet. Enjoy a go-slow afternoon passeggiata, indulge in an aperitivo at dusk, savour la dolce vita…

Why I love Florence … By Nicola Williams, Writer
Florence is made for walking, which suits me perfectly, but what never ceases to amaze me is its overwhelming beauty. It's impossible not to be completely and utterly seduced by the sheer size and grandeur of Brunelleschi's red cathedral dome on Piazza del Duomo; by the sensual beauty of a stash of lesser-known Michelangelo sculptures that no one really talks about (forget David – Dawn and Dusk sends shivers down my spine); by the hopelessly romantic city light that turns the Arno and its bridges into a portfolio of Turner canvases during my early-morning runs. Swoon.

On arrival check in at hotel

Evening at leisure ... We recommend you visit Piazzale Michelangiolo

So often misspelled as Piazzale Michelangelo that even city tourism material occasionally slips up, this terrace above the city is an obligatory stop for tour buses, and the spot from which all those postcard shots of the cathedral are taken. During busy tourist seasons, the best time to enjoy it in relative peace is late afternoon or early evening; it's especially lovely at sunset. Although you can get a 360-degree panorama of Florence from the dome of the cathedral, only from this terrace can you fully appreciate how Brunelleschi's dome dominates the city center. Nor can any other height give you this sweeping city view that encompasses the Ponte Vecchio, Palazzo Vecchio, Santa Croce, and other landmarks.

Overnight at Florence

Day 9

Florence - Excursion to Pisa & Local Sightseeing

After breakfast, depart for excursion to Pisa

A splendid excursion through the fertile and picturesque Tuscan countryside to the historic university city of Pisa, famous for its architectural beauty.

Upon arrival, you will discover Piazza dei Miracoli and its monuments, which are called "miracles" because of their incredible beauty and uniqueness. The square is dominated by the Cathedral, a model of the distinctive Pisa Romanesque architecture, the celebrated Leaning Tower and the round-shaped Baptistery, surrounded by its suggestive columned arcades and "Camposanto", an extraordinary quadrangular cloister (originally a cemetery), delimiting with its marble façade the North part of the square.

You will have also time for memorable pictures and to discover on your own the historical quarter where you can admire the Church of San Sisto, one of the oldest churches in Pisa and Piazza dei Cavalieri, which was the political centre in the middle age and where the Scuola Normale (one of the most famous universities in the world) is located.

Later back to Florence and day at leisure to check out the local places of sightseeings

Ponte Vecchio : The Ponte Vecchio may well be the most widely recognized icon of Florence, and its graceful arches topped by a jumble of shops is most certainly one of the city's prettiest scenes. The bridge has traditionally been the home for the shops of Florence's talented goldsmiths, and a stroll across it still shows a dazzling array of fine jewelry. But most tourists don't realize that another set of treasures hides above their heads. The purpose of the bridge, of course, was to link the two sides of the Arno, and the Medici needed to cross frequently between their offices in the
Palazzo Vecchio and their apartments in the Pitti Palace.

Uffizi Palace and Gallery : Few would argue the Uffizi's place among the handful of world's top art museums. Its collections are simply staggering in their diversity and quality, and even if art is not your main interest, you should see the highlights of the paintings here. You'll come away understanding a lot more of how Florence's 14th- to 16th-century painters changed the face of western art, as you see the transition from the stilted Byzantine images to the life-like figures and landscapes of the Renaissance artists. The vast building stretching along the river was one more of the Medici palaces but was intended not as a residence, but to house governmental offices, scientific studies, and part of their growing art collection.

Piazza della Signoria and the Loggia dei Lanzi : This broad square has been the center of power in Florence since its 14th-century origins - and perhaps even before, as Etruscan and Roman remains have been found below its pavement. Today, it is the social center as well, a favorite meeting place filled with tourists and locals. At its center is the Neptune Fountain, at one side the Palazzo Vecchio, still housing the city's government. Against the wall of the Uffizi, which forms one end of the piazza, is the Loggia dei Lanzi, an outdoor sculpture gallery with several notable pieces.

Overnight at Florence

Day 10

Florence to Venice / Afternoon Sightseeing

After breakfast, depart for Venice ... 3 hrs. journey

Imagine the audacity of building a city of marble palaces on a lagoon – and that was only the start.

Epic Grandeur
Never was a thoroughfare so aptly named as the Grand Canal, reflecting the glories of centuries of Venetian architecture in the 50 palazzi and six churches lining its banks. At the end of Venice's signature S-shaped waterway, the Palazzo Ducale and Basilica di San Marco add double exclamation points. But wait until you see what's hiding in the narrow backstreets: neighbourhood churches lined with Veroneses and priceless marbles, convents graced with ethereal Bellinis, Tiepolo's glimpses of heaven on homeless-shelter ceilings, and a single Titian painting that mysteriously lights up an entire basilica.

Venetian Feasts
Garden islands and lagoon aquaculture yield speciality produce and seafood you won't find elsewhere – all highlighted in inventive Venetian cuisine, with tantalising traces of ancient spice routes. The city knows how to put on a royal spread, as France's King Henry III once found out when faced with 1200 dishes and 200 bonbons. Today such feasts are available in miniature at happy hour, when bars mount lavish spreads of cicheti (Venetian tapas). Save room and time for a proper sit-down Venetian meal, with lagoon seafood to match views at canalside bistros and toasts with Veneto's signature bubbly, prosecco.

An Artful Lifestyle
Pity the day trippers dropped off at San Marco with a mere three hours to take in Venice. That's about enough time for one long gasp at the show-stopper that is Piazza San Marco, but not nearly enough time to see what else Venice is hiding. Stay longer in this fairy-tale city and you'll discover the pleasures of la bea vita (the beautiful life) that only locals know: the wake-up call of the gondoliers' 'Ooooeeeee!', a morning spritz in a sunny campo (square), lunch in a crowded bacaro (bar) with friends and fuschia-pink sunsets that have sent centuries of artists mad.

Defying Convention
Eyeglasses, platform shoes and uncorseted dresses were all outlandish Venetian fashions that critics sniffed would never be worn by respectable Europeans. Venetians are used to setting trends, whether it be with controversial artwork in the Punta della Dogana, racy operas at La Fenice or radical new tech start-ups challenging Silicon Valley giants. On a smaller scale, this unconventional creative streak finds vibrant expression in the showrooms of local artisans where you can find custom-made red-carpet shoes, purses fashioned from silk-screened velvet, and glass jewels brighter than semiprecious stones. In a world of cookie-cutter culture, Venice's originality still stands out.

On arrival check in at hotel

Later embark on a Venice Walking Tour and Gondola Ride

Enjoy a relaxing afternoon stroll through Venice and see some of the city's most beautiful sights. Meander for 90 minutes through the historical heart of Venice, starting at the striking centerpiece of St. Mark's Square.

In the company of an expert guide, you will get the chance to see the beautiful Fenice Theatre. Destroyed in 1996 by a devastating fire, the theater was reconstructed in 2003 and bears the motto "The Way it Was, Where it Was." Continue to the Calle della Vida, where you will see the Palazzo Contarini del Bovolo, a superb example of Gothic architecture that dates from 1499. The building is unique for its variety of stunning arcades, and its parapet, which includes small columns following the prominent line of its staircase. Not easily found on your own, it is located inside the interior of a small courtyard close to the Campo Manin, where you will have the chance to explore with your guide.

Conclude with a visit to the Rialto Bridge over the Grand Canal. Constructed between 1588 and 1591 by Antonio da Ponte, the Rialto Bridge is a superb example of Venetian engineering. Marvel at the beauty of the canals of Venice, and see the magnificent architecture of the watery city.

After your walking tour get ready to hop aboard a classic gondola boat (for up to 6 people) and enjoy a 35-minute ride through the famous Grand Canal (Salute area) as well as the smaller canals around the neighborhood of Fenice. As you glide along the Grand Canal, marvel at the glamorous bank-side palaces and churches and hear tales about how it became Venice's most important thoroughfare. The gondola ride ends by disembarking at Vallaresso Station in Dogana

Overnight at Venice

Day 11

Venice - Sightseeing of surrounding Islands

After breakfast, depart on tour of Islands surrounding Venice ... Murano, Burano and Torcello

Murano and Burano : Home of Venice's fabled glass workers. They were sent here in the 13th century in hope of decreasing the risk of fire from one of the glass furnaces sweeping through Venice's tightly compacted center. Or so they claimed. Just as likely, it was to keep the secrets of glassblowing a Venetian monopoly. This was no small matter to the Venetians, whose Council of Ten decreed in 1454: "If a glass-blower takes his skill to another country to the detriment of the Republic he shall be ordered to return; should be refuse, his nearest relatives shall be thrown into prison so that his sense of family duty may induce him to return

Torcello Island : Venice began on this outer island of Torcello, founded here as early as the seventh century, and by the 12th century, it was a flourishing commercial town. Of its palaces, churches, shipyards, and docks, only two churches and a handful of houses remain, dotted over the large island

Rest of the day at leisure to explore the vibrant streets of Venice

St. Mark's Square - The vast expanse of Venice's largest square is brought together and made to seem almost intimate by the elegant uniformity of its architecture on three sides. But more than its architectural grace, St. Mark's Square (Piazza San Marco) is loved as Venice's living room, the place everybody gathers, strolls, drinks coffee, stops to chat, meets friends and tour guides, or just passes through on the way to work or play. Three sides are framed in arcades, beneath which are fashionable shops and even more fashionable cafés.

Palazzo Ducale [Doge's Palace] and Bridge of Sighs - Visitors arriving in Venice once stepped ashore under the façade of this extraordinary palace. They couldn't have failed to be impressed, both by its size and the finesse of its architecture. If they were received inside by the Doges, the impression would only strengthen as they entered through the Porta della Carta, a perfect example of Venetian Gothic at its height, and ascended the monumental Scala dei Giganti and the gold vaulted Scala d'Oro to be received in what many consider to be the palace's most beautiful chamber, Sala del Collegio. Even jaded 21st-century travelers gasp in awe at the palace's grandeur and lavish decoration. A walk across the Bridge of Sighs to the dark cells of the Prigioni - the prisons from which Casanova made his famous escape.

Canale Grande [Grand Canal] - Sweeping through the heart of Venice in a giant reverse S curve, the Grand Canal is the principal boulevard through the city, connecting Piazza San Marco, Rialto Bridge, and the arrival points of the rail station and bridge from the mainland. Only four bridges cross its 3.8-kilometer length, but stripped-down gondolas called traghetti shuttle back and forth at several points between bridges. The Grand Canal was the address of choice for anyone who claimed any influence in Venice. Palaces of all the leading families open onto the canal, their showy Venetian Gothic and Early Renaissance facades facing the water, by which visitors arrived. These grand palaces - or at least their facades - are well preserved today, and a trip along the canal by vaporetto is the best way to see them. And, of course, a ride along the Grand Canal in a gondola is one of the most romantic things to do in Venice at night.

Overnight at Venice

Day 12

Venice to Lake Como

After breakfast, depart for Lake Como ... 4 hrs. journey

Como is the most 'James Bond' of the Italian lakes, where shiny red Ferraris weave through narrow lakeside towns and neoclassical villas take on a whole new level of opulence. Parts of the 2006 Bond movie Casino Royale were filmed here and many of the fancy lakeside hotels have a 007 price tag.

So, what's left for the hoi polloi? Plenty. Como's mountain-backed shores are furrowed with ancient paths that wind through attractive villages where for the price of a cappuccino you can while away a sunny afternoon watching beautiful people in expensive clothes. Even better, many of the historic palaces open their rooms and gardens for public viewing, meaning you can experience history vicariously like an erstwhile duke or duchess.

On arrival check in at hotel

Rest of day at leisure to visit the area surrounding the lake ... We recommend you check out the streets of Camo starting with old town of Ballagio ... The tiny streets of Bellagio are so pretty that a simple walk is worth the visit. The old town center of Bellagio has one main road, Via Giuseppe Garibaldi, which gets to Punta Spartivento (tip of the village) in less than 10 minutes.

Via Giuseppe Garibaldi is populated by dozens of shops where visitors can find local food, leather goods, clothing, perfumes, and much more. To the left of the main street, several alleys lead to the lakefront, facing the Como branch of the lake. These alleys are also full of shops and restaurants… and stairs, too! So wear a pair of comfortable shoes and get ready to do a lot of ups and downs.

In the town center, you can get to Piazza della Chiesa and admire the Basilica of San Giacomo, a Romanesque church built between the 11th and 12th centuries.

Overnight at Lake Como

Day 13

Lake Como / At leisure

After breakfast, day at leisure to explore Lake Como

Villa Balbianello : A 1km walk along the (partially wooded) lake shore from Lenno's main square, Villa Balbianello has cinematic pedigree: this was where scenes from Star Wars Episode II and the 2006 James Bond remake of Casino Royale were shot. The reason? It is one of the most dramatic locations anywhere on Lake Como, providing a genuinely stunning marriage of architecture and lake views.

Villa Carlotta : Waterfront Villa Carlotta sits high on Como's must-visit list. The botanic gardens are filled with colour from orange trees interlaced with pergolas, while some of Europe's finest rhododendrons, azaleas and camellias bloom. The 8-hectare gardens also contain a lush fern valley, a bamboo grove, a Zen-style rock garden, towering cedars and a high-up lookout fringed by olive trees. The 17th-century villa, strung with paintings, sculptures (some by Antonio Canova) and tapestries adds an artful element to the beauty.

Castello di Vezio : High above the terracotta rooftops of Varenna, the imposing Castello di Vezio offers magnificent views over Lake Como. The 13th-century building was once part of a chain of early-warning medieval watchtowers.

Basilica San Fedele : The Basilica is located dowtown, in Piazza San Fedele that used to be the main square for the cornmarket in Como. The Basilica was probably built in 1120 on the ruins of a previous building. The construction was finished years later. Along the centuries the building was largely modified. In the 17th century the main nave changed into a barrel vault ceiling and side apsides were modified in the 16th century when some arcs were closed and replaced with paintings and stuccos. In 1805 the octagonal lantern was moved up.

Overnight at Lake Como

Day 14

Lake Como to Milan / At leisure to visit downtown

After breakfast, depart for Milan ... 2 hrs. journey

Milan is Italy's city of the future, a fast-paced metropolis where money talks, creativity is big business and looking good is an art form.

Cultural Legacy
Ruled by the Caesars, Napoléon, the Austro-Hungarians and Mussolini, Milan has an ancient and fascinating history. After the unification of Italy in 1861, it also became an important industrial and cultural centre – a title it still holds today. While it may not have the historic attractions of other Italian cities, it holds its own with art collections old and new, which mark the genius of old masters and provoke new conversations about where the world is headed.

A Modern Miracle
Since Leonardo da Vinci broke all the rules in his stunning Last Supper, the indefatigably inventive Milanese seem to have skipped straight from the Renaissance to the 1900s. Not only is Milan a treasure trove of 20th-century art, but art deco and rationalist architecture abound. Today the city leads the way with the largest post-war re-development in Italy, impressive, sustainable architecture and a futuristic skyline modelled by Zaha Hadid, Daniel Libeskind and César Pelli. The city is also burgeoning into a hi-tech hub, home to start-ups galore and the likes of Google, Microsoft, Alibaba and Apple.

Living by Design
Though Italian design is world renowned, its roots lie in 1930s Milan – seeing it in a home context offers fresh appreciation. A visit to the Triennale design museum is a wonderful way to pay homage to the work of Italy's best and brightest. In addition, Milan is home to all the major design showrooms and an endless round of trade fairs, including Salone Internazionale del Mobile and its ever-popular sidekick the free Fuorisalone. Italian fashion houses are also branching out into spas, bars, hotels, galleries and cultural centres all over Milan, which means you can get your style fix pretty much everywhere.

Buon Appetito
Cucina povera (poor man's cuisine) may be the cry of the south, but Milanese cooking is the product of a rich urban culture. Just note the golden hue of its quintessential dishes: cotoletta (burnished, buttery veal) and saffron risotto. It was in powerful commercial cities such as Milan that some of Italy's great cuisines were born, marrying Mediterranean fruits, spices and herbs with cooking methods, pastry techniques and eating styles from France and central Europe. Even today Milan continues to push Italy's culinary boundaries, making sushi and dim sum its own, and holding the highest number of Michelin stars in the country.

Visit Duomo, Milan Cathedral & Galleria Vittorio Emanuele

Duomo - The Duomo, the city centre, which has long been identified with the economy and finance of Piazza degli Affari, has a lot more to offer visitors: to the eastern side of the piazza lies Corso Vittorio Emanuele which is one of the city's busiest shopping thoroughfares ; to the north is the stunning Galleria Vittorio Emanuele, Milan's sitting room; to the south, via Torino, a major commercial artery from which narrow and picturesque streets branch off leading to enticing tucked-away corners of Milan; then to the west is the medieval Piazza dei Mercanti and the scenic Via Dante from which visitors can admire the Castello Sforzesco.

Milan Cathedral - One of the most elaborate Gothic cathedrals in Europe is the Milan Cathedral, also known as the Duomo di Milano. Dedicated to Saint Mary Nascent, this cathedral is the largest cathedral in Italy, and the fifth largest in the world.

Galleria Vittorio Emanuele II - Built during the late 1800s, the Galleria Vittorio Emanuele II is one of the oldest enclosed shopping malls in the world. With its blue glass vaulted ceilings, mosaic flooring and towering central dome, the mall's architecture is as stunning as the high-end couture offered in its shops, which include Louis Vuitton, Borsalino and Prada. The shopping center's popularity as meeting place as earned the Galleria the nickname - Milan's drawing room. Tradition has it that turning on one's heel over the mosaic bull under the central dome brings good luck.

Overnight at Milan

Day 15

Departure Milan

After breakfast, morning at leisure

Later travel to airport for onward flight
Notes
Round the Year Destination ... Extension recommended to Dubai, France, Netherlands & other European countries
Hotels
Tour Inclusions [Best of Italy]
3 nights Rome
3 nights Sorrento
1 night Capri
2 nights Florence
2 nights Venice
2 nights Lake Como
1 night Milan

Daily breakfastat at respective hotels

Local travel between the cities by trains or van

All sightseeings & excursions throughout the program as per Itinerary with a local guide
Notes on itinerary
All our itineraries are "Just for Ideas" ... We will get to know you and customise an itinerary just for you that matches your requirements ... dates of travel, category of hotels, preferred airline, flexibility in choosing sightseeing, mode of travel between cities, etc.
Many of our clients have us design more relaxing, slower paced holidays with more in-depth experiences whereas some simply want to visit various destinations and cover only the highlights.
Together, we will determine the ideal route, pace of travel, accommodations, levels of pampering, style of touring, sightseeing to be included, dining preferences, adventure levels, options to meet locals, dates of travel & much more ! and based on this arrive at a price.
Do feel free to get in touch with us by a quick call on +91 79 29602961 or a short mail on mail@destinations4india.com ... Looking forward