Best of Iceland ... All of Golden Circle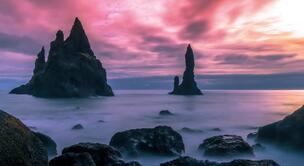 Hitting headlines, topping bucket lists, wooing nature lovers and dazzling increasing numbers of visitors – there seems no end to the talents of this breathtaking northern destination.

A Symphony of Elements
An underpopulated island marooned near the top of the globe, Iceland is, literally, a country in the making. It's a vast volcanic laboratory where mighty forces shape the earth: geysers gush, mudpots gloop, ice-covered volcanoes rumble and glaciers cut great pathways through the mountains. Its supercharged splendour seems designed to remind visitors of their utter insignificance in the greater scheme of things. And it works a treat: some crisp clean air, an eyeful of the cinematic landscapes, and everyone is transfixed.

The Power of Nature
It's the power of Icelandic nature to turn the prosaic into the extraordinary. A dip in a pool becomes a soak in a geothermal lagoon; a casual stroll can transform into a trek across a glittering glacier; and a quiet night of camping may mean front-row seats to the aurora borealis curtains of light, or the soft, pinkish hue of the midnight sun.

Nordic Nirvana
Don't for a minute think it's all about the great outdoors. The counterpoint to so much natural beauty is found in Iceland's cultural life, which celebrates a literary legacy that stretches from medieval sagas to contemporary thrillers by way of Nobel Prize winners. Live music is everywhere, as is visual art, handicrafts and locavore cuisine.

A Personal Experience
The warmth of Icelanders is disarming, as is their industriousness – they've worked hard to recover from financial upheaval, and to transform Iceland into a destination that, thanks to its popularity with visitors, can host more than six times its population each year. Pause and consider a medium-sized city in your country – then give it far-flung universities, airports and hospitals to administer, 30-odd active volcanoes to monitor, and hundreds of hotels to run. How might they cope? Could they manage as well as the Icelanders – and still have time left over to create spine-tingling music and natty knitwear?

Imagine coasting through stunning countryside to see spouting geysers, thundering many-tiered waterfalls, and dramatic cliff faces. All at your own pace. If that sounds incredible, then you're ready for an iconic adventure with a driving tour of Iceland's Golden Circle.

This iconic route represents one of Iceland's most popular day tours, where you can discover landscapes rich with history and folklore. And inbetween attractions you can find reasons to stop at any number of fascinating locations. Think photogenic Lutheran churches, Icelandic horse farms, and restaurants dishing up Icelandic cuisine.

Each of the destinations have their own special charm, which we've highlighted below.
Itinerary
Day 1

Arrival Reykjavik / Visit Blue Lagoon

Your memorable, Iceland Golden Circle adventure begins the very moment you arrive at Keflavik Airport.

This tour can be a self-drive one or we can book an exclusive vehicle for you to go around Iceland

Transfer to Reykjavik hotel for check in or Pick up your rental vehicle & head directly to Reykjavik [50 kms. / 1 hr. drive] … Your exciting, first night in "the land of fire and ice."

The world's most northerly capital combines colourful buildings, quirky, creative people, eye-popping design, wild nightlife and a capricious soul.

Food & Nightlife
Reykjavík is strikingly cosmopolitan for its size. It's merely a town by international standards, compared with London or Paris, yet it's loaded with captivating art, rich culinary choices, and cool cafes and bars. The capital has seen a recent surge in restaurant openings, many of the highest standard, and expressing all manner of culinary creativity. Cafes by day turn into restaurants and bars at night. Tapas-style dining, high-concept Icelandic cuisine and burger joints all rub shoulders. Then join the late-night party. The music scene is epic: excellent festivals, creative DJs gigging and any number of home-grown bands.

History
You can get a full primer on Icelandic history right in central Reykjavík, from its Settlement Exhibition built around the unearthed Viking longhouse of the area's earliest inhabitants to the enormous National Museum, keeper of the country's most precious artefacts.

Art & Design
The capital's art museums, shops and galleries are a perfect insight into contemporary city life. They include outstanding exhibition spaces, such as the Reykjavík Art Museum and National Gallery, as well as shops featuring cutting-edge Icelandic design. Edgy contemporary art galleries such as those in the Marshall House showcase emerging and internationally famous Icelandic artists. Wander the streets photographing creative graffiti and public art installations, like the ever-popular seaside Sun Voyager sculpture, which changes guises along with the light.

The Great Outdoors
Even if you come to Reykjavík for a short visit, be sure to take a trip to the countryside. Tours and services abound, and understanding Reykjavík and its people are helped by understanding the vast, raw land they anchor. The majority of Icelanders live in the capital, but you can guarantee their spirits also roam free across the land. Absorb what you see, hear, taste, smell – all part of Iceland's rich heritage.

Suggestion: If your flight arrives early enough, you can start your trip off in a spectacular way with a visit to Iceland's world-famous, Blue Lagoon. Be sure to pack your swimsuit, so you can take a relaxing dip in the Lagoon's soothing, geothermal waters, before heading to your hotel.

The Blue Lagoon, located a little more than a half hour south of Reykjavik and 15 minutes from the airport, is an outdoor spa that is open for rest and relaxation all year round

From massages to cocktails, this lovely spa will provide you the relaxation and rejuvenation that you deserve. The Blue Lagoon offers a variety of day visit, overnight accommodation and dining options.

This hot spring, created with little help from humans, it is filled with many types of healing elements that occur naturally. From the mineral-rich brackish water to the exfoliating mud, this spa offers rejuvenating treatments in forms that you'd never imagine.

The water of the spring naturally maintains a temperature of about 39C / 102F all year round. With these consistent temperatures, the lagoon is as comfortable as a bathtub!

Later reach Reykjavik and check in at hotel

Evening at leisure

Overnight at Reykjavik

Day 2

Reykjavik to Vik / Enroute see some stunning waterfalls

Today begins your real journey to the wonders of Iceland. You'll start by exploring the famous Golden Circle and the other, main attractions that Iceland's southern region offers.

After breakfast, drive to Vik ... Total driving distance 300 kms.

Throughout the day, you will marvel the stunning waterfalls Gullfoss, Seljalandsfoss and Skógafoss and visit the world's oldest parliament, Thingvellir.

Enroute visit following locations …

Thingvellir National Park - 40kms northeast of central Reykjavik, is Iceland's most important historical site and a place of vivid beauty. The Vikings established the world's first democratic parliament, the Althingi, here in AD 930. The site has a superb natural setting, in an immense, fissured rift valley, caused by the meeting of the North American and Eurasian tectonic plates, with rivers and waterfalls. The country's first national park, Thingvellir was made a Unesco World Heritage Site in 2004.

Geysir Hot Springs - Continue on to the geothermal baths of Laugarvatn and visit the Strokkur Geyser. Watch the water bubble and have your camera ready as the geyser erupts every 5-10 minutes.

Waterfalls - Your next stop is Gullfoss Waterfall, a double-tiered waterfall whose name translates to Golden Waterfall. Drive through Icelandic landscape towards Eyjafjallajokull, the recently erupted volcano that caused the famous air traffic delays of 2010. Feel free to pick up some ash from the eruption to bring home. From the volcano, head to the blue-colored Solheimajokull glacier, Iceland's third largest glacier. Marvel at the Skogafoss waterfall, one of Iceland's largest waterfalls and take a walk behind the Seljaladsfoss waterfall. Drive back along the coast of Myrdalssandur to the black-sand beaches at Reynisfjara. Marvel at the rock formations at Dyrholaey

Later continue drive to Vik, the country's southernmost village

The welcoming little community of Vik, has become a booming hub for a very beautiful portion of the South Coast. Iceland's southernmost town, it's also the rainiest, but that doesn't stop the madhouse atmosphere in summer, when every room within 100km seems to be booked solid. With loads of services, Vík is a convenient base for the beautiful basalt beach Reynisfjara just to the west and its puffin cliffs. There's also the rocky plateau Dyrholaey and the volcanoes running from Skogar to Jokulsarlon glacier lagoon and beyond. Along the coast, white-capped waves wash up on black sands and the cliffs glow green from all that rain. Put simply, it's pretty special.

Check in at hotel on arrival

Evening at leisure to gaze at northern lights with the North Atlantic ocean in the background [whenever it happens ... hotel reception can inform you as soon as it appears]

Overnight at Vík

Day 3

Vik to Hofn / Enroute visit Lava Fields, Glaciers, Icebergs & Lagoons

After breakfast, drive to Hofn ... Total driving distance 395 kms

Eldhraun lava field – First up, the impressive Eldhraun lava field is the biggest lava flow in the world. It occurred during the Laki eruption in the late 1700s. The enormous site which is 565 square kilometers (218 sq mi) is where the Apollo 11 crew came to train for their impending moonwalk. This eruption lasted from 1783 to 1784 and is known as the Skaftareldar, and is considered as the most poisonous eruption during historical times.

Kirkjubaearklaustur - Drive past Kirkjubaearklaustur which has developed into a village, the only centre of population in the district, with about 150 inhabitants. Kirkjubaearklaustur, often abbreviated to Klaustur, is centrally located in the district.

Vatnajokull glacier with National parks - Skaftafell & Jokulsargljufur

Vatnajokull (2110 m) is the largest glacier in Iceland and it's also the largest glacier mass in Europe. It covers an area of roughly between 8100 sq. km and 8300 sq. km, and it's about 1000 m thick at its thickest point. Its average thickness is 400 - 500 m, and the total ice volume of Vatnajokull is probably in the vicinity of 3300 cubic km.

In 2008, Vatnajokull glacier and its magnificent surroundings were declared a national park. Two existing national parks, Skaftafell in the south and Jokulsargljufur in the north, as well as several nature reserves, were integrated into the newly established Vatnajokull National Park, thereby creating the largest national park in Europe. Vatnajokull National Park covers 13% of Iceland. The Park showcases a stunning variety of landscape features, shaped by nature's mightiest forces.

Skaftafell National Park - is another "must" visit. This oasis, surrounded by glaciers and black sand plains, offers a huge menu of options for great hiking, from easy-going to challenging.

Your next stop is Iceland's scenic southeast. Driving past a splendid panorama of outlet glaciers belonging to Vatnajokull, Europe's largest ice cap, you'll arrive at the mesmerizing beauty of Jokulsarlon, a glacial lagoon. This exceptional sight sits at the foot of Iceland's highest mountain, Hvannadalshnukur.

Just a narrow isthmus, the Jokulsarlon glacier lagoon is the largest, deepest, and arguably most magnificent of Iceland's many glacial lakes. Icebergs bob in glittering water framed by jagged peaks, rugged lava fields, and black sand beaches.

Later continue drive to Hofn

Although it's no bigger than many European villages, the Southeast's main town feels like a sprawling metropolis after driving through the emptiness on either side. Its setting is stunning; on a clear day, wander down to the waterside, find a quiet bench and just gaze at Vatnajokull and its guild of glaciers.

Hofn simply means 'harbour', and is pronounced like an unexpected hiccup (just say 'hup' while inhaling). It's an apt name – this modern town still relies heavily on fishing and fish processing, and is famous for its humar (often translated as lobster, but technically it's langoustine).

Check in at hotel on arrival

Evening at leisure to gaze at northern lights [whenever it happens ... hotel reception can inform you as soon as it appears]

Overnight at Hofn

Day 4

Hofn to Egilsstadir / Enroute visit the East Fjords

After breakfast, drive to Egilsstadir enroute visit The East Fjords ... Total driving distance 260 kms.

This is the day to discover the East Fjords … Your trip takes you through the Almannaskaro tunnel to the villages of Djupivogur and Breiodalsvík.

Next up is the wondrous assemblage at Petra's Stone Collection was a lifelong labour of love for Petra Sveinsdóttir (1922–2012). Inside her house, stones and minerals are piled from floor to ceiling – 70% of them are from the local area. They include beautiful cubes of jasper, polished agate, purple amethyst, glowing creamy 'ghost stone', glittering quartz crystals…it's like opening a treasure chest.

The large garden is awash with more rocks, garden gnomes, and beachcombed flotsam and jetsam. Additional collections (including pens, matchboxes and taxidermy birds) show what an incredible hoarder Petra was.

A small kiosk out front sells soup and coffee, daily from June to mid-September.

Then, you'll continue along the fjords towards Reydarfjordur, where a small-but-fascinating, World War II history museum is located.

You will end your day of sightseeing in Egilsstadir

However much you strain to discover some underlying charm, Egilsstadir (pronounced eyils-stather) isn't a ravishing beauty. It's the main regional transport hub and a centre for local commerce, so its services are quite good (including quality accommodation and dining options). It's growing fast, but in a hotchpotch fashion and without a proper town centre.

Egilsstadir's saving grace is its proximity to lovely Lagarfljot, Iceland's third-largest lake. Since Saga times, tales have been told of a monster living in its depths. If you want to do some beastie-hunting, or explore the forest on the lake's eastern bank, Egilsstadir makes a good base.

Check in at hotel on arrival. Evening at leisure.

Overnight at Egilsstadir

Day 5

Egilsstadir to Borgarfjordur … Enroute visit Seydisfjordur

After breakfast today morning, start your journey from Egilsstadir to Borgarfjordur with a short drive up and over a mountain (on paved roads) to the isolated coastal town of Seydisfjordur

Total driving distance of 120 kms.

If Seydisfjordur looks familiar, odds are good you've watched the Ben Stiller movie The Secret Life of Walter Mitty. The iconic skateboard scene filmed at the halfway point of the movie was shot on this winding and twisting mountain road, which is as terrifying (and fun) to drive on as it looks in the movie. Although if you visit at the end of May like we did, expect those beautiful green vistas to be replaced with snow as far as the eye can see.

Seydisfjordur itself is a completely isolated community on the eastern fjords of Iceland and is only accessible via the road you came in and by ferry. As such, the village is small, quiet, and full of the charming and colorful houses like you see in all the photographs of Iceland.

You'll likely only spend a bit of time here walking around and catching lunch and will want to keep on moving to see more of the countryside after snapping hundreds of photos.

Later drive to Borgarfjordur

This wee hamlet sits in a stunning location, framed by a backdrop of rugged rhyolite peaks on one side and the spectacular Dyrfjoll mountains on the other; the hiking in the area is outstanding. There's very little in the village itself (which is less commonly known as Bakkagerdi), although driftwood sculptures, hidden elves and crying seabirds exude a magical charm. As a bonus, this is one of Iceland's most accessible places for up-close viewing of nesting puffins.

Check in at hotel on arrival. Evening at leisure.

Overnight at Borgarfjordur

Day 6

Borgarfjordur to Husavík … Enroute visit Dettifoss Waterfall and Asbyrgi Canyon

After breakfast, drive to Husavik … Enroute visit mighty Dettifoss Waterfall and lush Asbyrgi Canyon

Total driving distance of 295 kms.

Today´s journey takes you to Iceland's north. You will start the day by driving through the Modrudalur highland's lunar landscape … The interior highlands' undulating multi-coloured lava flows, creeping glaciers, seething volcanos, and vast, unbroken horizons of sand, rock and mountain feel like another world. Gazing across the unspoilt, remote expanses, you could imagine yourself, as many have noted, on the moon or Mars. Those aren't overactive imaginations – Apollo astronauts trained here before their lunar landing.

Dettifoss Waterfalls - From there, follow the road leading you to the mighty waterfall Dettifoss, where you will feel the earth tremble beneath the awe-inspiring force of the tumbling, glacial water. The power of nature can be seen in all its glory at mighty Dettifoss, one of Iceland's most impressive waterfalls.

Although Dettifoss is 'only' 45m high and 100m wide, a massive 400 cu metres of water thunders over its edge every second in summer, creating a plume of spray that can be seen 1km away. With the greatest volume of any waterfall in Europe, this truly is nature at its most spectacular. On sunny days, brilliant double rainbows form above the churning milky-grey glacial waters, and you'll have to jostle with the other visitors for the best views.

Asbyrgi Canyon – Continue driving further at the northern end of Vatnajokull National Park, the lush canyon Asbyrgi extends in a massive horse-shoe shape, measuring 3.5km from north to south and averaging 1km in width. From the car park at the end of the access road, 3.5km south of the visitor centre, several easy short tracks lead through the forest to viewpoints of the canyon. Heading east the track leads to a spring near the canyon wall, while the western track climbs to a good view across the valley floor. The trail leading straight ahead ends at Botnstjorn, a small bird-friendly pond at the head of Asbyrgi. There's also a sign posted loop trail showcasing the area's flora.

Then, follow the picturesque stretch of coastline of Tjornes Peninsula, until you arrive in the charming fishing village of Husavík

Husavík, Iceland's whale-watching capital, has become a firm favourite on travellers' itineraries – and with its colourful houses, unique museums and stunning snow-capped peaks across the bay, it's easily the northeast's prettiest fishing town.

Check in at hotel on arrival. Evening at leisure.

Overnight at Husavík

Day 7

Husavík to Akureyri … Enroute visit Lake Myvatn & Godafoss Waterfalls

After breakfast, depart for Akureyri … Enroute visit Lake Myvatn, Dimmuborgir, Krafla and Leirhnjúkur Volcano region & Godafoss Waterfall

Total driving distance of 215 kms.

Lake Myvatn - Your entire day is dedicated to the marvels of the Lake Myvatn Nature Reserve, renowned as one of Iceland's most inspiring, natural wonders. Of particular interest are two steam baths built for superb relaxation; both sit straight atop a geothermal area, and the sulphur-free steam rises up through holes in the floor. Typically the temperature is around 50°C and the humidity is close to 100%. For relaxation and enjoyment, we highly suggest you indulge in a few turns in the steam baths and cool-downs in the outdoor shower in-between.

Dimmuborgir, Krafla and Leirhnjukur – Also visit Dimmuborgir lava formations & Krafla and Leirhnjukur active volcanic regions in he vicinity of Lake Myvatn

Godafoss Waterfall - On the way to Akureyri be sure to make a stop at "must see" Godafoss, a waterfall of unspeakable beauty. It is justly known across Iceland as, "the fall of the gods".

Later continue drive to Akureyri
Akureyri stands strong as Iceland's second city, but a Melbourne, Manchester or Montréal it is not. And how could it be with only 18,600 residents ? It's a wonder the city (which would be a 'town' anywhere else) generates this much buzz. Expect cool cafes, quality restaurants, a handful of art galleries and even some late-night bustle – a far cry from other rural Icelandic towns.

Akureyri nestles at the head of Eyjafjordur, Iceland's longest (60km) fjord, at the base of snow-capped peaks. In summer flowering gardens belie the location, just a stone's throw from the Arctic Circle. Lively winter festivals and some of Iceland's best skiing provide plenty of off-peak (and off-piste) appeal. With its relaxed attitude and extensive food and accommodation choices, it's the natural base for exploring Eyjafjordur and around, and it's seeing a growing number of cruise ships calling by (passenger numbers can sometimes overwhelm the town).

Check in at hotel on arrival

Evening at leisure to watch out for the midnight sun !

Overnight at Akureyri

Day 8

Akureyri to Snaefellsnes … Enroute visit Glaumbaer horse farm, Borgarnes town & Waterfalls

After breakfast, start journey towards Snaefellsnes, a fascinating town on the western border

Enroute cover Glaumbaer horse farm, Borgarnes town & Waterfalls

Total driving distance of 525 kms.

Glaumbaer - Your day starts with a drive through the Skagafjordur in the northeast of Iceland, known for horse breeding. True to form, magnificent, Icelandic horses can be seen on the way. Take some time to visit the museum at Glaumbaer, a beautifully restored, turf farmhouse, one of the few that has been properly preserved in Iceland.

Continue driving through the moors at Holtavorduheidi to the southwest of Iceland

Borgarnes – Next stop unassuming Borgarnes - For such a tiny place, it bubbles with local life. One of the original settlement areas for the first Icelanders, it's loaded with history, and sits on a scenic promontory along the broad waters of Borgarfjordur. Zip past the busy petrol stations and go into the old quarter to encounter the fun small-town vibe and one of Iceland's best museums.

Hraunfossar & Barnafoss Waterfalls & Deildartunguhver Hot Spring – Proceed to two of the most spectacular waterfalls in the area: Hraunfossar & Barnafoss. These waterfalls are said to be among iceland's ture, hidden gems, and if you are in the area, don't miss these tow, natural gems. Little further in the vicinity, fnd Europe's biggest hot spring, Deildartunguhver

Moving westwards, are you ready for invigorating exploration of the natural wonders of the Snaefellsnes Peninsula ? Drive through its northern portion, passing through Stykkisholmur, a charming fishing village beautifully situated overlooking Breidafjordur Bay.

From Stykkisholmur consider sightseeing among the uncountable islands and exploring the unique flora and fauna Breidafjordur has to offer.

Sparkling fjords, dramatic volcanic peaks, sheer sea cliffs, sweeping golden beaches and crunchy lava flows make up the diverse and fascinating landscape of the 100km-long Snaefellsnes Peninsula. The area is crowned by the glistening ice cap Snaefellsjokull, immortalised in Jules Verne's Journey to the Centre of the Earth. Good roads and regular buses mean that it's an easy trip from Reykjavík, offering a cross-section of the best Iceland has to offer in a very compact region.

Stykkisholmur, on the populated northern coast, is the region's largest town and a logical base. Moving west along the northern coast, you'll pass smaller townships. On the western part of the peninsula, Snaeaefellsjokull National Park encompasses not only its glacier but also bird sanctuaries and lava fields. The quiet southern coast has several good horse farms beneath towering crags.

Check in at hotel on arrival. Evening at leisure. This is another location that offers an oppurtuinity to witness Northern Lights

Overnight at Snaefellsnes

Day 9

Snaefellsnes to Reykjavik … Exploring the Peninsula & Breidafjordur

After breakfast, begin your journey covering places around the Snaefellsnes Peninsula & Breidafjordur

Top attractions on the peninsula are Kirkjufell, Arnarstapi, Djúpalónssandur, Hellnar & Eldborg Crater before you hear to Reykjavik

Total driving distance 340 kms.

Today's itinerary takes you through lava fields and fertile farmland. Driving around Snaefellsnes Peninsula, explore all the beauty it has to offer. You are certain to enjoy the lush, natural surroundings, during your drive back to Reykjavík for your last night in Iceland.

Kirkjufell - Grundarfjordur's beautiful landmark is the most photographed mountain in Iceland. Its isolated position jutting out into the sea makes it a focal point for tourists and seamen alike. Kirkjufell (Church Mountain) is 463 meters high and visible from all angles in town.Grundarfjörður is the ideal place to enjoy the amazing colours of the sunset behind the mountain.

Breidafjordur - Breidafjordur is a large shallow bay, about 50 km wide and 125 km long and located in the west of Iceland. It separates the region of the Westfjords (Vestfirðir) from the rest of the country. Breidafjordur is encircled by mountains, including glacier Snaefellsjokull the Snaefellsnes peninsula on the south side and the West Fjord peninsula to the north. Another interesting feature of the bay is that the northern tip was formed about 15 million years ago, whereas the southern end at Snaefellsnes was formed less than half that time ago.

Arnarstapi - Arnarstapi is a village on the southern side of the Snæfellsnes peninsula, once a fishing hub and now a place for travellers to refuel before entering Snæfellsjökull National Park. The area has several old and charming houses with interesting stories to them and is renowned for its beautiful nature.

Djupalonssandur - Djupalonssandur is an arched-shaped bay of dark cliffs and black sand, located on the Snaefellsnes Peninsula in Western Iceland.

Hellnar - Hellnar is an old fishing village on the westernmost part of the Snaefellsnes peninsula. It used to be one of the largest fishing stations of the peninsula, with the oldest written record of seafaring there from 1560.

Eldborg Crater – The crater Eldborg is extraordinary for many reasons. It has a beautiful shape and is quite noticeable as it stands alone and rises 100 meters above sea level, high over its surroundings. You just can't miss it when driving road 54 at Snæfellsnes.

Check in at Reykjavik hotel on arrival

Evening at leisure to visit Reykjavik downtown … Reykjavík, northernmost capital in the world boasts an astonishingly vibrant downtown setting that is rich with culture and history. While the centre is home to an incredibly diverse flock that is impossible to classify as a whole, it has predominantly been known to harbour bohemians, artists, musicians and the eternally young.

Bankastraeti serves as a natural extension of Laugavegur, consisting mostly of shops and restaurants. Past the intersection of Laekjargata, the old canal street, Austurstræti connects the centre artery to Kvosin and the Old Harbour. The street contains most of Reykjavík's different architecture styles—with everything from the old timber houses of the merchant era and the country's first concrete buildings, to large modern structures of glass and steel.

Overnight at Reykjavik

Day 10

Departure from Reykjavik

After breakfast, day at leisure

Now it is time to head back home, after an amazing journey through one of the world's most picturesque landscapes.

You will drive back to Keflavík Airport [Driving Distance: Approximately 50 kms] for your flight back home.

Depending on your flight time, you may be able to enjoy your last day strolling around Reykjavík.
Notes
Best time to visit ... May to Sep. as well as Jan. to March for Northern Lights
Hotels
Tour Inclusions [Best of Iceland]
1 night Reykjavik

1 night Vik

1 night Hofn

1 night Egilsstadir

1 night Borgarfjordur

1 night Husavík

1 night Akureyri

1 Night Snaefellsnes

1 night Reykjavik

Daily breakfast

Rental car with unlimited mileage, GPS unit, CDW and VAT for 10 days or Chauffer driven Van

Two authorized drivers

24-hour emergency service

Assistance regarding sightseeings
Notes on itinerary
All our itineraries are "Just for Ideas" ... We will get to know you and customise an itinerary just for you that matches your requirements ... dates of travel, category of hotels, preferred airline, flexibility in choosing sightseeing, mode of travel between cities, etc.
Many of our clients have us design more relaxing, slower paced holidays with more in-depth experiences whereas some simply want to visit various destinations and cover only the highlights.
Together, we will determine the ideal route, pace of travel, accommodations, levels of pampering, style of touring, sightseeing to be included, dining preferences, adventure levels, options to meet locals, dates of travel & much more ! and based on this arrive at a price.
Do feel free to get in touch with us by a quick call on +91 79 29602961 or a short mail on mail@destinations4india.com ... Looking forward