Best of Germany ... And all of it !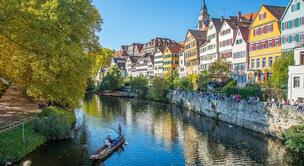 Prepare for a roller-coaster ride of feasts, treats and temptations experiencing Germany's soul-stirring scenery, spirit-lifting culture, big-city beauties, romantic palaces and half-timbered towns.

Bewitching Scenery
There's something undeniably artistic in the way Germany's scenery unfolds; the corrugated, dune-fringed coasts of the north; the moody forests, romantic river valleys and vast vineyards of the centre; and the off-the-charts splendour of the Alps, carved into rugged glory by glaciers and the elements. All of these are integral parts of a magical natural matrix that's bound to give your camera batteries a good workout. Get off the highway and into the great outdoors to soak up the epic landscapes that make each delicious, slow, winding mile so precious.

Pleasures of Civilisation
You'll encounter history in towns where streets were laid out long before Columbus set sail, and in castles that loom above prim, half-timbered villages where flower boxes billow with crimson geraniums. The great cities – including Berlin, Munich and Hamburg – come in more flavours than a jar of jelly beans but all will wow you with a cultural kaleidoscope that spans the arc from art museums and high-brow opera to naughty cabaret and underground clubs. And wherever you go, Romanesque, Gothic and baroque classics rub rafters with architectural creations from modern masters such as Daniel Libeskind, David Chipperfield and Frank Gehry.

Gastro Delights
Experiencing Germany through its food and drink will add a rich layer to your memories (and possibly to your belly!). You'll quickly discover that the local food is so much more than sausages and pretzels, schnitzel and roast pork accompanied by big mugs of foamy beer. Beyond the clichés awaits a cornucopia of regional and seasonal palate-teasers. Share the German people's obsession with white asparagus in springtime, chanterelle mushrooms in summer and game in autumn. Sample not only the famous beer but also world-class wines, most notably the noble Riesling.

High on History
Few countries have had as much impact on the world as Germany, which has given us the Hanseatic League, the Reformation and, yes, Hitler and the Holocaust, but also the printing press, the automobile, aspirin and MP3 technology. It's the birthplace of Martin Luther, Albert Einstein and Karl Marx, of Goethe, Beethoven, the Brothers Grimm and other heavyweights who have left their mark on human history. You can stand in a Roman amphitheatre, sleep in a medieval castle and walk along remnants of the Berlin Wall – in Germany the past is very much present wherever you go.
Itinerary
Day 1

Arrival Frankfurt, Germany – Drive to Bacharach, Rhine Valley

Arrival Frankfurt, meet & greet by our representative on arrival, you will be escorted to your van and driven to Romantic Rhine Valley town of Bacharach … 75 kms.

Alternatively, if your preference is to self-drive, pick up your pre-booked car from rentals & drive to Bacharach, Rhine Valley

Between Rudesheim and Koblenz, the Rhine cuts deeply through the Rhenish slate mountains, meandering between hillside castles and steep fields of wine-producing grapes. This is Germany's landscape at its most dramatic – forested hillsides alternate with craggy cliffs and near-vertical terraced vineyards. Idyllic villages appear around each bend, their half-timbered houses and Gothic church steeples seemingly plucked from the world of fairy tales.

Medieval castles perch high above the river. Most were built by a mafia of local robber barons – knights, princes and even bishops – who extorted tolls from merchant ships by blocking their passage with iron chains. Time and French troops under Louis XIV laid waste to many of the castles, but several were restored in the 19th century, when Prussian kings, German poets and British painters discovered the area's beauty. In 2002, Unesco designated these 65 km of riverscape, known as the Oberes Mittelrheintal, as a World Heritage Site.

Check in at Bacharach hotel on arrival

One of the prettiest of the Rhine villages, tiny Bacharach – 24km downriver from Bingen – conceals its considerable charms behind a 14th-century wall. From the B9, pass through one of the thick arched gateways under the train tracks to reach its medieval old town filled with half-timbered buildings.

Evening at leisure for a walk around the town ... We recommend you to visit the Postenturm

A fantastic way of appreciating the almost unreal quaintness of Bacharach is from the Postenturm (Post Tower). A short uphill walk through the vineyards leads you to this historic watchtower. Climb up the stairs to the top, and treat yourself to sweeping views of the river valley, green hills, and the most significant landmarks of Bacharach rising from a sea of steep-roofed houses. Entry to the Postenturm is free.

Overnight at Bacharach

Day 2

Bacharach, Rhine Valley / Local sightseeing

After breakfast, day at leisure for local sightseeing

Burg Stahleck

Burg Stahleck, a 12th-century fortification castle, enjoys a picturesque location among the vineyards on a high ridge and looks down at the Lorelei Valley and the quaint town of Bacharach. For the ultimate fairytale experience, stay at the Youth Hostel housed in the castle. While Burg Stahleck does not offer guided tours, visitors are welcome to ogle at the fantastic views of the landscape from the castle courtyard.

River Cruise

Bacharach is one of the most popular stops during a cruise down the Rhine and is also a great starting point for one of the most picturesque river cruises you will find in Europe. As your boat glides lazily down the river, you get to feast your eyes on rolling vineyards, storybook towns, and a series of hilltop castles. This castle trail along the Upper Middle Rhine Valley has no match anywhere in the world and has thus earned the status of a UNESCO World Heritage Site.

Vineyards and wineries

Bacharach, surrounded by miles of vineyards, is the stuff of dreams for wine connoisseurs and a historically important town for wine production. Wolfshöhle, Posten, and Hahn are the three major wine regions in Bacharach. One of the most popular activities in Bacharach is a tour of the vineyards, accompanied by wine tasting and purchase. A few popular names for wine tours include Weingut Fritz Bastian, Toni Jost, and Weingut Ratzenberger, among others.

Altes Haus

Altes Haus (translating to Old House), built in 1368, is arguably the oldest building in Bacharach. With its half-timbered structure, turrets, and gables, this house truly befits fairy tales. It houses a restaurant that has a limited menu but enjoys immense popularity thanks to its heritage and historic ambiance. The owners will be happy to show you old photographs that document how everything in the city except the Altes Haus has changed over the centuries. Be prepared for it to be quite busy, especially during high season.

Overnight at Bacharach

Day 3

Bacharach to Stuttgart / At leisure

After breakfast, drive to Stuttgart … 233 kms.

Ask many Germans their opinion of Stuttgarters and they'll have plenty of things to say: they are road hogs, speeding along the autobahn; they are sharp-dressed executives with a Swabian drawl; they are tight-fisted homebodies who slave away to schaffe, schaffe, Hausle baue (work, work, build a house).

So much for the stereotypes: the real Stuttgart is less superficial than legend would have it. True, some good-living locals like their cars fast and their restaurants fancy, but most are just as happy getting their boots dirty in the surrounding vine-clad hills and hanging out with friends in the rustic confines of a Weinstube (wine tavern) or a chestnut tree-shaded Biergarten. In this, the capital of Baden-Wurttemberg, city slickers and down-to-earth country kids walk hand in hand, with no need to compromise.

Check in at hotel on arrival

Rest of the day at leisure to visit the King Street at Stuttgart downtown

To get some real shopping done, go to the 1.2-kilometre boulevard leading diagonally through Stuttgart-Mitte.

Locally known as Konigstrasse, it has been a pedestrianised since 1977, and in 2014 received 12,795 visitors per hour, making it the third most frequented shopping street in Germany.

Nine out of ten shops on the street belong to chains, and all the usual names are on hand (Uniqlo, Zara, H&M). Konigstrasse has long been held in high regard by Stuttgart's citizens, and once had residences for members of the Württemberg court. It has number of restaurants & cafes for one to spend a relaxed evening along with shopping experience.

Overnight at Stuttgart

Day 4

Stuttgart / Local sightseeing

After breakfast, day at leisure for local sightseeing

Staatsgalerie

This excellent art museum started out in 1843 and is still partly set within its original Neoclassical building. In the 1980s the architect James Stirling helped raise the museum's profile with an ambitious Post-Modern extension.

Mercedes-Benz Museum

Visiting the Mercedes-Benz Museum, in a curved metallic building with a double helix, is partly a journey back to the birth of the automobile. Karl Benz invented what is considered the first true car in 1886. The double helix design allows for two parallel audio-guided tours; one dipping into the distinguished history of the brand, and the other showing the great diversity of vehicles manufactured by Mercedes-Benz. And because of that double helix design you can swap from one tour to the other at any moment. The two routes converge when you arrive in the present day and size up the brand's 21st-century innovations. In all there are 160 vehicles and 1,500 or more exhibits.

Porsche Museum

At Zuffenhausen, a little way up the road from Stuttgart, are the headquarters of another automobile brand of international fame. The Porsche Museum has been around since the 70s but got a stylish redesign ten years ago and reopened in 2009. The museum uncovers the early days of the brand, and recounts the many innovations of engineer and founder, Professor Ferdinand Porsche, the man who invented the VW Beetle and the first gasoline-electric hybrid. There are multi-sensual, interactive displays, like a new sound installation you can control and a "touch wall". Timeless classics like 356, 911 and 917 are just some of an 80-strong fleet of vehicles at the museum. What's great is that nearly all are in driving condition and are transported around the world for heritage races; you can even look inside the workshop where they're maintained.

Killesbergpark

Landscaped for a horticultural show in 1939, the Killesbergark is 50 hectares of gardens, fountains and sculptures in a former quarry on high ground in a northern borough of Stuttgart. Eighty years later the park continues to host gardening events, and its Tal der Rosen "Valley of Roses" is a wonder in summer, as are the 200 dahlia varieties. There's a catalogue of public art in the park bringing both whimsy and sophistication. Most eye-catching being the Killesbergturm, which we'll come to next. Children are also very well catered for: They can feed donkeys, ponies and goats at the farm, and in summer ride both a narrow-gauge steam railway and a diesel-powered tram.

Linden Museum

Stuttgart has what many consider to be the finest ethnological museum in Europe. The artefacts gathered from Africa, the Far East, Oceania and North and Latin America are like a trip around the world under one roof. The pieces span hundreds of years and include Indian sculptures going back to the 700s, a 19th-century Native American transformation mask and 800-year old sculptures from Japan's Kamakura Dynasty. The collection has been assembled in stages since the 1800s, and now the museum's aim is to showcase the beauty of other cultures, stimulate debate and promote understanding.

Markthalle

The city's central market hall is a part of many people's daily routine, even after total destruction in the war and then a fire in the 1990s. As a gourmet destination the Markthalle has stalls selling specialty foods and exotic treats alongside staples like meat, cheese, vegetables, wine, confectionery and flowers. The Markthalle was built in 1914 and has a graceful Art Nouveau design. You don't even need to look for anything in particular to appreciate the building and its soaring roof, immaculately presented stalls, bustling atmosphere and the scent of spices and freshly prepared food. You can take it all in from the gallery on the first floor where there's an Italian restaurant.

Overnight at Stuttgart

Day 5

Stuttgart to Baden Baden / At leisure

After breakfast, drive to Baden-Baden … 110 kms.

Baden-Baden is so nice, that it had to named twice. Baden-Baden's curative waters and air of old-world luxury have attracted royals, the rich and celebrities over the years – BarackObama and Bismarck, Queen Victoria and Victoria Beckham included.

This Black Forest town boasts grand colonnaded buildings and whimsically turreted art nouveau villas spread across the hillsides and framed by forested mountains.

The bon vivant spirit of France, just across the border, is tangible in the town's open-air cafes, chic boutiques and pristine gardens fringing the Oos River. And with its temple-like thermal baths – which put the Baden (bathe) in Baden – and palatial casino, the allure of this grand dame of German spa towns is as timeless as it is enduring.

Check in at hotel on arrival

Rest if the day at leisure … We recommend you visit Lichtentaler Park

The Lichtentaler Allee was designed in the mid nineteenth century and is a fine example of the landscape style being used to create a public park - which is exceptionally well maintained This, the most beautiful promenade in Baden-Baden, is where an assassination attempt was made on the then King of Prussia, later Kaiser Wilhelm I, in 1861. Oak trees were originally planted here over three hundred years ago, but more exotic species of trees and shrubs have since been added . On the left, beyond the swimming pool, is the Gönneranlage, a pretty park with fountains and pergolas flanking a rose garden.

Later in the evening visit Casino Baden-Baden

The Casino Baden-Baden combines, as hardly any other casino style, history, exclusivity and elegance and is one of the oldest and most traditional in Europe. And even today, 200 years later, the Casino Baden-Baden is one of the most beautiful casinos. The classic game of roulette, blackjack and poker is separated from the slot with over 130 slot machines.

Overnight at Baden Baden

Day 6

Baden Baden / Local sightseeing

After breakfast, day at leisure for local sightseeing

Baden-Baden - A fascinating town with a thousand faces that will undoubtedly bring a wide smile to yours.

Festspielhaus Baden-Baden (theatre)

These acoustics ! even world-renowned stars enthusiastically affirm that they can finally risk the most tender of pianissimos here. Very few ingredients are required to transform unequalled acoustics into a unique evening – passion, perfect service, great emotions and small but well-placed gestures transform Germany's largest opera house into a second home for artists, visitors, guests… The Festspielhaus Baden-Baden is more than just its foyer, entrance area and stage: it is a setting for dreams to come true!

Friedrichsbad Thermal Baths

Experience the ultimate in Roman bathing culture combined with Irish hot-air baths here at the Friedrichsbad. Luxuriate in this exclusive bathing pleasure as you visit each of the 17 different stages. The changing temperatures and the healing thermal water in the various baths have a regenerative effect on body and soul. The well-being that you take home with you after a visit to the Friedrichsbad and the healing benefit of its thermal water will be unforgettable, as it has been for many others for over 130 years.

Kurhaus

The Kurhaus offers something for every occasion the perfect setting. The big, beautiful Bénazet Hall of the extraordinary round room, the exclusive rooms of the Bel Etage, the stylish lounge or the roof terrace with a magnificent view over Baden-Baden - the possibilities are endless.

Museum Frieder Burda

The internationally renowned collection of Frieder Burda focuses on the art of classical modernity and contemporaneity, it now includes some 850 paintings, sculptures and works on paper. In its beginnings 30 years ago, the collector decided often spontaneous enthusiasm for the purchase of a work, not initially with the aim of building a coherent collection. For about fifteen years, the collection is relevant idea, and since that time, they grow organically and consistently and with high personal commitment of the collector.

Overnight at Baden Baden

Day 7

Baden-Baden to Freiburg, Black Forest / Walking Tour

After breakfast, drive to Freiburg … 110 kms.

As deep, dark and delicious as its famous cherry gateau, the Black Forest gets its name from its canopy of evergreens. With deeply carved valleys, thick woodlands, luscious meadows, stout timber farmhouses and wispy waterfalls, it looks freshly minted for a kids' bedtime story. Wandering on its many miles of forest trails, you half expect to bump into a wicked witch or huntsman, and might kick yourself for not bringing those breadcrumbs to retrace your tracks…

Measuring 160km from top to bottom, the Black Forest is a ludicrously lovely expanse of hills, lakes and forest, topping out at 1493m Feldberg. It reaches from the spa town of Baden-Baden to the Swiss border, and from the Rhine almost to Lake Constance. This corner of the country is made for slow touring: on foot, by bicycle or behind the wheel of a car on one of many twisty roads with sensational views.

Check in at Freiburg hotel on arrival

Sitting plump at the foot of the Black Forest's wooded slopes and vineyards, Freiburg is a sunny, cheerful university town, its medieval Altstadt a story-book tableau of gabled townhouses, cobblestone lanes and cafe-rimmed plazas. Party-loving students spice up the local nightlife.

Blessed with 2000 hours of annual sunshine, this is Germany's warmest city. Indeed, while neighbouring hilltop villages are still shovelling snow, the trees in Freiburg are clouds of white blossom, and locals are already imbibing in canal-side beer gardens. This eco-trailblazer has shrewdly tapped into that natural energy to generate nearly as much solar power as the whole of Britain, making it one of the country's greenest cities.

Later Freiburg Walking tour with a professional guide

Perfect for first-time visitors, this private walking tour provides an introduction to Freiburg's top attractions. Pick from multiple tour times throughout the day, meet your guide in a central location, and set off to explore the medieval university city, located on the edge of the Black Forest. You'll admire the Old Town's scenery, will take in the dramatic tower of the Freiburg Cathedral, will see the city's defensive gates, and more.

Overnight at Freiburg

Day 8

Freiburg / Day trip to Europa Park

After breakfast, visit the Europa Park ... 40 kms.

Europa-Park is the largest theme park in Germany and second most popular theme park resort in Europe. Having over 4.2 million visitors in 2009, it is the most popular seasonal theme park in the world and is only behind Disneyland Paris. The park is split into fifteen different areas, mostly named after European countries or regions. The park mascot is a grey mouse named "Euromaus" although there are over a dozen other characters that "live" at the park. Europa-Park is run by the Mack family which have produced vehicles since 1780, circus wagons since 1880 and roller coasters since 1921.

Along with the park and rides, Europa-Park is also a major resort. It boasts four hotels, a guest house, Tipi Village and campsite.

Across the park, there are many shows performed on a daily basis, such as an Ice Show in Greece, a Gladiator Arena Show in Spain, an Acrobatics Show in an Italian Theatre and a fully re-created Globe Theatre, based on that of William Shakespeare. In addition, there are several smaller theatres and outdoor stages, street artists and a daily parade. The Magic 4D Cinema also opens during the evening and shows current blockbusters.

Some highlights …

Children's World : A whole world for children at Europa-Park: the Children's World is a beautiful scenery with lots of water, dunes, white sand and an original fishing cutter! While you relax on the sun deck, your little ones can play on a fun dune or set sail in the Paddler's Tour or in little children's boats. Another popular attraction is the Children's Lighthouse – here, the whole family has a great view over the Children's World. But that's not all: in the Viking Village, children can romp and play on a fun adventure playground with a giant slide, climbing walls and much more, everything designed in Nordic style. On the large Viking ship, there's a lot to discover for the little ones.

Holland : Big adventures and picturesque sceneries. Windmills belong to Holland just like Edamer cheese and Delft China! This is why a stately windmill is situated in the picturesque Dutch village at Europa-Park. But those who have a glimpse behind the scenes, also discover a real land of adventures! When entering one of the boats in "Pirates in Batavia", you will experience a pirates' attack on a peaceful colony. Or let yourself be whirled around in a giant coffee cup, until you lose your sense of direction! But also the little ones will have a lot of fun here in Holland: they can fly up and down with the Red Baron, go on a ride with the Mini-Scooters, ride the waves with Peter Pan or climb up inside a tower with a wobbly bridge and a spiral slide. And don't miss the beautiful stage play "Off to Neverland", which is performed in the new children's theatre in the Dutch themed area. And after all the excitement, you and your family can take a break in the Dorfkrug!

Scandinavia : The marketplace with its beautiful Reindeer-Fountain always bustles with activity. The view of the colourful wooden houses along a roaring torrent and the Norwegian stave church, where you can even get married, is just breathtaking. In addition, you can stroll along a shopping arcade with souvenir shops, snack bars and a fish restaurant – Scandinavia welcomes you with typical nordic hospitality. The giant swingboat "Vindjammer" swings its daring passengers up and down, as if being on a stormy voyage. Children are delighted with Andersen's fairy tale tower, the sunk city "Vineta" and of course the wobbly bridge. But the real adventure can be found in the Fjord-Rafting! Enter a rolling round boat and float down a 600 metre long torrent, passing roaring waterfalls, treacherous rapids and a dark and misty grotto.

Back to Freiburg by evening

Rest of the evening at leisure to visit the old town

Germany's sunniest downtown is a trip back in time, where buildings from the past millennium are preserved between river and mountain.

The incredible collection of historic buildings in Freiburg's Old Town (Altstadt) is a testament to its cultural connections, standing near Switzerland and France. With an impressive variety of historic architecture, from classic German half-timber houses to French-inspired 18th-century burgher mansions, the Altstadt provides a lesson in this contested region's history. Head out into the streets, which, unlike many historic downtowns, were well organized by the Zähringers who founded it.

Overnight at Freiburg

Day 9

Freiburg to Fussen, Bavarian Alps / Enroute visit Black Forest Town of Titisee

After breakfast, drive to Fussen … 275 kms.

Enroute visit Titisee

Titisee is a cheerful summertime playground with a name that makes English-speaking travellers giggle. The iridescent blue-green glacial lake, rimmed by forest, has everyone diving for their cameras or into the ice-cool water. Though a tad on the touristy side in the peak months, a quick stroll along these shores brings you to quiet bays and woodland trails that are blissfully crowd-free.

Later continue drive to Bavarian Alps

Stretching west from Germany's remote southeastern corner to the Allgau region near Lake Constance, the Bavarian Alps (Bayerische Alpen) form a stunningly beautiful natural divide along the Austrian border. Ranges further south may be higher, but these mountains shoot up from the foothills so abruptly that the impact is all the more dramatic.

The region is pocked with quaint frescoed villages, spas and health retreats, and possibilities for skiing, snowboarding, hiking, canoeing and paragliding – much of it year-round. The ski season lasts from about late December until April, while summer activities stretch from late May to November.

One of the largest resorts in the area is Garmisch-Partenkirchen, one of urban Bavaria's favourite getaways. Berchtesgaden, Füssen and Oberstdorf are also good bases.

Check in at Fussen hotel on arrival

Nestled at the foot of the Alps, tourist-busy Fussen is the southern climax of the Romantic Road, with the nearby castles of Neuschwanstein and Hohenschwangau the highlight of many a southern Germany trip. But having 'done' the country's most popular tourist route and seen Ludwig II's fantasy palaces, there are several other reasons to linger longer in the area. The town of Fussen is worth half a day's exploration and, from here, you can easily escape from the crowds into a landscape of gentle hiking trails and Alpine vistas.

Rest of the day at leisure

Overnight at Fussen

Day 10

Fussen / Visit Neuschwanstein, other castles and explore the region

After breakfast, visit day trip to Bavaria region with visit to majestic castles, alpine lakes and medieval towns

Step into the fairy-tale world of Bavaria and visit majestic castles, alpine lakes and medieval towns on this full-day tour from Fussen.

Enjoy skip-the-line entrance to the dreamy Neuschwanstein Castle, famously the inspiration for Disney's Sleeping Beauty castle. King Ludwig II planned this fairy-tale pile himself, with the help of a stage designer rather than an architect. He envisioned it as a giant stage on which to recreate the world of Germanic mythology, inspired by the operatic works of his friend Richard Wagner. The most impressive room is the Sangersaal (Minstrels' Hall), whose frescos depict scenes from the opera Tannhauser.

Built as a romantic medieval castle, work started in 1869 and, like so many of Ludwig's grand schemes, was never finished. For all the coffer-depleting sums spent on it, the king spent just over 170 days in residence.

Then, visit Linderhof Castle, another of King Ludwig II's magnificent castles, and Hohenschwangau Castle, the 'Mad King's' childhood home. A pocket-sized trove of weird treasures, Schloss Linderhof was Ludwig II's smallest but most sumptuous palace, and the only one he lived to see fully completed. Finished in 1878, the palace hugs a steep hillside in a fantasy landscape of French gardens, fountains and follies. The reclusive king used the palace as a retreat and hardly ever received visitors here. Linderhof was inspired by Versailles and dedicated to Louis XIV, the French 'Sun King'.

That's not all: stop off to admire the colorful painted houses of Oberammergau and take in views of the Austrian Alps and Lake Plansee.

Back to Fussen by evening

Overnight at Fussen

Day 11

Fussen to Munich / At leisure

After breakfast, depart for Munich … 135 kms.

Tall tankards and high-tech cars, edgy art and Lederhosen – Munich is a city where traditional and modern sit side by side like few places on earth.

Mine's a Mass
Beer has been part of Munich life for at least seven centuries and the brewing tradition is very much alive and kicking today. Nowhere else in Europe has a beer tradition quite like the Bavarian capital with six mammoth breweries pumping out world-class suds to hundreds of beer gardens and beer halls. And the climax to the Munich beer year is, of course, the famous Oktoberfest, attended by over six million people. Germany's 'purity law' guarantees there's nothing in your Mass (1L tankard) that shouldn't be, so if you can lift the thing – 'Prost!' (Cheers!)

Teutonic Treasure Trove
Munich has long been known as the 'city of art and beer', so before you head off to the pub, take some time to savour the local art scene. The Kunstareal, Munich's art quarter, is the place to start, with four major venues displaying everything from Dutch masters to 1960s design. The city also boasts some world-class museums focusing on topics as diverse as Oktoberfest, porcelain and BMW cars. And if that weren't enough, there are still royal palaces to explore – the legacy of 700 years of rule by a single family, the Wittelsbachs.

Well-Heeled Well-Being
The locals have a word for it – Gemütlichkeit – that untranslatable intermingling of cosiness, well-being and laid-back attitude. In Munich you will sense it most under the fairy lights of a summer beer garden, people-watching in the English Garden and behind the wheel of a BMW heading south. It may be just the local character, but a large share of Gemütlichkeit must come from the fact that the Bavarian capital is one of the most affluent cities on the planet, it's economy larger than most small countries, its infrastructure well-tended.

Bizarre Bavaria
Munich's various quirks, the things that make the city the place it is, might be what stick in the memory most. Whether it be the inebriated oompah band, that special knife for eating monster radishes, the Bavarians outrageous dialect, the mad hat traditions of the Oktoberfest or the surfers on the Eisbach wave – you're sure to discover some freakish aspect of Munich life every day. And then there is the local garb – nowhere else in central Europe do the locals don their traditional costume – the famous Lederhosen and Dirndl – as readily as the Münchners, so why not join them?

Check in at hotel on arrival


Rest of the day at leisure ... We recommend you visit the Old Town

Munich's compact Old Town is one of our favorite places to walk in Europe. Primarily geared toward pedestrians, the neighborhood truly is where old meets new and is a perfect setting for a free walking tour. Originally surrounded by a series of Medieval walls, you still enter Old Town Munich through the mighty city gates. Once inside you'll experience great shopping mixed in with historic beers halls, amazing museums, and even a royal palace. The Bavarian atmosphere is very predominate everywhere you turn which adds to the fun of walking around.

Overnight at Munich

Day 12

Munich / Local sightseeing

After breakfast, Bavarian Beer & Food Experience in Munich

Munich is the beer capital of the world. It's the home of beer halls, beer gardens, beer cellars and the legendary Oktoberfest. Locals have been brewing "liquid bread" here for 3000 years. On this tour we'll take you into the heart of Munich's beer culture and show you where the locals go to drink.

Highlights

Visit the world-famous Hofbräuhaus, Learn about and sample a range of Bavarian beer, Taste traditional Bavarian cuisine at one of Munich's finest beer halls, Enjoy a private tour of the new Beer and Oktoberfest Museum

We'll explain how beer is brewed and fill you in on the fascinating story of German brewing – a story as old as Germany itself. For as long as there have been Germans, there has been beer.

From the ancient tribal Hausfrauen brew-women, through the great monastic breweries of the Middle Ages, to the revered Reinheitsgebot (Purity Law) of 1516 – which continues to be the measure of excellence in brewing today – the world has looked to Germany to set the standards of what a great beer should be. And Germany looks to Munich. We'll show you why.

We'll give you a private tour of the beautiful new Beer and Oktoberfest Museum, show you a traditional beer garden, tell you about the different types of Bavarian beer and let you sample them for yourself.

And we'll introduce you to the best traditional Bavarian food in all its variety: Weisswurst (white sausage), dumplings, roast pork and more. Don't eat before the tour!

Get to know Munich's iconic bar and club scene and make new friends on this exciting tour through some of Munich's hippest and trendiest bars and clubs. You will explore Munich's party area while strolling around in a fun and lovely party bus.

For more than 30 years, Cocktail House has been a romantic hotspot in the Schwabing neighbourhood of Munich. Perfect for a date and also for group events, the bar has entire rooms that can be booked ahead Sunday to Thursday for whatever special event you're looking to celebrate. The vibe is cosy and nostalgic, and the cocktails strong and free-flowing – difficult to get better than that.

Overnight at Munich

Day 13

Munich / Day trip to Salzburg, Austria

After breakfast, Salzburg and Lake District day trip

Immerse yourself in Salzburg, sights from the 'The Sound of Music' movie and Austria's Lake District on a day trip from Munich.

Absorb the beautiful Lower Bavarian Alps as you journey south to Salzburg, and enjoy free time to explore its churches, squares and filming locations from the 'Sound of Music' movie independently.

Continue through the Lake District toward the postcard-pretty town of St Wolfgang, and ogle the glorious mountain scenery on an optional boat trip on Lake Wolfgang.

Lastly, return to Munich via gorgeous Lake Mondsee, where several scenes from the 'Sound of Music' movie were filmed.

Salzburg and Lake District day trip from Munich Admire the idyllic Lower Bavarian Alps on route to Salzburg and Lake Wolfgang in Austria Enjoy free time in Salzburg, famous as Mozart's birthplace and filming sites from 'The Sound of Music' movie Explore Salzburg at leisure, perhaps visiting Mozart's House, the Mirabell Gardens and Old Town Drive through the Lake District and take an optional boat trip on Lake Wolfgang Pass Lake Mondsee, the backdrop to several scenes in The Sound of Music Learn about the Salzburg region and its history from a professional guide

Overnight at Munich

Day 14

Munich to Rothenburg / Enroute visit Dachau

After breakfast, depart for Rothenburg … 260 kms.

Enroute visit Dachau

A short drive from central Munich, the small town of Dachau is infamous as the site of the Nazis' first concentration camp, established in 1933 and a blueprint for the many that were to follow. Half a day in Dachau is a soberingly thought-provoking experience and certainly not one suitable for children.

Later continue drive on Romantic Road to Rothenburg

A true medieval gem, Rothenburg ob der Tauber (meaning 'above the Tauber River') is a top tourist stop along the Romantic Road. With its web of cobbled lanes, higgledy-piggledy houses and towered walls, the town is the archetypal fairy-tale Germany. Urban conservation orders here are the strictest in Germany – and at times it feels like a medieval theme park – but all's forgiven in the evenings, when the lamplight casts its spell long after the last tour buses have left.

Check in at hotel on arrival

Rest of the day at leisure ... We recommend you to visit Old Town at Rothenburg

The charming streets and little squares surrounded by well-kept half-timbered houses have made Rothenburg the poster child for Germany's famed Romantic Road, and for Germany itself. So as you wander through the Old Town, its familiar scenes may make you feel as though you'd been here before.

In addition to the historic Town Hall (Rathaus), here, you'll find plenty of idyllic scenes worth photographing, including the sometimes brightly painted old half-timbered homes. If you visit late November or in December you'll get to enjoy one of the best Christmas markets in Germany.

Overnight at Rothenburg

Day 15

Rothenburg / Local sightseeing

After breakfast, day at leisure for Rothenburg sightseeing

Rothenburg Town Hall

Dominating the Marktplatz at its center is the imposing Town Hall (Rathaus), one of the finest in southern Germany. The oldest part of this majestic building, constructed in the 13th century, faces Herrngasse. A later addition is the 16th-century, 50-meter-high tower, from which you'll find superb views over the Old Town.

The Old Town Walls

One of the most popular things to do in Rothenburg is to take the half hour or so walk around the Old Town Walls. This fascinating and attractive walk is best started from the Spitaltor, a massive gatehouse built in the 1500s. From here, head toward the equally stunning Rödertor, stopping along the way to enjoy the views. The next leg leads to the Klingentor and the 15th-century St. Wolfgang's Church. In all there are 42 gatehouses and towers along the walls, so be sure to allow enough time to see as many as possible during your walking tour.

Plonlein

Undoubtedly the most picturesque spot in an extremely pretty town, Plönlein looks like something right out of a fairy-tale book. Literally translated as "Little Square," it's really nothing more than an intersection. Stand facing the tall, skinny half-timbered building dividing the two streets, and you'll see one of them heads up through the Siebers Tower, while the other slopes down to the Kobolzeller Tower. Both towers date from the early 13th century. And while there, don't forget to take a selfie!

Klingentor

Constructed between 1395 and 1400, the imposing Klingentor is one of the most architecturally interesting of all Rothenburg's towers. Sitting alongside St. Wolfgang's church, it forms a gate in the town walls. It also served another purpose as well - as a water tower, with its huge copper tank feeding the town's fountains. You can climb it for a small fee to see views across the town and Tauber Valley.

The Castle Gardens

In addition to its fine old architecture, you'll find several lovely parks and gardens in Rothenburg. One of the most popular is the spectacular Castle Gardens (Burggarten). Laid out on the site of a castle destroyed in an earthquake in 1356, the gardens offer wonderful views of the Old Town and the famous Double Bridge farther down the Tauber Valley. Its geometric flower beds, laid out in the 17th and 18th century, include eight sculptures representing the four seasons and the four elements.

Overnight at Rothenburg

Day 16

Rothenburg to Nuremberg / Walking Tour

After breakfast, drive to Nuremberg … 105 kms.

Nuremberg, Bavaria's second-largest city and the unofficial capital of Franconia, is an energetic place where the nightlife is intense and the beer is as dark as coffee. As one of Bavaria's biggest draws it is alive with visitors year-round, but especially during the spectacular Christmas market.

For centuries, Nuremberg was the undeclared capital of the Holy Roman Empire and the preferred residence of most German kings, who kept their crown jewels here. Rich and stuffed with architectural wonders, it was also a magnet for famous artists, though the most famous of all, Albrecht Durer, was actually born here. 'Nuremberg shines throughout Germany like a sun among the moon and stars,' gushed Martin Luther. By the 19th century, the city had become a powerhouse in Germany's industrial revolution.

The Nazis saw a perfect stage for their activities in working class Nuremberg. It was here that the fanatical party rallies were held, the boycott of Jewish businesses began and the infamous Nuremberg Laws outlawing German citizenship for Jewish people were enacted. On 2 January 1945, Allied bombers reduced the city to landfill, killing 6000 people in the process.

After WWII the city was chosen as the site of the war crimes tribunal, now known as the Nuremberg Trials. Later, the painstaking reconstruction – using the original stone – of almost all the city's main buildings, including the castle and old churches in the Altstadt, returned the city to some of its former grandeur.

Check in at hotel on arrival

Later, Nuremberg Old Town Walking Tour

Discover the history and heritage of one of Bavaria's most picturesque cities on this 2-hour walking tour of Nuremberg Old Town.

Stroll around the medieval city walls, snap photos of the colorful half-timbered buildings and see the Hauptmarkt, where Nuremberg's famous Christkindlesmarkt is held. Learn about Nuremberg's Roman roots and links with the Third Reich from your guide, as you walk along the River Pegnitz and visit landmarks like the Albrecht Dürer House, St Lawrence Church and Nuremberg Castle.

Overnight at Nuremberg

Day 17

Nuremberg / Local sightseeing

After breakfast, morning - Discover Nuremberg's Art and Culture with a Local

Find out the different cultural and artistic characteristics that makes this city unique, and enjoy the buzzing community and city ambience! Whether you are visiting Nuremberg as a returning tourist who wants to get to know the city a bit better, or if this is your first time, this Experience is for you!

While walking the streets of Nuremberg and looking at the amazing, unique street art, or getting to know more about the city's galleries and museums, you will hear about street-art artists as well as contemporary artists and their close connection to Nuremberg.

Later in the evening, Nuremberg Christmas Market, Culinary and Tradition tour

Wander among the enchanting stalls in the popular Nuremburg Christmas Market on this short, guided walking tour that includes a food tasting. See each of the three markets including the Main Market, Children's Market, and International Christmas Market and hear the stories behind this holiday-inspired place. Sample local foods like sausages and warm wine and learn about local fare as you go.

Overnight at Nuremberg

Day 18

Nuremberg to Dresden / Walking Tour

After breakfast, depart for Dresden … 315 kms.

There are few city silhouettes more striking than Dresden's. The classic view from the Elbe's northern bank takes in spires, towers and domes belonging to palaces, churches and stately buildings, and indeed it's hard to believe that the city was all but wiped off the map by Allied bombings in 1945.

Dresden's cultural heyday came during the 18th-century reigns of Augustus the Strong (August der Starke) and his son Augustus III, who sponsored many of Dresden's iconic buildings, including the Zwinger and the Frauenkirche. While the devastating 1945 Allied firestorm levelled most of these treasures, their contents were safely removed before the bombings and now take pride of place in Dresden's rebuilt museums.

Across the river from this treasure trove of classic art and architecture, Dresden's Neustadt has dozens of funky restaurants, shops and one of the liveliest nightlife scenes in Germany's east.

Check in at hotel on arrival

Later, Dresden Walking Tour of the Historic Old Town

Discover the marvellous monuments and architectural wonders of Dresden on a guided walking tour. Learn how the jewel of baroque Germany was painstakingly reconstructed after WWII as you follow your guide around the elegant plazas and grand boulevards.

Keep your camera to hand as you pass the striking Zwinger Palace and Theater Square; take a peek inside the Church of Our Lady; and admire the dramatic Procession of Princes mural.

Overnight at Dresden

Day 19

Dresden / Local sightseeing

After breakfast, best of Bohemian and Saxon Switzerland Day Trip from Dresden

The tour begins by picking you up at your Dresden hotel. Our comfortable vehicle will then transport you to the German part of the National Park. The snacks and beverages along the way in combination with an informative description of the passing landmarks will make the journey over in no time.

Bastei Bridge
Our first destination is the magnificent Bastei Bridge (Saxon Switzerland, Germany). The breathtaking view of the Elbe River Canyon, high above which the Bridge perches, will be engrained into your memory forever. Watching the sunrise above the unique sandstone pinnacles is a priceless experience.

Neurathen Castle
The easy scenic walk across the Bastei Bridge is finished by an excursion of the medieval castle ruins of Felsenburg Neurathen (13th cen.), located at the other end of the Bastei Bridge.

Decinsky Sneznik (Hoher Schneeberg)
The following jurney takes us over the border to the Bohemian (Czech) part of the National Park. First we will visit Sneznik- lookout from 19. century. The views will be spectacular. In good weather you will be able to see all surrooundings including Dresden and the Bohemian Saxon Switzerland national park. In summer you will have the option instead of walking take the scooter for the way down the hill (fee not included since not always available).landscape.

Tisa
Before exploring the Tyssa sandstone labyrinth, a rich lunch in the local-cousine style will be served to you (vegeterian options available), including a drink of your choice.

Tiske steny
Finally, the Chronicles of Narnia filming site will be visited - the Tyssa Walls. While famous among rock-climbers and locals, this place remains relatively unknown to the international public, in spite of the Narnia movie having been filmed there. You will surely appreciate the lack of crowds, so typical of the historical European cities or the other natural monuments. The fantasy atmosphere of the labyrinth as well as the upper platform view will make this your own personal Narnia experience. The tour will end by dropping you off in Dresden at your accommodation or elsewhere in the city.

Back to Dresden in the evening

Overnight at Dresden

Day 20

Dresden to Berlin / At leisure to visit the Berlin Wall

After breakfast, depart for Berlin … 195 kms.

Berlin's combo of glamour and grit is bound to mesmerise all those keen to explore its vibrant culture, cutting-edge architecture, fabulous food, intense parties and tangible history.

High on History
Bismarck and Marx, Einstein and Hitler, JFK and Bowie, they've all shaped – and been shaped by – Berlin, whose richly textured history confronts you at every turn. This is a city that staged a revolution, was headquartered by Nazis, bombed to bits, divided in two and finally reunited – and that was just in the 20th century! Walk along remnants of the Berlin Wall, marvel at the splendour of a Prussian palace, visit Checkpoint Charlie or stand in the very room where the Holocaust was planned. Berlin is like an endlessly fascinating 3D textbook where the past is very much present wherever you go.

Party Paradise
Forget about New York – Berlin is the city that truly never sleeps. Sometimes it seems as though Berliners are the lotus-eaters of Germany, people who love nothing more than a good time. The city's vast party spectrum caters for every taste, budget and age group. From tiny basement clubs to industrial techno temples, chestnut-canopied beer gardens to fancy cocktail caverns, saucy cabarets to ear-pleasing symphonies – Berlin delivers hot-stepping odysseys, and not just after dark and on weekends but pretty much 24/7. Pack your stamina!

Cultural Trendsetter
When it comes to creativity, the sky's the limit in Berlin, which is one of Europe's big start-up capitals. In the last 20 years, the city has become a giant lab of cultural experimentation thanks to a spirit that nurtures and encourages new ideas as well as to once abundant space and cheap rent. Although the last two of these are definitely a thing of the past. Top international performers still grace Berlin's theatre, concert and opera stages; international art-world stars like Olafur Eliasson and Jonathan Meese make their home here; and Clooney and Hanks shoot blockbusters in the German capital. Highbrow, lowbrow and everything in between – there's plenty of room for the full gamut of cultural expression.

Laid-back Lifestyle
Berlin is a big multicultural metropolis but deep down it maintains the unpretentious charm of an international village. Locals and expats follow the credo 'live and let live' and put greater emphasis on personal freedom and a creative lifestyle than on material wealth and status symbols. Cafes are jammed at all hours, drinking is a religious rite and clubs keep going through the weekend into Monday. Size-wise, Berlin is pretty big but its key areas are wonderfully compact and easily navigated on foot, by bike or with public transport.

Check in at hotel on arrival

Rest of the day at leisure to explore The Berlin Wall

Look behind the Berlin wall and its complex, tragic history on an in-depth walking tour focused on the city's most infamous architecture.

See the longest section of the wall that remains, plus other Cold War landmarks like Checkpoint Charlie and a former DDR watchtower. A guide's commentary goes beyond Communist kitsch and well-known headlines for an insightful look at life in Berlin before and after the wall.

Overnight at Berlin

Day 21

Berlin / Local sightseeing

After breakfast, Berlin - Personalized City Tour

What would you like to see while you're in Berlin? Hip Kreuzberg or how about the Museum Island? Well, we have great news: this tour of Berlin is created for you! Check the must-see places in Berlin off your traveling bucket list with the help of your local host. On this 100% personalized tour, you'll see the places you pick. From the classic landmarks that everyone talks about to neighborhood exploring and off the beaten path roads that lead to the must-sees without the crowds. The choice is yours!

Take a walk back in time as you explore the many layers of history found in Berlin, covering everything from its Prussian period, to its violent 20th century and the present period of rebirth. History fans and those interested in the remarkable renaissance of Berlin's urban center will enjoy this insightful, half-day trip past the city's key monuments.

Start your day at Neue Promenade 3 where you'll meet your guide. Listen to an introductory overview of the strange, winding history of Berlin, covering the city's founding and continuing with stories about the turbulent years of war and modern era as the tour moves forward.

Walk down Berlin's Unter den Linden boulevard, a thoroughfare that links Stadtschloss royal palace with Pariser Platz and Brandenburg Gate. By the 19th century, this elegant street was among the most famous in the city, growing even more grand as Berlin's boundaries pushed further west. Head next to Museum Island, pausing at the Berlin State Library (once the workplace of Albert Einstein) and the Neue Wache memorial as you continue.

Travel beneath the monumental Brandenburg Gate, which forms the beginning of Unter den Linden, and check out the Reichstag, home of Germany's parliament, just nearby.

Then explore Pariser Platz, the location of Hitler's bunker and the Holocaust Memorial, commemorating the many Jews that lost their lives during the Nazi regime. Trace the path of the "death strip" to Checkpoint Charlie, the infamous crossing point for those traveling between East and West Berlin, and visit Bebelplatz, the location of an infamous 1933 book burning by the Nazis.

You'll then have time the stroll along the Berlin Wall, demarcating the boundary between East and West during the Cold War, and hear details about its triumphant downfall in 1989. Take a moment to stop at the Topography of Terror Museum, situated at the former Gestapo and SS Headquarters. Hear from your guide about the significance of the museum's location, which the city's leaders consciously chose to help confront and reconcile the awful moments of Berlin's past. Look down into the building's excavated cellars, a haunting spot where political prisoners were once tortured and killed. Wrap up your Berlin walk on a lighter note with a stop at the modern area of Potsdamer Platz, a one-time "dead zone" between East and West that has since been rebuilt.

Then take a walk along Friedrichstrasse, a high-end retail district. You'll end your tour at Gendarmenmarkt, where you'll receive a city map detailing useful info on Berlin's public transport, nightlife and museums.

Overnight at Berlin

Day 22

Berlin to Hamburg / Enroute visit Potsdam

After breakfast, depart for Hamburg … 320 kms.

Enroute visit Potsdam … 35 kms. from Berlin

Potsdam, on the Havel River just 25km southwest of central Berlin, is the capital and crown jewel of the federal state of Brandenburg. This former Prussian royal seat is the most popular day trip from Berlin, luring visitors with its splendid gardens and palaces, which garnered Unesco World Heritage status in 1990.

Headlining the roll-call of royal pads is Schloss Sanssouci, the private retreat of King Friedrich II (Frederick the Great), who was also the mastermind behind many of Potsdam's other fabulous parks and palaces. Miraculously, most survived WWII with nary a shrapnel wound. When the shooting stopped, the Allies chose Schloss Cecilienhof to host the Potsdam Conference of 1945 to lay the groundwork for Germany's post-war fate.

Continue drive to Hamburg … 290 kms. from Potsdam

When all's said and done, Hamburg's appeal can be narrowed down to one simple calling card: Welcome to one of the coolest cities on earth.

Port City Vibe
Hamburg's historic label, 'The gateway to the world', might be a bold claim, but Germany's second-largest city and biggest port has never been shy. A leading light in the Hanseatic League in the Middle Ages, Hamburg became a centre of international trade, a legacy that continues today: it remains one of Germany's wealthiest cities and Hamburg's maritime spirit still infuses the entire city. It's the sort of city where echoes of the city's port and history are everywhere, from the incessant cry of gulls overhead to the vibrant neighbourhoods awash with multicultural eateries, seaward-facing architecture and the gloriously seedy Reeperbahn red-light district.

A Musical City
There was one consolation for locals when the city's authorities decided to blow the municipal budget: at least it was done for a new concert hall, the Elbphilharmonie. Hamburg's musical pedigree is staggering: Gustav Mahler once directed the city's 330-year-old state opera, while both Johannes Brahms and Felix Mendelssohn were born here. But it's not just about classical music. Hamburg also has very modern and rather raucous melodic soundtrack, not mention a compelling story. The city nurtured the early promise of the Beatles, and music festivals litter the calendar, while the dynamic live music scene just keeps getting better.

Icons of Architecture
The Elbphilharmonie is an extraordinary structure, dominating the skyline and capturing in glass and brick the essence of Hamburg's polyglot soul. This striking icon of the city has elevated architecture to the centre of public debate and awareness, and it's just the most famous of a rather exciting collection. Office towers that appear as if they are dancing and buildings that from afar look like ocean liners share the streets with half-timbered relics of the medieval city. And only in Hamburg would they think of preserving a former WWII bunker and turning it into a nightclub.

The Good Things in Life
The good people of Hamburg really know how to live. For a start, they've mastered the ingredients of culinary diversity: elevate your local specialties to the level of an obsession and treasure them, even as you remain open to all manner of gastronomic trends. The result is culinary excellence on multiple fronts. So, too, for nightlife: Hamburg is full to bursting with classy cocktail bars, dance-all-night clubs and neighbourhood bars and pubs that both reflect each neighbourhood's identity and define it. So successful are they that it's almost impossible to come to Hamburg and not have a really good time.

Check in at hotel on arrival

Rest of the day at leisure to visit Hamburg old town

Altstadt (Old Town) is the east, largest and most central part of the city center of Hamburg. Because of the bombings by the allied ones during WWII, the old town is not so old. Some historic buildings have been rebuilt, but you can also find many modern buildings in Altstadt. In contrary to many other German cities, the city center have been rebuilt in a pretty good way.

It is filled with canals, busy trafficated streets, grandiose buildings and some of the tallest churches in Europe. The heart of Altstadt is Rathausmarket, where the City Hall lies right above the Binnenalster lake.There are a lot of stores and shopping gallerias in the city center, some really exclusive ones are located around Rathaus with is arcades that goes above lakes and canals. You can also find world class museums, hotels and restaurants as well as a lot of jugend and renaissance buildings.

Overnight at Hamburg

Day 23

Hamburg / Local sightseeing

After breakfast, city tour of Hamburg

Discover many of the city's top attractions in the space of just a couple hours: this small-group tour makes it easy to explore. Meet your guide in the city center, and set off. You'll visit monuments like St. Michael's Church, the Hamburg Town Hall, and the St. Nikolai Memorial. You'll also explore the UNESCO-listed Speicherstadt warehouse district and will admire HafenCity highlights like the Elbphilharmonie.

Altona City Hall - Hamburg City Hall is the seat of local government of the Free and Hanseatic City of Hamburg, Germany. It is the seat of the government of Hamburg and as such, the seat of one of Germany's 16 state parliaments.

Elbphilharmonie - The Elbphilharmonie is a concert hall in the HafenCity quarter of Hamburg, Germany, on the Grasbrook peninsula of the Elbe River. It is one of the largest and acoustically most advanced concert halls in the world. It is popularly nicknamed Elphi.
St. Michael's Church St. Michael's Church, colloquially called Michel, is one of Hamburg's five Lutheran main churches and the most famous church in the city. St. Michaelis is a landmark of the city and it is considered to be one of the finest Hanseatic Protestant baroque churches.

Speicherstadt - The Speicherstadt in Hamburg, Germany is the largest warehouse district in the world where the buildings stand on timber-pile foundations, oak logs, in this particular case. It is located in the port of Hamburg—within the HafenCity quarter—and was built from 1883 to 1927.

Hafen City - Harborside HafenCity is known for the landmark Elbphilharmonie Hamburg concert hall, with its striking facade and cutting-edge acoustics. The red brick warehouses of the 19th-century Speicherstadt complex house the Spice Museum and Miniatur Wunderland model railway. Near the busy Port of Hamburg, historic vessels moored in Sandtor harbor contrast with the upscale residential buildings and hip cafes by the water.

St Nikolai Memorial The Gothic Revival Church of St. Nicholas was formerly one of the five Lutheran Hauptkirchen in the city of Hamburg.

Overnight at Hamburg

Day 24

Hamburg to Cologne / At leisure to visit Colonge's shopping high street - Schildergasse

After breakfast, depart by car, can or train to Cologne … … 425 kms.

Cologne offers a mother lode of attractions, led by its famous cathedral whose filigree twin spires dominate the skyline. The city's museum landscape is especially strong when it comes to art but also has something in store for fans of chocolate, sports and even Roman history. Cologne's people are known for their liberalism and joie de vivre; it's easy to have a good time with them in the beer halls of the Altstadt or during Carnival.

Cologne is like a living textbook on history and architecture: drifting about town you'll stumble upon an ancient Roman wall, medieval churches galore, nondescript postwar buildings, avant-garde structures and a new postmodern quarter right on the Rhine.

Germany's fourth-largest city was founded by the Romans in 38 BC and given the lofty name Colonia Claudia Ara Aggripinensium. It grew into a major trading centre, a tradition solidified in the Middle Ages and upheld today.

Check in at hotel on arrival

Rest of the day at leisure to stroll around the Schildergasse - Colonge's shopping high street

Roman legions once marched where today shopping tourists from around the world stroll down the cobbled streets: in ancient times the Schildergasse and Hohe Strabe were the central axes of the Roman Colonia. Today they are the most popular shopping streets in Cologne's city centre. What's more, the Schildergasse is the second-oldest street in Cologne and once formed the beginning of a trade route leading to the centre of Gaul. It is 534 metres long and, together with Hohe Strabe (High Street), forms the main pedestrian area in North Rhine-Westphalia's largest city.

14.500 VISITORS PER HOUR - A 2014 count showed that 14,590 visitors move about the Schildergasse per hour. This makes the Schildergasse Germany's most visited shopping street. Visitors are attracted mainly to the large clothing and shoe stores, but also to the numerous perfumeries, sports shops and mobile phone shops.

Overnight at Cologne

Day 25

Cologne / Local sightseeing / Eve Train to Frankfurt

After breakfast, Best of Cologne with a private guide

Birthplace of Eau de Cologne, Cologne is a wonderful medieval city composed of several World Heritage Sites like the Cologne Cathedral and Brühl Castle. This tour covers all Cologne's great architectures, but also its history by visiting the Fragrance Museum, and the Chocolate Museum. It will be a wonder for your sense of smell, taste, and sight.

Pass By Schildergasse Shopping Centre Sign The pedestrian street is 500 meters long and is a wonderful mix of modern, and Roman architectures. Said to be the busiest shopping street in Europe, we'll be walking by its wonders: the Atoniterkirche church, or the Weltstadthaus contemporary building, designed by Renzo Piano.

Stop At: Duftmuseum im Farina-Haus Also known as the Farina Fragrance Museum, it is the oldest fragrance factory and the birthplace of Eau de Cologne. We will travel back in the Rococo Era to learn the astonishing production methods of perfume, but also the history of the original Eau de Cologne.

Pass By: Historic Town Hall It is time to walk by the oldest city hall in Germany. Founded in the 12th century, the Renaissance style monument is the home of the mayor and the city government. The City Hall is composed of a Gothic-style tower of 61 meters high, a Renaissance-style external corridor, a piazzeta and a spanisher bau. Those various design styles make the building unique. Stop At: Great St. Martin Church The church is a wonderful example of Medieval architecture. Founded in the 10th century on the remains of a Roman chapel, the building has been built and rebuilt many times. The Great St. Martin Church went by many Baroque and Classical influences.

Stop At: Cologne Chocolate Museum The Cologne Chocolate Museum is an experience in Chocolate history from the Maya period to our present day. Several attractions are waiting for you there: the palm house composed of cacao trees, a 3-meter-high chocolate fountain, and small versions of the machines used in the creation of chocolate.

Hohenzollern Bridge Built between 1907 and 1911, it was one of the most important bridges during World War II in Germany. Since 1948, it has become a tied arch bridge surrounded by four beautiful equestrian statues representing Prussian kings and German Emperors.

Stop At: Cologne Cathedral The Cathedral is a World Heritage Site since 1996, and a famous monument of Gothic architecture. With the largest façade and the tallest twin-spired in the world, the Cologne Cathedral is considered as a masterpiece in all Christian Monument History.

Evening train to Frankfurt … 180 kms.

Transfer to hotel at airport for check in

Overnight at Frankfurt

Day 26

Departure from Frankfurt

After breakfast, morning at leisure

Later, transfer to Frankfurt airport for onward flight
Notes
Round the Year Destination ... Extension recommended to Czech Republic, France, Italy, Netherlands, Spain & Other Destinations Across Europe
Hotels
Tour Inclusions [Best of Germany]
2 nights Bacharach [RhineValley]
2 nights Stuttgart
2 nights Baden Baden
2 nights Freiburg [Black Forest Region]
2 nights Fussen [Bavarian Alps Region]
3 nights Munich
2 nights Rothenburg
2 nights Nuremberg
2 nights Dresden
2 nights Berlin
2 nights Hamburg
1 night Cologne
1 night Frankfurt [Hotel close to airport'
Daily breakfastat at hotels
All transfers, sightseeings, inter-city travel and excursions throughout the Itinerary by train, van, bus or self-drive car
All sightseeings with an English speaking guide

Notes on itinerary
All our itineraries are "Just for Ideas" ... We will get to know you and customise an itinerary just for you that matches your requirements ... dates of travel, category of hotels, preferred airline, flexibility in choosing sightseeing, mode of travel between cities, etc.
Many of our clients have us design more relaxing, slower paced holidays with more in-depth experiences whereas some simply want to visit various destinations and cover only the highlights.
Together, we will determine the ideal route, pace of travel, accommodations, levels of pampering, style of touring, sightseeing to be included, dining preferences, adventure levels, options to meet locals, dates of travel & much more ! and based on this arrive at a price.
Do feel free to get in touch with us by a quick call on +91 79 29602961 or a short mail on mail@destinations4india.com ... Looking forward