Best & All of Dubai - 7 nights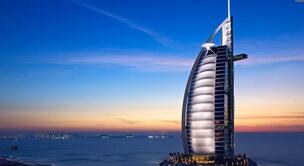 Dubai is a stirring alchemy of profound traditions and ambitious futuristic vision wrapped into starkly evocative desert splendour.

Innovation

It's hard not to admire Dubai for its indefatigable verve, ambition and ability to dream up and realise projects that elsewhere would never get off the drawing board. This is a superlative-craving society that has birthed audaciously high buildings and palm-shaped islands. Sci-fi concepts such as flying taxis, a lightning-fast Hyperloop train and an army of robocops are all reflections of a mindset that fearlessly embraces the future. With many more grand projects in the pipeline for World Expo 2020, it's clear that Dubai is a city firmly in charge of writing its own narrative.

Shopping Haven

Dubai is a top retail haunt that hosts not one but two huge annual shopping festivals. Shopping is a leisure activity here, and malls are much more than just mere collections of stores. Some look like an Italian palazzo or a Persian palace and lure visitors with surreal attractions such as an indoor ski slope, a giant aquarium or an open-air botanical garden. Traditional souqs, too, are beehives of activity humming with timeless bargaining banter. Meanwhile, a new crop of urban-style outdoor malls has expanded the shopping spectrum yet again.

Nocturnal Action

After dark, Dubai sometimes seems like a city filled with lotus eaters, forever on the lookout for a good time. Its shape-shifting party spectrum caters for just about every taste, budget and age group. From flashy dance temples, sleek rooftop terraces and sizzling beach clubs to fancy cocktail caverns, shisha lounges and concerts under the stars, Dubai delivers hot-stepping odysseys. Most of the nightlife centres on the fancy hotels, but there's no shortage of more wholesome diversions either, including community theatre, live-music venues and the world-class Dubai Opera.

Cultural Dynamism

The first Middle Eastern city to make the Unesco list of creative cities of design, Dubai is a bustling microcosm peacefully shared by cultures from all corners of the world. This diversity expresses itself in the culinary landscape, fashion, music and performance. Although rooted in Islamic tradition, this is an open society where it's easy for newcomers and visitors to connect with myriad experiences, be it eating like a Bedouin, dancing on the beach, shopping for local art or riding a camel in the desert. Dubai is a fertile environment conducive to breaking down cultural barriers and preconceptions.

Itinerary
Day 1

Arrival Dubai / Day at leisure

Upon arrival at Dubai, meet & greet by our representative, Transfer to hotel / apartment for check in

Rest of the day at leisure to explore the city

To get oriented with the systems & feel the pulse of city, take a metro from station nearest to your hotel to explore one the following localities

Dubai Marina

Dubai's southernmost districts are popular upscale residential areas, but they also brim with luxurious beachfront resorts. Aside from tanning and swimming, diversions here include strolls along the Dubai Marina waterfront, restaurants, shopping arcades, pubs & all that a tourist can as for.

JBR – The Walk : Jumeirah Beach Road

Visit the JBR - Jumeirah Beach Residence – Popularly known as 'The Walk' by the locals. Located close by and a short drive by cab from Mall of Emirates will make you reach the happening JBR. In the heart of New Dubai - Jumeirah Beach Residence on the Walk is a lively, mile-long promenade with 200 shops, cafes and restaurants. You will have all the time in the world to just relax at one of the many road side restauras and chill out for the entire evening with couple of drinks and food that you desire. Experience a Cat-Walk of snazzy cars from Phantom to Ferrari.

Overnight at Dubai

Day 2

Dubai / City Tour & Visit Dubai Mall + Burj Khalifa

After breakfast, Pick up from the hotel to embark on half Day Dubai City tour with English speaking guide

Sample the historic sites and vibrant cosmopolitan life of Dubai on this comprehensive tour. This panoramic tour starts with drive to Jumeirah area

A photo-stop at the iconic landmark of Dubai, Burj Al Arab.The distinctive sail-shaped silhouette of Burj Al Arab is more than just a stunning hotel, it is a symbol of modern Dubai. Yet for all the wonder this stunning structure provides when you finally see it in person, it is the service within that really makes the Burj Al Arab so extraordinary.

Proceed to Jumeirah, the picturesque palace and residential area of Dubai, also home to the famous Jumeirah Mosque. The beautiful Jumeirah Mosque in Dubai is a much-photographed landmark, especially when lit up against an evening sky. Built in the Medieval Fatimid tradition, the Jumeirah Mosque has a capacity of 1,200 people. For all the glitz and glamour of Dubai, there�s still an undercurrent of humility amongst many of its Muslim population, which a visit to Jumeirah Mosque makes apparent.

It�s also the only Dubai mosque to open its doors to non-Muslims. The tour continues to Al Bastakiya, the old part of Dubai, to reach the museum located in Al Fahidi Fort.

Get aboard the Abra (water taxi) to cross the Creek to the spice souk.

On your return, there is time to shop in the most famous landmark of Dubai � the gold souk. A trip to the Gold Souk truly demonstrates why Dubai has earned itself the title City of Gold. It's worth to visit even if you have no intention of buying, just to soak in the atmosphere of shop windows glinting with 18, 21, 22 & 24 carat gold, showing-off the abundant riches of this part of the world.

Your tour ends with drop to Dubai Mall [Burj Khalifa] where rest of the day can be spent explore the Mall & Visit 124th or 148th Floors of Burj Khalifa [separate tickets are required]

Dubai Mall

The Dubai Mall is the region's premier shopping, lifestyle and entertainment destination. With more than 1,200 stores and a host of world-class attractions, The Dubai Mall is revolutionizing the modern shopping experience. With an impressive array of leisure pursuits, this is the ultimate, cutting-edge shopping experience. A range of adventure sports vies for attention alongside the romance of ice-skating.

The Dubai Mall is a place where outdoor brunch can be followed by the delights of the big screen and where a 21st century gold souk is set off against a world class aquarium. With the capacity to hold 10 million litres of water, Dubai Aquarium illuminates the marvels of the ocean ?oor and showcase one of the most diverse collections of marine life worldwide.

Dining forms an integral part of the overall shopping experience. That is why The Dubai Mall has gone the extra mile to bring in the finest culinary sensations from the four corners of the globe.

Burj Khalifa

Burj Khalifa, the tallest building in the world, with entry from Dubai Mall. The Burj Khalifa skyscraper is a world-class destination and the magnificent centerpiece of Downtown Dubai, Dubai's new urban masterpiece.

The world's tallest building is surrounded by hotels, must-visit shopping destinations and a world of entertainment options.

Set on the 30-acre Burj Khalifa Lake, the fountain shoots water jets as high as 500 ft (150 metres), equivalent to that of a 50-storey building. The fountain is 900 ft (275 metres) long and has five circles of varying sizes and two central arcs.It has been designed by California-based WET, the creators of the Fountains of Bellagio in Las Vegas.

In the evening enjou the sites of Dubai Fountain which are operated daily. Over 6,600 WET Superlights � the most advanced incandescent large fountain lights available today � and 25 colour projectors create a visual spectrum of over 1,000 abstract attractions. The beam of light shining upward from the fountain can be seen from over 20 miles away, and will be visible from space making it the brightest spot in the Middle East, and quite possibly in the entire world.

Return back to the hotel on your own

Overnight at Dubai

Day 3

Dubai / Mall of Emirates, Miracle Garden & Desert Safari

After breakfast, morning is at leisure to visit The Mall of Emirates & Miracle Garden

The Mall of Emirates

Take metro from the nearest station directly to station inside The Mall of Emirates � First Floor. Home to a ski field, a cinema complex and more than 630 of the world�s best brands, a visit to the Mall of the Emirates is a must-see on any holiday to Dubai. Shop, dine and stroll beneath the glamorous Fashion Dome, with its wrought iron ceiling reminiscent of European railways, at brands like Apple, Chanel, Burberry and Missoni just to name a few. There�s always something going on the ground floor, from fashion shows to family activities.

If you feel like a break from wandering the stores, check out any of the attractions available on site. The most popular attractions include Ski Dubai, Magic Planet and DUCTAC (Dubai Community Theatre & Arts Centre). There�s also an enormous VOX cinema complex if you want to catch one of the latest blockbusters.

Miracle Garden

There�s a sense of Alice in Wonderland�esque surrealism when entering this 2000 sq metre garden in the desert. Home to 100 million flowers, including petunias, geraniums and marigolds, it is incredibly popular, attracting 55,000 visitors a week. Wander past quirky bloom-covered peacocks, clocks and castles, or chill out in a cabana with billowing drapes and floor cushions. There are fast food outlets such as Hardee�s and Krispy Kreme on-site, as well as toilets and a small trampoline park.

Later in the afternoon return to hotel in time for Desert Safari with BBQ dinner

Desert Safari
Pick up from Hotel lobby for Desert Safari at 1345 hrs - 1400 hrs

A must for everyone visiting Dubai. A memory to share with your family and friends back home, This is one safari you can�t do back home.

You will be picked up from your hotel in the afternoon and driven across the desert. Professional safari drivers take us on a thrilling roller-coaster ride across the golden dunes. We stop by the highest sand dune for a photo-shoot of the spectacular sunset.

We then proceed to the campsite located in the heart of the desert. A warm Arabian welcome awaits us, accompanied by refreshing Arabic coffee ('Kawa') and dates. Soft drinks, tea and water are also available. Smoking the 'Sheesha' or 'Hubbly Bubbly' is a typical Arabian experience not to be missed. Various mild and fruity flavours offer a tingling sensation. Ladies particularly enjoy adorning their arms with exquisite patterns of "Henna" (leaf) tattoo. While we relax on the carpet and cushions, a delicious BBQ is prepared under the star-lit sky.

Later, an enchanting belly dancer appears, tearing apart the darkness of the night. She dances gracefully and rhythmically, keeping pace with the increasing tempo of authentic Arabian music. Excitement rents the air as the audience try to match her steps.

Delicious BBQ buffet dinner is served right on time, unveiling a feast of Arabian and international delicacies.

Return drop back to hotel

Overnight at Dubai

Day 4

Dubai / Excursion to Abu Dhabi & Ferrari World

After breakfast depart for Abu Dhabi ... 140 kms., 2 hrs. drive

Abu Dhabi
Pick up from Hotel lobby for Abu Dhabi tour at 0830 - 0845 hrs.

We start our journey from Dubai, travel past the world's first man-made port at Jebel Ali and onward for a two hour drive through coastal desert scenery, studded with acacia tress.

Start your tour with an Abu Dhabi landmark - The Sheikh Zayed Mosque � Mosque was the vision of Sheikh Zayed Bin Sultan Al Nahyan, the first president of the United Arab Emirates. Its construction was finished after the leader�s death in 2004. This architectural work of art is one the world�s largest mosques, with a capacity for an astonishing 40,000 worshippers. It features 82 domes, over a 1,000 columns, 24 carat gold gilded chandeliers and the world's largest hand knotted carpet. The main prayer hall is dominated by one of the world�s largest chandeliers �10 metres in diameter, 15 metres in height and weighing twelve tonnes. The mosque's first ceremony was the funeral of its namesake, Sheikh Zayed, who is buried at the site.

Later drive past the Emirates Palace on way to Ferrari World Theme Park located at Yas Island [40 kms. from Abu Dhabi]

Ferrari World � Yas Island

The indoor theme park is located on Yas Island about 40 kms. from Abu Dhabi. Ferrari World, at a whopping 925,000 sq. ft. (over 20 acres), is the world's largest.

Perhaps the most striking feature of the park is its enormous red-domed roof. Ferrari World says that the bright red structure is supposed to resemble a Ferrari GT body, but it might also be mistaken for a renegade mothership from a big-budget science fiction movie. (Then again, it's unlikely any "War of the Worlds" spacecraft that landed in the desert would sport a huge Ferrari logo, as does the park's dome).

A hybrid Epcot-type pavilion/Six Flags-type amusement park/corporate hospitality center, Ferrari World showcases the legendary automaker through sophisticated dark rides and other cutting-edge theme park technology. It also reinforces Ferrari's racing legacy with coasters and other thrill rides. And it acts as an emissary of Italy by offering attractions and exhibits featuring the country's landmarks and culture along with Italian eateries.

The world's largest indoor theme park features a host of rides and attractions to create an unforgettable experience for every member of the family. Ferrari World features Formula Rossa, the world's fastest roller coaster. It is designed to travel at speeds up to 240 km/h (149 mph). Formula Rossa was manufactured by Intamin AG of Switzerland. It uses a hydraulic launch system (similar to the launch system used for Kingda Ka), and accelerates from 0 to 100 km (62 miles) in 2 seconds. The coaster climbs 52m (171 feet), and riders experience 1.7 Gs. Formula Rossa starts inside the indoor theme park, accelerates through the dome, travels outside the park, and returns to the loading station inside the building. The train's cars have been made to look like flashy red Formula One Ferraris. Because of the speed and desert sand, riders are issued goggles.

Apart from this there are many other attractions � Fiorano GT Challenge- A second launched roller coaster that features two tracks and racing trains. The coaster cars resemble Ferrari F340 Spider automobiles � G-Force- A drop-tower ride that soars over 62 m (203 ft.) through the centerof the indoor park's domed roof � Scuderia Challenge- Racing car simulators, etc.

Evening return drive to Dubai

Overnight at Dubai

Day 5

Dubai / Visit Bollywood Park

After breakfast, full day visit to Bollywood Theme Park

The first theme park in the world dedicated to all things Bollywood!

Action, adventure, romance, comedy, music, dance, flavour and emotion, Bollywood style.

A celebration of Mumbai�s legendary film industry in 5 zones inspired by Bollywood blockbusters, enjoy live entertainment, stage performances and flamboyant cinematic rides in an experience unlike any other.

For the first time ever, you will live, learn and experience the kaleidoscopic world of Mumbai�s famous film industry, in the world�s first Bollywood themed park covering 1.7million square feet.

Explore the world�s first Bollywood themed park through cinematic rides and blockbuster attractions to extravagant live shows, delicious Indian dining and fun shopping � you can dive into and navigate the spectacular world of Bollywood with the help of our simple and easy-to-use theme park guide.

Overnight at Dubai

Day 6

Dubai / Transfer to Atlantis The Palm

After breakfast, transfer from Dubai Hotel / Apartment to The Atlantis [Pick up around @ 1200 hrs.]

On arrival check in at Atlantis the Palm

Atlantis The Palm

Situated on its own 800-metre, private beach on Dubai�s Palm Island, the 5-star Atlantis offers stunning views of the Arabian Gulf. It provides an underwater aquarium, dolphin-swimming opportunities and an extensive water park. Arabian d�cor and large beds are fitted in all rooms. The balcony in each offers a panoramic view of the city or the Arabic Sea.

Every room is equipped with a flat-screen satellite TV. Fine dining restaurants include Mediterranean, Italian and French. The award-winning Nobu restaurant serves contemporary Japanese food. Atlantis The Palm Dubai includes an underwater labyrinth and the largest water park in the Middle East with near-vertical slides and torrent rivers. The expansive pool is surrounded by lounge chairs and palm trees. A comprehensive spa provides facial and body treatments and the gym provides personal fitness coaches.

Atlantis, the Palm is a resort at Palm Jumeirah in Dubai and was opened on 24 September 2008. The resort is modelled after the Atlantis, Paradise Island resort in Nassau, Bahamas. The resort consists of two towers linked by a bridge, with a total of 1539 rooms. There are two monorail stations connecting the resort to the main section of the Palm Jumeirah islands. The six star resort also includes a water Aquaventure theme park (160,000 square meters), a conference center, and 20,000 square feet (1,900 m2) of retail space.

The resort also has a Dolphin Bay (45,000 square meters) in which guests can swim and interact with dolphins at Atlantis. The Resort kept a young female whale shark (Sammy) in its 11-million litre aquarium. Sammy gained public attention when gulfnews published her story, which started campaigns to have Sammy released back into the ocean. Experts pointed to various signs which showed that Sammy was vulnerable in the aquarium. She was released in March 2010.

Day at leisure to explore the hotel and it�s facilities over the next 2 days.

Your booking includes complimentary access to Lost Chambers & Aqua venture [water park]. All other attractions / facilities might be chargeable. Do check before utilising.

Lost Chambers

Imagine exploring the mysterious ruins of Atlantis, lost for thousands of years deep beneath the sea. Now picture yourself being surrounded by 65,000 marine animals. Come live out your own Atlantean adventure at the Lost Chambers Aquarium. Explore the underwater mazes and tunnels of this lost civilization while encountering sharks, eels, seahorses, and piranhas. There are over 20 remarkable marine life exhibits including a touch tank and our interactive Aquatheatre show.

Our friendly Navigators invite you on a guided tour of The Lost Chambers Aquarium at scheduled throughout the day. These interactive tours give further insights into the legend of Atlantis, traditions of the Seven Sages and amazing facts about the marine life that inhabits The Lost Chambers Aquarium.

Aquaventure

Enjoy the thrill of the largest and most exciting water park in the Middle East. Aquaventure Dubai is set in 42 acres overflowing with fun including Master Blasters, speedslide, rivers, rapids, Splashers children�s play area, lush tropical landscapes and a private beach.

From thrilling Master Blasters to children's twisters, Aquaventure Dubai has slide fun for the whole family.
The Leap of Faith : 27.5m tall and 61m long, from the top of the Ziggurat the Leap of Faith catapults riders into a transparent tunnel and through a shark-filled lagoon, where guitar sharks, bow mouth sharks, white tip, black tip and grey reef sharks all reside.

The Plunge : Descend from the centre of the Ziggurat on one of our many water-coasters. Twist, turn and blast upwards along the power-jets of The Plunge.

Shark Attack : Journey to the mysterious core of the Ziggurat through dark twisting tunnels before emerging slowly into the lagoon at a leisurely shark viewing pace.

The Surge : Starting at the top level of The Ziggurat this spine-tingling inner tube ride is not for the faint at heart! Twisting and turning, at times in complete darkness this water-coaster takes riders on a thrilling journey.

Stinger : Blast uphill on this water-coaster, starting at the first level of The Ziggurat. Riders are propelled towards the river on inner tubes.

Falls : Splash down to Rapids River on this exciting water-coaster. Riders jet up and down and twist around before joining the river and heading around the waterpark.

The Rapids : This high octane river takes riders on a white water journey through caverns with many twists and turns.

The Torrent River : Follow the 600 metre path of a tidal river with one metre waves though a lush tropical landscape.

Overnight stay at Atlantis the Palm

Day 7

Dubai / Aquaventure at Atlantis The Palm

After breakfast, full day at Atlantis The Palm

Enjoy access to Aquaventure, Lost Chambers & other facilities at The Atlantis

AQUAVENTURE BEACH

Relax and unwind on 700 metres of private beach, available exclusively for guests of Aquaventure and Dolphin Bay.

Whether you seek the sea or pure sunshine, the beach at Aquaventure in Dubai provides the ideal atmosphere for family fun, a lively game of volleyball or a leisurely stroll.

Access to this exclusive oasis is included with tickets for Aquaventure water park and the Dolphin Bay experience.

Overnight at Atlantis

Day 8

Departure from Dubai

Day at leisure for shopping around Dubai

The emirate is teeming with shopping malls and each mall reveals a different theme and experience. The sprawling expanse of the malls, the innovative architecture, the designer boutiques, top brands, vast product range from haute couture to the latest gadgets and gizmos and an endless choice of restaurants and cafes allow visitors the option of passing an entire day within the premises of a single shopping complex.

Existing alongside modern marvels such as the shopping malls, are the traditional markets, also known as the souks. With their historic structures still in place and restored to meet the demands of the present day, Dubai�s different souks may vary in their offerings and character, but are all alive with the buzz of trade and the spirit of a strong and traditional past.

Various Shopping Malls one can visit �

Dubai Mall
Mercato Shopping Mall
Wafi Shopping Mall
Barjuman Centre
Deira City Centre
Lamcy Plaza
Iban Batuta

Apart from competitively-priced electronics products, watches, cameras and other international items, popular traditional gifts include:

Arabic coffee pots
Prayer beads
Soap stone figures
Marble goblets
Antique silver jewellery
Brass items
Silver and wooden miniature dhows
Persian carpets and cotton dhurries (oblong floor coverings).
In-laid rosewood and walnut furniture Silver and brass swords and khanjars (Arabic curved daggers).

Later in the afternoon departure transfer from Atlantis to Dubai Airport for onward flight
Notes
Round the Year Destination ... Extension recommended to countries across Europe
Hotels
Tour Inclusions [Dubai - 7 nights]
Accommodation for 5 nights at hotel / apartment of your choice
Accommodation for 2 nights at Atlantis The Palm
Airport – Dubai hotel – Atlantis - Airport transfers
Daily breakfast [dinners can be arranged on request]
Afternoon half-day Dubai City tour with English speaking guide
Half-Day Desert Safari with Bbq Dinner and belly dance joining other guests during the scheduled safari, 4 Wheel Drive Vehicle
Abu Dhabi & Ferrari World admission tickets with transfers
Full day Bollywood Theme Park with transfers
UAE VISA
Notes on itinerary
All our itineraries are "Just for Ideas" ... We will get to know you and customise an itinerary just for you that matches your requirements ... dates of travel, category of hotels, preferred airline, flexibility in choosing sightseeing, mode of travel between cities, etc.
Many of our clients have us design more relaxing, slower paced holidays with more in-depth experiences whereas some simply want to visit various destinations and cover only the highlights.
Together, we will determine the ideal route, pace of travel, accommodations, levels of pampering, style of touring, sightseeing to be included, dining preferences, adventure levels, options to meet locals, dates of travel & much more ! and based on this arrive at a price.
Do feel free to get in touch with us by a quick call on +91 79 29602961 or a short mail on mail@destinations4india.com ... Looking forward