Best of Cyprus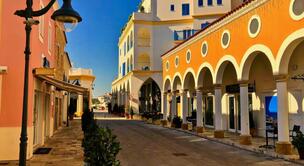 Strike out beyond the sun-soaked stretches of sand to discover an island of compelling culture and landscapes, steeped in myth and riddled with ancient riches.

Crossing the Line
Crossing the line between the South and the North allows you not only to gain some understanding of the island's complex and painful modern-day history, but also experience the two Cypriot communities. Greek Cypriot and Turkish Cypriot societies are intrinsically different yet incredibly similar, linked by the still-strong role of traditional family life and a rich history where food cultures and folk customs have intermingled, but divided by belief. One thing's for sure wherever you are on the island: the naturally warm Cypriot hospitality is much in evidence on both sides of the Green Line.

The Great Outdoors
The landscape and Mediterranean climate mean that outside is where it's at – and where you should be. Sun-soaked stretches of sand are Cyprus' calling card and there's a beach for everyone here, from wild and windswept to family-friendly and packed. Every conceivable water sport is on offer, from scuba diving to skimming the surface on a kite- or windsurf board. And if you tire of all that blue, strike out into the interior, where wildflower-studded meadows and valleys of densely planted vineyards sweep up to a pine-clad mountain spine offering hiking, biking and, yes, even winter skiing.

A Sense of the Past
Steeped in myth, coveted by every conqueror with an eye for a prize, Cyprus' tumultuous and multilayered past has left ancient riches strewn across this island. Neolithic dwellings, Bronze Age and Phoenician tombs, remnants of once-mighty city-kingdoms, Roman mosaics, mountaintop castles and Byzantine churches – home to a glut of renowned frescos – lay scattered through the countryside. While strolling the cities you can spot the preserved architectural legacy of the Lusignan, Venetian and Ottoman periods. Cyprus may welcome you to flop out on the beach, but dig into the past here and you'll unearth the entire history of the Mediterranean.

A Culinary Feast
Meze is a delicious way to acquaint yourself with the local cuisine, tantalising the taste buds with a feast of small dishes, from creamy hummus to kebabs or afelia (pork cooked in red wine) and everything in between. Heavily influenced by Turkish, Greek and Middle Eastern food cultures, Cypriot cooking has some of its own culinary stars, including haloumi (hellim in Turkish) and kebab favourite sheftalia (şeftali kebap in Turkish; grilled sausages wrapped in caul fat). And don't forget the desserts. Flavoured with almonds, rose water and pistachios, sweet treats range from comforting rice puddings to gloriously sticky baklava.
Itinerary
Day 1

Arrival Limassol, Cyprus / Day at leisure

Arrive Larnaca airport, Meet and assistance by our representative, private transfer to hotel in Limassol – 65 kms. / 1 hr. drive

Still known to many as Limassol, Lemesos is one of Cyprus' most underrated cities. Although fringed on its eastern edge by a glut of bland-looking developments, the core is full of character. Wrapped around a castle, the historic centre radiates out in a web of lanes where old, shuttered houses and modern boutiques lie cheek by jowl. It's an area buzzing with cafes, bars and restaurants that are as popular with locals as with visitors.

This is Cyprus' international business centre and, despite the financial woes of recent years, there's again a sense of optimism in the air. Its flashy marina has introduced an atmosphere of glamour and opulence, and grittier areas of town are being tagged for a revamp. For travellers looking for a holiday that takes in more than sun and sea, Lemesos lies at the very heart of one of the island's richest areas for exploration.

Day at leisure to rest & explore the surroundings on your own

Overnight at Limassol

Day 2

Limassol / City Tour

After breakfast, city tour of Limassol assistedby our local guide

Visit this charming historic center, where British colonial buildings and traditional workshops are interspersed amid modern cafés and bars.

The Old Town of Limassol comprises a series of narrow streets branching out from the city's old fishing port. Home to busy shopping streets and intriguing historic attractions, this vibrant area of the city is equally popular with locals and tourists.

Go for a walk along the 9.9-mile (16-kilometer) beach path, which stretches outward from the old port. Be sure to stop at the Sculpture Park, where you'll find more than 20 public sculptures designed by well-known artists such as Helene Black and George Tsaras.

The streets of the historic center encircle the town's landmark medieval castle, which now houses the Cyprus Medieval Museum. Be sure to visit the square outside the castle and stop for a drink at a bar or coffee shop. Take the opportunity to sample cold zivania, a strong local spirit made from distilled grape juice.

Walk down Anexartisias Street, one of the Old Town's most popular shopping areas. The street is an excellent place to shop for traditional Cypriot souvenirs, such as honey, olive oil, wine, white lace, basketware or leather. While here, take a look at the city's municipal market, which is open from Monday to Saturday, selling fruit, vegetables, meats and household goods. Originally built in 1917, the enormous stone marketplace covers an area of 32,291.7 square feet (3,000 square meters).

Don't miss the Old Town's Turkish quarter and the beautiful Grand Mosque, which continues to be used by Turkish Cypriots and Muslims living in Limassol. Dating back to the 16th century, the mosque's elegant minaret is surrounded by towering palm trees. Check out the oldest Ottoman graveyard in Limassol, which is located just next to the mosque.

Save time to see Agia Napa Cathedral, found on the edge of the Old Town. Admire its ornate twin-towered façade, which was designed in the Greek Orthodox style of religious architecture.
The Old Town of Limassol can be reached by a number of regular city buses. The bus station is located close to the municipal market.

Overnight at Limassol

Day 3

Limassol / Jeep Safari through Mountain Villages with Donkey riding

After breakfast, enjoy a full day tour of the Mountain villages of Cyprus and the Troodos Mountain area.

Start the day by passing by the village of Mathikoloni, with splendid views of Germasogeia Dam and Limassol, we travel through the beautiful countryside and villages heading to Apesia Hills and the donkey farm.

The donkey farm is situated in one of the most unspoiled and natural areas in Cyprus. As well as having great fun and laughter riding your donkey, you will also enjoy the fresh air and hillside views.

At the Apesia village square, we will see the interesting "Tremithos", a huge tree over 1,500 years old.

We will continue our exploration with a 7km off-road exciting drive from Kapileio village. With magnificent panoramic views and also of the vineyards which are famous in this area for producing high quality Commandaria sweet wine and Zivania. By the church of Panagia Valana we arrive at our next stop the village of Laneia. We will spend some time to discover this picturesque village with its flower-lined streets and stone houses. We will also visit an ancient and authentic Linos, a wine press used for making commandaria.

We continue our drive to the Troodos mountains and we will walk to one of the highest waterfalls in Cyprus Kalidonia Waterfalls, with a height of 12 meters. It is surrounded by forest in a very beautiful area with breathtaking views. In this natural environment you can see many species of the local plant-life. You can feel and smell the fresh mountain air. The name of Kalidonia falls comes from the swallow birds who sing there during spring and summer months.

At the next stop Kapileio we will walk around this traditional village and visit the local church. At the converted old school, we will stop for the lunch break. Here you can taste the home-made Cyprus meze (big selection of local dishes), accompanied by the local wine, at the price of euro 12- for adults and euro 6- for the children (2-12 years). Lunch is optional.
Returning to Limassol, we will stop at the Organic Olive Oil Press, for an interesting look at how the olive oil is locally produced still today. Other local produce are traditional delicacies, such as almond sweet, siousiouko (Cyprus grape/nut desert), Mediterranean medlar jam, etc.

This safari is an excellent combination of excitement and lovely experience of true Cypriot mountain village life.

Overnight at Limassol

Day 4

Limassol / Excursion to Pafos & Kourion

After breakfast today full day excursion to Pafos & Kourion

We will visit firstly the ancient city of Kourion and the most spectacular site is the Greco-Roman theatre, which has been completely restored and is used today for open air musical and theatrical performances. See the private houses of the late roman period with fascinating mosaics.

Aphrodite's Rock where you can enjoy swimming (bring a towel with you) in the beautiful sea where the Goddess of Love and Beauty was born.

Rumour has it that to swim around the rock brings good luck.

Continue to Pafos town which was the ancient capital city of Cyprus. Start with a visit to the Catacombs of St. Solomoni where you can walk through the catacombs and inside the caves and chambers.

Then see the Pillar of St. Paul where he was bound and lashed as a punishment for preaching Christianity before he managed to convert the Roman governor to Christianity.
From the old port area you can see the Venetian fort. Continue to the Archeological city (explore the house of Dionysus, Roman villa, floor mosaics)

Cyprus was under the Roman command 2000 years ago their villas decorated with mosaic floors are considered to be the finest in the Mediterranean, as the Pafos mosaics are very well preserved.

Time to browse around the old port area and enjoy lunch or a snack in one of the many attractive restaurants and cafes.

On our return, we shall taste the famous Pafos Delights "Loukoumia" as we have a visit to Geroskipou village.

Overnight at Limassol

Day 5

Limassol / Day at leisure

Today, mid-way of your tour, take a break from sightseeing … And enjoy your day is at leisure to explore the streets of Limassol

Evening Cyprus Night with music & dancing

Visit a traditional Cypriot tavern in one of the villages in the Pafos district.

Kouklia village was built in the area of Old Pafos, mythical birthplace of Aphrodite, Greek goddess of love and beauty. By the legend this village became the centre for her worship in the ancient world.

Through the narrow streets we arrive at the tavern, where you will be served a typical Cypriot Meze, which consists of many different local dishes, a chance to sample the tastiest foods on the island.

Sit back and enjoy your meze "siga-siga" or slowly, slowly. Your meal is accompanied by local village red or white wine (included in the price).

The tavern is popular with local Cypriots and you will experience together with them, lots of dancing and fun. The program includes an amazing floor show of Greek and Cypriot folk dancing and music, which eventually will tempt you to join in.

Overnight at Limassol

Day 6

Limassol / Excursion to Akamas Peninsula & Boat Ride

After breakfast depart on Excursion to Akamas Peninsula

This tour is a combination of land and sea tour featuring a full day of sightseeing across western Cyprus wild coastal frontier - the Akamas Peninsula.

Get ready for an enjoyable fun day of adventure for all the family, with beautiful sea views and clear blue waters for amazing swimming experiences to keep in memory.

This tour includes:

The Birthplace of Aphrodite – Aphrodite's Rock According to the ancient legend, Aphrodite – the Greek Goddess of Love came exactly from these waters. If you look around, you will see marvelous scenery that attracts people from all over the world.

Glass Bottom Boat Trip to Fontana Amoroza, other stunning bays, islands and Blue Lagoon

At the harbor of Latchi, we will board the Glass Bottom Boat for an exciting 3 hour trip of sight-seeing, relaxation, and swimming. Passing by the natural beauty of the coasts and cliffs, we will see the Isle of St. George, Plaji Bay and Manolis Bay, as well as other interesting sites.

We will later stop at the Isle of Chamili which is known as the most popular bay in the whole of Cyprus "Blue Lagoon" and famous for its beautiful white sandy bottom and blue crystal waters, lovely for swimming. It is also excellent for snorkeling and if you like, snorkeling equipment is provided onboard, for you to discover the underwater views and the natural marine life.

We will continue to the place where the Italian poet Ariosto wrote a poem about the area and its waters which became known as the Fontana Amorosa.

Complimentary Wine and Fruits will be offered onboard and orange juice for children.

Baths of Aphrodite In this natural pool, surrounded in greenery, it is said that the Goddess of Love used to bathe. The legend also has it that this is where Aphrodite met her lover, the handsome Adonis, when he stopped off for a drink while hunting. The moment he drank the water, Adonis fell in love with the goddess.
We will stop for lunch at the traditional beach Restaurant where you can taste Cypriot Fish Meze or have a snack or drink from the menu. The cost of lunch is not included in the price. It is optional. There is also time for you to enjoy a refreshing swim.

Sea Caves Passing by the banana plantations our last stop is near Pafos, at the incredibly beautiful sea caves area. There you can view the sea caves and if the sea is calm, we will have the possibility to also explore the sea caves from inside. Be prepared for unforgettable adventures in a place which is unknown even for many local people.

Overnight at Limassol

Day 7

Limassol / Visit Lefkara Village – Troodos Mountain & Kykkos Monastery

After breakfast, depart for our first stop - Lefkara Village, located on the southern slopes of the Troodos Mountains. Famous for its lace known as "lefkaritika" as well as silver handicrafts. It has beautiful views and interesting architecture of the local houses. You will have time to visit a traditional silver handicraft shop.

Continue the lovely county side drive passing by the village of Kornos and the agricultural village of Peristerona known for its citrus fruits, olives and almonds. Arriving at the Village of Astromeritis we will stop for a coffee break.

Next stop is Kykkos Byzantine monastery which is the largest and wealthiest monastery situated in the Troodos (biggest mountain range of Cyprus), located in the center of the island. The monastery is dedicated to the Virgin Mary and there you will see one of the three surviving icons painted by the Apostle Luke. You can enjoy the museum, located within the monastery grounds, which houses an impressive collection of icons, woodcarvings and manuscripts, and other Cypriot antiquities.

Continuing on, the trip will take you to the highest peak of Cyprus island – Mount Olympus (1951 m), where you will have a possibility to widely observe green valleys, mountain slopes, vineyards, forests, and small villages. From this viewpoint also the capital of Cyprus - Nicosia and a Morfou Bay can be seen.

After the highest peak we will pass by Troodos Square and then arrive in the village of Platres where you will have a chance to taste home cooked meat Meze or you can order a meal/snack from the menu. Lunch is optional and is not included in the price.

Next stop will bring you to the traditional and picturesque Cypriot village called Omodos, where you can visit Timios Stavros Monastery of the Holy Cross. In Omodos also a Museum of oldest wine press is located. There you can taste different types of local wine and get to know, what is Commandaria and Zivania. Local people assert that here produces one of the best wines on the island.

Returning to Limassol you will pass by many hillsides and enjoy the view of the Cyprus countryside with vineyards and cherry/citrus fruit and nut trees.

Overnight at Limassol

Day 8

Departure from Limassol

After breakfast, morning at leisure

Later private transfer to Larnaca Airport for departure
Notes
Round the year destination ... Extension recommended to Dubai & Countries across Europe
Tour Inclusions - Best of Cyprus
8 nights accommodation

Daily breakfast

Private airport transfers airport – hotel – airport

Guided sighteeing tours as per itinerary

Services of local representative

Notes on itinerary
All our itineraries are "Just for Ideas" ... We will get to know you and customise an itinerary just for you that matches your requirements ... dates of travel, category of hotels, preferred airline, flexibility in choosing sightseeing, mode of travel between cities, etc.
Many of our clients have us design more relaxing, slower paced holidays with more in-depth experiences whereas some simply want to visit various destinations and cover only the highlights.
Together, we will determine the ideal route, pace of travel, accommodations, levels of pampering, style of touring, sightseeing to be included, dining preferences, adventure levels, options to meet locals, dates of travel & much more ! and based on this arrive at a price.
Do feel free to get in touch with us by a quick call on +91 79 29602961 or a short mail on mail@destinations4india.com ... Looking forward