Best of Chhattisgarh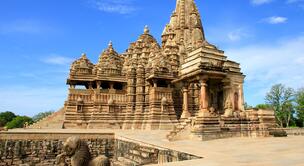 Chhattisgarh is remote, short on major 'sights' and limited in tourist infrastructure, but for the adventurous traveller, time spent here may well prove to be a highlight of your trip to this part of India.

The country's most densely forested state (44%) is blessed with considerable natural beauty – waterfalls and unspoilt nature reserves abound. More interestingly, it's home to 42 different tribes whose pointillist paintings and spindly sculptures are as vivid as the colourful haats that take place across the region, particularly around Jagdalpur in the southern Bastar region.
Itinerary
Day 1

Arrival Raipur / Transfer to Kawardha

Opon arrive at Raipur, meet & greet by our representative, transfer to Kawardha ... 120 kms.

Founded in the mid-18th century, Kawardha is a small yet beautiful town in the Kabirdham district of Chattisgarh. The small town boasts a rich history and an equally vibrant present. From being a flourishing kingdom to an erstwhile princely state and then to being a prominent base for Sant Guru Kabir, Kawardha has come a long way. Set against a backdrop of breathtaking hills and lush greenery, for as far as the eye can see, it is a fairly popular weekend getaway, especially for those from around the state.

Not only does Kawardha delight visitors with fascinating tales of its past, amidst beautiful scenery, it is also home to a number of interesting tourist sites and presents a captivating cultural ethos, with local tribes, their rituals, and lifestyle adding many hues to the canvas. Kawardha has more to offer than meets the eye�just one visit will make that quite apparent.

Upon arrival, check-in at Kawardha Palace

Later, embark on a tour covering the Kawardha Palace, nearby cultural sights including the awe-inspiring Bhoramdeo temple complex

The Kawardha Palace was built in the 1930s by Maharaja Dharamraj Singh. The palace is constructed with Italian marble and stones. It has been declared as a heritage hotel and now provides accommodation.

Bhoramdeo temple - Bhoramdeo, a thousand year old temple, situated in Chouragaon, is 18 km from Kawardha. This temple is dedicated to Lord Shiva. This ancient temple, nestled in the Maikal Mountains, took almost four centuries to build. The construction of the structure was first started by King Ramachandra Deo, one of the Nagwanshi rulers. Often referred to as the �Khajuraho of Chhattisgarh�, the architecture and engravings on the walls and pillars of the age-old temple are stunning and its aesthetic value, makes it a huge draw for tourists.

Back to the Palace by evening

Chhattisgarhi dance entertainment, dinner & overnight at Kawardha

Day 2

Kawardha

After breakfast, a tour of Kawardha�s little-known natural and tribal world

Interact with the gentle Baiga people, they are from the major tribal community living in the deep forest areas. Also meet the Kond Tribe - Primarily hunters and agriculturists and are known for being part of largest and oldest tribe in the state.

Enjoy a picnic lunch with the tribes

Return to Palace Kawardha by evening

Dinner & overnight at Kawardha

Day 3

Kawardha � Raipur - Kanker

After breakfast, depart for Kanker.

Enroute visit Raipur for a short sightseeing trip & optional lunch ...

At Raipur, visit Mahant Ghasidas Museum - In 1875, the first of Chhattisgarh and one of the first ten museums of the country started with the donation of Mahant Ghasidas of Rajnandgaon. In this multi-faceted museum, there are various types of materials related to tribal culture, spiced animal-birds and craft works of modern period, besides prehistoric stone tools, ancient statues, records, copper plates and coins received from Chhattisgarh and other areas.

Later depart for Kanker ... 130 kms.

The history of Kanker begins in the Stone Age. According to the legendary Sanskrit epics of India, the Ramayana and the Mahabharata, there was once a dense forest area named Dandakaranya, in the region where Kanker is located.

According to myth, Kanker was also a land of monks and sages. Many Rishis (monks/sages) such as Kank, Lomesh, Shringi, Angira were said to have lived here. The influence of Buddhism on the region started in the sixth century BC. The ancient history of Kanker records that it always remained an independent state.

In 106 AD, the Kanker state was under the rule of the Satvahana dynasty and the king was Satkarni, This fact is also described by Chinese visitor Whensaung. After Satvahana rule, the state was under the control of the Nags, Vakataks, Gupt, Nal and Chalukya dynasties. The Som dynasty was founded by the king Singh Raj, and this dynasty ruled the state from 1125 to 1344. After the downfall of the Som dynasty, Dharam Dev founded the Kandra dynasty which ruled the state up to 1385. After the downfall of the Kandra dynasty, the Chandra dynasty came. According to a myth, the first king of this dynasty was Veer Kanhar Dev. He ruled the state up to 1404. This dynasty ruled the state up to 1802.

The tribal societies of Kanker are known for their handicrafts prepared with a variety of designs and shapes. These handicrafts include wood-carvings, bell-metal items, terracotta items, and bamboo items, among others. Kanker is a forestry district containing good quality woods from which wooden-carving crafts and various types of furniture are made by skilled artisans.

On your arrival at Kanker, check in at your hotel, Kanker Palace

Rest of the day at leisure to enjoy hospitality at the Palace

Dinner &overnight at Kanker

Day 4

Kanker / Excursion to Bastar

After breakfast, head out to experience the tribal life of Bastar.

Climb the forested Keshkal Ghat which marks the border of Bastar 500m above the plain.

Watch the special characteristics of the North Bastar with a visit to a colorful weekly market.

Meet the local people and then move to visit Kondagaon and Narayanpur to discover some of Bastar�s finest handicrafts, and the people who make them.

Have lunch in the deep green Sal forests

Later, return to Kanker

The Royal Family resides at Palace and keenly meet the guests sharing their stories of the past

Dinner & overnight stay at Kanker

Day 5

Kanker � Jagdalpur

After breakfast, drive to Jagdalpur, Bastar�s main town ... 160 kms.

The capital of the southern Bastar region is an ideal base for exploring tribal Chhattisgarh. The town itself hosts a haat (market) every Sunday where you�ll see Adivasis (tribal people) buying, selling and bartering alongside town traders, but it�s in the surrounding villages that Adivasi life can be fully appreciated.

Some villages are extremely remote, and only really accessible with a guide. Others, though, are just a bus ride away and, particularly on market days, can be explored independently.

Sanjay Market, which hosts the Sunday haat, is the heartbeat of Jagdalpur. The gaily painted maharaja's palace, 500m north at the end of Palace Rd, is the town's main landmark.

Upon arrival, check- in at hotel

Later, take a guided tour of historical Jagdalpur and the Anthropological Museum which concludes at Chitrakote waterfall, Bastar�s very own �Nigara� on the Indravati River.

Also visit some of the local Bison-Horn Maria tribe, renowned for their spectacular ceremonial dancing.

Conditions permitting, a barbecue is served under the stars in authentic Bastar style

Overnight at Jagdalpur

Day 6

Jagdalpur / Kanger Valley National Park

After early breakfast, proceed to visit the rich forests of the Kanger Valley National Park

An enjoyable outing from Jagdalpur, this park covers 200 sq km in a thickly forested valley south of Jagdalpur, with a number of waterfalls and caves.

Visitors head to two main sites. One is Tirathgarh Falls, tumbling 35m in several sections down a canyon formed by the Mugabahar River, a Kanger River tributary. The other is Kutumsar Cave, where guides lead you through up to 300m of narrow passages, concrete steps and large chambers with many stalactites and stalagmites.

Explore some of Jagdalpur�s unique handicrafts before you return to the hotel

Dinner &overnight Jagdalpur

Day 7

Jagdalpur � Raipur

After breakfast, visit the crowded markets of Jagdalpur ... 290 kms.

On the highway to Raipuralso you will come across some of the captivating handicrafts shops ideal to buy some souvenirs

Stop at Kanker for lunch before continuing to Raipur

Chhattisgarh�s ugly, busy capital is a centre for the state�s steel and other industries and, apart from the ruins at Sirpur, a day trip away, has little to detain you. The Chhattisgarh Tourism Board office here is worth visiting, though. The state government, as well as new educational institutions, hospitals, offices, a technology park and an international cricket stadium, are located in the new city of Naya Raipur, 20km southeast. The city airport is also the closest airport to the southern Mukki Gate entrance of Kanha Tiger Reserve .

Check in at hotel on arrival

Evening at leisure

Overnight at Raipur

Day 8

Departure from Raipur

After breakfast, morning is at leisure

Later, transfer to airport for onwards flight
Notes
Round the Year Destination ... Extension recommended to Wildlife Sanctuaries across Madhya Pradesh - Pench, Kanha, Bandhavgarh & Tadoba at Maharastra
Hotels
Tour Inclusions [Best of Chhattisgarh]
8 days chauffer driven AC vehicle for transfers & sightseeing as per itinerary inclusive of fuel, toll, parking, taxes, allowances, etc.
7 nights stay at finest hotels availalbe locally
Breakfast & dinner at all hotels [except Raipur]
Breakfast at Raipur hotels
Sightseeing as per itinerary
Services of English speaking guide during sightseeing
Evening entertainment
Notes on itinerary
All our itineraries are "Just for Ideas" ... We will get to know you and create a "Tailor-Made" itinerary for you
Many of our clients have us design more relaxing, slower paced travel with more in-depth experiences ... We recommend adding nights to many of the destinations ... If you do not have more time, we often recommend visiting fewer places in each country.
Together, we will determine the ideal price, dates, route, pace, accommodations, levels of pampering, style of touring, sightseeing to be included, dining preferences, adventure levels, options to meet locals & much more !