Best of Botswana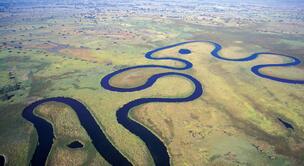 Blessed with some of the greatest wildlife spectacles on earth, Botswana is one of the great safari destinations in Africa.
Nature's Abundance
The Okavango Delta – there's nowhere quite like it on earth. This is a place where wild creatures roam and rule, where big cats and much bigger elephants walk free in one of the world's last great wildernesses. The delta is a byword for abundance – for animal numbers, for the variety of species, for the birdlife, for floods of Biblical proportions. And it is also a place of singular and unparalleled beauty where safari possibilities can seem as endless as the waters themselves.
Stark Desert Beauty
The Kalahari Desert, the largest unbroken stretch of sand on the planet, is not your ordinary desert. From the salt pans of Makgadikgadi, the baobabs of Nxai Pans, and the spare magnificence of Kubu Island in the north, to the wonderful wildlife of Kgalagadi in the south, this is a desert of exceptional variety. Throw in the fossil river valleys, swaying golden grasses, black-maned lions and the echoes of the indigenous San people in the Central Kalahari Game Reserve and there are few more beautiful deserts on Earth.
Exclusive Travel's Spiritual Home
Botswana didn't just turn its back on mass tourism and all the potential pitfalls it can bring. It ushered in an era of utterly exclusive safari experiences, the likes of which no other country on mainland Africa can match. These are sumptuous lodges and remote tented camps, especially in the Okavango Delta and surrounds, that are sometimes contemporary in style, and at other times awash in safari nostalgia. Best of all, they provide a front-row seat for fabulous wildlife spectacles that you may just have all to yourself.
Africa's Best Camping
You can experience Botswana by renting your very own 4WD vehicle that doubles as an ingenious camping home away from home. This is about experiencing wild Africa at your own pace, travelling from one campsite to the next, where you may lie awake at night listening to lions roar their bone-trembling roar, or hippos, elephants, or the chilling saw-like grunt of a leopard. Build a campfire, gaze at the stars and feel at one with this gloriously beautiful country.
Itinerary
Day 1

Arrival Maun / Transfer to Khwai Concession

On arrival in Maun airport you will be met by our guide who will drive you in a 4x4 vehicle out of Maun and through the Moremi Game Reserve to the private Khwai Concession

This game drive transfer should take between four and five hours

Upon arrival check in at the Lodge

Rest of the day at leisure

Overnight at Khwai Concession

Day 2

Khwai Concession

Morning and afternoon activities at Sango Camp

You will be able to participate in game drives in both the private Khwai concession as well as the Moremi Game Reserve

Khwai concession

The Khwai Concession is a large area dominated by Mopane forests on the north eastern edge of the Okavango Delta.

This vast area belongs to the local community and they now offer wonderful Botswana safaris in the region. Migrating herds of Elephant favor the Mopane forests in this area and there are usually good wildlife sightings.

The Khwai Concession is an 1800km (180 000 hectare) area which is situated in the north eastern Okavango next to the Moremi Game Reserve. It was formed by the local Khwai villagers and is managed by the Khwai Development Trust. The area used to be a hunting concession, but is now actively managed as a conservation area.

The villagers took over the area when they moved out of the Moremi region when the Moremi Game Reserve was formed. The local community now runs eco tourism initiatives, actively conserve the environment and manage the wildlife in the concession.

The Khwai River flows through the concession - it is the first major water source that animals migrating down from the Linyanti concession encounter and there is always a high concentration of game along the river.

Moremi Game Reserve

Welcome to the oldest protected section of the Okavango Delta in Botswana.

A 100 years after explorer David Livingstone called this land 'country full of rivers', the environment and wildlife in the Moremi area were under threat. It is because of the bold, local Batawana people that this area was proclaimed Moremi Game Reserve in 1963, making Moremi the oldest and first protected reserve of the Okavango Delta.

As a sign of gratitude, the reserve is named after Batawana tribe members, Chief Moremi III and his wife. Now, the Moremi Game Reserve is one of the most diverse reserves with surprises everywhere, even for the most seasoned Africa-travelers.

Overnight at Khwai Concession

Day 3

Khwai Concession to Maun / Flight to Kasane / Transfer to Chobe National Park

This morning, you will head back to Maun Airport by road.

You will check in for your flights to Kasane in Northern Botswana which will take approximately 30 minutes.

On arrival you will be met by a driver and transferred by road to Chobe Elephant Camp where you'll see the fantastic views over the Chobe National Park.

You will spend the afternoon on activity.

Overnight at Chobe Elephant Camp

Day 4

Chobe National Park

Morning and afternoon activities from Chobe Elephant Camp

Chobe National Park is a true wildlife paradise and one of the best national parks in Southern Africa. Just one peek at the variety of wildlife and lush vegetation and you will be mesmerized forever!

Chobe National Park is extremely lush because of the many waterways. The Chobe River flows through the park and draws many animals and birds during the dry season.

Boat cruises and game drives along the river are very popular. The natural environment of the park allows for excellent photographic experiences.

You will be able to enjoy morning game drives and evening river cruise

Overnight at Chobe Elephant Camp

Day 5

Chobe National Park - Kasane - Victoria Falls

This morning, you will be able to enjoy a game drive if you wish to before you are taken back to Kasane Airport by road.

From there, you will you be picked up by a driver and transferred over the border into Zimbabwe. This will take approximately one hour

On arrival, check in at hotel. Afternoon at leisure.

Zambezi Explorer Sunset Cruise

Overnight at Victoria Falls

Day 6

Victoria Falls

Today enjoy a guided trip to the magnificent Victoria Falls

We recommend you to visit earlier in the day to avoid the busier afternoon crowds

You will also be able to indulge in some outdoor activities as well … rafting, helicopter rides, bungy jumping, river cruises, etc.
Lunch at the Lookout Cafe
Boma Dinner
Overnight at Victoria Falls

Day 7

Departure from Victoria Falls

This morning you will be driven to Victoria Falls Airport for onward flight
Notes
Round the Year Destination ... Entention to Namibia, South Africa, Kenya, Tanzania
Hotels
Tour Inclusions - Best of Botswana
Accommodaiton for 6 nights
Daily breakfast, lunch & dinner
Safaris & Game drives
Park & conservation fees
Transport in our 4x4 Land Cruiser on safari with an English speaking driver guide
Internal flight
Local assistance
Notes on itinerary
All our itineraries are "Just for Ideas" ... We will get to know you and customise an itinerary just for you that matches your requirements ... dates of travel, category of hotels, preferred airline, flexibility in choosing sightseeing, mode of travel between cities, etc.
Many of our clients have us design more relaxing, slower paced holidays with more in-depth experiences whereas some simply want to visit various destinations and cover only the highlights.
Together, we will determine the ideal route, pace of travel, accommodations, levels of pampering, style of touring, sightseeing to be included, dining preferences, adventure levels, options to meet locals, dates of travel & much more ! and based on this arrive at a price.
Do feel free to get in touch with us by a quick call on +91 79 29602961 or a short mail on mail@destinations4india.com ... Looking forward