Best of Bali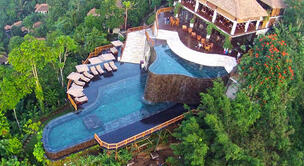 The mere mention of Bali evokes thoughts of a paradise. It's more than a place; it's a mood, an aspiration, a tropical state of mind.

Island of the Gods
The rich and diverse culture of Bali plays out at all levels of life, from the exquisite flower-petal offerings placed everywhere, to the processions of joyfully garbed locals shutting down major roads as they march to one of the myriad temple ceremonies, to the otherworldly traditional music and dance performed island-wide. Almost everything has spiritual meaning. The middle of Bali is dominated by the dramatic volcanoes of the central mountains and hillside temples such as Pura Luhur Batukau (one of the island's estimated 10,000 temples), while the tallest peak, Gunung Agung, is the island's spiritual centre.

One Island, Many Destinations
On Bali you can lose yourself in the chaos of Kuta or sybaritic pleasures of Seminyak and Kerobokan, surf wild beaches in the south or just hang out on Nusa Lembongan. You can go family-friendly in Sanur or savour a lavish getaway on the Bukit Peninsula. Ubud is the heart of Bali, a place where the culture of the island is most accessible, and it shares the island's most beautiful rice fields and ancient monuments with east and west Bali. North and west Bali are thinly populated but have the kind of diving and surfing that make any journey worthwhile.

Bali's Essence
Yes, Bali has beaches, surfing, diving and resorts great and small, but it's the essence of Bali – and the Balinese – that makes it so much more than just a fun-in-the-sun retreat. It is possible to take the cliché of the smiling Balinese too far, but in reality, the inhabitants of this small island are indeed a generous, genuinely warm people. There's also a fun, sly sense of humour. Upon seeing a bald tourist, many locals exclaim 'bung ujan', which means today's rain is cancelled – it's their way of saying that the hairless head is like a clear sky.

Bali's Fun
At the end of the day (which is the start of the day for some visitors), Bali's rich culture, many amazing sights and truly lovely people are what takes Bali's sheer delight to another level. Because Bali is fun, no matter what you want or who you are. Seminyak has shops and designers, Kerobokan has luxe beachside resorts and superb eating, Kuta and Legian have the nightlife, and Canggu wraps it all into one irresistible package. Plunge deep into Bali's spirit while renewing your own in Ubud or catching the perfect wave in Bingin. You name it, it's here.
Itinerary
Day 1

Arrival Bali / Transfer to Ubud

Upon arrival at Bali Denpasar airport, meet & greet by our representative, Transfer to Ubud hotel for check in

Ubud is one of those places where a holiday of a few days can easily turn into a stay of weeks, months or even years. The size of the town's expat community attests to this, and so do the many novels and films that have been set here, creative responses to the seductive nature of this most cultured of all Balinese towns. This is a place where traditional Balinese culture imbues every waking moment, where colourful offerings adorn the streets and where the hypnotic strains of gamelan are an ever-present soundtrack to everyday life

Rest of day at leisure to relax in your luxurious resort

Overnight at Ubud

Day 2

Ubud - Sightseeing

After breakfast, depart for full day tour of Bedugul Temple with sunset at Tanah Lot

Today you will explore the Bedugul area to visit the Ulun Danu Temple a beautiful temple on the banks of Beratan Lake. The weather here is very pleasant. Thereafter proceed to most photographed monument of Bali - the famous Tanah Lot Temple built on the top of a rock in the ocean. Tanah Lot temple was built in 11th century, supposed to be the Golden age of Hinduism in Indonesia.

Ulun Danu Temple
An iconic image of Bali, depicted on the 50,000Rp note, this important Hindu-Buddhist temple was founded in the 17th century. It is dedicated to Dewi Danu, the goddess of the waters, and is built on small islands. Pilgrimages and ceremonies are held here to ensure that there is a supply of water for farmers all over Bali as part of the Unesco-recognised subak system. Incredibly popular, you'll need to dodge selfie sticks unless you set out early.

Beratan Lake
In Bedugul there is a beautiful Beratan Lake appeared around 1,239 meters above sea levels. Beratan Lake is located next to Mount Bratan and Mount Catur. It is the second largest lake in Bali. You can see directly because is located on the edge of highway Bedugul. Exactly located in CandiKuning Village, Baturiti District of Tabanan. Beratan Lake is a lake that first passed when you come from Denpasar and about 300 meters from the

Then continue to Tanah Lot temple. Experience one of the most awesome sunsets in the entire Indian Ocean at this site.

Tanah Lot temple
Tanah Lot is a hugely popular tourist destination. It does have cultural significance to the Balinese, but this can be hard to discern amid the crowds, clamour and chaos – especially for the over-hyped sunsets. It's the most visited and photographed temple in Bali; however, it has all the authenticity of a stage set – even the tower of rock that the temple sits upon is an artful reconstruction (the entire structure was crumbling) and more than one-third of the rock is artificial.

Back to hotel by evening

Overnight at Ubud

Day 3

Ubud - Free day

After breakfast, day is at leisure to relax at the resort or explore Ubud village on your own

Overnight at Ubud

Day 4

Ubud - Sightseeing / Transfer to Nusa Dua

After breakfast, check out from the resort & depart for full day Ubud Village & Kintamani Volcano Tour

This trip will take you up close & personal with the essence of Bali. It is the most favorite tour of any first time visitor to Bali.

Ubud Village
Ubud is culture, yes. It's also home to good restaurants, cafes and streets of shops, many selling goods from the region's artisans. There's somewhere to stay for every budget, and no matter what the price you can enjoy lodgings that reflect the local Zeitgeist: artful, creative and serene. Visit the Ubud Art, a one stop center famous for traditional batik, hand weavings, wood carvings, paintings & handicrafts.

Kintamani
Kintamani Volcano provides spectacular views of this crater lake and Mount Batur, set in a vast volcanic caldera. You can view Batur's rugged features of dark lava slopes and black molten rocks from the village's roadside. The lush green vegetation and the blue-green coloured lake serves as a stark contrast.

Continue your tour to The Mount & Lake Batur in Kintamani village for some stunning views of the beautiful locales in this region.

Your tour ends in I Love Bas the famous coffee plantation. Here you can look in & taste many kind of coffees from Indonesia Except Luwak coffee.

Transfer to Nusa Dua Hotel

Nusa Dua translates literally as 'Two Islands' although they are actually small raised headlands, each with a small temple. But Nusa Dua is much better known as Bali's gated compound of resort hotels. It's a vast and manicured place where you leave the chaos of the rest of the island behind as you pass the guards

On arrival check in at hotel

Evening at leisure for happy hours

Overnight at Nusa Dua

Day 5

Nusa Dua - Sightseeing

After breakfast, depart for full day tour to Benoa Beach With Uluwatu Sunset Tour

Water Sports at Benoa Beach
An ideal Bali holiday is incomplete without Bali water sports at the famous Tanjung Benoa beach. This beach best known for its aquatic adventure is located in the Benoa peninsula far away from the hustle & bustle. North of Nusa Dua this beach offers a wide range of water sports. Please check with our representatives for all the water sports information. Many shacks & restaurants lined up along the beach make sure that your tummy is full & you enjoy the most.

A great southern Bali trip in the evening introduces you to the heart of southern part of the island. The beautiful Uluwatu temple, built on the top of a cliff about 825 feet high facing the vast deep blue Indian Ocean also offers a wonderful view of the sunset.

Uluwatu temple
Uluwatu Temple, or Pura Luhur Uluwatu, one of six key temples believed to be Bali's spiritual pillars, is renowned for its magnificent location, perched on top of a steep cliff approximately 70 metres above sea level

Uluwatu is definitely one of the top places on the island to go to for sunset delights, with direct views overlooking the beautiful Indian Ocean and daily Kecak dance performances. Balinese architecture, traditionally-designed gateways, and ancient sculptures add to Uluwatu Temple's appeal.

Evening at leisure

Overnight at Nusa Dua

Day 6

Nusa Dua - Sightseeing

After breakfast, day at leisure

Later in the evening transfer for Devdan show at 1730 hrs.

A Magnificent, Alluring and Daring Show, Devdan "Treasure of the Archipelago is playing now at Bali Nusa Dua Theatre. Bali Nusa Dua Theatre is the premiere setting to showcase Bali and Nusantara rich and diverse cultures with stunning illusion, dazzling costumes, uniquely artistic contemporary cultural dances and heart stopping aerial acrobatics performances.

The audience is taken on a magical journey across Bali and beyond to the Archipelago of Indonesia. This 90minutes mega production of Devdan is a must seeshow where you discover Indonesia in a thrilling and enchanting way, as never experienced before. See the show and be prepared to fall in love with our amazing Indonesia.

Transfer back to hotel by 2100 hrs.

Overnight at Nusa Dua

Day 7

Departure Bali

After breakfast, morning at leisure

Later transfer to Denpasar airport for onward flight
Notes
Round the Year Destination ... extentions recommended to Singapore, Thailand, Malaysia & Destinations across Asia
Hotels
Tour Inclusions [Bali]
3 nights Ubud

3 nights Nusa Dua

Breakfast at hotels

Transportation by air-conditioned vehicle

Full Day Bedugul Temple with Tanah Lot Sunset Tour

Full Day Kintamani Volcano Tour with Ubud Village

Full Day Benoa Beach With Uluwatu Sunset Tour

Full day Uluwatu Temple Tour

Devdan show with transfers
Notes on itinerary
All our itineraries are "Just for Ideas" ... We will get to know you and customise an itinerary just for you that matches your requirements ... dates of travel, category of hotels, preferred airline, flexibility in choosing sightseeing, mode of travel between cities, etc.
Many of our clients have us design more relaxing, slower paced holidays with more in-depth experiences whereas some simply want to visit various destinations and cover only the highlights.
Together, we will determine the ideal route, pace of travel, accommodations, levels of pampering, style of touring, sightseeing to be included, dining preferences, adventure levels, options to meet locals, dates of travel & much more ! and based on this arrive at a price.
Do feel free to get in touch with us by a quick call on +91 79 29602961 or a short mail on mail@destinations4india.com ... Looking forward